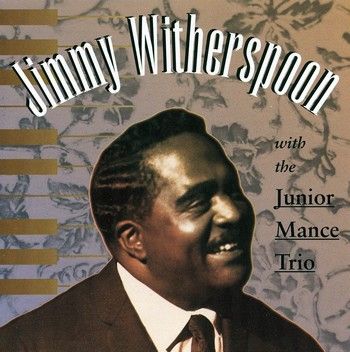 Jimmy Witherspoon
-
Jimmy Witherspoon
With
The Junior Mance Trio
-
1997
-
Stony Plain

"Aside from being one of history's GREATEST BLUES SINGERS (in my mind THE GREATEST) he was a master performer and the EPITOME of "COOL." - Robben Ford

"Jimmy Witherspoon With The Junior Mance Trio" is a tremendous jazz blues album, recorded live in France in 1969. Probably most famous for his "shouting" style blues vocals, the late Bluesman was also a very adept guitarist and a wonderful jazzman. "Jimmy Witherspoon With The Junior Mance Trio" is
HR by A.O.O.F.C.
Check out the Jimmy Witherspoon & Robben Ford "Live" album @
JIMWITHSPN/ROBFORD/LIVE
Jimmy Witherspoon's brilliant "Live at the Mint" album is @
JIMWITHSPN/LATM
Jimmy Witherspoon and Eric Burdon's "Guilty" album can be found @
JIMWITHSPN/ERICB/GUILTY
Try and listen to the "Junior Mance Trio at the Village Vanguard" album, and Jimmy Witherspoon's great "Blowin' in from Kansas City" album.
TRACKS / COMPOSERS

Introduction (:17)
Low Down Dirty Shame - Pete Johnson, Joe Turner (2:17)
They Call It Stormy Monday (But Tuesday's Just As Bad) - T-Bone Walker (4:05)
Kansas City - Jerry Leiber, Mike Stoller (3:01)
Trouble in Mind - Richard M. Jones (2:53)
Time's Getting Tougher Than Tough - Jimmy Witherspoon (3:04)
Ain't Nobody's Business - Porter Grainger, Everett Robbins (4:24)
I'm Gonna Move to the Outskirts of Town - Andy Razaf, Will Weldon (2:54)
Goin' Down Slow - James Burke Oden (4:09)
Roll 'Em Pete - Big Joe Turner, Pete Johnson (3:19)
No Rollin' Blues - Jimmy Witherspoon (6:45)
MUSICIANS
Jimmy Witherspoon - (Guitar), (Vocals)
Jimmy Woode - (Bass)
Junior Mance - (Piano)
Kenny Clarke - (Drums)
ABOUT
JIMMY WITHERSPOON

One of the great blues singers of the post-World War II period, Jimmy Witherspoon was also versatile enough to fit comfortably into the jazz world. Witherspoon was born on August 8, 1920, in Gurdon, AR. As a child, he sang in a church choir, and made his debut recordings with Jay McShann for Philo and Mercury in 1945 and 1946. His own first recordings, using McShann's band, resulted in a number one R&B hit in 1949 with "Ain't Nobody's Business, Pts. 1 & 2" on Supreme Records. Live performances of "No Rollin' Blues" and "Big Fine Girl" provided 'Spoon with two more hits in 1950. The mid-'50s were a lean time, with his style of shouting blues temporarily out of fashion; singles were tried for Federal, Chess, Atco, Vee Jay, and others, with little success. Jimmy Witherspoon at the Monterey Jazz Festival (HiFi Jazz) from 1959 lifted him back into the limelight. Partnerships with Ben Webster or Groove Holmes were recorded, and he toured Europe in 1961 with Buck Clayton, performing overseas many more times in the decades to follow; some memorable music resulted, but Witherspoon's best 1960s album is Evening Blues (Prestige), which features T-Bone Walker on guitar and Clifford Scott on saxophone. As the '70s began, Witherspoon decided to take a short break from live performances, settled in Los Angeles, took a job as a disc jockey, and continued making records. In 1971 Witherspoon teamed up with former Animals vocalist Eric Burdon for the album Guilty. Unfortunately it sold poorly. By 1973 his short retirement from live performances was over. Witherspoon was ready to get back on the road and assembled an amazing band featuring a young Robben Ford on lead guitar. Those live shows had received positive reviews, rejuvenating Witherspoon's move toward a definite rock/soul sound. He traveled to London in 1974 to record Love Is a Five Letter Word with British blues producer Mike Vernon. Vernon had produced critically acclaimed British blues albums by John Mayall, Fleetwood Mac, and Ten Years After. By the early '80s, Witherspoon was diagnosed with throat cancer. Although he remained active and was a popular concert attraction, the effect of the disease on his vocals was obvious. Witherspoon passed away on September 18, 1997, at the age of 77. © Bob Porter, Scott Yanow & Al Campbell © 2010 Rovi Corporation. All Rights Reserved http://www.allmusic.com/cg/amg.dll?p=amg&sql=11:azfrxq8gldje~T1
BIO
(WIKIPEDIA)

Jimmy Witherspoon (August 8, 1920 – September 18, 1997) was an American blues singer. James Witherspoon was born in Gurdon, Arkansas. He first attracted attention singing with Teddy Weatherford's band in Calcutta, India, which made regular radio broadcasts over the U. S. Armed Forces Radio Service during World War II. Witherspoon made his first records with Jay McShann's band in 1945. In 1949, recording under his own name with the McShann band, he had his first hit, "Ain't Nobody's Business," a song which came to be regarded as his signature tune. In 1950 he had hits with two more songs closely identified with him: "No Rollin' Blues" and "Big Fine Girl". Another classic Witherspoon composition is "Times Gettin' Tougher Than Tough". Witherspoon's style of blues - that of the "blues shouter" - became unfashionable in the mid-1950s, but he returned to popularity with his 1959 album, Jimmy Witherspoon at the Monterey Jazz Festival, which featured Roy Eldridge, Woody Herman, Ben Webster, Coleman Hawkins, Earl Hines and Mel Lewis, among others. He later recorded with Gerry Mulligan, Leroy Vinnegar, Richard "Groove" Holmes and T-Bone Walker. In 1961 he toured Europe with Buck Clayton and returned to the UK on many occasions, featuring on a mid-sixties live UK recording Spoon Sings and Swings (1966) with tenor sax player Dick Morrissey's quartet. In 1970, he appeared on Brother Jack McDuff's London Blue Note recording To Seek a New Home together with British jazz musicians, including Terry Smith and Dick Morrissey. In the 1970s he also recorded the album Guilty (later released on CD as Black & White Blues) with Eric Burdon and featuring Ike White & the San Quentin Prison Band. He then toured with a band of his own featuring Robben Ford and Russ Ferrante. A recording from this period, Spoonful, featured 'Spoon' accompanied by Robben Ford, Joe Sample, Cornell Dupree, Thad Jones and Bernard Purdie. He continued performing and recording into the 1990s. Other performers with whom Witherspoon recorded include Jimmy Rowles, Earl "Fatha" Hines, Vernon Alley, Mel Lewis, Teddy Edwards, Gerald Wiggins, John Clayton, Paul Humphrey, Pepper Adams, Kenny Burrell, Harry "Sweets" Edison, Jimmy Smith, Long John Baldry, Junior Mance, Ellington bassist Jimmy Woode, Kenny Clarke, Gerry Mulligan, Jim Mullen, Count Basie and others. Witherspoon died of throat cancer in Los Angeles, California on September 18, 1997.
JUNIOR MANCE
(BIO)
Junior Mance is well-known for his soulful bluesy style, but he is also expert at playing bop standards. He started playing professionally when he was ten. Mance worked with Gene Ammons in Chicago during 1947-1949, played with Lester Young (1950), and was with the Ammons-Sonny Stitt group until he was drafted. He was the house pianist at Chicago's Bee Hive (1953-1954), worked as Dinah Washington's accompanist (1954-1955), was in the first Cannonball Adderley Quintet (1956-1957), and then spent two years touring with Dizzy Gillespie (1958-1960). After a few months with the Eddie "Lockjaw" Davis/Johnny Griffin group, Mance formed his own trio and has mostly been a leader ever since. He has led sessions for Verve, Jazzland, Riverside, Capitol, Atlantic, Milestone, Polydor, Inner City, JSP, Nilva, Sackville, and Bee Hive, among other labels. © Scott Yanow © 2010 Rovi Corporation. All Rights Reserved http://www.allmusic.com/artist/junior-mance-p101326