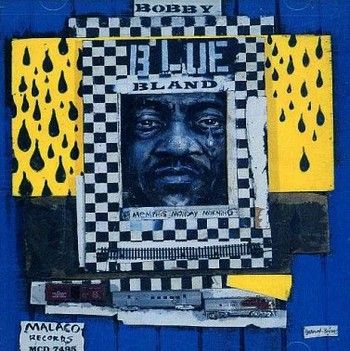 Bobby
"Blue"
Bland
-
Memphis Monday Morning
-
1998
-
Malaco
Age is no hindrance to Bobby "Blue" Bland doing what he does best -- recording and entertaining. The husky-throated blues singer, who was close to 70 when this CD dropped, still has that growl that makes body hair stand on end, and he forges on stronger than ever without any noticeable quality drops -- not recording-wise, anyway. Still strutting and profiling, Memphis Monday Morning commences with a taste of braggadocio à la "I'm Bobby B"; the warning to all, "I Don't Want Nobody Kicking in My Stall"; and the "I'm letting you know (that I know what you've been doing)" "There's a Rat Loose in My House." It gets even better with chilling performances of "Memphis Monday Morning" and "I Hate Missing You." The titles are interesting in themselves, and when you add Bland's Jim Beam vocals; the best musicians in Mississippi; Quanda Brooks, Thomisene Anderson, and Jewel Bass' backing vocals; and production by Tommy Couch and Wolf Stephens, you have a high-quality, potent blues grenade on your hands. © Andrew Hamilton © 2010 Rovi Corporation. All Rights Reserved http://www.allmusic.com/album/memphis-monday-morning-r383335
In 1997, the legendary Bobby "Blue" Bland, the "Lion of the Blues", from Rosemark, Tennessee won the Recording Academy's prestigious "Lifetime Achievement" Grammy joining the company of greats like the Everly Brothers, Judy Garland, and Buddy Holly. "Memphis Monday Morning" was nominated for the 2000 Grammy Award for Best Traditional Blues Album. Bobby has placed more than 61 songs on the R & B charts. He was once asked about how he has achieved such popularity and success. The modest bluesman replied "I just sing what I feel. It's about life. You get hurt, you get happy." Similar to artists like Junior Parker, Sam Cooke, and Ray Charles, Bobby developed a "new blues genre", mixing R&B with blues and gospel. He is a class act with an unmistakable voice. He is unusual for such a high profile bluesman in that he doesn't playe a musical instrument, relying instead on his trademark voice. His version of the great "Memphis Monday Morning" title track is superb and one of the best covers you will ever hear. However, every track on the album oozes style and class. Bobby's version of the great soul artist Billy Ray Charles' "There's a Rat Loose in My House" is typical of Bobby Bland's famous Beale Street/Memphis sound, and his cover of ZZ Top's "Lookin For Some Tush" is a reminder of BBB's great musical versatility. The great Irish soul musician Van Morrison is a great fan of Bobby "Blue" Bland. On Van's 1974 "It's Too Late to Stop Now" album, he covered "Ain't Nothing You Can't Do." Bobby has occasionally been a guest vocalist at Van's concerts. On Van's 2007 "The Best of Van Morrison Volume 3" album, Van and Bobby sing "Tupelo Honey" together. Well worth hearing. "Memphis Monday Morning" is a great soul/blues/R&B album and
VHR by A.O.O.F.C.
Listen to his "Blues Consolidated" album from 1958, and his fantastic 1983 album, "Foolin' with the Blues." Bobby's "Sad Street" album is located @
BBB/SADST
TRACKS / COMPOSERS

1 I'm Bobby "B" - Robert J Johnson / Sam Mosley 3:05
2 I Don't Want No Kickin' in My Stall - James Griffin / George Jackson / Joe Perkins 6:39
3 There's a Rat Loose in My House - Billy Ray Charles 7:00
4 The Truth Will Set You Free - Robert J Johnson / Sam Mosley 4:55
5 Memphis Monday Morning - George Jackson / Dennis Nelson / Raymond Nelson 9:00
6 I'm Glad - Robert J Johnson / Sam Mosley 3:55
7 My Baby Is the Only One - Joseph Hardin 4:07
8 I Hate Missin' You - Joseph Hardin 4:18
9 You Left Me With the Blues - Butch Bonner / Clarence Brown 4:02
10 Lookin' for Some Tush - Frank Beard / Billy Gibbons / Dusty Hill 2:23
MUSICIANS
Bobby "Blue" Bland - Vocals
Dino Zimmerman, Sam Mosley, Will McFarlane, Jimmy Johnson, Butch Bonner - Guitar
David Hood, Willie James Hatten, Ray Griffin - Bass
Carson Whitsett, Bob Johnson, Clayton Ivey - Keyboards
James Robertson - Drums
Harvey Thompson - Saxophone
Tom "Bones" Malone - Saxophone, Trombone, Flute
Jim Horn - Sax (Baritone), Sax (Bass), Flute
Doug Moffet - Saxophone, Flute
Jim Williamson, Steve Patrick - Trumpet, Flugelhorn
Joseph Hardin - Trumpet, Horn Arrangements
Charles Rose - Trombone, Horn Arrangements
Harrison Calloway - Horn Arrangements
Quanda Brooks, Jewel Bass, Thomisene Anderson - Vocals (Background)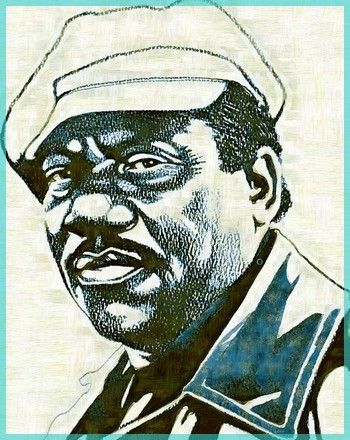 BIO
Bobby Bland earned his enduring blues superstar status the hard way: without a guitar, harmonica, or any other instrument to fall back upon. All Bland had to offer was his magnificent voice, a tremendously powerful instrument in his early heyday, injected with charisma and melisma to spare. Just ask his legion of female fans, who deemed him a sex symbol late into his career. For all his promise, Bland's musical career ignited slowly. He was a founding member of the Beale Streeters, the fabled Memphis aggregation that also included B.B. King and Johnny Ace. Singles for Chess in 1951 (produced by Sam Phillips) and Modern the next year bombed, but that didn't stop local DJ David Mattis from cutting Bland on a couple of 1952 singles for his fledgling Duke logo. Bland's tormented crying style was still pretty rough around the edges before he entered the Army in late 1952. But his progress upon his 1955 return was remarkable; with saxist Bill Harvey's band (featuring guitarist Roy Gaines and trumpeter Joe Scott) providing sizzling support, Bland's assured vocal on the swaggering "It's My Life Baby" sounds like the work of a new man. By now, Duke was headed by hard-boiled Houston entrepreneur Don Robey, who provided top-flight bands for his artists. Scott soon became Bland's mentor, patiently teaching him the intricacies of phrasing when singing sophisticated fare (by 1962, Bland was credibly crooning "Blue Moon," a long way from Beale Street).Most of Bland's savage Texas blues sides during the mid- to late '50s featured the slashing guitar of Clarence Hollimon, notably "I Smell Trouble," "I Don't Believe," "Don't Want No Woman," "You Got Me (Where You Want Me)," and the torrid "Loan a Helping Hand" and "Teach Me (How to Love You)." But the insistent guitar riffs guiding Bland's first national hit, 1957's driving "Farther Up the Road," were contributed by Pat Hare, another vicious picker who would eventually die in prison after murdering his girlfriend and a cop. Later, Wayne Bennett took over on guitar, his elegant fretwork prominent on Bland's Duke waxings throughout much of the '60s. The gospel underpinnings inherent to Bland's powerhouse delivery were never more apparent than on the 1958 outing "Little Boy Blue," a vocal tour de force that wrings every ounce of emotion out of the grinding ballad. Scott steered his charge into smoother material as the decade turned: the seminal mixtures of blues, R&B, and primordial soul on "I Pity the Fool," the Brook Benton-penned "I'll Take Care of You," and "Two Steps From the Blues" were tremendously influential to a legion of up-and-coming Southern soulsters.Scott's blazing brass arrangements upped the excitement ante on Bland's frantic rockers "Turn on Your Love Light" in 1961 and "Yield Not to Temptation" the next year. But the vocalist was learning his lessons so well that he sounded just as conversant on soulful R&B rhumbas (1963's "Call on Me") and polished ballads ("That's the Way Love Is," "Share Your Love With Me") as with an after-hours blues revival of T-Bone Walker's "Stormy Monday Blues" that proved a most unlikely pop hit for him in 1962. With "Ain't Nothing You Can Do," "Ain't Doing Too Bad," and "Poverty," Bland rolled through the mid-'60s, his superstar status diminishing not a whit. In 1973, Robey sold his labels to ABC Records, and Bland was part of the deal. Without Scott and his familiar surroundings to lean on, Bland's releases grew less consistent artistically, though His California Album in 1973 and Dreamer the next year boasted some nice moments (there was even an album's worth of country standards). The singer re-teamed with his old pal B.B. King for a couple of mid-'70s albums that broke no new ground but further heightened Bland's profile, while his solo work for MCA teetered closer and closer to MOR (Bland has often expressed his admiration for ultra-mellow pop singer Perry Como).Since the mid-'80s, Bland has recorded for Jackson, MS's Malaco Records. His pipes undeniably reflect the ravages of time, and those phlegm-flecked "snorts" he habitually emits become annoying in large doses. But Bobby "Blue" Bland endures as a blues superstar of the loftiest order, resurfacing in 1998 with Memphis Monday Morning. © Bill Dahl, © 2010 Rovi Corporation. All Rights Reserved http://www.allmusic.com/artist/bobby-blue-bland-p274/biography