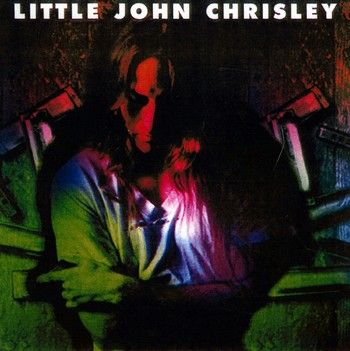 Little
John
Chrisley
-
Little John Chrisley
-
1995
-
Blues Bureau Int'l

Although the material leaves a little to be desired, Little John Chrisley's self-titled debut album is filled with his burning blues-rock harmonica, which is occasionally truly inspired. © Stephen Thomas Erlewine, All Music Guide © 2010 Answers Corporation http://www.answers.com/topic/little-john-chrisley-blues-album
42 year old Little John Chrisley from Rochester, New York is a seasoned blues veteran. You may not be familiar with his name but he has played with some of the world's greatest rock and blues artists including Steve Lukather, Robert Cray, Buddy Guy, Junior Wells, and Pat Travers. He is a multi-instrumentalist, but is best known for his harmonica skills. Little John Chrisley has said that it was the great bluesman Muddy Waters who gave him a love for the music. In fact, Muddy Waters and Buddy Guy used to visit LJC's Rochester home for barbecues.
There's a very comprehensive article about LJC's life and career @ http://www.metroactive.com/papers/metro/01.22.98/cover/chrisley-9803.html
This S/T album contains some mind boggling harmonica. There are no stand out tracks, but LJC penned them all, and the album is worth listening to for the harmonica skills alone. Also some of the artists playing on the album include the great guitarists Mike Varney and Michael Lee Firkins, and also the legendary Aynsley Dunbar on drums. The album here is LJC's only solo release, although he has had various problems with a few record labels which haven't helped his recorded output.
TRACKS
1. Born in Rochester 5:29
2. War Headed Woman 3:18
3. The Way It Goes 3:49
4. Disconnected 8:56
5. Big Bad Boogie 6:55
6. Master Plan 5:29
7. Don't Suffocate Me 4:43
8. Buried in Bills 2:52
9. Beer Goggles 4:41
10. Life's Undertow 6:39
11. Stone Cold Blue 4:59
All songs composed by Little John Chrisley

MUSICIANS
Little John Chrisley - Harmonica, Lead Vocals on all tracks
Mike Varney - Lead Guitar on tracks 5, & 10 and Rhythm Guitar on track 4
Michael Lee Firkins - Lead Guitar on track 9
Scotty Johnson - Rhythm Guitar on all tracks, & Lead Guitar on tracks 3,8, & 11
Andy Mazzilli - Rhythm Guitar on track 7, and Lead Guitar on tracks 1,2,4,6 & 7
Don Bassey - Bass on all tracks except tracks 4, & 7
Brad Russell - Bass on tracks 4, & 7
Stu Blank - Keyboards on track 7
Aynsley Dunbar - Drums on all tracks
BIO
Little John Chrisley was born in Rochester, New York in 1968. Blues Greats like Muddy Waters and Buddy Guy would come to Chrisley's family house for barbecue. John's musical tastes were pretty average for his age until he saw his first Muddy Waters Concert. Soon after seeing Muddy perform John picked up the harmonica, and within two months he was playing with Robert Cray, Buddy Guy and Junior Wells when Junior pulled Little John up on stage to "Blow some Harp" at the Old Waldorf in San Francisco. During his high school years, Chrisley became the focus of a national campaign by Hohner Harmonicas who distributed large color endorsement posters of him. As his career developed, he made numerous television appearances and MTV. Legends such as Willie Nelson and Carl Perkins continued to call Little John to the stage and by 1991 he had made guest appearances with many of our country's most prestigious artists. In addition, John has performed on numerous records including Pat Traver's "Blue Tracks", "L.A. Blues Authority", and "Cream of the Crop". He has been featured on releases such as "George Lynch's "Sacred Crow" and "Mr. Big's Bump Ahead". Little John has enjoyed an extensive songwriting career beginning with his first recording contract at the age of thirteen. At eighteen he signed to A & M records and did multiple session appearances. Besides playing harmonica, saxophone, guitar, bass,and drums, Little John learned to play keyboards and did a national tour opening for Richard Marx. Little John has recently released his first solo CD, eponymously titled album, featuring Aynsley Dunbar on drums. Little John's voice is surprisingly raw and powerful and his harmonica playing is expert. He dominates the stage as if he had grown up on it , which in effect, he has. As one Bay Area reporter wrote" Only his appearance (Chrisley possesses the good looks of a teen idol) gives away his age. After you become used to the novelty of seeing a young white man from the suburbs blowing the blues for all he's worth, you begin to realize you are hearing an exceptional musician. © 1997 - 2010 Rogue Digital, LLC. All Rights Reserved http://www.artistdirect.com/artist/bio/little-john-chrisley/414655