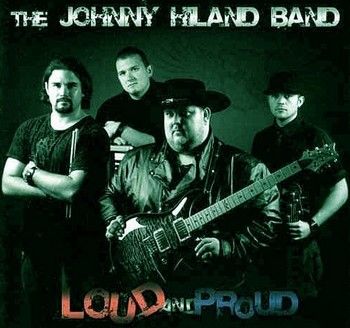 The Johnny Hiland Band
-
Loud and Proud
-
2008
-
O.I.E. Records, Ltd.
Johnny Hiland from Woodland, Maine is best known as a "country" and bluegrass style guitarist. In fact, the guy is a very talented multi-instrumentalist, and his musical tastes and styles also extend to guitarists of the calibre of players like Joe Satriani and Eddie Van Halen. Johnny is an amazing guitarist, and his albums are well worth checking out. "inmyhands" on dinosaurrockguitar.com made the statement that "He (Johnny Hiland) may not be a rocker at heart, but, he can rock with the best of them. When he's not playing rock it's just a matter of personal preference. It has nothing to do with any lack of skill level. Hell, he could waste 90% of today's "Rock Guitarists". Johnny is also a good vocalist, and sings on four of the album's thirteen tracks. The album has some "country" and bluegrass elements, and even if you're not a fan of these genres, you've got to admire the brilliant instrumentation. However, the album is predominantly instrumental, and is one of Johnny's more rock orientated albums. Ted Nugent said "I've jammed with the best the world has produced, and Johnny stands spirit to spirit with them all." "Loud and Proud" is
HR by A.O.O.F.C.
There is a fantastic video clip of Johnny Hiland and Christian Grizzard jamming while trying out some guitars at Atomic Music Store in Baltimore, MD @
Hiland & Grizzard Jam
..."Unplugged" at it's best! Buy Johnny's "Red Hot And Rippin" album and support great music. There's still a lot out there!
TRACKS
1 Intro
2 Groovin'
3 Honky Tonk Night Time Man
4 Rock It
5 Truckin' Route 9
6 My Sweet Kimmie Girl
7 Loud and Proud
8 I Never
9 Chicken And Cheese
10 Little Girl's Lullaby
11 Mercury Blues
12 Standing On New Ground
13 Chicken Pickin' Heroes
BAND
Johnny Hiland - Guitar, Vocals
Michael Hill - Bass
Solon Smith - Rhythm Guitar, Keyboards,Vocals
Cody Leppo - Drums
BIO
Johnny Hiland grew up in the small town of Baileyville, Maine. He was born legally blind with an eye disease known as nystagmus, which did not allow him to grow up like most children. He started playing guitar at age 2, and went on to perform his first tv show at age 7. His career took off when Johnny won the "Talent America Contest," at age 10, in New York City. His father had taken him to see Ricky Skaggs perform, and Johnny immediately went from pickin' bluegrass to wanting a telecaster. As a teen, Johnny spent countless hours learning and developing his own blend of chicken pickin,' rock, blues, and swing; while pickin' in a number of different bands around the state of Maine.. After finishing high school, and 3 years of college, he moved to Nashville in 1996. Since then, he performed with The Don Kelley Band down at Robert's Western World, which led him to perform on TNN's "Prime Time Country," and then as a headline artist at the legendary Grand Ole Opry. Johnny has played on a number of records for artists like Toby Keith, Trick Pony, Randy Travis, Ricky Skaggs, Janie Fricke, Lynn Anderson, and Hank 3. He later signed a record deal with Steve Vai and his guitar based record company, Favored Nations. He released his first debut, self titled, album in 2004. Since then he has been touring the globe with his band, "The Johnny Hiland Band," and has released a 2nd guitar album, independently, called, "Loud and Proud." He has also performed on stage with super artists like Sammy Hagar, Ted Nugent, George Clinton and P-Funk, Les Paul, Steve Vai, Joe Bonamassa, G3, and many others. He loves to teach, and has his own line of guitar instructional material as well; 2 Hot Licks videos, and a number of books/cds with Mel Bay. He has had his own signature model PRS, and now has found his proper guitar home with Ernie Ball Music Man. Now, in 2010, he has teamed up with his long time friend, Ron Lutrick, and they have just released a new record called, "The Blues Connection." You will find The Blues Connection touring hard in 2011. Johnny will always reach out to show the young people of today that live music is really cool, and that guitar is awesome!!!! He has written a children's book called, "Tuff and Friends," to inspire handicapped children to follow their dreams. He feels, and shows every single day, that he has been very blessed, by God, for the gift of music/guitar, and to be able to continue to earn a living doing what he loves to do. For tour dates, and other information on Johnny, please check out www.johnnyhiland.net. © 2010 Johnny Hiland Enterprises http://www.johnnyhiland.net/index.php?p=1_4_Biography
MORE
Johnny Hiland is a guitarist originally from Woodland, Maine, and was born with a medical condition that left him legally blind. He joined his family's band, the Three Js and toured New England under the auspices of the Down East Country Music Association. At ten, Johnny won the Talent America contest, entitling him to a performance in New York City. He expanded his musical interests beyond bluegrass to the guitar rock of players like Joe Satriani and Eddie Van Halen. After high school, he attended the University of Southern Maine as a history major, but ultimately dropped out to become a professional musician. Johnny eventually moved to Nashville where he worked as a guitarist for artists such as Toby Keith, Ricky Skaggs, Janie Fricke, and Hank Williams III. He has with Steve Vai's Favored Nations label as a solo artist and to date has released two studio albums, the self-titled Johnny Hiland and Loud and Proud. The Johnny Hiland Band has headlined concerts and clubs in the US and internationally in Italy, Japan, Canada, England, Italy and Germany. In addition to all of that, he also teaches Master Classes at vschools ranging from Berkley School of Music in Boston to Musicians Institute in California and the Academy of Contemporary Music in England. Johnny has also released instructional DVDs which highlight his bluegrass and "chickin' pickin' style. If you play guitar, you probably know what that is. Johnny career has really taken off the last few years, as evident by the fact that he has a signature guitar on the market. He played Fender Telecasters for years, then "shocked" the guitar world by switching to Paul Reed Smith guitars, eventually having a signature model named for him. (A few guitar forums went nuts about this!) He just joined the Ernie Ball/Music Man company as an endorsee, using a Music Man Silhouette guitar. "I think Johnny Hiland is the most versatile guitar player I've ever heard. From Bill Monroe to Eddie Van Halen, he can play it all." - Ricky Skaggs. "I've jammed with the best the world has produced -- Johnny stands spirit to spirit with them all." - Ted Nugent [Posted by & © Tom C at 7:52 PM Wednesday, May 26, 2010 http://fendersixstring.blogspot.com/2010/05/johnny-hiland.html?utm_source=feedburner&utm_medium=feed&utm_campaign=Feed%3A+TheSixStrings+%28The+Six+Strings%29]