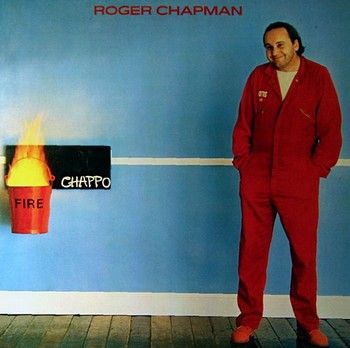 Roger Chapman
-
Chappo
-
1979
-
Acrobat Records, EMI Electrola
"After a career spanning 30 years, Roger Chapman's fiery stage presence remains undimmed. He still struts and frets, wringing every syllable from a multicoloured repertoire of rock, soul and ballads. His astounding voice rips through the lyrics, devastating the unsuspecting listener with raw emotion. The sheer power and commitment of his delivery is a revelation to audiences brought up on a diet of blandness and mediocrity. Chappo is both a legend of rock past and a pioneer of rock present, and the story is still very much unfolding…" [From Roger's Public Relations Dept.]
Roger Chapman is a British rock legend, best known for for his spectacular stage presence and amazing powerful vibrato vocals. He was the main man in the hugely talented and original British band, Family, (who called it a day in the early 70's). During their seven year lifespan, Family had achieved an almost unequalled standard of musical output and musicianship. Arguably, at least four of their eight albums can be regarded as rock classics.Family were regarded by critics, and by the public in general, as one of Britain's finest rock bands. John Peel, the late, great BBC Radio 1 DJ, once said that he'd travel colossal distances to see Chapman perform. Sadly, by the late seventies, Chapman had practically disappeared from the music scene.The mechanics of the music business, e.g, glam rock, the dawn of punk, new wave, and romanticism, dictated the demise of many great rock and progressive rock bands, who had dominated the music scene, (especially in Britain), for so long. That is not to say that these new genres did not produce some great bands. However, the musical scene at this time did not suit Roger Chapman's style of music, and never one to bow to commercialism, Roger went to Germany in the early eighties where he still spends most of his time, and is regarded as a cult figure there. He has also received well deserved Artist of the Year and Lifetime Achievement Awards from the German people. "Chappo" is a reminder of how great a musician Roger Chapman is. The album is almost a continuation of Family's best releases and is
HR by A.O.O.F.C.
He has consistently proved that there is still a big market out there for old fashioned rock, executed with passion, panache and professionalism. It is also a musical education to listen to Family's "Music in a Doll's House," "Bandstand", and "Fearless" albums. Search this blog for other Roger Chapman/Roger Chapman & The Shortlist/Family releases
TRACKS / COMPOSERS
1 Midnite Child - R. Chapman
2 Moth To A Flame - R. Chapman
3 Keep Forgettin' - Jerry Leiber, Mike Stoller
4 Shape Of Things - R. Chapman
5 Face Of Stone - R. Chapman, B. Tench
6 Let's Spend The Night Together - M.Jagger, Keith Richards
*
7 Who Pulled The Nite Down - R. Chapman
8 Always Gotta Pay In The End - R. Chapman, J. Baines
9 Hang On To A Dream - T. Hardin
10 Pills - R. Chapman, C. Whitney
11 Don't Give Up - R. Chapman, D. Courtney
* N.B: Some early vinyl releases did not include this track
MUSICIANS
Harmonica, Vocals – Roger Chapman
Guitar – Geoff Whitehorn
Guitar [Dobro], Guitar [Bottleneck] – Micky Moody
Bass – Brian Odges
Bass, Double Bass [String Bass] – Dave Marquee
Drums – Henry Spinnetti
Percussion – Ray Cooper, Simon Morton
Electric Piano, Piano, Organ, Organ [Hammond] – Billy Livsey
Electric Piano [Vibes] – Poly Palmer
Saxophone – Ron Asprey
Harmonica – Pete Hope-Evans
Richard Miles – String & Vocal Arrangements
Backing Vocals – George Chandler, Jimmy Chambers, Joy Yates, Vicky Brown
BIO
(WIKI)
Roger Chapman (born Roger Maxwell Chapman on April 8, 1942 in Leicester) is an English rock singer. Roger "Chappo" Chapman is probably best known for his participation in the English progressive band Family in the late 1960s through the early 1970s and subsequently, from 1973 to 1978, in Streetwalkers, a rock/R&B band. Prior to Family he had sung with this band's precursor, the Farinas. His idiosyncratic brand of on-stage showmanship and characteristic vibrato led to him becoming a cult figure on the British rock scene. Chapman once claimed he was trying to sing like both Little Richard and especially his idol Ray Charles.In the late 1970s Roger Chapman began a solo career and recorded his first solo album, Chappo. In 1983, Mike Oldfield recorded the album "Crises" featuring the song "Shadow On The Wall" sung by Roger Chapman. The song turned out to be a huge hit for Mike Oldfield (along with the even more popular "Moonlight Shadow"). As other musical styles, such as Punk Rock became more popular in England, Chapman began to have more success in other European countries, especially Germany, where he has spent much of his time since the early 1980s, winning Artist of the Year and a Lifetime Achievement Award.
MORE ABOUT
ROGER CHAPMAN
Roger Chapman is best known for his barbed-wire voice, used to front British '70s rock acts Family and Streetwalkers. He began a long-awaited solo career in 1978 that has led to over a dozen full-length releases. Never heard of them? It's not surprising; album-wise, he's been camped out in Germany for 20 years. His first album and tour got high praise in his British homeland, but critics cut into him soon after. When the hassle-free German market beckoned, Chapman began to focus all subsequent work there, where he has become a musical hero, the "Working Class Artist." Chapman split with his longtime writing partner, Charlie Whitney, after the breakup of Streetwalkers in 1977. He surrounded himself with ace session musicians to cut a debut solo effort, Chappo. It was an album of strong rock which catered to the singer and not the musicians. An appearance on Germany's Rockpalast TV show and the ensuing hit single, "Let's Spend the Night Together," gave Chapman the shot of success he needed, so he set up operations in Germany. Live in Hamburg was a reassuring second album, demonstrating the live energy of this experienced yet stage-crazed performer. Studio albums over the next few years blended straight power rock with funk, R&B and soul, all topped with Chapman's characteristic vocal style. In the 1981 German music awards, Chapman was voted Best Singer, and his Hyenas Only Laugh For Fun won an award. Chapman and his backing band, the Shortlist, released two alter-ego albums in the early '80s as the Riff Burglars. These releases honored roots and classic rock by artists like Chuck Berry, Willie Dixon and Leiber & Stoller. A lead vocal on Mike Oldfield's 1983 hit, "Shadow on the Wall," also added to Chapman's diverse repertoire. Chapman's mid-'80s foray into polished studio sounds did not fare well with his audience. When his extended partnership with guitarist Geoff Whitehorn ran it's course, Chapman returned to pure rock form with 1989's Walking the Cat, which featured Alvin Lee and old friend, Bob Tench. Two compilations filled a silent period in the mid '90s, but 1996's Kiss My Soul was a comeback for the guy who never went away. It even got attention and a pressing in Chapman's British homeland, where he often tours but has no domestic releases. This was followed by 1998's A Turn Unstoned? and the 2-CD Anthology; the next year saw re-releases of Chappo and Mail Order Magic. Moth to a Flame was issued in early 2001. © Patrick Little, allmusic.com