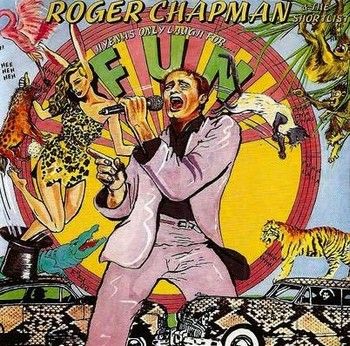 Roger Chapman
&
The Shortlist
-
Hyenas Only Laugh for Fun
-
1981
-
Line
Roger Chapman is a British rock legend, and one of the great icons of rock music. He is best known for for his spectacular stage presence and one of the most distinctive voices in rock history with amazing powerful vibrato vocals. Chappo was the main man with the hugely talented and original British band, Family, (who called it a day in the early 70's). During their seven year lifespan, Family had achieved an almost unequalled standard of musical output and musicianship. Arguably, at least four of their eight albums can be regarded as rock classics. Family were regarded by critics, and by the public in general, as one of Britain's finest rock bands. John Peel, the late, great BBC Radio 1 DJ, once said that he'd travel colossal distances to see Chapman perform. Sadly, by the late seventies, Chapman had practically disappeared from the music scene.The mechanics of the music business, e.g, glam rock, the dawn of punk, new wave, and romanticism, dictated the demise of many great rock and progressive rock bands, who had dominated the music scene, (especially in Britain), for so long. That is not to say that these new genres did not produce some great bands. However, the musical scene at this time did not suit Roger Chapman's style of music, and never one to bow to commercialism, Chapman went to Germany in the early eighties where he still spends most of his time, and is regarded as a cult figure there. He has also received well deserved Artist of the Year and Lifetime Achievement Awards from the German people. "Hyenas Only Laugh for Fun" is not one of Chappo's better known albums, but it is a welcome reminder of how great a musician Roger Chapman is. Some of the tracks are on the short side, but that's a small quibble. Buy Chappo's brilliant 1979 album, "Chappo." It is also a musical education to listen to Family's "Music in a Doll's House," "Bandstand," and "Fearless" albums and Roger Chapman's "Mail Order Magic" album. Roger Chapman And The Shortlist's "A Turn Unstoned?" album is @
CHAPPO/ATU?
Search this blog for related releases.
N.B:
It would be woth buying the CD version of "Hyenas Only Laugh for Fun". The issue posted here is @ 192 bps. Sound is fair to good, but Roger Chapman's music deserves to be heard at it's sonic best
TRACKS / COMPOSERS
SIDE 1
1 Prisoner - Chapman, Hinkley, Whitehorn
2 Hyenas Only Laugh For Fun - Chapman, Hinkley, Whitehorn, Rimson
3 Killing Time - Chapman
4 Wants Nothing Chained - Chapman, Whitehorn
5 The Long Goodbye - Chapman
SIDE 2
1 Blood and Sand - Chapman, Whitehorn
2 Common Touch - Chapman
3 Goodbye Reprise - Chapman
4 Hearts on the Floor - Chapman
5 Step Up - Take a Bow - Chapman, Whitney
6 Jukebox Mama - Chapman, Seals
MUSICIANS
Roger Chapman - Vocals, Harmonica
Geoff Whitehorn - Guitars
Steve Simpson - Slide Guitar, Mandolin, Violin
John Wetton, Jerome Rimson - Bass Guitar
Tim Hinkley - Keyboards
Alan Coulter, Stretch - Drums
Duncan Kinnell - Percussion
Nick Pentelow - Saxophones
"The Shortlist" - Backing Vocals
Poli Palmer - Synthesisers, Programming
Raymond Burrell - Editing Blocks
BIO
(WIKI)
Roger Chapman (born Roger Maxwell Chapman on April 8, 1942 in Leicester) is an English rock singer. Roger "Chappo" Chapman is probably best known for his participation in the English progressive band Family in the late 1960s through the early 1970s and subsequently, from 1973 to 1978, in Streetwalkers, a rock/R&B band. Prior to Family he had sung with this band's precursor, the Farinas. His idiosyncratic brand of on-stage showmanship and characteristic vibrato led to him becoming a cult figure on the British rock scene. Chapman once claimed he was trying to sing like both Little Richard and especially his idol Ray Charles.In the late 1970s Roger Chapman began a solo career and recorded his first solo album, Chappo. In 1983, Mike Oldfield recorded the album "Crises" featuring the song "Shadow On The Wall" sung by Roger Chapman. The song turned out to be a huge hit for Mike Oldfield (along with the even more popular "Moonlight Shadow"). As other musical styles, such as Punk Rock became more popular in England, Chapman began to have more success in other European countries, especially Germany, where he has spent much of his time since the early 1980s, winning Artist of the Year and a Lifetime Achievement Award.
MORE ABOUT
ROGER CHAPMAN
Roger Chapman is best known for his barbed-wire voice, used to front British '70s rock acts Family and Streetwalkers. He began a long-awaited solo career in 1978 that has led to over a dozen full-length releases. Never heard of them? It's not surprising; album-wise, he's been camped out in Germany for 20 years. His first album and tour got high praise in his British homeland, but critics cut into him soon after. When the hassle-free German market beckoned, Chapman began to focus all subsequent work there, where he has become a musical hero, the "Working Class Artist." Chapman split with his longtime writing partner, Charlie Whitney, after the breakup of Streetwalkers in 1977. He surrounded himself with ace session musicians to cut a debut solo effort, Chappo. It was an album of strong rock which catered to the singer and not the musicians. An appearance on Germany's Rockpalast TV show and the ensuing hit single, "Let's Spend the Night Together," gave Chapman the shot of success he needed, so he set up operations in Germany. Live in Hamburg was a reassuring second album, demonstrating the live energy of this experienced yet stage-crazed performer. Studio albums over the next few years blended straight power rock with funk, R&B and soul, all topped with Chapman's characteristic vocal style. In the 1981 German music awards, Chapman was voted Best Singer, and his Hyenas Only Laugh For Fun won an award. Chapman and his backing band, the Shortlist, released two alter-ego albums in the early '80s as the Riff Burglars. These releases honored roots and classic rock by artists like Chuck Berry, Willie Dixon and Leiber & Stoller. A lead vocal on Mike Oldfield's 1983 hit, "Shadow on the Wall," also added to Chapman's diverse repertoire. Chapman's mid-'80s foray into polished studio sounds did not fare well with his audience. When his extended partnership with guitarist Geoff Whitehorn ran it's course, Chapman returned to pure rock form with 1989's Walking the Cat, which featured Alvin Lee and old friend, Bob Tench. Two compilations filled a silent period in the mid '90s, but 1996's Kiss My Soul was a comeback for the guy who never went away. It even got attention and a pressing in Chapman's British homeland, where he often tours but has no domestic releases. This was followed by 1998's A Turn Unstoned? and the 2-CD Anthology; the next year saw re-releases of Chappo and Mail Order Magic. Moth to a Flame was issued in early 2001. © Patrick Little, allmusic.com
ABOUT
FAMILY
/
THE STREETWALKERS
FAMILY were formed in Leicester (UK) in 1967, from a band called The Farinas, formed by Charlie Whitney in 1962 when he was at Leicester Art College. They were an R&B outfit who had recorded for the Fontana label and also went under the name The Roaring Sixties. In 1967 The Farinas moved down to London where they came into contact with Kim Fowley, an American producer who suggested the name change to Family. Liberty Records signed them in the September for an excellent psychedelic single called, Scene Thru' The Eyes Of A Lens and the first indication of Chappo's unique vocal style. If you have a copy, it's worth a few bob as it didn't exactly take the charts by storm. It was also an album track on Electric Sugar Cube Flashbacks. (That title must have needed a few pints or something .... ). The most famous and their debut album was Music In A Doll's House which was co-produced by Dave Mason (Traffic). Doll's House was outstanding, fresh, vibrant, exciting, original, just the sort of music that sounded even better when the mind is relaxed. To many it was one of the Top Ten LP's of the decade and one that you had to be seen with under your arm. It still remains today, thirty plus years later, in this writers all time Top Ten. Family became established as a vital cog in the underground circuit. The live show was incredible with Chappo strutting and pouting and looking as if he would lose it at any minute, but of course he didn't. His wailing, vibrating vocals moved the walls. The Doll's House was all original material and like the Beatles great LP, Revolver, almost every track pushed back the boundaries, was different and very much of the times. The band pulled together their immense musical skills, variety of instruments and Chappo's amazing vocals and success in producing something that has truly pasted the test of time. The follow album, Family Entertainment confirmed them as one of Britain's leading rock bands. Many regarded it as impossible to follow the Doll's House, but the album had some very powerful tracks including The Weaver's Answer, Hung Up Down and Observations From A Hill. Many fans would cite Weavers Answer as Chappo at his best. The album hit #6 in the UK Charts but the singles didn't do much until November 1969 when No Mule's Fool reached #29. With success comes changes and 1969 was a year for many of them. Ric Grech left during their first US tour to join Blind Faith. He was replaced by John Weider, from an LA band called Stonehenge and had played with Eric Burdon and The Animals. While on this US Tour, the band fell out with with top American promoter, Bill Graham, an upset that probably caused their failure to make it big in the USA. Back in the UK, Jim King departed from the band. King was replaced by Poli Palmer, from Birmingham who had played in several bands including the Bakerloo Blues Line. Even with these changes more success was to come. The albums A Song For Me and Anyway hit #4 and #7 in the LP Charts and they also had three singles in the charts. John Weider departed in June 1971 to be replaced by John Wetton from Mogul Thrash and left just over a year later to join another great band, King Crimson. (note that John Wetton is also back on the road with his own excellent band) The next two albums were also successful with Fearless and Bandstand, hitting #10 and #15 in the LP charts and also giving them some long awaited success in America by reaching #177 and #183. At this point, Poli Palmer departed to set up a new band with Ric Grech which never got off the ground. Tony Ashton joined on keyboards and Jim Cregan came in from the band Stud. The best times for Family were now in the past and a move of labels from Reprise to Raft to record their last album, It's Only A Movie, failed to lift the fans by October 1973 it was all over. Chappo and Charlie Whitney formed Streetwalkers and Rob Townsend could be found in the successful Medicine Head. Chappo and Charlie Whitney recorded the first Streetwalkers album after Family's farewell tour in 1973 with help from the renowned ex-Jeff Beck guitarist Bobby Tench, plus Linda Lewis and another former Family member John Wetton. The band was not fixed with different members leaving and joining. For many Family fans, Chappo's first Streetwalkers album was a let down. On the Downtown Flyers album Chappo and Charlie Whitney were able to find a more settled band including John Plotel ex Casablanca. With the accent strongly on R&B and Soul, Chappo's unique vocal style became more mainstream than what he'd been doing with Family. However, they had more commercial successful with Red Card, which hit #16 in the Album Charts. As ever, the band found success in Europe especially Germany where Chappo remains in high regard and high demand to play live. © 2011 CannyGigs.Com