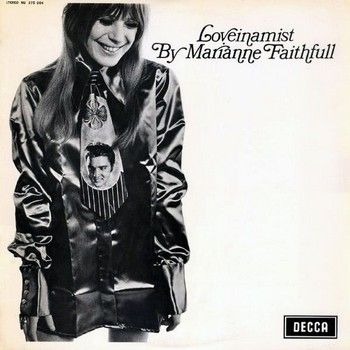 Marianne Faithfull
-
Loveinamist
[

Japan

Bonus Tracks

]
-
2002
-
Decca (USA)
Faithfull's final album of the 1960s (she would do one more single, in 1969) was a confused, patchy effort that seemed indicative of musical directionless. There was overblown, orchestrated straight pop (the cover of the Beatles' "Yesterday"), numbers where she seemed to be attempting to be a British Edith Piaf of sorts, and covers of contemporary folk-rock tunes by Donovan and Tim Hardin. Also, a couple of the better songs ("This Little Bird" and "Counting") had long been available on singles, from 1965 and 1966, respectively. This would have been categorized as "eclectic" rather than "directionless" if the material had been better, the arrangements more inspired, and the singing more commanding, but that wasn't the case on any of those counts. There are still some enjoyable bits, like the cover of "Young Girl Blues," and particularly the version of Jackie DeShannon's moody "With You in Mind." At the time, it was likely seen as something to fill in the gaps in the absence of better material. No one suspected, probably, that Faithfull would be diverted by other professional activities and personal calamities, and really wouldn't return to high visibility as a recording artist for a dozen years. The 1988 CD reissue on London U.K. has a couple of worthwhile bonus tracks in previously unreleased covers of Tim Hardin's "Hang Onto a Dream" and the Kinks' "Rosie, Rosie" (titled "Rosy Won't You Please Come Home" when it appeared on the Kinks' Face to Face album), both of which were recorded in September 1966. © Richie Unterberger © 2012 Rovi Corp | All Rights Reserved http://www.allmusic.com/album/love-in-a-mist-mw0000374789
"Loveinamist" was Marianne's fourth LP and her last studio album until 1977 when she released "Dreamin' My Dreams". "Loveinamist" is a good mix of pop and folk, with great tracks like Tim Hardin's "Reason To Believe and Donovan's "In The Night Time. The album was completely overlooked on it's release in 1967. The media in the "swinging sixties" were more concerned with other aspects of Marianne's life. In fact much of her early music has been neglected for many years now. This Japanese bonus issue is a good chance to hear the '60's Marianne Faithfull's beautiful voice and a great choice of covers by writers that include Lennon & McCartney, Jackie DeShannon, Donovan, Tim Hardin, Ray Davies and many more. Listen to Marianne's "Broken English" album, a critical success of which Rolling Stone writer Greil Marcus said, "Fifteen years after making her first single, Marianne Faithfull has made her first real album." Also listen to Marianne's underrated "Strange Weather" album.
Read all you need to know about Marianne @ http://www.martinfrost.ws/htmlfiles/april2009/marianne-faithfull.html
N.B:
Has anybody out there got a full list of musicians' credits for this album?
[
All tracks @ 320 Kbps: File size = 111 Mb
]
TRACKS / COMPOSERS
1. Yesterday - Lennon & McCartney
2. You Can't Go Where the Roses Go - J. DeShannon
3. Our Love Has Gone - C.Andrews
4. Don't Make Promises - T.Hardin
5. In the Night Time - D.Leitch (Donovan)
6. This Little Bird - John D. Loudermilk
7. Ne Me Quitte Pas - Michel Legrand
8. Counting - Bob Lind
9. Reason to Believe - T.Hardin
10. Coquillages - Marcel Stellman
11. With You in My Mind - J. DeShannon
12. Young Girl Blues - D.Leitch (Donovan)
13. Good Guy - D.Leitch (Donovan)
14. I Have a Love - L. Bernstein, S.Sondheim
15. Hang on to a Dream - T.Hardin [Bonus]
16. Rosie, Rosie - Ray Davies [Bonus]
17. Monday, Monday - John Phillips [Bonus]
N.B:
Some issues of this album have a different track list than the original Decca UK version of this album. In fact, there are many versions of this album. However, Tracks 1-14 on this post were on the original UK Decca 1967 mono pressing of the album
BIO
Few stars of the '60s have reinvented themselves as successfully as Marianne Faithfull. Coaxed into a singing career by Rolling Stones manager Andrew Loog Oldham in 1964, she had a big hit in both Britain and the U.S. with her debut single, the Jagger/Richards composition "As Tears Go By" (which prefaced the Stones' own version by a full year). Considerably more successful in her native land than the States, she had a series of hits in the mid-'60s that set her high, fragile voice against delicate orchestral pop arrangements: "Summer Night," "This Little Bird," and Jackie DeShannon's "Come and Stay with Me." Not a songwriter at the outset of her career, she owes more of her fame as a '60s icon to her extraordinary beauty and her long-running romance with Mick Jagger, although she offered a taste of things to come with her compelling 1969 single "Sister Morphine," which she co-wrote (and which the Stones later released themselves on Sticky Fingers). In the '70s, Faithfull split up with Jagger, developed a serious drug habit, and recorded rarely, with generally dismal results. This occurred until late 1979, when she pulled off an astonishing comeback with Broken English. Displaying a croaking, cutting voice that had lowered a good octave since the mid-'60s, Faithfull had also begun to write much of her own material, and addressed sex and despair with wrenching realism. After allowing herself to be framed as a demure chanteuse by songwriters and arrangers throughout most of her career, Faithfull had found her own voice, and suddenly sounded more relevant and contemporary than most of the stars she had rubbed shoulders with in the '60s. Faithfull's recordings in the '80s and '90s were sporadic and erratic, but generally quite interesting; Strange Weather, a Hal Willner-produced 1987 collection of standards and contemporary compositions that spanned several decades for its sources, was her greatest triumph of the decade. In 1994, she published her self-titled autobiography; the biography As Tears Go By by Mark Hodkinson is an objective and thorough account of her life and times. Faithfull returned to recording in 2002 with Kissin' Time, an eclectic collection of songwriting collaborations with Beck, Damon Albarn, Billy Corgan, Jon Brion, and Jarvis Cocker, among others. In 2004, Before the Poison was released in the U.K., making its entrance into the U.S. market in early 2005. This album continued in the vein of its predecessor, with songwriting and production contributions from PJ Harvey, Nick Cave & the Bad Seeds, Brion, and Albarn, but with far more consistent results. Faithfull and Willner released Easy Come Easy Go in 2008, an all new collection of typically eclectic covers from the likes of Morrissey, the Decemberists, Billie Holiday, Black Rebel Motorcycle, and Dolly Parton. Faithfull and Willner re-teamed for 2011's Horses and High Heels, a collection of covers and originals recorded at the famed Piety Street studio in New Orleans. The album features the talents of local musicians including renowned guitarist John Porter, as well as cameos by Dr. John, Lou Reed, and Wayne Kramer. © Richie Unterberger © 2012 Rovi Corp | All Rights Reserved http://www.allmusic.com/artist/marianne-faithfull-mn0000651107
MORE
Long before Madonna made reinvention her artistic byword, Marianne Faithfull had resurrected herself many times over. Yet the British singer-songwriter's endeavors have consistently been upstaged by personal scandal and vice. Her early years as a Euro-waif pop singer coincided with a well-chronicled relationship with Rolling Stone frontman Mick Jagger, and her recordings were often overshadowed by the couple's legendary exploits. Faithfull began her musical career while still a teenager with timely, well-packaged singles that never quite achieved their full potential; meanwhile, life among the Stones entourage led to bouts with heroin addiction and alcohol abuse. Faithfull was implicated in a notorious 1967 drug bust involving the band, and her relationship with Jagger came to an end in 1969. She spent much of the 1970s battling her addictions while intermittently acting in theater productions and recording a few overlooked albums. The singer made a dramatic comeback in late 1979 with the release of Broken English, a critical success that prompted Rolling Stone writer Greil Marcus to remark, "Fifteen years after making her first single, Marianne Faithfull has made her first real album." During this incarnation, Faithfull's ability to embody pain and pathos led many to view her and the ultimate survivor/chanteuse—a rock version of Marlene Dietrich. Subsequently, she recorded several albums during the 1980s, like Broken English, that were lauded by critics for their searing vocals and choice backing musicians. More importantly, after a serious confrontation with her addictions she also regained some ballast in her life, which resulted in renewed faith in her abilities. Early Fame Linked to Rolling Stones: Faithfull was born on December 29, 1946, in Hampstead, London, to an Austrian baroness and a British intelligence officer who had met in Vienna during World War II. Her father, a devotee of Utopian social schemes, relocated his family to a communal farm in Oxfordshire in 1950, but after two years the Faithfulls' marriage disintegrated and Marianne and her mother moved to Reading, England. Living in rather reduced circumstances, Faithfull's girlhood was marred by bouts with tuberculosis and her charity-boarder status at the local convent school. Despite these early hardships, Faithfull emerged as a fashionable, vivacious teenager and soon began partaking in London's exploding social scene. In early 1964 she attended a record-industry party with John Dunbar—an art student she later married—and there a chance meeting with Andrew Loog Oldham, the Rolling Stones' manager, led to a contract with Decca Records. Her first single, "As Tears Go By"—a reworking of an old English lyrical poem—was written by Oldham, Jagger, and Stones guitarist Keith Richards; it reached number nine on the British charts and number 22 in America by the fall of that year. A colorful spark-plug of the swinging London scene, Faithfull was a few months short of her eighteenth birthday. Faithfull became an overnight Top 40 sensation, known for her ethereal, whispery vocals and angelic face. Artistic differences led to a falling out with Oldham, but the teenager continued to record singles for Decca over the next few years, including covers of Bob Dylan's "Blowin' in the Wind" and the Beatles' "Yesterday." She had her biggest successes in 1965 with Jackie DeShannon's "Come and Stay With Me" and "This Little Bird." Her first full-length album, Marianne Faithfull, appeared in April of 1965, followed by Go Away From My World in November of the same year and Faithfull Forever in 1966. Drugs Ruined Early Promise: Faithfull's dramatic personal life matched the fast-paced lifestyle her high-profile career demanded. In between appearances on such American rock music shows as Shindig and Hullabaloo, she had a son with Dunbar in November of 1965, but the couple separated shortly thereafter. By then she and Jagger had become an item, and their subsequent drug-fueled, jet-set exploits made her a household name for all the wrong reasons. In 1967 a party at Richards's fourteenth-century manse was raided by English law enforcement authorities, and Jagger and Richards were brought up on drug-related charges. Headlines proclaimed that Faithfull was in attendance wearing nothing but a fur rug. In an interview 27 years later with A. M. Homes for Details, Faithfull discussed her wilder days and admitted that the drug bust-fur rug incident had ravaged her personal life: "It destroyed me. To be a male drug addict and to act like that is always enhancing and glamorizing. A woman in that situation becomes a slut and a bad mother." The young singer's recording career never fulfilled its early popstar promise, but the ready availability of drugs and alcohol offered some temporary solace. In 1969 she cut her last single for Decca, "Something Better," a record more notable for its B-side, "Sister Morphine." Faithfull had cowritten this song—a harrowing tale of heroin addiction—with Jagger and Richards but didn't receive official credit for it until 1984. Another version of the song appeared on the Stones' 1971 album Sticky Fingers, along with the cut "Wild Horses." The latter is considered to be Jagger's lyrical parting tribute to Faithfull, written around the time their relationship was disintegrating in 1969; the break-up was apparently precipitated by her suicide attempt in an Australian hotel room during Jagger's filming of the movie Ned Kelly. Faithfull also played a small part in the genesis of "Sympathy for the Devil," released on the 1968 Stones album Beggar's Banquet and considered by some critics to be one of their most noteworthy compositions. Jagger penned the lyrics to the song after Faithfull encouraged him one night to read an obscure novel written by early-twentieth-century Russian writer Mikhail Bulgakov entitled The Master and Margarita. For the Record …: Born Marianne Evelyn Gabriel Faithfull on December 29, 1946, in Hampstead, London, England; daughter of Robert Glynn (a university lecturer) and Eva Sacher-Masoch (Baroness Erisso) Faithfull; married John Dunbar (an art dealer), May 1965 (divorced, 1970); married Ben Brierly (a musician), June 1979 (divorced); also married briefly to Giorgio della Terza (a writer); children: (first marriage) Nicholas. Singer, songwriter, actor, and author. Recorded several pop singles and albums for Decca Records, 1960s; appeared in film and theater productions, beginning in 1967; recorded Broken English, Island, 1979; published Faithfull: An Autobiography, 1994; recorded critically acclaimed albums for RCA, 1997, 1998; recorded the Vagabond Ways LP for Instinct, 1999; recorded Kissin' Time album with Beck and Billy Corgan of Smashing Pumpkins, 2002; Fourth Estate released her second book, Marianne Faithfull's Diaries, 2003; narrator for the film, A Letter to True, 2004. Addresses: Record companies—EMI-Capitol Records, 1750 N. Vine St., Hollywood, CA 90028; Island Records, 825 Eighth Ave., New York, NY 10019, website: http://www.universalchronicles.com. Film and Television Actress: Despite her continuing drug problems, Faithfull harbored ambitions for greater things than cutting Top 40 records. In 1967 she appeared in two films, I'll Never Forget Whats is name and the racy Girl on a Motorcycle, the latter with French actor Alain Delon. Two years later she made her stage debut at London's Royal Court Theatre in Anton Chekhov's Three Sisters and the following year played Ophelia in a film version of Hamlet. In the early 1970s Faithfull's heroin addiction led to intermittent hospitalization, and at one point she registered with Britain's National Health Service as an addict in order to receive a regular ration of the drug for free. Small royalties from "Sister Morphine" were sometimes her only source of income. She produced little in the way of recording, and the attempts made were disastrously ignored, such as 1975's country-and-western-inspired Dreaming My Dreams and Faithless, released in 1978. By the late 1970s things were beginning to look better for Faithfull. She had put together a band and began touring British clubs, and the gigs led to a deal with Island Records. In June of 1979 she married punk bassist Ben Brierly, and a few months later her new label released Broken English, a fierce comeback that garnered critical acclaim. In a raspy, harsh voice light years away from her whispery teenage vocals, Faithfull sang of despair, jealousy, rage, and redemption. Her backing band included Brierly and guitarist-songwriter Barry Reynolds. Faithfull cowrote the title track as well as two other songs, but the album earned special praise for her covers of John Lennon's "Working Class Hero" and Shel Silverstein's "Ballad of Lucy Jordan." In a Rolling Stone review, Greil Marcus looked back at the long road the singer had traveled since her 1964 debut, calling Broken English "a stunning account of the life that goes on after the end, an awful, liberating, harridan's laugh at the life that came before." The profanity-laden track "Why D'Ya Do It?," a terrifying rant against a faithless lover based on a poem by Heathcote Williams, contributed to a decision by EMI—Island's British distributor—to boycott the record, although it did manage to reach number 57 on the British charts and number 82 in the United States. "I'm so, so strong," Faithfull told Debra Rae Cohen of Rolling Stone a few months after the release of the album. "People have no clue." Her pride in Broken English was apparent: "I've never worked very hard at anything before; it's the first time musical demands have been made on me." In his review Marcus termed the album "a perfectly intentional, controlled, unique statement about fury, defeat and rancor.... It isn't anything we've heard before, from anyone." Despite her newfound success, Faithfull continued to battle the twin demons of heroin and alcohol. A disastrous appearance on Saturday Night Live was blamed on too many rehearsals, but it was suspected that drugs had caused her vocal cords to seize up. A second album for Island, Dangerous Acquaintances, was released in 1981 and featured a more upbeat mood and a track written by Steve Winwood, formerly of the Spencer Davis Group, Traffic, and Blind Faith. The album just missed breaking the top 100 in the United States but reached number 45 in the United Kingdom. "Faithfull fairly revels in her newfound strength," wrote Parke Puterbaugh in Rolling Stone. "Dangerous Acquaintances quakes with a darkly luminescent power, as the singer meditates on the transience and intransigence of affairs of the heart." During the 1980s Faithfull moved between London and New York, her heroin addiction helping to obliterate the reality of her sometimes squalid living conditions and equally squalid acquaintances. Her third LP for Island, A Child's Adventure, was released in 1983 but achieved only scant commercial success. Though he praised the musicianship of the record, Rolling Stone's Puterbaugh mused that Faithfull had perhaps "overextended her poetic license, for the allusions are far too vague, the protagonist of these living nightmares too swollen with her own suffering." During the mid-1980s Faithfull's chemical addictions began to catch up with her—in a chemical-induced stupor she took a bad fall down a flight of stairs, and in another incident her heart actually stopped. Extensive rehabilitation, including a stint at the famed Hazelden facility, helped her overcome her demons by the time Strange Weather was released in 1987. The album of covers was produced by Hal Willner after the two had spent numerous weekends listening to hundreds of songs from the annals of twentieth-century music. They chose to record such diverse tracks as Bob Dylan's "I'll Keep It With Mine" and "Yesterdays," written by Broadway composers Jerome Kern and Otto Harbach. The work also includes tunes first made notable by such blues luminaries as Billie Holiday and Bessie Smith; latter-day beat-virtuoso Tom Waits penned the title track. Made Comeback on Island Records: Coming full circle, the renewed Faithfull cut another recording of "As Tears Go By" for Strange Weather, this time in a tighter, more gravelly voice. The singer confessed to a lingering irritation with her first hit. "I always childishly thought that was where my problems started, with that damn song," she told Jay Cocks in Time, but she came to terms with it as well as with her past. In a 1987 interview with Rory O'Connor of Vogue, Faithfull declared, "forty is the age to sing it, not seventeen." In 1990 Faithfull released Blazing Away, a live retrospective recorded at St. Anne's Cathedral in Brooklyn. The 13 selections include "Sister Morphine," a cover of Edith Piaf's "Les Prisons du Roy," and the controversial "Why D'Ya Do It?" from Broken English. Alanna Nash of Stereo Review commended the musicians whom Faithfull had chosen to back her—longtime guitarist Reynolds was joined by former Band member Garth Hudson and pianist Dr. John. Nash was also impressed with the album's autobiographical tone, noting "Faithfull's gritty alto is a cracked and halting rasp, the voice of a woman who's been to hell and back on the excursion fare—which, of course, she has." The reviewer extolled Faithfull as "one of the most challenging and artful of women artists," and Rolling Stone writer Fred Goodman asserted: "Blazing Away is a fine retrospective—proof that we can still expect great things from this graying, jaded contessa." Faithfull next took a hiatus from performing and lived in relative isolation in Ireland for a few years. She returned to the stage for a 1991 Dublin revival of The Threepenny Opera and played a ghost who comes back to torment her abusive husband in the film When Pigs Fly. She also spent time with writer David Dalton in compiling her 1994 autobiography, Faithfull, and released an album of the same name in August of that year. The book, as expected, is loaded with the singer's forthright reminiscences of being caught up in the orbit of the Rolling Stones and her difficult attempts to break free of those years, recounted "with witty, humorous detachment and in a voice as distinctive as her latter-day rasp," according to Billboard writer Chris Morris. The 1994 album Faithfull, subtitled A Collection of Her Best Recordings, contains Faithfull's original version of "As Tears Go By," several cuts from Broken English, and a song written by Patti Smith scheduled for inclusion on an Irish AIDS benefit album. This track, "Ghost Dance"—suggested to Faithfull by a friend who later died of AIDS—was made with a trio of old acquaintances: Rolling Stones drummer Charlie Watts and guitarist Ron Wood backed Faithfull's vocals on the song while Richards coproduced it. The retrospective album also features one live track, "Times Square," as well as Faithfull's return to songwriting with "She," penned with acclaimed composer and arranger Angelo Badalamenti. Best known for his work scoring projects for filmmaker and Twin Peaks creator David Lynch, Badalamenti teamed up with Faithfull for A Secret Life, her first full-length studio effort since 1987. Vanity Fair writer Cathy Horyn predicted in September of 1994 that this Island Records collaboration, released in March of 1995, "will almost certainly restore this fallen angel to her rightful place: as one of the great interpretive singers of our time." A Respected Icon: Faithful returned to songwriting full-time with the 1999 album Vagabond Ways for Instinct. Co-writing most of the material, she turned in an emotionally resonant performance that cemented her status as both the supreme interpreter of personal torment and contemporary creative force to be reckoned with. At the age of 56, she simultaneously enjoyed the role of a burgeoning art-film actress in such movies as Far From China, and Intimacy, and as the patron saint for a new wave of musicians. Indeed, her 2002 EMI album Kissin' Time featured remarkable collaborations with the likes of such modern day artists as Beck, Blur, Pulp, Dave Stewart, and Billy Corgan of Smashing Pumpkins fame. The result was her finest, most emotionally revealing disc since Broken English, one that won her the admiration of a new generation of discerning music fans, albeit not much action on the mainstream charts. Looking back, which she often asked to do by interviewers, she has only one regret. "I wish I'd never taken heroin," she told told Charles R. Cross of the Seattle Weekly. "It seems to me now, looking back on it, from a long way in time, that it was just a waste of my time." © Carol Brennan and Ken Burke 2005 © 2012. All rights reserved © http://www.encyclopedia.com/topic/Marianne_Faithfull.aspx#1-1G2:3430400020-full