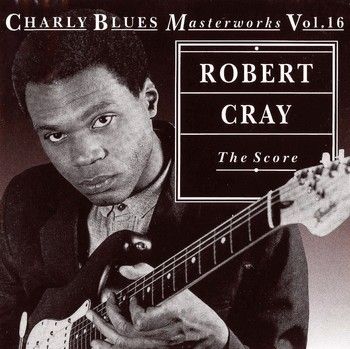 Robert Cray
-
The Score:
Charly Blues Masterworks,
Vol. 16
-
1992
-
Charly R&B
Bluesman Robert Cray has occasionally been critized for mixing pop and funk elements in his music but no such criticism can be made about this CD reissue of his recording debut. It seems obvious in hindsight from the music that Cray would become a star for his appealing voice and strong guitar playing manage to both update and reinforce the blues tradition. This superior if brief (under 36-minute) session is recommended to all lovers of the blues. © Scott Yanow © 2012 Rovi Corp | All Rights Reserved http://www.allmusic.com/album/too-many-cooks-mw0000268957
Robert Cray's music has been described as as "neoclassic-R&B". Not a bad definition of his music, as many music "critics" have maintained that Robert Cray's music is "safe", "predictable", and some have made the comment that he is not a "genuine" bluesman because of his musical excursions into Gospel, R&B, and Southern Soul. Other "experts" have said that his albums have a "sameness" about them. He has been described as "a yuppie blues wannabe". Well, Robert Cray's music has always had a "soul backbone", and there's nothing wrong with that, and his music has always had a strong blues foundation. The guy is a brilliant blues guitarist, and has made many great albums. Robert has never stuck to the orthodox blues' styles. His innovative guitar playing has brought new life to the blues, and many of his songs are the real blues deal. Robert has stamped modern blues with his own unique style. Robert, himself, has said that "Blues is one of the foundations of our music, but it's not all that we play." He also said "When I first started playing guitar, I wanted to be George Harrison – that is, until I heard Jimi Hendrix. After that, I wanted to be Albert Collins and Buddy Guy and B.B. King. And then there are singers like O.V. Wright and Bobby Blue Bland. It's all mixed up in there." "Every time somebody asks me about where my music comes from, I give them five or six different directions – a little rock, soul, jazz, blues, a little gospel feel. Then there are some other things that maybe fall in there every once in a while, like a little Caribbean flavor or something. You just never know. I always attribute it to the music we grew up listening to, and the radio back in the '60s. It's pretty wide open. It's hard to put a tag on it." On "The Score", Robert Cray shows that he is more than capable of playing great music, using his many formidable influences. He is admired by real music lovers as a stylish musician. He has a winning musical formula, and as the saying goes, - "If it ain't broke, don't fix it"!. Sure, Robert takes regular excursions outside the blues realm, but he still plays great music. Somebody said that "if the Everly Brothers could sing the same way for 30 years, why can't Robert Cray do the same?" "The Score" is
HR by A.O.O.F.C.
Buy Robert's superb "Strong Persuader" album, and check out The Robert Cray Band's "This Time", and Robert Cray & Albert Collins' "In Concert 1977" albums on this blog.
N.B:
This album was originally issued in 1980 with the title "Who's Been Talkin'". It was released again in 1989 with the title "Too Many Cooks". "The Score" and the other two aforementioned albums contain the same tracks
[

All tracks @ 320 Kbps: File size = 82.8 Mb

]
TRACKS / COMPOSERS
1 Too Many Cooks - Willie Dixon 2:51
2 The Score - D.Amy 4:15
3 The Welfare (Turns Its Back On You) - L. Weaver, Sonny Thompson 3:28
4 That's What I'll Do - Robert Cray 2:46
5 I'd Rather Be A Wino - Robert Cray, D. Amy 4:58
6 Who's Been Talkin' - Chester Burnett 3:54
7 Sleeping In The Ground - Sam Myers 3:29
8 I'm Gonna Forget About You - O.V. Wright 3:18
9 Nice As A Fool Can Be - Robert Cray 3:24
10 If You're Thinkin' What I'm Thinkin' - Robert Cray 4:33
MUSICIANS
Robert Cray - Guitar, Vocals
Richard Cousins - Bass (Tracks 1,3,6,8)
Dennis Walker - Bass (Tracks 2,4,5,7,9,10)
Nat Dove - Keyboards (Tracks 2,4,5,7,9,10)
Dave Stewart - Piano (Tracks 1,3,6,8)
Tom Murphy - Drums (Tracks 1,3,6,8)
Buster Jones - Drums (Tracks 2,4,5,7,9,10)
David Li - Saxophone
Nolan Smith - Trumpet
Curtis Salgado - Harmonica, Vocals (Track 8)
BIO
Tin-eared critics have frequently damned him as a yuppie blues wannabe whose slickly soulful offerings bear scant resemblance to the real down-home item. In reality, Robert Cray is one of a precious few young (at this stage, that translates to under 50 years of age) blues artists with the talent and vision to successfully usher the idiom into the 21st century without resorting either to slavish imitation or simply playing rock while passing it off as blues. Just as importantly, his immensely popular records helped immeasurably to jump-start the contemporary blues boom that still holds sway to this day. Blessed with a soulful voice that sometimes recalls '60s-great O.V. Wright and a concise lead guitar approach that never wastes notes, Cray's rise to international fame was indeed a heartwarming one. For a guy whose 1980 debut album for Tomato, Who's Been Talkin', proved an instantaneous cutout, his ascendancy was amazingly swift -- in 1986 his breakthrough Strong Persuader album for Mercury (containing "Smoking Gun") won him a Grammy and shot his asking price for a night's work skyward. Robert Cray was born on August 1, 1953 in Columbus, GA. An Army brat who grew up all over the country before his folks settled in Tacoma, WA, in 1968, Cray listened intently to soul and rock before becoming immersed in the blues (in particular, the icy Telecaster of Albert Collins, who played at Cray's high school graduation!). Cray formed his first band with longtime bassist Richard Cousins in 1974. They soon hooked up with Collins as his backup unit before breaking out on their own. The cinematic set caught a brief glimpse of Cray (even if they weren't aware of it) when he anonymously played the bassist of the frat party band Otis Day & the Knights in National Lampoon's Animal House. Cray's Tomato set, also featuring the harp of Curtis Salgado, was an excellent beginning, but it was the guitarist's 1983 set for HighTone, Bad Influence, that really showed just how full of talent Cray was. Another HighTone set, False Accusations, preceded the emergence of the Grammy-winning 1985 guitar summit meeting album Showdown! for Alligator, which found the relative newcomer more than holding his own alongside Collins and Texan Johnny Copeland. Strong Persuader made it two Grammys in two years and made Cray a familiar face even on video-driven MTV. Unlike too many of his peers, Cray continued to experiment within his two presiding genres, blues and soul, on sets for Mercury such as Midnight Stroll, 1990, I Was Warned, 1992, and Shame + A Sin in 1993. After switching to Rykodisc in the late 90s Cray released Take Your Shoes Off in 1999, and Shoulda Been Home in 2001, proving that the "bluenatics" (as he amusedly labels his purist detractors) have nothing to fear and plenty to anticipate from this innovative, laudably accessible guitarist. Touring regularly with the likes of Eric Clapton and Bob Dylan, Cray stayed active in the studio, as well, signing with Sanctuary Records and releasing Time Will Tell in 2003, Twenty in 2005, a pair of live albums, Live from Across the Pond in 2006 and Live at the BBC in 2008, and This Time, which was issued by Vanguard Records a year later. Cray released his third live album in four years, Cookin in Mobile, in 2010. The material that comprised the album was taken from a single performance at the Saenger Theatre in Mobile, Alabama in February of that year. © Bill Dahl © 2012 Rovi Corp | All Rights Reserved http://www.allmusic.com/artist/robert-cray-mn0000830425