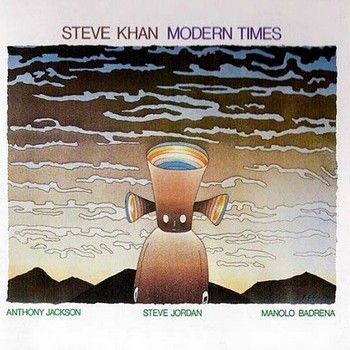 Steve Khan
-
Modern Times
-
1982
-
Trio
Though 1982 seems like a lifetime ago, I have many memories of that time. I recall that, after we had recorded "EYEWITNESS" and it had been released in Japan, causing a bit of a sensation, we were told that we would be going there to play live at the famous Pit Inn located in Rappongi, a district within Tokyo. But, more than this, we were offered the chance to make a "live" recording of our very first time playing in front of people. Be assured, a certain amount of panic began to infiltrate my every thought. There would not be enough time to jam-up sufficient new material. So, I got very serious over a period of weeks and composed "Blades"; "The Blue Shadow"; and "Penguin Village." The first two tunes mentioned have already been presented here at Korner 2. When the recording was released in Japan, it was originally titled, "MODERN TIMES." However, when a deal was worked out for it to be released here in the U.S. on Passport Jazz Records, Steps Ahead had also just released a new recording under that same title. So, rather than compete with that, the U.S. release was to bear the title of "BLADES." On a side note, in one of the absolute dumbest moves I ever made, I allowed my then lawyer to talk me into only selling the LP rights to Passport Jazz and that 'we' would sell the CD rights to someone else because Passport Jazz was not offering much of an advance. This was mostly because their label was just about to launch and they needed 'product' to add some bulk and stability to the initial release. In the end, "BLADES" was never released as CD in the U.S. nor in Europe. I can't begin to explain just how stupid I have come to feel about this. In truth, I haven't listened to this tune in years. Now, being forced to hear it again, because I had to make certain that the lead sheet was accurate, I couldn't help but notice many things. The tone of my Gibson ES-335 was much more bright than I had remembered. Again, and I am repeating this detail from past analyses concerning this recording, I was supposed to have been playing in 'stereo' but, because one of my two Roland JC-120s was damaged and was distorting throughout, that guitar track was not usable. So, when trying to mix this recording with engineer Doug Epstein at Mediasound back in New York, we were forced to try to create some kind of a false stereo effect for the guitar while using only one of the tracks recorded. But, nothing helped my tone. All of this signals to me that I still had not arrived at 'my sound' by that time, 1982. It makes me feel that I really didn't achieve it until "CROSSINGS" and that was not until 1994, some 12 years later. If one was to A-B the sound of this recording with "THE SUITCASE," it becomes obvious just how far my sound had evolved. Though this particular composition has no piece upon which it is modeled, the opening melodic sections, which are stated in chords as 'long tones', do reflect a very common device. You have these long, held chord voicings stated over Steve Jordan's fast, double-time Jazz cymbal beat. Steve was using some beautiful Paiste cymbals and each one, each sound that he chose was spectacular and filled with a particular sonic purpose. Specifically, I am referring to all the [A], [B] and [B2] sections. Though "CONTEMPORARY CHORD KHANCEPTS" did not get published until the '90s, it's incredible to me that I am now sitting here, some 25 years after the fact, I had actually completely forgotten that I had been applying these particular voicing ideas long, long ago. Virtually all the 'soundshapes' that you hear in these sections, are to be found in Unit 14 of the aforementioned book. They're all there! And the usage of triads over stationary bass notes can be found in that same section of the book, as well as in Unit 2. During this series of concerts at the Pit Inn, I believe that we played a total of four nights, of which the first two nights were really warm-ups for us to the eventual recording. I had been under the impression that the club was going to turnover the house between sets, but, after we got there, we learned otherwise. At that time, we did not really have enough materials to play two completely different sets. So, I had to apologize to the audience for the fact that they would be hearing some of the same material during the 2nd Set. We recorded nights 3 and 4, both sets, and we performed a version of each of the 4 new tunes during each set. And that means that we ended-up with 4 versions from which to choose what might actually end-up on the final LP. In my view, in general, for some artists, it is normal when recording live to have several versions from which to choose. With today's digital editing technologies, it has become possible to do some truly remarkable things, such as cutting between sections of performances from different sets or nights. If the same engineer was involved there should not be any huge problems. And that would include changes in the venue. Here, we had no such luxury, if an internal edit was neccesary, it would have to be done the old-fashioned way by cutting the multi-track 2" reels. If one has ever held these reels in one's hands, you would know just how heavy they can be, and so, I decided that it would be best to carefully examine all the takes before returning home to New York that we would make our selections of the performances and then place the four tunes to be used on two reels. Anthony, Steve, Manolo and I all had cassettes of ALL the performances and we listened and made our recommendations. When it came time to make the actual choices, we knew that some editing was going to be necessary. I don't recall all the details of what transpired, but, I do know that we did edit "Penguin Village" from two completely different nights and performances. We faced a huge problem in that the tempos did not match, in fact, they were not even close. So, what could do to deal with that. Well, I had learned that we had one great 'trick' up our sleeves. The 'trick' lies in the notion of magical illusion. In short, and in theory, if one can distract the listener for an instant, it might be possible that that same person won't detect the change in tempo. How was that accomplished? The answer is contained within the wild sounds of Manolo Badrena. We simply took one of his performed sounds, where he feeds his voice or a percussion instrument into a microphone which then is process by his own digital delays and as that sound is processed, Manolo is turning a knob to 'warp' the sound. This kind of effect tends to totally blur any sense of perceived time. And so, when Letter [C] arrives for the first time, that is where the edit took place. If one listens carefully, and tries to tune-out Manolo's effects, it is easy to detect that the tempo increases. At this point in time, so many years later, for me it is no problem to share this detail with everyone because there is something to be learned from our experiences. As [C] arrives, the piece becomes cha-cha-cha with Steve Jordan now slamming-out insistent quarter-notes with a cross-stick over the snare drum. Each successive [C] section mirrors the changes that occurred in [A] with the amount of bars being extended over an 8-bar chordal section followed by an 8-bar single-note line motif. During each of the chordal sections beginning with [C3], you can hear Steve Jordan pick-up the intensity by going to his ride cymbal. When the single-note lines reappear, he comes back down to the hi-hat and the cross-stick again. Through the course of the piece, we always use [B2], another 8-bar section, as a transition to move the piece along. As we arrive at [D], you will notice the arrival of yet another Manolo scream over the section change. What does that mean? Yes, you guessed it, another edit as we actually go back to the original take. The reason for all this is that I had obviously come to feel that my best performance of all the [C] melodic material had been on another night, other than the night which best represented the [A] and[B] sections as well as the guitar and percussion solos. Again, if you listen carefully and through that edit, you can hear the tempo returning to where it was when the piece began. The guitar solo section begins at [D] and, because the harmonic center could be a bit cloudy to some ears, I decided to just transcribe a portion of what you now hear Anthony Jackson playing. Obviously, the chord symbol of Gmaj7(9#4) is correct, but, if one attempts to analyze the lines that Anthony plays to set-up the solo, it would seem that he's playing in the key of E-major. What is THAT about? Well, you can do your own analysis of that. For me, if and when I see A.J. again, I would love to ask him, "What the hell were you thinking about there?!?!?!" Maybe he'll inculcate me?!?!?! But, I doubt it!!!! As we attempted to do within this band, the prime directive of any particular solo section was to open things up, to free them up in the best and most musical way possible. So, the initial Gmaj7(#4) section is open with no prescribed amount of bars, nor time constraints. When we finally do move to [D2], the bars are in fixed amounts and again, the chord changes mirror those in the [C] sections. Once again, [B2] provides the transition out of the [D], the guitar solo, and into [E] which is Manolo's percussion solo which is fundamentally played over the same bass tumbao that appears in [C]. The little guitar repeated figure which you see at [E] was improvised over the course of our 4 nights at the Pit Inn. The interesting little detail is the improvised accent I finally arrived at playing in the 4th bar took a bit of time to arrive at. At around the 9:12 marker of the tune, I played those accents in bars 2 and 4 of [E], but at that moment, they were both played on the "and-of-3." Then, at 9:32, I finally begin to play them on beat 4 which, where you see them on Pg. 5 of the lead sheet, is being present here now. In truth, were we to play this piece now, I would only play that accent in the 4th bar and would leave the extra space for Manolo! On cue, coming out of the [E] section, we move through the [A] chord changes once again which you can view on Pg. 6 of the lead sheet. As we make that transition, Steve Jordan raises the intensity level again by going to his ride cymbal and playing much harder!!! [E2]-[E4] each have a total of 8 bars. As we come out of [E4], we take a D.C. to the top of the tune and [A] playing straight down Pg. 1, through [B], taking the [Coda] to the bottom of Pg. 6 where [B2] is played one final time. This time, there is a fermata over the final D/Bb chord(Bbmaj7#5). As for this particular song title? It also comes from the Japanese comic book series titled, "DR. SLUMP." And, it is my understanding that 'Penguin Village' is where most of the stories in this series take place. If you scoll over of the image of the comic cover, it will take you to an actual "Wikipedia" website page devoted to all the trivia about this comic book. Having explained this now, if I had to do it all over again? I would have never, ever used something so silly and frivolous for a title. Once again, for those of you who have written me about the "MODERN TIMES"(Polydor) recording on CD, and sought to locate copies of it, I know that this has been frustrating. I would also hasten to add that I have absolutely no control over whether or not any of the labels involved will choose to re-issue this recording ever again in the CD format. For now, it is my simple hope, that, having shared this lead sheet with you, it will only add to your appreciation of the music. Whatever notes I might have written on the paper, they are truly nothing without the individual brilliance and ingenuity of Anthony Jackson, Steve Jordan and Manolo Badrena. I am so lucky that we were together at that moment in time to have been a group. So, to everyone, I would only encourage you to continue to write, compose and, to have the courage to bring those tunes into your rehearsals. That's the only way great things are going to happen! © Steve Khan http://www.stevekhan.com/penguinva.htm
Steve Khan began playing guitar when he was 19, after discovering that drumming was not his forte. As well as a considerable solo output, he is now regarded as one of the great session jazz guitarists, and a giant of progressive jazz and jazz fusion. Steve has taken jazz/fusion to another level. He has always tried to bring something new to all his recordings, and he doesn't disappoint here. He is an intense and creative player who loves exploring new challenges in jazz. Read any article about great contemporary jazz guitar and you will nearly always find Steve Khan's name mentioned regarding the innovative qualities and freshness that he brings to the genre. He has performed with jazz and rock artists like Donald Fagan, (appearing on Steely Dan's Aja and Gaucho albums), Miles Davis, James Brown, Aretha Franklin, Chaka Kahn, Lou Rawls, and Quincey Jones. "Modern Times" was recorded "Live" on May 3rd & 4th, 1982 at the Roppongi Pit Inn Tokyo, Japan. It's a great album with some Grade A musicians complementing Steve Khan's own progressive guitar style which is always worthwhile listening to. Donald Fagen has said of Steve, "Some people think they know all there is to know about Steve Khan. Sure, he does a great Ed Sullivan; O.K., he's got an almost Teutonic fascination with little machines. But don't let anyone tell you he's just another guitar player". N.B: "Modern Times" was released as "Blades" in the US in 1982 on the Passport Jazz label to avoid confusion with Steps Ahead's "Modern Times" album. The album is
HR by A.O.O.F.C.
If you like this album, you should give his "Eyewitness" and "Evidence" albums a listen.
[

All tracks @ 320 Kbps: File size = 102 Mb

]
TRACKS / COMPOSERS
A1 Blades (For Wayne Gretzky) - Khan 10:45
A2 The Blue Shadow (For Folon) - Khan 11:45
B1 Penguin Village - Khan 11:49
B2 Modern Times - Jackson, Badrena, Jordan, Khan 11:10
MUSICIANS
Steve Khan - Guitar
Anthony Jackson - Bass Guitar, Contrabass Guitar
Steve Jordan - Drums
Manolo Badrena - Percussion, & Special Effects
ABOUT
ALBUM
/
BAND
What band is crazy enough to make a 'live' recording the first time they perform in front of people? Well, this band was crazy enough to do it. There was a great reaction to the release of "EYEWITNESS" in Japan and the group was immediately booked for some gigs at the famous PIT INN in Tokyo. We were advised by George Braun that fans would not really believe that we were, in fact, a 'group' until we had released three recordings. So, we thought we could immediately make record #2 while we were there in Japan. When we arrived in Japan, the 'group' had no name and "EYEWITNESS" had been released under my name because none of the other guys wanted to sign the contract. So, as we walked into the PIT INN for the first show, the poster outside read: STEVE KHAN & EYEWITNESS, and from that day forward, everyone has just referred to us as: Eyewitness. People often ask why was the same recording released with two different titles? Well, initially the recording was to be titled "MODERN TIMES"....period, end of story. But, before we could find a label to release this recording in the U.S., Steps Ahead had just released their own LP titled, "MODERN TIMES." So, in order not to be confused with their recording, I changed the title to "BLADES" for the U.S. release on Passport Jazz. A 'miracle' release because NO ONE wanted a recording with four tunes, each over 10-minutes in length. In truth, IF this recording had been done during the height of the CD era, each tune would have been about 17-minutes long, and we had to do some serious editing to make it even fit on an LP! The only release of this recording as a CD was in Japan, and sadly it's been out-of-print for sometime now. Highlights for me include: the drum/bass duet during the 'Intro' to "The Blue Shadow"(one of the best recorded examples of the ESP-like chemistry that exists between Steve and Anthony); the texture Anthony and Manolo create at the beginning of the guitar solo on "Blades." Steve Jordan's unique approach to the drums, to music-making, to the sound of each drum and cymbal makes this recording so sought after by drum nuts everywhere. My nightmare about the sound of this recording is that none of the wonderful Japanese recording technicians told me that one of my two Roland JC-120s was completely distorted during the entire recording, and that track became useless! Often times, it is mistakenly thought that all American musicians know exactly what they're doing at all times! In the end though, it's my responsibility to make certain these details are correct. So, I was stuck with a sound which, to me, is not representative. Monstrous bummer! I also made the huge mistake of recording myself with too much 'live' digital reverb....and, of course, once that's committed to tape, you're stuck with it! As we are passing from the CD Era to the iTunes or Digital Download Era, I think that it is worth telling everyone that I allowed my then lawyer to talk me into one of the most stupid business decisions I ever made. As we were negotiating the terms with Passport Jazz and realized that there would be no real cash advance for the recording, my lawyer tells me, "Let's retain the CD rights and we'll sell them to another label!" What was I thinking when I went along with this? No one wanted this album to begin with, so why would another label take the CD rights without have the LP and cassette rights? So, this one horrific decision on my part is the very reason that there were never any CDs manufactured for a U.S. release. So now, as I attempt to get Universal Music Enterprises to finally upload the album to iTunes, I am, on the one hand filled with hope that people will finally be able to have the album. But, on the other side of that, it just reinforces how long one ill-informed decision can follow you around. I just had to add this corollary to the story as a lesson for all those who face such decisions. - © Steve Khan http://www.stevekhan.com/discog8.htm
ABOUT
STEVE KHAN
In a special issue of Japan's "JAZZ LIFE" magazine, they selected the 22 All-Time Greatest Jazz Guitarists. Of course, legends like Charlie Christian, Django Reinhardt, Wes Montgomery, Kenny Burrell, and Jim Hall were included alongside more recent giants George Benson, Pat Martino, Larry Coryell, and John McLaughlin. But right there amongst contemporaries John Abercrombie, Pat Metheny, John Scofield, Mike Stern and Bill Frisell was Steve Khan! Testament to a large body of work which now spans more than 30 years. Hard to believe this dream began at a rather late age with Wes Montgomery held as the model to which to aspire. Steve admits that, when he was a teenager, "I was a terrible drummer with no musical training. I had developed a love for the guitar, and when I was 19 I switched instruments. I decided that I would not make the same mistakes I had made with the drums and studied hard in college along with private lessons from Ron Anthony." During these years, Khan always found himself in fast company and, from such situations he learned, developed and survived. By the time he graduated from U.C.L.A., in 1969, he felt ready to make the move to New York City. From this point forward, so much of Steve's career is well documented. In 1974, he performed in one of the first contemporary jazz guitar duos with Larry Coryell. During this same period, he became a key member of the Brecker Bros. Band. His first recordings as a leader were a trio of well-received albums for Columbia Records titled: "TIGHTROPE"('77), "THE BLUE MAN"('78), and, "ARROWS"('79). These recordings featured Michael and Randy Brecker, David Sanborn, Don Grolnick, Will Lee, Steve Gadd, Mike Mainieri and others. In 1994, Sony Music/Columbia released a CD compilation drawn from these three LPs titled, "THE COLLECTION."
In 1980, Steve began a great transition when he recorded a brilliant solo acoustic guitar album, "EVIDENCE," which paid tribute to his earliest jazz inspirations and served to establish him as one of the great interpreters of the music of Thelonious Monk. Between 1981 and 1985, he worked and recorded steadily with his quartet, Eyewitness, which included Anthony Jackson, Manolo Badrena, and Steve Jordan. Together they made three recordings: "EYEWITNESS"('81), "MODERN TIMES"/"BLADES"('82), and "CASA LOCO"('83). This groundbreaking group, and its recorded work, would come to be regarded as among the most innovative of its time! During 1984, Steve teamed with Steely Dan's Donald Fagen to interpret Thelonious Monk's "Reflections" for the "THAT'S THE WAY I FEEL NOW" recording which was a tribute to Monk and his compositions. When Eyewitness needed a break, Khan joined Joe Zawinul's WEATHER UPDATE for its one and only tour in '86. This was followed by an innovative duet recording with keyboardist Rob Mounsey. The Grammy-nominated CD was titled "LOCAL COLOR" and was released in '87. In 1989, Eyewitness was resurrected with Dave Weckl replacing Steve Jordan for the "PUBLIC ACCESS" ('90) CD. Since that time, Steve has added two highly acclaimed straight-ahead jazz recordings featuring Ron Carter and Al Foster. "LET'S CALL THIS" and "HEADLINE" were released in '91 and '92 respectively. In '94, Steve found himself back in the company of Anthony Jackson and Manolo Badrena, adding Dennis Chambers and Michael Brecker for "CROSSINGS," which is dedicated to the memory of Steve's late father, lyricist Sammy Cahn. Steve has contributed his talents to several special projects. His unique medley of two George Harrison tunes graced Mike Mainieri's NYC Records "COME TOGETHER," A Guitar Tribute to the Beatles. Here Steve was accompanied by Marc Johnson, Peter Erskine, and Nana Vasconcelos. Special Olympics and the Holiday Season brought Steve together with the Brecker Bros. for a Salsa-styled interpretation of his father's one Christmas song, "The Christmas Waltz," which appeared on the "JAZZ TO THE WORLD" CD. 1996 saw Steve teamed with Argentine vocalist Gabriela Anders, Rob Mounsey, and, New York Salsa All-Stars Rubén Rodríguez, Marc Quiñones, and Papo Pepin to contribute "Don't Worry Baby"("No Te Preocupes Nena") to "WOULDN'T IT BE NICE." a tribute to Brian Wilson. Recorded in 1996, "GOT MY MENTAL" brings Steve together for the first time with John Patitucci on acoustic bass and Jack DeJohnette on drums. The CD once again finds him using his unique playing and arranging perspective to interpret the works of Wayne Shorter, Ornette Coleman, Lee Morgan, Eddie Harris, and standards by Rodgers & Hammerstein as well as Steve's father with Jimmy Van Heusen. The latter is a stunningly beautiful rendering of the Sinatra classic "The Last Dance." On four of the eight tracks, the trio is joined at times by percussionists Bobby Allende, Marc Quiñones, and Don Alias. Brasilian percussionist Café lends his special talents to Steve's romantic journey through "I Have Dreamed." The intensity and creativity brought to the sessions shows Steve's unfailing desire to meet new challenges and explore them. These qualities cause his name to always be mentioned when discussions of contemporary jazz guitar are carried on. 1997 saw Steve reunite with Rob Mounsey to record "YOU ARE HERE." It had been nearly 10 years since the release of "LOCAL COLOR" and the duo was anxious to get back at it again. Like the prior CD, when these two tremendous musicians get together the music tends to defy categorization, but the new recording seemed to sit somewhere between a contemporary version of Latin jazz and World Music jazz. Also in keeping with their previous work, Steve is again heard on only acoustic guitars. Reminding us all, that he is one of the instruments most unique stylists, playing melodies and solos with a touch and phrasing all his own. One brand new dimension for "YOU ARE HERE" was the presence of Latin percussion virtuoso Marc Quiñones. Marc brought his spirit and power to signature compositions by Khan-Mounsey like "Clafouti," "Platanos Maduros," and "Peanut Soup." Released in September of 1998, the recording leaves little doubt that Steve and Rob are blazing a trail of their own making. August of '98, Steve toured Japan as part of Dave Samuels' "Tribute to Cal Tjader" Group. Apart from the tremendous reaction the group received, the tour was to have more far reaching consequences as it was here that plans were made for Steve, Dave Samuels and Dave Valentín to become the co-leaders of the reformed Caribbean Jazz Project. Together, the group recorded "NEW HORIZONS"(2000) was released on Concord Picante "PARAÍSO"(2001) both were released on Concord Picante and served to redefine just what the role of the guitar could be in Latin Jazz. However, in January of '02, citing conflicts over the group's direction, Steve chose to leave the group, and pursue other interests. After a nine year absence from recording as a leader, Steve entered Avatar Studios in May of 2005, accompanied once again by John Patitucci and Jack DeJohnette to record "THE GREEN FIELD." The return of longtime colleague, Manolo Badrena on percussion was most welcomed by all fans who appreciate his unique presence. The 18:05 title track is one of the absolute highpoints in Steve's long recording career. In addtition to the 6 quartet pieces, the basic "trio" was joined by Ralph Irizarry(timbal) and Roberto Quintero(conga & percussion) for Latin treatments of tunes such as: "Riot"(Herbie Hancock); the standard, "You Stepped Out of a Dream"; "Nefertiti"(Wayne Shorter) and, a special tribute, composed by Steve, and dedicated to both Tito Puente and Willie Bobo, which features incredible solos from Roberto, Ralph, and Jack, and is titled, "Cosecha lo que has sembrado." 2007 saw the release of the Grammy nominated "BORROWED TIME" and, for the first time since "CROSSINGS," the cover featured the beautiful artwork of the late Jean-Michel Folon. The recording is an extension of Steve's work with both John Patitucci and Jack DeJohnette and attempts to fulfill the promise of "THE GREEN FIELD." Manolo Badrena is on hand again, as are Ralph Irizarry(timbal) and Roberto Quintero(conga & percussion). All these players were joined by Bob Mintzer(bass clarinet) and tabla master Badal Roy for Steve's very original "El Faquir" which seeks to blend Jazz; Indian and Latin genres in a most surprising way. Steve was also able to present arrangements of "Have You Met Miss Jones?" and his own "Face Value" in tribute to Clare Fischer's harmonies. These spectacular tracks feature old friends: Randy Brecker(flügelhorn), Rob Mounsey(keys.), Rubén Rodríguez(baby bass & elec. bass) and, Marc Quiñones(timbal) & Bobby Allende(conga). After years of bootlegs and illegal downloads, 2008 brings with it the release of the 2-CD set, "THE SUITCASE." As was the case for the prior two CDs, the initial releases were on: 55 Records(Japan); Tone Center Records(USA) and ESC Records(Germany/Europe). Alongside longtime bandmates, Anthony Jackson and Dennis Chambers, the trio was originally recorded by WDR for a live radio broadcast from Köln, Germany in 1994. With the superb sound quality and the spectacular performances, this CD is already being hailed as: "One of the greatest live recordings of all-time!!!" Throughout his long and distinguished career, Steve has found time to lend his talents to recordings by such diverse artists as: Miles Davis, Steely Dan, James Brown, Aretha Franklin, Chaka Khan, Quincy Jones, Lou Rawls, Eddie Palmieri, Gil Evans, Freddie Hubbard, the Brecker Bros., Steps Ahead, among others (too numerous to list). He has also produced recordings for fellow guitarists Larry Coryell, Mike Stern, Biréli Lagrène, and Bill Connors, as well as pianist Eliane Elias. In addition, he has published five highly-regarded books: "WES MONTGOMERY GUITAR FOLIO", "PAT MARTINO-The Early Years", "GUITAR WORKSHOP SERIES-Steve Khan"(this book really functions as an Eyewitness Songbook), and most recently, "CONTEMPORARY CHORD KHANCEPTS." 2002 saw the long-awaited publication of Steve's "PENTATONIC KHANCEPTS" which is intended to serve as the linear adjunct to its chordal predecessor. While continuing to perform in clubs and concert halls throughout the U.S., Europe, Central and South America, and Japan, Steve has also become one of the most in-demand music clinicians and teachers. © www.stevekhan.com/khanbio.htm