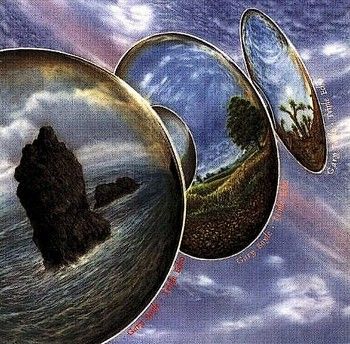 Gary Boyle
-
Triple Echo
-
1994
-
The Jazz Label
Gary Boyle is a guitar legend with an encyclopaedic CV. He has done just about everything in music. During the 60s he played the German club circuit including the famous/infamous Star club in Hamburg. He played guitar with artists like Millie Small (AKA Millie), Dusty Springfield, Julie Driscoll and Brian Auger and many others. He then joined the cult folk rock band Eclection. ln the 70s he was a hugely popular session guitarist and recorded with artists like Mike Westbrook, Norma Winstone, Keith Tippett and Mike Gibbs. He recorded an album with Bert Jansch then recorded sessions with the amazing Japanese percussionist Stomu Yamash'ta's East Wind band. Gary also played a season at Ronnie Scott's jazz club in London with the great American sax player Eddie Harris. In 1973 Gary formed the brilliant jazz-fusion band Isotope. In the late 70s, as a solo artist, Gary was voted New Star in the Melody Maker Poll and his first solo album, The Dancer, won the Pop/Jazz Award at the prestigious Montreux International Jazz Festival. Later he formed the jazz fusion trio, Triple Echo, and in 1994 released this very obscure album posted here with bassist, Mike Isaac and drummer, Eryl Roberts. Although the album is usually credited to Gary Boyle, the front sleeve is entitled "Gary Boyle . Triple Echo". Gary's guitar work is clean and delicate and the music has a strong "world music" emphasis. A very impressive album from this little known trio. Don't be put off by the "world music" description. Everything Gary Boyle has recorded has been very worthwhile. The guy is an amazing guitarist and composer. If you like good early Canterbury Rock, Isotope, or Ian Carr's Nucleus you may find this album very worthwhile. Everything posted on this blog has musical merit. Listen to Isotope's great "Illusion" album and Gary's wonderful jazz rock album, "Electric Glide"
[
All tracks @ 320 Kbps: File size = 115 Mb
]
TRACKS
1 Peace Green 8:02
2 Lost Brothers 5:44
3 Angola 5:58
4 Let's Hear It For Joe 6:27
5 Gilberto 7:24
6 Country City 9:35
*
7 Bihar 4:01
8 4-Wheel Shuffle 5:20
* N.B:
This track has been called "Count City", "County City", and "Country City".
All tracks composed by Gary Boyle
MUSICIANS
Guitar, Roland Guitar Synthesizer – Gary Boyle
Bass – Mike Isaac
Drums – Eryl Roberts
BIO
b. 24 November 1941, Patna, India. After learning to play the guitar during childhood, Boyle attended the Leeds College of Music in the north of England in the early 60s. He then joined Eclection, a folk rock band. His first high-profile engagement was a mid-60s spell with singer Dusty Springfield. He then made concert tours of the UK, Europe and the USA, and also sometimes recorded, backing artists such as Brian Auger and Julie Driscoll. In the early 70s he was a London-based session musician, appearing on numerous albums as well as playing on radio, television and on film scores, together with a stint composing jingles. Among artists with whom he recorded during this period are Mike Gibbs, Bert Jansch, Keith Tippett, Mike Westbrook, Norma Winstone and Stomu Yamash'ta. He also backed saxophonist Eddie Harris for a gig at Ronnie Scott's club. Despite all this activity, Boyle was eager to lead his own band and in 1973 he formed Isotope with, initially, Jeff Clyne (bass), Brian Miller (keyboards) and Nigel Norris (drums). During the two years of this jazz fusion band's existence there were national and international tours and a number of albums. In the late 70s, now a solo artist, Boyle was voted New Star in the Melody Maker Poll and his first solo album, The Dancer, won the Pop/Jazz Award at the Montreux International Jazz Festival. In the early 80s Boyle was resident for a while in Denmark, where he recorded further albums. Back in the UK, he formed a trio he named Triple Echo with which group he featured the Roland Guitar Synthesizer. He also became deeply involved in education and has taught at several establishments, chiefly in the north west of England, including Wigan & Leigh College and the Liverpool Institute of Performing Arts. In addition to jazz rock fusion, Boyle has also sustained an interest in traditional folk music. Other artists with whom Boyle appeared over the years are John Etheridge, Jim Mullen and Eberhard Weber. In the early 00s, in addition to leading his own trio, he was also co-leader of the Gary Boyle/Nat Birchall Quartet and sometimes worked in duo with singer Brigitte Escobar. © Rovi © 2013 Rovi Corp | All Rights Reserved http://www.allmusic.com/artist/gary-boyle-mn0000133121