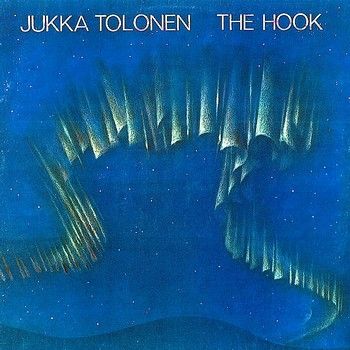 Jukka Tolonen
-
The Hook
-
1974
-
Love Records
"The Hook" is quite a good mid seventies jazz/rock fusion album from Jukka Tolonen, the co-founder of Tasavallan Presidentti. Jukka composed the track "Starfish" for the Helsinki Arts Festival in 1974. The album tracks were mainly composed originally on piano and contain indo-Arabic and other unusual musical styles that Jukka was interested in at the time. Many of these seventies albums were completely overlooked by the media during the early seventies era. This kind of music would definitely not have been heard on Top Of The Pops! (Now then! Now then!) More likely, DJ's like John Peel or Bob Harris would have had these band's playing live on their shows. This is not a groundbreaking album by any means, but it's always good to hear Grade A musicianship from people who were genuinely interested in their music and took their playing very seriously. Jukka is not only Finland's national guitar hero but also one of the world's most respected and versatile guitarists whose career now spans nearly 45 years. His first four solo albums are well worth checking out. Listen to his 1971 "Tolonen!" album. Check out the Finnish band Wigwam's "Lucky Golden Stripes And Starpose" album on this blog which is a good Scandinavian progressive jazz rock album
[
All tracks @ 192 Kbps: File size = 54.2 Mb
]
TRACKS
A1 Aurora Borealis 12:52
A2 Starfish 6:13
B1 The Sea 8:18
B2 The Hook 8:32
B3 Together 3:15
All tracks composed by Jukka Tolonen
MUSICIANS
Jukka Tolonen - Guitar, Piano
Heikki Virtanen - Bass
Esa Kotilainen - Moog Synthesizer, Clavinet, Accordion
Esko Rosnell - Drums, Percussion
Pekka Pöyry - Alto & Soprano Saxophone, Flute
Seppo Paakkunainen - Baritone Saxophone
Jan Kling - Tenor Saxophone on "Starfish"
Bertil Löfgren - Trumpet on "Starfish"
Torgny Nilsson - Trombone on "Starfish"
BIO
(WIKI)
Jukka Tolonen (born April 16, 1952, Helsinki) is a Finnish jazz guitarist. Tolonen became famous as guitarist for the progressive rock band Tasavallan Presidentti (which means "president of the republic"). His first solo album Tolonen!, recorded and released in 1971 while he was only 19 years old, displayed his prowess on both guitar (electric and acoustic) and piano, and instrumental songwriting which comfortably segues from classical, jazz, folk, blues, and rock. Tolonen! peaked at number 6 on the Finnish charts in 1971, and was voted album of the year. "Windermere Avenue", a song from his 1974 Hysterica album, became a minor radio hit in Finland. While making several other solo albums and projects he also played on albums Tombstone Valentine (1970) and Fairyport (1971) by Wigwam. Tolonen is a virtuoso guitarist, who is highly respected in his native Finland as well as in Sweden, where he has lived for long periods. Among Tolonen's side projects are Guitarras Del Norte, Trio Tolonen, and Jukka Tolonen Band (JTB). He has used many different guitars over the years, such as the Gibson ES-335 and Ibanez Artist. Since the 1990s he has used Finnish handmade instruments by Ruokangas Guitars (electric) and Lottonen Guitars (acoustic). Despite his earlier successes, Jukka Tolonen was eventually twice divorced, homeless, and drug-addicted. In May, 2008 Tolonen was found guilty of stabbing his girlfriend and was sentenced to 27 months in jail for aggravated assault. When released in 2010, he told the media that he was quitting guitar playing due to osteoarthritis. While in prison Jukka Tolonen dedicated his life to Jesus Christ, and in 2011 he released Juudan Leijona ("Lion of Judah"), a CD of traditional Finnish hymns, in which he sings and plays piano, occasionally accompanied by other instruments and voices. He continues to perform live concerts of Christian music on piano along with other musicians and vocalists.