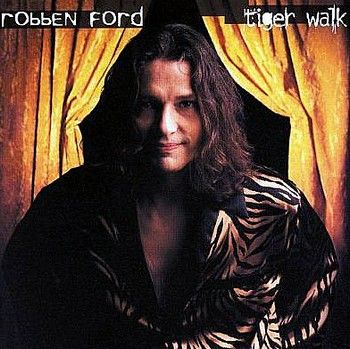 Robben Ford
-
Tiger Walk
-
1997
-
Blue Thumb
The first thing that comes to mind when listening to Tiger Walk is the pair of instrumental albums recorded by Jeff Beck in the mid-'70s, Blow by Blow and Wired. Like those two recordings, this outing showcases a fiery, inventive electric guitarist in a rock and jazz-rock setting. Robben Ford, known in recent years for his blues work with his band, the Blue Line, eschews vocals here, teaming up with keyboard funk master Bernie Worrell for some chunky, funky, wah-wah-laden grooves. This music, led by Ford's blazing guitar lines, is more appropriately categorized as instrumental rock than jazz, but the rhythms recall James Brown and Worrell's alma mater, the P-Funk gang, as often as they do those of a hard rock band. Tenor saxophonist Bob Malach turns in a couple of solid solos, and the rhythm section of drummer Steve Jordan and bassist Charlie Drayton cooks throughout. © Jim Newsom © 2013 Rovi Corp | All Rights Reserved http://www.allmusic.com/album/release/tiger-walk-mr0003703674
Another great album from the magnificent bluesman/jazzman Robben Ford. Robben is without a doubt one of the world's greatest guitarists. Similar to guitarists like Jan Akkerman, Robben can play any style in any music genre. "Keep On Running" is one of Robben's more instrumental rock orientated albums. "In The Beginning" was nominated for a 1998 Grammy Award for Best Rock Instrumental Performance. Robben is joined by musicians that include Charlie Drayton on bass, Lenny Castro on percussion and Russell Ferrante and Bernie Worrell on keys. Robben's guitar work is pure class and this album of driving funk, jazz rock, and funky electric blues is
HR by A.O.O.F.C.
Listen to The Yellowjackets' 1991 album, "Greenhouse" which demonstrates Robben Ford's incredible great jazz playing as does the great "Jing Chi" s/t album. For some extraordinary blues playing, listen to the Larry Carlton featuring Robben Ford "Live in Tokyo" album
[
All tracks @ 320 Kbps: File size = 174 Mb
]
TRACKS
1 In the Beginning – 5:13
2 Ghosts – 5:27
3 Freedom – 6:43
4 Red Lady w/Cello – 5:00
5 Oasis – 5:10
6 Just Like It Is – 3:07
7 I Can't Stand the Rain – 3:31
8 The Champ – 5:12
9 Tiger Walk – 5:19
10 Comin' Up – 4:54
11 Don't Let the Sun Catch You Crying (hidden track) - 8:39
12 Chevrolet (hidden track) - 5:47
All tracks composed by Robben Ford except "Freedom" by Robben Ford & Robin Fox, "I Can't Stand The Rain" by Ann Peebles, Bernard Miller & Don Bryant, "Don't Let the Sun Catch You Crying" by Joe Green, and "Chevrolet" by Ed Young & Lonny Young
MUSICIANS
Robben Ford – Guitar
Charlie Drayton - Bass Guitar
Russell Ferrante - Piano
Benmont Tench - Organ
Bernie Worrell - Organ, Clavinet
Steve Jordan - Drums, Percussion
Lenny Castro - Percussion
Bob Malach - Tenor Sax
Ronnie Cuber - Baritone Sax
SHORT BIO
Robben Ford has had a diverse career. He taught himself guitar when he was 13 and considered his first influence to be Mike Bloomfield. At 18 he moved to San Francisco to form the Charles Ford Band (named after his father, who was also a guitarist) and was soon hired to play with Charles Musselwhite for nine months. In 1971 the Charles Ford Blues Band was re-formed and recorded for Arhoolie in early 1972. Ford played with Jimmy Witherspoon (1972-1973), the L.A. Express with Tom Scott (1974), George Harrison, and Joni Mitchell. In 1977 he was a founding member of the Yellowjackets, which he stayed with until 1983, simultaneously having a solo career and working as a session guitarist. In 1986, Ford toured with Miles Davis and he had two separate periods (1985 and 1987) with Sadao Watanabe, but he seemed to really find himself in 1992 when he returned to his roots: the blues. Ford formed a new group, the Blue Line, and subsequently recorded a couple of blues-rock dates for Stretch that are among the finest of his career. In 1999, he released Sunrise on Rhino and Supernatural on Blue Thumb. Ford signed to the Concord Jazz label in 2002 and released Blue Moon that same year, followed by Keep on Running in 2003 and Truth in 2007. © Scott Yanow © 2012 Rovi Corp | All Rights Reserved http://www.allmusic.com/artist/robben-ford-mn0000830063
ABOUT
ROBBEN FORD
(WIKIPEDIA)
Ford was born in Woodlake but raised in Ukiah, California, and began playing the saxophone at age 10, picking up the guitar at age 13. Robben and his brothers Mark (mouthharp) and Patrick Ford (drums) had a band they named the Charles Ford Blues Band in honor of their father. Ford began playing professionally at age 18 when the Charles Ford Blues Band got a gig backing Charlie Musselwhite. The band also recorded two albums The Charles Ford Band and Discovering the Blues. Next Ford put together a band with Bay Area musicians that became Jimmy Witherspoon's backup band. Ford recorded two albums with Witherspoon, Live and Spoonful'. The Ford Blues Band reunites periodically, and released live albums in the 1980s and 1990s. In the 1970s, Ford began to branch out into Jazz fusion, and joined L.A. Express led by saxophonist Tom Scott in 1974. That same year they backed George Harrison on his American tour. In addition to recording fusion albums, they served as Joni Mitchell's backup band on Hissing of Summer Lawns and her live album, Miles of Aisles. After leaving L.A. Express in 1976, Ford recorded his solo album, The Inside Story with a band that was to become the Yellowjackets. He went on to play a starring role on the first two Yellowjackets albums, although he was listed as a guest artist due to recording contract arrangements. Ford worked briefly with Miles Davis in 1986; he can be heard on Davis' Montreux box set. Ford released his next album, called Talk to Your Daughter in 1988, a return to his blues roots. In 1989 he joined Philippe Saisse, Marcus Miller and J.T. Lewis in the cast of The Sunday Night Band for the second and final season of the acclaimed late-night NBC television musical performance program, Sunday Night. His best work in the 1990s include Robben Ford and the Blue Line, and Tiger Walk. In addition to recording and touring with his own blues band, Ford continued to tour and play with other bands/artists such as Jing Chi (his fusion band), Gregg Allman and Phil Lesh. He has received nominations for four Grammy Awards. Several Ford tribute bands exist, a statement to his artistry and popularity with the cognoscenti. Ford was named one of the "100 Greatest Guitarists of the 20th Century" by Musician magazine. Ford uses Dumble Amplifiers. When travelling abroad he tends to use rented Fender amplifiers along with a Zendrive overdrive pedal by Hermida Audio. Guitar manufacturer Fender used to make a Robben Ford signature guitar, although lately Ford tends to favour Gibson Les Pauls and a custom-made model by Sakashta Guitars. Ford is married to the cabaret singer, Anne Kerry Ford, and collaborated with her on various projects.