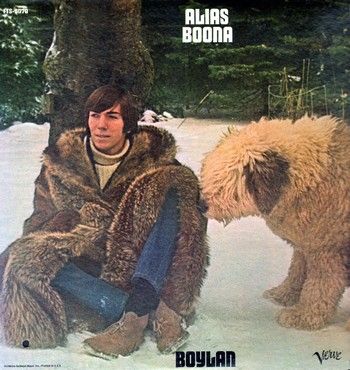 Terence Boylan
-
Alias Boona
-
1968
-
Verve Forecast
Terry never hit the big time despite being a good songwriter and musician. "Alias Boona" was his debut studio album, and he composed 11 of the 12 tracks. He attended Bard College in upstate New York, where he became friends with
Donald Fagen and Walter Becker (Steely Dan)
. When he got a recording deal he asked
Walt and Don
to arrange and play on "Alias Boona".
Walt and Don
played on all tracks, and this album was their first official studio gig. This is a good album in the West Coast folk/rock tradition. It's a sparse album, musically. Besides Terence on guitar and vocals, and
Walt and Don
on bass and keyboards respectively, the album includes just three other musicians, all drummers. Nevertheless, the songs and musicianship is good and effective.
[

All tracks @ 256 Kbps: File size = 68.5 Mb

]

.
Check out Terry's "Suzy" and "Terence Boylan" albums .
N.B:
The vinyl issue of the album lists "Terry Boylan" on the vinyl LP, and "Boylan" on the LP front cover. The
Steely Dan
Database lists this album without "Subterranean Homesick Blues", but includes a track called "Pillow". "Pillow" is actually the same track as
"Subterranean Homesick Blues". Does any
Dan
fan know the reason for this track title change?
SIDE ONE
Subterranean Homesick Blues
Don't Blame It On Your Wife
This Old Town
Bring The Whole Family
Who Do You Think I Am
Glasses
SIDE TWO
Deep In The Middle
Hey Hanna
No Second Time
County Fair
Bare Road of Sand
What A Way To Go
All songs composed by Terry Boylan except "Subterranean Homesick Blues" by Bob Dylan
MUSICIANS
Terence Boylan - Guitar, Producer, Vocals
Walter Becker - Electric Bass (Finger), Guitar
Donald Fagen - Piano, Acoustic Piano, Organ, Vocals
Herb Lovelle, Jimmy Johnson, Jr., Darius Davenport - Drums
BIO
Terence Boylan, a classic west coast crooner.....Terence Boylan began his professional career in music at the age of twelve, when his band, The PreTeens, performed on WBNY's Buffalo Bob's Radio Show. Of some interest is the fact that the tune The PreTeens performed, Playing Hard to Get, a Buddy Hollyesque ditty with an ironic twist, was penned by Boylan at the age of eleven, thus foretelling a career in songwriting that would span over thirty years and produce such hits as Shake It, Don't Hang Up Those Dancing Shoes and Where Are You Hiding? Following a chance meeting with Bob Dylan in Greenwich Village in '62, after which Dylan, Boylan and Ramblin' Jack Elliot went to Izzy Young's Folklore Center and traded songs for a long evening, Boylan returned to Buffalo, N.Y. with encouragement from his new hero, and began performing in many of Buffalo's most popular coffee-houses, including The Limelight, The Lower Level, and the Bell, Book and Candle, in near-by Ontario. At that time, Boylan was still a sophomore in high school. He would describe the next two years as living in "excited confinement", knowing there was something out there that he desperately wanted to be part of. He managed to hitch-hike to both the Newport Folk Festivals of '63 and '64, where he performed at "The New Songwriter's Concert", again made contact with Dylan, and also met blues legends John Lee Hooker and Mississippi John Hurt. At Bard College, in the Hudson Valley, Boona, as he was now becoming known, found himself right where he wanted to be – in a hot-bed of musical activity. He formed a band with his brother, John, The Ginger Men, playing in Greenwich Village's Night Owl Café during summers and 'field-periods', and singing solo at hoots at NY's famed Gaslight Café, the Village Gate, and Gerde's Folk City. The NY Times' Robert Shelton gave him a brief but laudatory mention following an appearance at the Village Gate, and the record companies started calling. Still working at The Night Owl, The Ginger Men were busy fusing their folk and blues influences with contemporary rock 'n roll, appearing there with other seminal bands such as The Flying Machine, led by the young James Taylor, The Blues Project and The Lovin' Spoonful, one of the first of the Night Owl groups to break into the top forty. After landing a solo contract with MGM/Verve Records, and before beginning a solo album, he recruited brother John for an experimental 'rock meets theatre' album. The duet, along with a dozen top studio musicians, recorded The Appletree Theatre in 1967, a ground-breaking effort among the so-called "concept" albums of the late sixties, fusing brief Saturday Night Live type comic sketches with slightly tongue-in-cheek parodies of contemporary musical genres. John Lennon, in an interview with Penny Nichols in London, called The Appletree Theatre one of his favorite new albums, Time Magazine lauded the Boylans' sense of humor, and Phillip Proctor acknowledged their influence on his own group, The Firesign Theatre. Returning to Bard College in '68, Boylan teamed up with fellow students Donald Fagen and Walter Becker, and recorded Alias Boona at New York's Hit Factory, for MGM Records. In a tip of the hat to his old mentor, Boylan recorded an entirely re-arranged version of Dylan's Subterranean Homesick Blues, sounding more like Procol Harem than early Dylan. The influence of The Band and Van Morrison were also evident on the album, in such tunes as Deep in the Middle and Hey Hannah. Dylan brought the album to the attention of manager Albert Grossman, and discussions began toward recording an album in near-by Woodstock, N.Y., then home to both Dylan and Grossman. But Boylan was on his way to the West Coast, to re-join brother John and the simmering Troubadour scene in Los Angeles. John Boylan was fast gaining a reputation as one of LA's hottest young record producers, and was at that time rehearsing Linda Ronstadt with a new band he had assembled to back her on a coming tour. They would later become the Eagles, one of the most successful groups in recording history, and Ronstadt was launching her long and distinguished career as one of the preeminent song stylists of the last three decades. Meanwhile, old Bard friends Fagen and Becker were in town, having formed Steely Dan, and recording their first ABC/Dunhill album Can't Buy a Thrill. Boona's association with these two disparate groups of musicians would have a remarkable effect on his next album, but it would have to wait while he apprenticed as a production assistant for John's Great Eastern Gramophone Company, and tour-assisted on several outings with many of that company's recording acts. After writing and rehearsing an entirely new set of tunes, Boylan landed a recording contract with David Geffen's Asylum Records, a famous stable of singer-songwriters that included Joni Mitchell, Warren Zevon, the Eagles, John David Souther and Tom Waits. Recording at LA's Record Plant and Westlake Audio with members and musicians from both Steely Dan and the Eagles, Boylan merged different sensibilities into a stunning, lyrical, jazz-tinged rock album, with strong hooks and soaring harmonies, that went to number one on the Billboard National Breakout list the week it was released, and was the most added album at radio for five weeks straight. The level of writing and musicianship on Terence Boylan (Asylum 7E-1091) prompted a number of critics to hail it as "astonishingly brilliant", and the reviews were laudatory both in the US and abroad, winding up on a number of top ten lists at year's end. Iain Matthews, a British singer, picked up on two of Boylan's tunes for his album Stealin' Home, and his version of Shake It quickly climbed to #4 on the Billboard Hot 100 charts. The following year, Boylan won two BMI Awards for Best Songwriting. Following a fifty city tour with the Cate Brothers, Bonnie Raitt and Little Feat, Boylan settled in to Bearsville Sound in Woodstock, N.Y., and began recording a follow-up album. He actually wound up recording two albums, one an edgy and raucus take-off on the current punk rock movement, and the other a melodic and more sophisticated exploration of the genre he had successfully mined on the first album - heavily textured, mid-tempo songs with fresh, angular lyrics and seductive harmonies. At the last minute, it was decided to combine the two albums into one, Suzy (Asylum 6E-201) a move which may have confused radio programmers, who were unsure of which format the record fit. The critics picked up on the broad range in the album, however, and the reviews were excellent, but with less than full saturation at radio, the sales were disappointing. For those interested in hearing these songs in all their digitally re-mastered glory, a new CD, under license from Warner Brothers, was released in July '99, which combines the best of both of these albums, plus a few new songs, and is available at the official website (Buy It). I recently caught up with Boylan in New England, (where I had interviewed him for my book on Steely Dan,) to find out what else was in the works. It seems that since those days, Boylan has been writing and recording songs for film soundtracks and other artists, and now owns his own record label, Spinnaker Records, and book publishing company, The River Press. I am happy to report that this Spring he is recording a CD of entirely new material, which he hopes to have out by the Fall. Otherwise he is busy publishing books, and is Executive Director of the Boylan Foundation for International Medical Research, a non-profit organization that supports bio-medical research and international scientist exchange fellowships. © Brian Sweet Author of Steely Dan: Reelin' in the Years (Omnibus Press, 1994)
MORE
Terence Boylan was born in the late 1940s and grew up in Buffalo, NY, where he started out in music before age 13 in the appropriately named band the PreTeens. They even made an appearance on local radio station WBNY, performing "Playing Hard to Get," a song that Boylan had written at age 11. While in his early teens, he'd made it to New York City and Greenwich Village, and managed to cross paths with Bob Dylan (before he was a recording star) and Ramblin' Jack Elliot; with their encouragement, he pursued a solo music career in upstate New York and managed to attend the Newport Folk Festivals of 1963 and 1964. Boylan later attended Bard College in New York, and formed a band called the Ginger Men with his brother John. They managed to cross paths with the Blues Project and the Lovin' Spoonful during occasional gigs in Greenwich Village during the mid-'60s. By 1967, he'd attracted the attention of several New York-based record labels and signed with Verve, where he and his brother John cut an experimental music-and-comedy LP amalgam entitled Appletree Theatre, which became a kind of cult favorite, principally among other musicians (including John Lennon). John Boylan subsequently headed to California, where he established himself first as a session guitarist and later as a producer, while Terence Boylan remained in New York. By 1968, he was back at Bard and became close friends with classmates Walter Becker and Donald Fagen (who had musical aspirations of their own, although in those days they sounded too much like the Beatles for their own professional good) and played with them. With Becker and Fagen in tow, he cut his debut solo LP, Alias Boona (a reference to his nickname) for Verve Forecast, the jazz-spawned label's progressive/experimental rock imprint. The record was, like his earlier album, principally attracted the attention of other musicians, including Bob Dylan (whose "Subterranean Homesick Blues" received a beautiful reinterpretation on the LP). Rather than pursue his career in New York, he headed to California, where his brother John Boylan was working with Linda Ronstadt. He worked for his brother's production company and established himself on the West Coast. Boylan was later signed to Asylum Records and recorded his self-titled second album in 1977. It was more of a West Coast production, especially in sound and texture. It was well-received by the critics but was never more than a cult success. He did enjoy some success as a songwriter when Ian Matthews turned Boylan's song "Shake It" into a Top Five hit. He did a national tour behind the album with Bonnie Raitt and Little Feat, and returned to New York to do a third solo album -- actually, a third and fourth that were finally combined into one LP. The result was Suzy, which was another critical success and commercial disappointment. In the years since, Boylan has principally involved himself with songwriting and soundtrack work, and his own record label and publishing company, Spinnaker Records. © Bruce Eder © 2011 Rovi Corporation. All Rights Reserved http://www.allmusic.com/artist/terence-boylan-p16040/biography