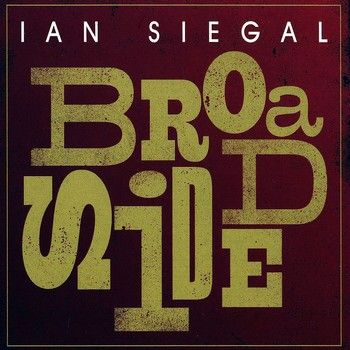 Ian Siegal
-
Broadside
-
2009
-
Nugene Records
Despite appearing on a host of Best Blues Albums of 2009 lists, U.K. guitarist/vocalist Ian Siegal does not consider his fourth project to be a blues release, at least not in the traditional sense. But other related tag lines such as blues-rock, pop, or even roots rock don't adequately describe Siegal's music, either. It's better not trying to put a tag on it and just savor his tough combination of blues, rock, pop, and light funk delivered with passion and intensity. Although he is a solid lead guitarist, especially on slide, there are few instances where he solos extensively on these ten tracks. Rather, Siegal relies on taut arrangements, gruff vocals, and sympathetic production from Nugene labelmate and backing guitarist Matt Schofield, to push his sharply written songs into a variety of dusky genres. Like many U.K. roots artists, he finds inspiration in American music. This album touches on Dr. John-influenced swamp rock ("Stealing from the Queen"), Southern soul ("Take a Walk in the Wilderness"), and even folk/country ("The Bleeding Cowboy's Lament"). Siegal succeeds in everything he touches because his lyrical and melodic songwriting is sharp and memorable, not simply a framework to hang solos on. Listen to "Quarantine" as it unpredictably shifts time signatures halfway through to move into a Beatles "I Want You (She's So Heavy)" groove, only to revert back to the peppy rock that it kicked off with. Songs such as "Kingdom Come" grind along on a tight riff with Siegal growling lyrics, and borrowing a wordless lick from Cream's version of "Rollin' and Tumblin'" as the band urges him along. He chooses to record with his road duo, enhanced by Schofield and keyboardist Jonny Henderson, and their obvious skills to react to his cues add additional sparks to music that is already highly charged. Siegal's rugged voice perfectly complements songs that spit fire and brimstone ("cast me in shadow/baptize me in light") such as the lyrical boasting in the propulsive Little Feat-styled "Hard Pressed." He closes with a solo acoustic Delta-styled tune, very much in the shadow of Rory Gallagher. It displays yet another side to this talented artist who revels in his diverse niche and digs in deep on this impressive disc. © Hal Horowitz © 2013 Rovi Corp | All Rights Reserved http://www.allmusic.com/album/broadside-mw0001326999
"If my Daddy were alive today he'd say "That's my boy!" - Big Bill Morganfield (son of Muddy Waters)
British singer/guitarist Ian Siegal (born Ian Berry, 1971) is now an established name in contemporary blues. From the time he was just a young kid he listened to artists like Little Richard and Muddy Waters, and became hooked on blues music. Ian started out as a roadie and busker, eventually becoming a highly respected blues artist. In 2007 he followed up his first album 'Meat & Potatoes' with 'Swagger'. "Broadside" made it to no.1 in MOJO magazine's best blues album award in 2009. The great Matt Schofield plays rhythm guitar on two tracks and also produced the album. Ian Siegal plays dynamic, and thrilling raw blues and rock'n' roll songs, played in both the Chicago and Memphis blues styles. Buy Ian's superb "Meat & Potatoes" album and listen to his great "Swagger" album.
[
All tracks @ 320 Kbps: File size = 115 Mb
]
TRACKS
1 Slaker 3:58
2 Hard-Pressed 5:16
3 Quarantine 3:29
4 Kingdom Come 4:34
5 The Bleeding Cowboy's Lament 3:43
6 Like Hell 7:57
7 Stealing from the Queen 5:36
8 Little Paranoia 3:16
9 Take a Walk in the Wilderness 5:09
10 The Ballad of Big-Foot Chester 4:22
All songs composed by Ian Siegal except "Stealing from the Queen" with music by I.Siegal and lyrics by Sam Hare, and "Take a Walk in the Wilderness" with music by I.Siegal and lyrics by George Watt
MUSICIANS
Ian Siegal – Guitar, Slide Guitar, Vocals
Matt Schofield - Rhythm Guitar on Tracks 2, 6
Andy Graham - Bass Guitar
Jonny Henderson - Piano, Hammond Organ on Tracks 2,6,9
Nikolaj Bjerre - Drums, Percussion
IAN SIEGAL
BIO
Born in the deep south (of England!) in 1971, Ian's earliest musical memories are of Buddy Holly, Jerry Lee Lewis, Elvis and Chuck Berry, but it was on hearing the great Little Richard that he really caught the music bug and became nothing short of obsessive about it. This lead him into a life-long passion for the Blues and all of its various branches, and most of all, the man he calls "The Blues God" - the inimitable Muddy Waters. At 16 he began to roadie occasionally for his cousin's band and one night, quite unexpectedly, he was asked to sing. The result was a blown-away audience and a delighted (and rather surprised!) young vocal talent with a long career ahead of him. It was 2 years later that he picked up a guitar and taught himself to play, listening to the likes of Muddy, B.B King, Robert Cray and Albert Collins. At 20 he dropped out of Art college and travelled to Berlin, busking for a living. This is where he says his playing dramatically improved as, if he didn't make money, he didn't eat! By the time he returned to England he knew that a career in music was the only one for him. A visit to Nottingham resulted in a five year stay and Ian's first band became one of the most popular on the local music scene, with a residency at renowned venue the Running Horse attracting full houses and appearances at Colne and Burnley festivals getting rave reviews. His first album "Picture Postcards" also showed Ian to be a gifted songwriter with a deep understanding of musical traditions, but with an eye on the future. Moving to London to further his career was inevitable and Ian became an established part of the London Blues community almost immediately. That's where today's Ian Siegal band was born. Many gigs followed, along with a number of appearances with American Blues acts - Phil Guy, Sugar Blue, Nappy Brown, Eddie Kirkland, Catfish Keith and Jimmie Vaughan to name but few. He has also sung with other bands, notably The Lee Sankey Group and can be heard on the album "Tell Me There's a Sun". All the time Siegal's writing and playing skills developed, and appearances on larger festival stages to bigger audiences - such as Edinburgh, Lugano, BRBF - enabled him to hone his skills into becoming one of the most naturally exciting and vibrant talents on the scene today. Awareness among British Audiences of Ian's talents grew considerably after two consecutive tours opening for Bill Wyman's Rhythm Kings, including a performance at the Royal Albert Hall; and then in 2005 (and again, in 2006) he toured playing as a duo with Big Bill Morganfield (Muddy Waters' son). "That's as close as I can ever get to the great man himself," says Ian. In 2005 he played the main stage of the North Sea Jazz Festival (the world's largest indoor music festival) alongside Robert Cray and Solomon Burke; and had the pleasure (as he says, honour!) of making a guest appearance with Pinetop Perkins and some of the remaining members of Muddy Water's band (Bob Margolin, Will 'Big Eyes' Smith, and Mooky Brill). This was at London's Jazz Café to a packed house. Ian's first major CD release was in 2004, although recorded two years earlier. "Standing In The Morning" (Taxim TX2077) on which Ian drafted in some top players to supplement his band, in particular the horns of Nick Payne, Frank Mead, Martin Winning, Sid Gauld and John Beecham, who between them have worked with The Rolling Stones, The Kinks, Van Morrison, Albert Collins and Buddy Guy. The album is an entirely original composition, with reviewers drawing comparisons with Tom Waits, Bruce Springsteen, Dr. John and Van Morrison. His latest CD "Meat & Potatoes" released in April 2005 (Nugene Records NUG502) sees Ian returning to his roots with an album of powerful urban Blues. For this recording he augmented his core trio sound with upcoming Brit guitar maestro, Matt Schofield (who also produced the album), and Jonny Henderson on Hammond organ. This album has drawn widespread praise and put Ian firmly on the map on both sides of the Atlantic. © http://www.iansiegal.info/pagemanager/templates/biography.aspx?articleid=264&zoneid=5
BIO
(WIKI)
Ian Siegal (born Ian Berry, 1971) is a British blues singer and guitarist, whose style reflects the more rootsy side of the genre, drawing on influences such as Howlin' Wolf, Muddy Waters, Bo Diddley, Son House, Junior Kimbrough and Tom Waits. In the late 1980s, Siegal dropped out of art college and went busking in Germany. He has been active on the UK blues scene for many years, and after two European tours supporting Bill Wyman's Rhythm Kings in 2003 and 2004,began to receive significant attention in Europe and further afield, particularly since the release of his album, Swagger, the follow-up to his critically acclaimed Meat & Potatoes. These recordings also feature guitarist Matt Schofield, and received praise in the music press, including an entry in the Penguin Guide to Blues Recordings, and was Mojo magazine's second best blues album of 2007. In 2008 the album The Dust was released. Unlike the previous albums it contained mainly solo performances. In 2009, Siegal released another album together with his band members, Andy Graham (bass) and Nikolaj Bjerre (drums). This album, Broadside, was voted "Blues Album of the Year 2009" by Mojo. His 2011 release, The Skinny, was recorded in North Mississippi with Cody Dickinson of the North Mississippi Allstars as record producer and he also played on the album. Backing Siegal were the sons of some notable Mississippi blues men, including on guitar Robert Kimbrough, on guitar and bass Garry Burnside, and on drums Rod Bland. Also guesting were Alvin Youngblood Hart and Duwayne Burnside.
MORE
You should be very proud to have this young man in your own country. You have someone right here who can really sing the Deep Blues. He got church in his voice. If my Daddy was alive today he'd say 'That's my Boy!'" - Big Bill Morganfield (Muddy Waters' son). Born in the deep south (of England!) in 1971, Ian's earliest musical memories are of the likes of Buddy Holly, Jerry Lee Lewis, Elvis and Chuck Berry, but it was on hearing the great Little Richard that he really caught the music bug and became nothing short of obsessive about it. This lead him into a life-long passion for the Blues and all of its various branches, and most of all, the man he calls "God" - the inimitable Muddy Waters. At 16 he began to roadie occasionally for his cousin's band and one night, quite unexpectedly, he was asked to sing. The result was a blown-away audience and a delighted (and rather surprised!) young vocal talent with a long career ahead of him. It was 2 years later that he picked up a guitar and taught himself to play, listening to the likes of Muddy, B.B King, Robert Cray and Albert Collins. At 20 he dropped out of Art college and travelled to Berlin, busking for a living. This is where he says his playing dramatically improved as, if he didn't make money, he didn't eat! By the time he returned to England he knew that a career in music was the only one for him. A visit to Nottingham resulted in a 5 year stay and Ian's first band became one of the most popular on the local music scene, with a residency at renowned venue The Running Horse attracting full houses and appearances at Colne and Burnley festivals getting rave reviews. His first album "Picture Postcards" also showed Ian to be a gifted songwriter with a deep understanding of musical traditions, but with an eye on the future. Moving to London to further his career was inevitable and Ian became an established part of the London Blues community almost immediately. That's where today's Ian Siegal band was born. Many gigs followed, along with a number of appearances with American Blues acts - Phil Guy, Sugar Blue, Nappy Brown, Eddie Kirkland, Catfish Keith and Jimmie Vaughan to name but few. He has also sung with other bands, notably The Lee Sankey Group and can be heard on the album "Tell Me There's a Sun". All the time Siegal's writing and playing skills developed, and appearances on larger festival stages to bigger audiences - such as Edinburgh, Lugano, Peer, North Sea Jazz - enabled him to hone his skills into becoming one of the most naturally exciting and vibrant talents on the scene today. Awareness among British Audiences of Ian's talents grew considerably after two consecutive tours opening for Bill Wyman's Rhythm Kings, including a performance at the Royal Albert Hall; and then in 2005 he toured playing as a duo with Big Bill Morganfield (Muddy Waters' son). "That's as near as I can ever get to the great man himself," says Ian. Ian's first major CD release was in 2004. "Standing In The Morning" (Taxim TX2077) on which Ian drafted in some of the top players around to supplement his band, in particular the horns of Nick Payne, Frank Mead, Martin Winning, Sid Gauld and John Beecham, who between them have worked with The Rolling Stones, The Kinks, Van Morrison, Albert Collins and Buddy Guy. The album is an entirely original composition, with reviewers drawing comparisons with Tom Waits, Bruce Springsteen, Dr. John and Van the Man. His latest CD "Meat & Potatoes" released in April 2005 (Nugene Records NUG502) sees Ian returning to his roots with an album of powerful urban Blues, which he describes as "stripped down, mean and moody and as close as you can get to our live performances". My man! We're from the same school" - Ronnie Wood I love the voice and there's a lotta soul in that guitar" - Albert Lee The Real Deal" - Eddie Floyd So Down-Home!" - Sugar Blue © 2005 Nugene Records. All rights reserved