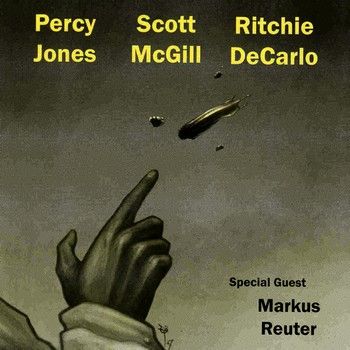 Percy Jones,
Scott McGill
&
Ritchie DeCarlo
-
Percy Jones,
Scott McGill,
Ritchie DeCarlo
With Special Guest
Markus Reuter
-
2010
-
Uniblab Recordings
Scott McGill's guitar playing career started at 19 years old. He's won critical acclaim in the mainstream press by leading, recording, and touring in bands featuring the legendary Michael Manring, Percy Jones (Brand X) and Jordan Rudess (Dream Theater), as well as Grammy Award-winning producers Neil Kernon and David Torn. He was Senior Lecturer of Guitar at The University of The Arts USA and is a columnist for Guitar Techniques. © 2012 Brighton Institute of Modern Music
I recently left a review for "Debut", the first release by Percy Jones – ScottMcGill - RitchieDeCarlo(http://www.amazon.com/Debut-Percy-Jones-scott-McGill-Ritchie-Decarlo/dp/B002OSWWSE/ref=pd_sim_m_1). On that disc there were a lot of fine moments ... some very engaging fusion, indeed. Their follow-up, Jones-McGill-DeCarlo "w/Special Guest, Markus Reuter" finds the band going in a new direction: EVEN FURTHER OUT THERE!! Fans of adventuresome guitar will certainly not be disappointed, as Scott McGill's excursions here showcase his finest tones, textures, rhythms and improvs to date. Truly, such fans will find the intriguing palette of guitar and guitar synth tones on display here more than worth the price of admission on their own merit alone. There are a wide range of Scott's influences evident, though most noteably would be that of John McLaughlin (throughout the disc) -- with a touch of Ralph Towner influence to be found on "TWO BY TWO". Being a nearly lifelong fan of Percy Jones -- perhaps the most innovative electric bassist ever -- I was quite pleased that his captivating mixture of bouncing, precise, solid and always unpredictable bass lines were on prominent display. Whereas there were moments on "Debut" were he seemed content to "hold down the fort" in the background, fans of this preeminent bass guitar legend will be pleased that he is more out front and imposing on this date. Indeed, there are many moments which remind the listener of Percy's legacy, Brand X. From the sheer drive and veracity of the disc's opening number, "Menagerie Animoto", to the textural wonderlust of "Rumsfeld's Spleen" (he lost his balls long ago), "The Ghost of 47 Letsby Ave.", and "Rising (Parts 1 & 2)", to the shattering of sonic thresholds apparent in "Definition Defied" (most appropriately titled!), one is constantly taken back to Brand X's era of musical adventurism in Percy's nuance-filled, clearly inspired, gymnastic playing here. But there is one major difference: IT'S A WHOLE LOT BETTER!!!! (... And this from a diehard Brand X fan! ...) The textures and subtleties throughout this incredible disc -- combined with the quality of the musician's tones and the clear, present production -- make for a listening experience that the great fusion pioneers of the '70's never quite captured in a studio environment. The dynamics at work on this disc are sheer fusion magic. Though I should be winding this review up, I would be remiss if I neglected to mention the dynamic, versatile performance by drummer Ritchie DeCarlo (who also shares the production duties -- stellar work, also). In just their second outing, Ritchie has formed a cohesive bond with Percy that transforms music sometimes bordering on chaos into flowing, grooving excursions. ... I think this guy could make ANYTHING groove. Few drummers could exhibit such a "sense of the appropriate" for music that is so swiftly and suddenly shifting gears. For fans of pioneering fusion music, this disc will certainly NOT disappoint. Fans of Brand X will be most delighted as, to my ears, it surpasses any of their recorded output; there is the same hard-driving, dauntless spirit behind their collective efforts, but with more cohesion, purpose and direction. For more than 30 years I have been listening to bands who have been (not easily) categorized as "prog", "art rock", "jazz-rock", "fusion", "alternative", "acid jazz", and more. One thing that most of these bands have in common is their "going for it" attitude and approach to performance. After all these years, it is incredible to realize that SOMEONE FINALLY GOT THERE. I only gave this disc 5 Stars, because 6 Stars wasn't available to give. Buy this CD ... don't think twice: select a seller and BUY IT!!!! (You'll be very glad you did.)- from Completely Over The Top! July 14, 2010
By & © John Mcguire © 1996-2013, Amazon.com, Inc. or its affiliates http://www.amazon.com/McGill-Ritchie-DeCarlo-special-Markus/dp/B003NSXIGO
Guitarist Scott McGill rips, roars, soars, and shreds like crazy on this entirely fearless and exquisitely intense fusion masterpiece. Backed by legendary fretless bassist Percy Jones (Brand X, Eno, Soft Machine) and drummer/synthesist Ritchie DeCarlo (with cameo soundscapes by touch guitarist Markus Reuter), McGill's electric, MIDI, fretless, and acoustic guitars repeatedly peg the Creative meter. By & © Barry Cleveland Wed, 1 Sep 2010 © 2012 by New Bay Media, LLC. All rights reserved
If you like masterly, powerful, compelling and creative fusion and would like your little cotton socks shredded, then give this album a listen. Wayne Krantz the great fusion guitarist praised Scott McGill's The Hand Farm's s/t album which is in the same mould as the one posted here. The album carries
A.O.O.F.C
health warning!
[
All tracks @ 320 Kbps: File size = 142 Mb
]
TRACKS
1. Menagerie Animoto 4:39
2. Rumsfeld's Spleen 7:55
3. F-Hole's Worth 3:33
4. Polonium 210 Filter 4:40
5. TWO by TWO 2:27
6. 43 Letsby Ave. 5:50
7. The Ghost of 47 Letsby Ave. 9:19
8. Rising (Parts 1 & 2) 7:40
9. Borgasmord 2:52
10. Definition Defied 5:49
11. Days Fogged In 7:56
All music composed by Scott McGill, Percy Jones, & Ritchie DeCarlo
MUSICIANS
Percy Jones - Fretless Bass
Scott McGill - iGuitar, Fretless Guitar, MIDI MOOG VOYAGER
Ritchie DeCarlo - Drums, Percussion, MODULAR MOOG VOYAGER, BFD & Battery 3
Markus Reuter - Touch Guitar Soundscapes on Tracks 2 & 7
You can also check out Scott on Facebook @ https://www.facebook.com/ScottMcGillGuitar/info
Check out Percy Jones @ http://en.wikipedia.org/wiki/Percy_Jones_(musician)
Check out Ritchie DeCarlo @ http://www.myspace.com/ritchiedecarlo