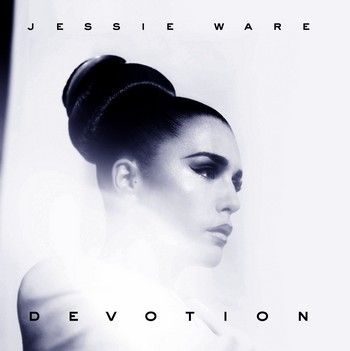 Jessie Ware
-
Devotion
-
2012
-
Island
Devotion received general acclaim from music critics. At Metacritic, which assigns a normalised rating out of 100 to reviews from mainstream critics, the album received an average score of 85, based on 27 reviews, which indicates "universal acclaim". Mike Diver of BBC Music wrote, "Devotion is the sort of sophisticated, soulful pop record that comes along all too rarely, a collection that never hides the heart on its sleeve. Down-tempo it may be, but no listener will come away downcast. Overlook the relatively low chart positions for Running and 110%, as they're hardly indicative of the quality on display. Ware never stretches for an out-of-reach note; she never gives her songs over to hyperbole or bombast. Throughout, there is a well-measured, well-mannered elegance that engages with more efficiency than many an artist dressing their material up as The Next Big Thing. There's nothing 'next' about Ware: she's here, now, and superb". Tim Jonze of The Guardian wrote, "Sophisticated, smooth and sensual, in the wrong hands Devotion could easily have been a footnote in the New Boring movement, that vibrant strain of youth culture that has already given us Emeli Sandé, Adele and Bruce Springsteen concerts that wrestle with the spacetime continuum itself. Yet Jessie Ware's debut album is saved by one fact: for all her album's poise and restraint, dance music clearly runs through this 27-year-old south Londoner's veins. Throughout Devotion you're never told to sit up and pay attention. Instead it quietly works its magic, a genuinely individual statement by an artist who didn't expect to become a pop star, but might struggle to stop it happening anyway – after all, the groove is in her heart". At the end of 2012, The Guardian named Jessie Ware's Devotion number 3 of Best Albums of 2012, saying "Ware brought disparate fragments together to make something almost seamless. In doing so she made a record that was both classy but accessible. She was nominated for the Mercury prize and her songs were featured in the TV coverage of our golden summer of sport". – Wiki
A handful of collaborations released during 2010 and 2011 hinted at Jessie Ware's range and potential. The singer outclassed her fellow vocalists on SBTRKT's SBTRKT and Joker's The Vision; she displayed exquisite restraint on the former's "Right Thing to Do," while she had her way with the latter's lancing title track. Along with the two low-key 2011 singles, "Valentine" and "Strangest Feeling," there were indications that Ware was capable of making something like Devotion -- an album of uncommon depth, a sophisticated but stimulating hybrid of pop, soul, and adult contemporary. Ware works extensively with Dave Okumu, Julio Bashmore, and Kid Harpoon, but it's Okumu -- a member of the Invisible, as well as an affiliate of Bugz in the Attic and Matthew Herbert -- who is most responsible for helping Ware prance across the tightrope that comes with making subtle, sophisticated music. Ware's voice is an instant draw. Her whispers are as powerful as her wails. Whenever the lyrics read like they're aiming for the profound but appear hollow, she rescues them with elegance and power impressive enough to astound any of the elders to whom she has been compared -- Alison Moyet, Annie Lennox, Sade Adu, and Lisa Stansfield included. Take the weakest link, "No to Love"; the repeated exasperation "Who says no to love?" seems utterly ridiculous, but the delivery fits into the all-consuming heartache that is alternately concealed and exposed throughout the set's duration. If this isn't the album of the year, it's at least the art-pop album of the year, or the neo-sophisti-pop album of the year, or -- beside Frank Ocean's Channel Orange -- the alternative R&B album of the year. As far as "proper music" from the U.K. is considered, it belongs in a class with Roxy Music's Avalon, Sade's Diamond Life, the Blue Nile's Hats, and Caron Wheeler's UK Blak. © Andy Kellman © 2013 AllMusic, a division of All Media Network, LLC. | All Rights Reserved http://www.allmusic.com/album/devotion-mw0002347154
This is not an age of great subtlety in dance pop, generally speaking, but just try telling that to Jessie Ware. As a featured vocalist on last year's SBTRKT album, the 26-year-old U.K. singer turned heads with her understated style. She perfects that approach on this set of elegant synth ballads, confiding hopes and heartbreaks in tones that command attention without ever chewing the scenery. By & © SIMON VOZICK-LEVINSON SEPTEMBER 21, 2012 © 2013 Rolling Stone; Jann S. Wenner, editor and publisher http://www.rollingstone.com/music/albumreviews/devotion-20120921
In its review of "Devotion", Clash called Jessie "the missing link between Adele, SBTRKT and Sade" and hailed it as "a strong and accomplished debut". Idolator named it one of the best albums of 2012. Jessie is reminiscent of the polished, 80's soulful neo-jazz pop sound of genuinely talented vocalists like Sade, Rosie Vela, and Lisa Stansfield and also a refreshing change from the overmarketed, autotuned, asexual, gaga-ized, and hammer licking brigade who are lauded as superstars in the fake, plastic music industry today.
[
All tracks @ 320 Kbps: File size = 100 Mb
]
TRACKS / COMPOSERS
1 Devotion - Ware, Okumu 3:24
2 Wildest Moments - Ware, Tom Hull 3:42
3 Running - Ware, Bashmore, Baptista 4:28
4 Still Love Me - Ware, Okumu 3:56
5 No to Love - Okumu 3:33
6 Night Light - Ware, Hull, Okumu 4:13
7 Swan Song - Ware, Okumu 3:43
8 Sweet Talk - Ware, Bashmore, Dockrill Okumu, Bashmore 3:37
9 110% - Ware, Bashmore 3:27
10 Taking in Water - Ware, Hull 4:27
11 Something Inside - Ware, Archer, Dockrill 3:34
MUSICIANS
Dave Okumu - Guitar, Bass Guitar, Keyboards, Piano, Synthesizer, Drums, Finger Snaps, Rap, Background Vocals
Kid Harpoon - Guitar, Keyboards, Percussion
Robin Mullarkey - Guitar, Piano, Cello
Lexxx - Synthesizer Bass
Leo Taylor - Drums
Jessie Ware - Vocals
BIO
(WIKI)
Jessica Lois "Jessie" Ware (born 15 October 1984)[2][3] is a British singer-songwriter signed to PMR Records and best known for her 2012 single "Wildest Moments". She has sung vocals for Joker, and for SBTRKT in concert and on their recordings. In its review of her debut album, Devotion, Clash called Jessie "the missing link between Adele, SBTRKT and Sade" and hailed it as "a strong and accomplished debut" while Idolator named it one of the best albums of 2012. Ware was born in Queen Charlotte's Hospital in Hammersmith, London, and was raised in Clapham, South London. She is the daughter of Helena (née Keell), a social worker, and John Ware, a BBC Panorama reporter, who divorced when she was 10, and the younger sister of actress Hannah Ware. Her mother has been a big support in starting her musical career and Jessie considers her as "her hero", saying "She brought up my sister, brother and me with so much love and fun and always told me I could do anything I want." Ware was raised Jewish. Ware shared a flat with Felix White of The Maccabees and is also friends with Adele. Ware was educated at Alleyn's School, a co-educational independent school in Dulwich in South London, followed by the University of Sussex, where she took a degree in English Literature. After her studies, she briefly worked as a journalist at The Jewish Chronicle, did sports journalism at The Daily Mirror and worked behind the scenes at TV company Love Productions. There she was a colleague of Erika Leonard, otherwise known as E. L. James, the author of Fifty Shades of Grey. In the years prior to releasing her first solo album, Ware did the backing vocals on live gigs for Jack Peñate and Man Like Me. Ware said she learned a lot during the period of being backing vocal for Jack Peñate: "Performing with him was really good training, because I got to learn all about how other people do it – I was able to perform live without the pressure of being a lead singer. It gave me a taste of what to expect, and it prepared me for what I'm doing now." It was Peñate who started up her music career, taking her on tour in America as his backing vocalist, while his bandmate Tic introduced her to SBTRKT. Ware and SBTRKT collaborated on 'Nervous' (2010). She consequently met Sampha, best known as SBTRKT's main collaborator and live member. They created "Valentine" together, which was released on a special edition, heart-shaped vinyl by Young Turks in 2011. "Valentine" was partly inspired by James Blake's song "The Wilhelm Scream" and based on their own personal experiences in love. The music video for Valentine was directed by Marcus Söderlund. On 14 October 2011, Ware released her debut solo single "Strangest Feeling" on limited 10" purple vinyl. The song did not chart in the UK. She then released "Running" on 24 February 2012, as the lead single from her debut studio album Devotion. "110%" was released as the album's second single on 13 April, the song peaked at number 61 in the UK. "Wildest Moments" was released as the album's third single on 29 June, the song peaked at number 46 in the UK. Ware reckons the proudest moment of her career was hearing 'Wildest Moments' accompanying a television montage of highlights from Andy Murray's dramatic third-round win at Wimbledon. On 20 August 2012, she released her debut album Devotion, which peaked at number 5 on the UK Albums Chart. "Night Light" was released as the fourth single on 24 August. On 11 September, Devotion was announced as a nominee for the prestigious Mercury Prize. In late 2012 the song titled "110%" had to be changed to "If You're Never Gonna Move" due to legal problems with the clearance of a sample of "Dream Shatterer" by Big Punisher, which was an integral part of the song (the title itself was a play on another of Big Punisher's tracks, "100%"). "If You're Never Gonna Move" contains a similar-sounding sample instead. In the early part of March 2013, Ware toured in the UK, supported by Laura Mvula, starting with Cambridge, Manchester, Glasgow, Birmingham, Oxford, Bristol and ending in London. The UK tour was followed by a European tour in the second half of March 2013 and a US tour in April 2013. In the summer of 2013, Ware played many festivals all over the world. "Nervous", "Valentine" and an additional collaboration with DJ Joker ("The Vision") led Ware to a record deal with PMR Records. She also participated on Ceremonials (2011), an album by Florence and the Machine, where her good friend Florence Welch is lead singer.