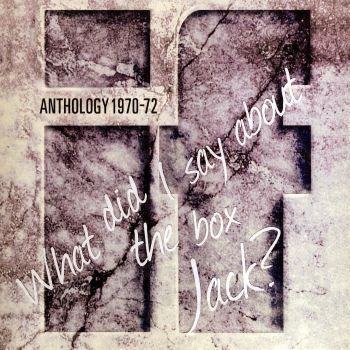 If
-
What Did I Say About The Box Jack
(
Anthology 1970 - 1972
)
-
2008
-
Repertoire
If was Great Britain's contribution to the jazz-rock movement begun and popularized in the late '60s/early '70s by Blood, Sweat & Tears and Chicago. Formed in 1969 by Melody Maker jazz poll winners Dave Quincy, Dick Morrissey, and Terry Smith, the band never found popular success in the United States. However, If produced several albums noteworthy for placing jazz players in a pop/rock band context and producing a true fusion of the two genres without diluting the players' improvisational skills. Unlike most of their horn-band contemporaries, If had no brass players in the band, relying solely on the saxophones of Dick Morrissey and the flute and saxophones of Dave Quincy. But what really gave If its unique sound were the vocals of J.W. Hodgkinson and the guitar of Terry Smith. Hodgkinson's vocal timbre was unusual -- smooth, flexible, and strong in the high end, sounding like no other vocalist. Smith's trebly guitar sound was also unique, combining a rocker's use of sustain with the jazz fluency of Wes Montgomery and Django Reinhardt. The original incarnation of If produced five excellent albums between 1970 and 1972, but these albums failed to find an audience. Morrissey soldiered on with the If name for two more albums with a totally different lineup and a more generic rock-type sound, but these, too, went nowhere. Drummer Dennis Elliott was later a member of the platinum-selling rock band Foreigner. © Jim Newsom © 2014 AllMusic, a division of All Media Network, LLC. | All Rights Reserved http://www.allmusic.com/artist/if-mn0000075155/biography
Referred to by Billboard as "unquestionably the best of the so-called jazz-rock bands", and once complimented by the late jazz great Miles Davis. Wikipedia says - "If became one of the most highly-acclaimed groups of the Seventies to never quite make the big time, despite good record sales and full venues." If were not unusual in that regard, as the same quote could be applied to many early seventies bands. Between 1970 and 1975, If produced 8 studio albums and did over 17 tours of Europe, the US and Canada. The band played dynamic and sophisticated jazz rock. Their albums were diverse with brilliant musicianship and well-crafted songs with imaginative lyrics. The late J.W. Hodgkinson was an exceptional vocalist with a voice full of soul and his voice attracted both jazz and rock fans to If's music. "What Did I Say About The Box Jack" may or may not be the best compilation album from If. Five of the tracks are from If's "If 3" album. It's a pity some new material wasn't included on the album, but the tracks here certainly demonstrate the many facets of the band's style. Popular tracks like 'Waterfall', 'Forgotten Roads' and 'Child Of Storm' are included. All the track arrangements are really good, and many of the tracks include inspired instrumental solos from the wonderful guitarist Terry Smith and the late tenor sax and flute player Dick Morrissey. The original band's career lasted less than six years, but in that time If released some of the best jazz rock ever to come from a British band. If you are not familiar with this great band's music then this album is a good starting point, and
HR by A.O.O.F.C.
Listen to If's "Europe 1972" album
[
All tracks @ 320 Kbps: File size = 171 Mb
]
TRACKS / COMPOSERS
1 What Can a Friend Say - Dave Quincy 6:56
2 Waterfall - Dick Morrissey 5:42
3 What Did I Say About the Box Jack - Dick Morrissey 8:23
4 Forgotten Roads - Dave Quincy & Trevor Preston 4:29
5 Sunday Sad - Dick Morrissey & B.Morrissey 8:22
6 Seldom Seen Sam - Terry Smith & J.W. Hodgkinson 5:07
7 Your City Is Falling - Dave Quincy 5:51
8 Dockland - Darryl Runswick 4:46
9 Child of Storm - Dave Quincy & J.W. Hodgkinson 3:55
10 I'm Reaching out on All Sides - Dave Quincy & Jay Fishman 5:44
11 Sweet January - Dave Quincy & Trevor Preston 5:09
12 Fibonacci's Number - Dave Quincy 7:49
N.B:
Tracks 1,3,8,10 from "If 1" 1970:
Track 2 from "Waterfall" 1972:
Track 5 from "If 2" 1971:
Tracks 4,6,9,11,12 from "If 3" 1971:
Track 7 from "Europe 72" 1997
MUSICIANS
Terry Smith - Guitar
Jim Richardson - Bass
John Mealing - Keyboards, Vocals
Dennis Elliott - Drums
Dick Morrissey RIP - Saxophones, Flute
Dave Quincy - Saxophones
J.W. Hodgkinson RIP – Vocals
BIO
(WIKI)
If was a progressive rock band formed in Britain in 1969. They toured extensively in Europe and the United States during the early 1970s, with two U.S. tours during their first year, performing at most of the major venues and festivals of the day including Newport, Reading, Fillmore East (November 10, 1970, sharing the billing with Black Sabbath and Small Faces) and Fillmore West, Whisky A Go-Go, and The Marquee. They also shared billings with, amongst others, Miles Davis, Muddy Waters, Willie Dixon and Leon Russell as well as many of the classic rock bands of the day, such as Traffic, Yes, Grand Funk Railroad, Ten Years After, Kiss, Dr. Hook and the Medicine Show, and Lynyrd Skynyrd. If thus became one of the most highly-acclaimed groups of the Seventies to never quite make the big time, despite good record sales and full venues. The band was managed and its albums produced by Lew Futterman, who had previously produced US jazz/soul stars Brother Jack McDuff and J.J. Jackson, amongst others. Signed on by Chris Blackwell, an enthusiastic early fan, to Island Records in the UK and to Capitol Records in the US, their debut album, If (1970), entered the charts in both the States (Billboard) and the UK, as well as winning a design award for its cover. It was followed that same year by If 2, also released on Island and Capitol. The albums If 3 (1971), If 4 and Waterfall (1972) were accompanied by heavy touring schedules in the States and Europe, especially in Britain and Germany, where the band appeared on TV (BBC's Top of the Pops/Old Grey Whistle Test in the UK and one of their tracks was used as a signature tune for the news in Germany, as well as performing live (Sept. 1971) on Bremen TV's Beat-Club, sharing the billing with Canned Heat and Deep Purple, among other acts). Finally, following such intensive recording and touring schedules, in the summer of 1972, the band had to come off the road in the middle of a US tour when Dick Morrissey was admitted to hospital for major surgery. As a result of the break-up, the band members went off to work on other projects. Consisting of essentially two clearly defined line-ups, as well as an intermediate, transitional one, the original band had a heavier leaning towards jazz, and was formed by Dick Morrissey, on tenor sax and flute, and Terry Smith on guitars, both Melody Maker award-winning British jazz musicians who had played together in US soul singer J.J. Jackson's band with Dave Quincy on alto and tenor saxes, together with Spike Wells on drums, Lionel Grigson on keyboards and Daryl Runswick on bass, although these last three musicians did not record with the band, with Wells going off to join Tubby Hayes. The definitive seven-piece line-up for the first incarnation of the band, with a more jazz-rock-oriented style, and which appears on the first four studio albums, as well as a live recording, was J. W. Hodkinson on lead vocals, John Mealing on keyboards, Jim Richardson on electric bass, Dennis Eliott on drums, with Dave Quincy on alto and tenor saxes, Terry Smith on guitars, and Dick Morrissey on tenor and soprano saxes and flute. The above line-up is possibly the band's best known, but the band was subject to other personnel changes. With If coming off the road when Dick Morrissey was admitted to hospital, J. W. Hodkinson joined Darryl Way's Wolf, Terry Smith and Dave Quincy went off to form ZZebra, John Mealing joined Klaus Doldinger's Passport before going on to Strawbs, Jim Richardson went on to do studio session work, and Dennis Elliott joined the hugely successful group Foreigner. A new line-up had Fi Trench and Dave Greenslade (ex-Colosseum) on keyboards, and Dave Wintour replacing Richardson on bass. Wintour left shortly afterwards to join Roger Daltrey, appearing on his first two solo albums. A sixth studio album, Double Diamond (1973), with only Dick Morrissey left from the original line up, featured Fi Trench (keyboards) and Pete Arnesen (keyboards), Steve Rosenthal (guitar/lead vocals), Kurt Palomacki (bass) and Cliff Davies (drums). It was recorded at The Manor recording studios shortly after Mike Oldfield's Tubular Bells. The last two If albums, Not Just Another Bunch of Pretty Faces (1974) and Tea Break Over, Back on Your 'Eads (1975), saw the band back on Capitol Records, and decidedly more rock oriented. They featured Geoff Whitehorn on guitars and vocals, Gabriel Magno on keyboards and Walt Monaghan on bass and vocals (replacing Mike Tomich, who had toured with the band prior to these last recordings), as well as Cliff Davies and Dick Morrissey. The style was unique in generating a distinctive harmony of electric rock guitar and jazz sax. Coinciding with their more rock-influenced style, they also changed their famous small-case logo "if" for the more solid looking large-case "IF". If finally broke up in 1975, Dick Morrissey going on to work with the Average White Band and Herbie Mann, eventually forming Morrissey–Mullen; Geoff Whitehorn to join Crawler and, subsequently, Procol Harum. Cliff Davies, Walt Monaghan and Gabriel Magno joined Ted Nugent, who was also produced by Lew Futterman. Referred to by Billboard as "unquestionably the best of the so-called jazz-rock bands", in the period spanning 1970-1975, they produced 8 studio-recorded albums and did some 17 tours of Europe, the US and Canada.
MORE ABOUT THE BAND
If ever a band epitomised the spirit of Jazz-Rock - it was If. Born of the early Seventies, this highly popular and innovative British band created an exciting new blend of musical influences. The founder members were all top rated jazz musicians, but with youth on their side, they were readily accepted in the world of pop and rock. Most jazz music relied heavily on open ended jamming on familiar, well worn standard tunes. By the late Sixties this just wasn't good enough as progressive rook bands were proving much more adventurous than their jazz counterparts. The birth of jazz-rock was sparked by the success of American pioneers Blood, Sweat & Tears and Chicago who brought a new clarity and blues power back to big band jazz. In 1969 If was born and the new band began to develop their own sound and approach. They used tightly written sax and guitar arrangements, deployed to back a powerful young lead singer. This new concept provided the way ahead for many musicians who might have languished on the under-funded, under-publicised jazz club circuit. If recorded a succession of albums, toured extensively throughout Europe and America and played to large, appreciative audiences. They also enjoyed all the fringe benefits of the rock life style. When several members of If held a reunion meeting in March 1997, they laughed long and loud at their shared memories of the good old days. They came together to celebrate the release of this long lost 'live' album recently found in the archives. As the band point out, this is the record that really captures the spirit of If. On cuts like "Waterfall", "The Light Still Shines" and the extended "Sector 17" you can hear the band throw themselves with great gusto into the songs, many written in unusual time signatures. The founder members of It were poll winning saxophonist Dick Morrissey (born Sutton, Surrey, 1939) and guitarist Terry Smith (born London, May 20, 1943), another Melody Maker Poll winner. They were the young lions of the London jazz scene, and Dick had been feted as a teenage prodigy for his command of the tenor and soprano sex and flute. His playing was inspirational in any setting, particularly when he led his own superb quartet with legendary drummer Phil Seamen and the late pianist Harry South. Dick had also played with The Animals Big Band and with Georgie Fame. Terry Smith, armed with a fast and fluent technique, was frequently matched with Dick on exciting jam sessions and it was only natural they should team up in the new venture. The third member of the front line was another highly rated and passionate player, the affable and highly organised Dave Quincy (born September 13,1939), a mean man on alto and tenor sex. They found the perfect front man in singer John Hodkinson (Born Leigh, Lancashire, 1949), whose bluesy vocal style was comparable to Steve Winwood of Traffic fame. The group was completed with the addition of John Mealing (born Yeovil, Somerset, April 5, 1942) on keyboards and backing vocals, Jim Richardson (born February 16, 1941), bass guitar, and Dennis Elliott (born Peckham, London 1950) on drums. Dennis was only 19 when he joined If and had previously been with the Shavelles and Ferris Wheel. When the band was put together in 1969, Dick, Terry and Dave were all part of a London based ten-piece outfit called J.J. Jackson's Greatest Little Soul Band In The Land, managed by American producer Lew Futterman. Says Terry Smith: 'We were all in the J.J. band together. One day the manager played me and Dick some tapes he'd got of Blood, Sweat & Tears and Chicago and asked if we'd fancy forming our own band. He assured us it could be done. In any case some of the stuff Dick and myself had been doing already was not far off that style." Futterman had previously produced jazz stars like Benny Golson and also managed singer Jimmy Witherspoon and organist Jack McDuff. When he heard Morrissey playing with Witherspoon, Futterman was impressed and swiftly recruited both Dick and Terry Smith to back J.J. Jackson. Dave Quincy's rock and roll roots lay way back in the early Sixties when he played with Jet Harris & The Jet Blacks. His association with Terry Smith began when he ran the Three Tuns jazz club in Beckenham, Kent. He featured all the top British jazzmen like Ronnie Scott, Tubby Hayes, and Phil Seaman. Quincy recalls that David Bowie later took over the Sunday night sessions for his famed Arts Lab. Says Dave: "I had started getting into writing music as well as playing sax, and when Dick and Terry wanted to put a band together they turned to me. I remembered working with a singer called John Hodkinson in a band with Jimmy Nicol. Incidentally, Jimmy was the drummer who 'depped' for Ringo Starr in The Beatles!" Quincy thought that John, who was a bit of a jazz fan, would be ideal for the new band. Around this time Terry Smith had been working with Scott Walker of The Walker Brothers. "I had to form a band to back Scott and I was his music director for a while." Scott was greatly impressed with Terry's playing and produced his solo album "Fall Out" (1968) which featured the Harry South Big Band. Terry went to Japan with the Walker Brothers a couple of times and on his return had to decide whether to stay with Scott or go with the new band. In the end he chose If, but still has fond memories of his days working with the American superstar. The musicians were convinced that Jazz Rock would be an important and productive new direction, and Dave Quincy recalls how the new band devised its musical policy. "When you listen to this 'live' CD you can hear there are extensive solos, but they are built into original compositions we put together as a band. It was a natural step forward for all of us." The band's structure was quite different from BS&T or Chicago. Says John Mealing: "One of the original things about our band was that we didn't have a trumpet. The front line was all saxes and guitar and most of the other jazz-rock bands had trumpets." Jim Richardson remembers the band's first rehearsals at a pub in Islington called The Pied Bull, which was run by a gentleman fondly known as 'Mad Phil' who was originally a ballroom dancer and still had the 1930s movie star hair style to prove it. "He was a great character. I remember him saying that If was going to be BIG!" Lew Futterman signed If to Island in the UK and to Capitol for the US. They released their first album simply called "If" with its distinctive metallic cover design in 1970. The band's name was chosen by their manager and was noted more for its fashionable brevity than anything to do with the Rudyard Kipling poem. Says Quincy: "I remember one tour with Yes and If. Someone said it sounded like Egg and Chips! But it was a memorable name and the album cover won a design award." Terry Smith: "We used to play at the Country Club in Hampstead and the promoter Stuart Lyons always used to announce us as 'The Ifs."' They played their first major gig at Roundhouse in London eyed up by various American A&R men. The band were excited by all the new found attention, but events overtook them at alarming speed. "The whole thing moved much faster than we expected," says Quincy. "We were catapulted from rehearsing at the 'Pied Bull' pub to flying off to Los Angeles, where we were met by the record company at the airport and taken to our Hollywood hotel in limousines! It took us all by surprise." Says Jim: "That kind of treatment wasn't our main goal, but it turned out to be great fun!" It wasn't long before the bleary eyed musicians were succumbing to the rock lifestyle with all its temptations. There are many band legends about broken water beds and rampant groupies - but of course as each member will tell you - "it wasn't me!" There was work to be done and the band set off on tour supporting Traffic, before making their Hollywood debut at the Whiskey A Go-Go on Sunset Strip, where they received excellent reviews. Their album was released in the States in September 1970 and entered the Billboard charts. The band moved onto Chicago and New York, where they supported an amazing variety of top performers from Miles Davis, Muddy Waters, Willie Dixon, Laura Nyro, and The Association, to Ten Years After, Rod Stewart, Black Sabbath and Grand Funk Railroad. A couple of visits by their hero Miles Davis to a New York club gig unsettled Jim Richardson in particular: "We were playing in a tiny club. I looked up and suddenly saw him in front of me. I was so scared I threw up in the sink!" Dave Quincy reveals there was a lot of pressure on If during this hectic period. "We did something like 80 gigs in our first year including two U.S. tours. Being a seven-piece band there was more to handle than a three-piece like Cream." Terry: "It was expensive to run and there was an awful lot of rehearsing involved. We couldn't just get up and jam through a set. The arrangements were quite complex and Dave wrote a lot of stuff in different time signatures." Dave: "Well we wanted to get away from the old jazz club format of playing everything in 4/4. Unlike the Average White Band, we were never a dance outfit." Says Jim Richardson: "Well, it was a time when people came to listen to the music rather than dance. But we did have a great young rock drummer with us. Dennis Elliott was only 19 but he could handle jazz and rock styles. He really brought an authentic feel to the music." After a few tours of the States If became increasingly popular in Europe and they toured Germany and appeared on TV's 'Beat Club' in Bremen. The endless gigging took its toll on their health and nerves, however, and although the albums sold well, they didn't create the kind of breakthrough the band expected. Dave: "We had to do two albums a year to keep the band financially afloat and it started to get to us. After a couple of years we needed a break." "If 2" was released in 1970, followed by "If 3" (1971), and "If 4" (Waterfall) (1972). Quincy feels the "Europe '72" album serves as both a timely reminder of a great band and also fills the gap left by the studio albums. "Our performance on those albums was never quite right. We'd record a new song but they'd only start to develop once we'd played them on gigs." Jim agrees: "This captures the essence of the 'live' band. There's one track on here that Dick wrote called "What Did I Say About The Box Jack?" that we used to play at every gig. On this CD it goes on for about twenty minutes. We used to tag things on and it became longer and longer!" The strange title comes from an episode when the band were recording the song for their first studio album. Lew Futterman's friend Jack McDuff was in the control booth and they were having a heated discussion. Lew's voice suddenly came over the PA saying: "What did I say about the box, Jack?" Well, you work it out. Some of the songs like "Waterfall" were first heard on the album "If 4" but these are all different 'takes.' The band's main soloists are featured in turn. Dick plays an extended flute solo on "Waterfall" and John Mealing plays piano on "The Light Still Shines" followed by Morrissey on soprano sax; Terry Smith gets stuck into an angular guitar solo on "Sector 17" and Dick plays tenor on "Throw Myself To The Wind" and more flute on "I Couldn't Write And Tell You". John Mealing switches to organ for "Your City Is Falling" which also provides a drum feature for Dennis Elliott. Everyone gets to shine on "What Did I Say About The Box Jack?" which also has a powerful blues vocal from John Hodkinson. The demise of the original If was hastened when Dick Morrissey became ill in the Summer of 1972 and the band came off the road. Dennis Elliott went on to join Foreigner which became hugely successful, while Mealing and Richardson left to pursue separate careers. John Hodkinson sang with Darryl Way's Wolf ("Night Music" LP, 1974). He later returned to his home in Manchester where he still sings locally. Jim played in the house band at London's Talk Of The Town venue for a few years, and also toured with Georgie Fame. Dave Quincy formed new group Zzebra with Terry Smith which included Loughty Amao (flute and tenor sax), Gus Yeadon (piano and vocals), Liam Genockey (drums) and John McCoy (bass). They released the "Zzebra" album in 1974, then Terry left to go to Sweden with Dick where they lived with their families for a while. Dick later revived If for the final albums "Double Diamond" (1973), "Not Just Another Bunch Of Pretty Faces" (1974), and "Tea Break Is Over, Back On Your Heads" (1975). The following year Dick began working with guitarist Jim Mullen in Morrissey/Mullen. Dick also did some work with Herbie Mann and the Average White Band in New York. Says Quincy: "The band kind of split in two stages. The original band reached a point where we became disillusioned about the whole thing." Says Terry: "We were getting older and the touring became very tiring. While it was still fun, the money wasn't going up, and that brings you down." John: "The promise of the band over first few albums was not coming to fruition and it rather looked as though it wasn't going to happen. We were fighting a lot of battles outside the band that were beyond our control." In 1982, Terry formed his own Blues Band with Jo Ann Kelly (vocals), Tony Ashton (organ) and Micky Waller (drums). Terry is currently working with organist Bob Stukey and drummer Chris Karren. For the last few years Dick Morrissey has been unable to play due to a serious illness and has now virtually retired from the scene. However, Terry Smith reports that in 1996 he was able to team up with his old friend in Portugal. When Dick played his beloved saxophone again, he managed to summon up all the old Morrissey magic. Dave Quincy is delighted at the release of this 'live' CD and says: "If was always a great social band and these recordings capture all the excitement of a live gig." CHRIS WELCH, London, 1997 [ (Taken from the Repertoire CD release, "Europe '72" REP 4653-WY) ] © Alex Gitlin www.alexgitlin.com/index.htm