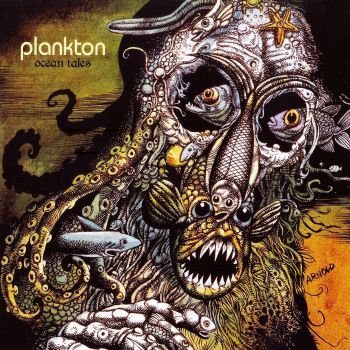 Plankton
-
Ocean Tales
-
2009
-
Bulleribock Records
"I wish I had found them first." - Mike Varney, Shrapnel Records
"There is a major difference between PLANKTON and nearly 99% of the so-called "guitar heroes" of the day: these guys are one serious freaking band and they approach it that way." - Ray Dorsey, Chaos Realm
THE MERMEN OF PLANKTON CONTINUE THEIR DEEP DIVE INTO THE INFINITE DEPTHS OF PROGRESSIVE GUITAR-BASED MUSICAL EXPRESSION WITH THEIR LATEST RELEASE, OCEAN TALES. HAVING BEEN A HUGE FAN OF THEIR ECLECTIC TWIN GUITAR ASSAULT FROM THE VERY BEGINNING, THIS RELEASE CAPTURED MY COMPLETE ATTENTION.. FROM THE VERY FIRST ANALOG TAPE MACHINE SOUND OPENING UP THIS DECOMPRESSION CHAMBER TOUR OF THE STRATOCASTER-HUED RAINBOWS FAR BENEATH THE SEAS OF INFINITY.. AND SUSTAINED ITSELF THROUGHOUT THE ENTIRE 53 MINUTES AND 14 SECONDS OF THE JOURNEY. THERE IS A MATURITY AND DEPTH WITHIN THE ARRANGEMENTS ON THIS PROJECT WHICH REPRESENT BOTH A DEPARTURE AND AN EVOLUTION FROM THEIR PRIOR RELEASES. WHEREAS BEFORE, I WOULD BROADLY CATEGORIZE THEIR INTERNAL MUSICAL HIERARCHY AS WORLD-CLASS GUITARISTS/TONE SCULPTORS FIRST AND COMPOSERS/ARRANGERS SECOND. ON THIS RELEASE, HOWEVER, THAT HIERARCHY IS INVERTED: THE PRIMARY FOCUS IS ON THE COMPOSITIONS AND THE ARRANGEMENTS ENCAPSULATED WITHIN THEM. THERE IS A SEAMLESS MELODIC CONTRAPUNTAL COUNTERPOINT AND STRUCTURAL FLOW IN EVERYTHING: THE GROOVES, FEELS, RHYTHM FIGURES AND SINGLE-LINE WORK (BOTH INDIVIDUAL LEADS AND ORCHESTRATED TWIN LEAD SECTIONS) DISPLAY A WELL-THOUGHT OUT "PLACE-FOR-EVERYTHING/EVERYTHING-IN-ITS-PLACE" COHESION IN ALL ASPECTS OF EVERY TRACK. AN OCCUPATIONAL HAZARD INHERENT IN THIS APPROACH IS THAT SOMETIMES.. IRONICALLY.. EXCELLENT TECHNICAL FACILITY YIELDS FRETWORK WHICH IS TOO PEDESTRIAN; TOO ECONOMICAL; TOO HOMOGENIZED; TOO "SQUEAKY CLEAN." YOU MAY PUT ASIDE THESE CONCERNS - THERE IS A SENSE OF FIRE AND URGENCY THAT COMES THROUGH ALL OF THE STRUCTURAL PRECISION (CHECK OUT WE COME IN PEACE AND WHEN WORLDS COLLIDE FOR PARTICULARLY SMOKING EXAMPLES OF THIS CONCEPT IN ACTION), REVEALING A FULLY-REALIZED MUSICAL VISION FROM A GROUP AT THE TOP OF THEIR GAME. PLANKTON IS KEENLY AWARE OF "EBB & FLOW" DYNAMICS, AND GIVE EACH TRACK AMPLE TIME TO BLOSSOM, GROW AND EVOLVE - ONLY ONE TRACK CLOCKS IN AT UNDER 5:00, AND 4 OUT OF 9 ARE OVER 6:00. ALL OF THEM ARE INVENTIVE, MEMORABLE AND FULL OF THEIR PATENTED "TURN ON A DIME" SHAPE-SHIFTING TRANSITIONS. POMPERIPOSSA EXHIBITS THIS MUSICAL MORPHOLOGY PERFECTLY, LIKE A MUSICAL VERSION OF A BI-POLAR MANIC PHASE-SHIFTED TOUR OF THE COLLECTIVE UNCONSCIOUS - ALTERNATELY BROODING, SCARY, UPLIFTING, TERRIFYING, CASCADING INTO A PEACEFUL RESOLUTION.. AND THAT'S JUST ONE TRACK! OCEAN TALES - AS THE TITLE INFERS - TELLS MILES WIDE AND MILES DEEP MUSICAL STORIES WITH A CASCADING FLUIDITY AND LIQUID-SILVER SMOOTHNESS. EACH TRACK TAKES YOU TO ANOTHER STYLISTIC PORT OF CALL.. CLASSIC SINGLE COIL STRATIFICATIONS ARE SPRAYED OVER EVERYTHING, LIKE SONIC WAVES SLAMMING INTO THE SHORES OF YOUR AWARENESS, DRENCHED IN EFFECTS THAT ARE INFUSED INTO THE TONES LIKE AN ANALOG IV DRIP THAT INTENSIFIES AND HEIGHTENS THE SONIC EXPERIENCE ON EVERY LEVEL. GO AHEAD - BOOK YOUR TRIP WITH THE PLANKTON CRUISE LINE - AND ENJOY THE ONE TRIP YOU WON'T EVER HAVE TO COME BACK FROM.. ONCE IT'S ALL IN YOUR HEAD. ALL YOU HAVE TO DO IS LISTEN.. © JIMMY RYAN (TRUTH SQUAD) (FEBRUARY 2010)
SUPERB 5TH STUDIO DISC BY THIS EXCEPTIONAL, BLUES-BASED, HENDRIX-INSPIRED, INSTRUMENTAL HEAVY GUITAR BAND FROM SWEDEN FEATURING TWO AMAZING GUITARISTS WHO TRIP DEEP, DYNAMIC, WORLD-CLASS, SIX-STRING "EARTH BLUES FUSION" INTO THE "OUTSKIRTS OF INFINITY". COMPLETE WITH A FIRST-RATE, GROOVE-INDUCED RHYTHM SECTION, STRONG COMPOSITIONS AND A TOP-SHELF PRODUCTION, PLANKTON STANDS TALL IN A CLASS ALL THEIR OWN. A COSMIC, MIND-BLOWING, RETRO-70S HEAVY GUITAR JOURNEY THAT IS RECOMMENDED TO FANS OF HENDRIX, TROWER, FRANK MARINO, ULI JON ROTH, TOMMY BOLIN, GOV'T MULE & WISHBONE ASH. © 2012 & BEYOND - GROOVEYARD RECORDS, INC.
Plankton is an all-instrumental 5-piece band out of Sweden that's been making great music together now for over 10 years. Same 5 guys (two guitars, bass, drums and percussion), still playing groove-oriented twin-guitar rock inspired by legends like Jimi Hendrix, Frank Marino, Robin Trower and Wishbone Ash. "Ocean Tales" is their 5th studio album, and if it doesn't stretch too far into new territory for the band, it does solidify them as the best-in-class of this very challenging, innovative and intelligent style of music. The melodies here are fresh again, with lots of special nuances added around the edges to make each song a unique and enjoyable listen. I love the way they blend spacey, cosmic passages with a fusiony style that stays rooted in bluesy rock and roll. Fifty-three solid minutes of musical bliss here, folks. If you haven't checked these guys out yet, you're missing something special. There are no clunkers on any of their cd's; start with this one and work your way back through their modest catalog. You'll swear you can smell those big Marshall amps glowing hot.... I value interesting music that is played and recorded well. This cd's rating was based on: Music quality = 9.1/10; Performance = 9.2/10; Production = 9/10; CD length = 8/10. Overall score weighted on my proprietary scale = 9.0 ("4-1/2 stars") - from ***** Tales of non-topographic oceans..., February 17, 2010 By & © Squire Jaco (Buffalo, NY USA) © 1996-2014, Amazon.com, Inc. or its affiliates http://www.amazon.com/Ocean-Tales-Plankton/product-reviews/B002YZL8IW/ref=dp_top_cm_cr_acr_txt?ie=UTF8&showViewpoints=1
Outstanding progressive instrumental guitar rock from a great Swedish band featuring the two brilliant guitarists Emil Fredholm, and Christian Neppenstrom. Plankton have a growing underground cult status and have deservedly received world-wide critical acclaim with their exceptional music. "Ocean Tales" is
VHR by A.O.O.F.C
and possibly one of the best albums you have never heard! Don't miss this gem! Wishbone Ash asked Plankton to contribute a song to their 35th anniversary album, "Wishbone Ish". Plankton's cover of Wishbone's F.U.B.B. can be heard on the tribute album. Check out Plankton's s/t album, "3" album, and "Humble Colossus" albums on this blog. Buy Plankton's "Rare Tracks" album and support real music
[
All tracks @ 320 Kbps: File size = 125 Mb
]
TRACKS
1 We Come In Peace 5:35
2 In The Meadows 4:52
3 Small Steps, Giant Leaps 7:00
4 Pomperipossa 5:25
5 I See Land 6:33
6 Time Wounds All Heals 5:18
7 First Snow 4:09
8 Plankton Sans Frontiers 6:13
9 When Worlds Collide 8:09
All tracks composed by Plankton.
Track 2 is based on the traditional Swedish folk song "Uti vår hage"
MUSICIANS
Guitar – Christian Neppenström, Emil Fredholm
Bass – Pomma Thorberg
Drums – Sebastian Sippola
Percussion – Lars Normalm
ABOUT
PLANKTON
Plankton is an instrumental 5-piece band out of Stockholm, Sweden. The band was formed in 1998 by guitar players Christian and Emil, who at the time were playing in various bands around the Stockholm area. They´d known each other for a few years and were both heavily influenced by the music of the sixties and seventies. They usually got together over a cup of tea and listened to the music of The Jimi Hendrix Experience, The Beatles, Mahogany Rush, Electric Sun, Jan Johansson, Mountain, Deep Purple, Jojje Wadenius, Jeff Beck, Led Zeppelin, Cream and other bands and artists from that era. On a rainy day they decided to put a band together and some time later they hooked up with Lars, Sebastian and Tomas and started jammin´ and recording. These recordings were sent to Joe Romagnola at Grooveyard Records by Janne Stark who had recieved a copy from Sören Dahlgren, a close friend to the band. Joe Romagnola liked what he heard and Plankton was signed to the Grooveyard label. ...the music of Plankton is based on a variety of influences that the five members grew up with. You´ll find blends of everything from The Jimi Hendrix Experience to traditional Swedish folk music, from The Beatles to The Rutles, from Deep Purple to Swedish fairy-tales, from The Shadows to Monty Python´s Flying Circus and of course the legendary Elephantman... © 2011 ROCKPROG Stockholm Sweden http://www.rockprog.com/02_interviews/plankton.aspx