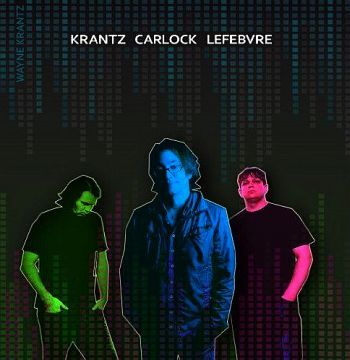 Wayne Krantz,
Keith Carlock,
Tim Lefebvre
-
Krantz Carlock Lefebvre
-
2009
-
Abstract Logix
The American guitarist Wayne Krantz is a real one-off. He sounds somewhere between John Scofield and Bill Frisell at times, and he has toured in the legacy version of Steely Dan, which has had an audible impact on his playing. But Krantz is also an unflinching adventurer who dislikes repeating himself or imitating others, and possibly dislikes the music industry even more. This trio's famously long residency at New York's 55 Bar used to be documented by downloadable recordings of the gigs the same night, and though the guitarist has access to a conventional recording studio here, he has kept the same improvisational live feel, augmenting it with some overdubbed theme statements and quirkily offhand vocals on four tracks. Krantz is accompanied by his regular partners, Tim Lefebvre (bass) and Keith Carlock (drums), and the bone-crunching three-way conversation they keep up joins the impact of a heavy rock power-trio to the harmonic sleight-of-hand and melodic slipperiness of a contemporary jazz band. Some pieces are dark, churning, raw-sound growls, while others are drawlingly countrified; there's a rock-virtuosity tribute to Jeff Beck, and Rugged Individual is almost a reassuring ballad. © John Fordham guardian.co.uk, Thursday 15 October 2009 21.49 BST © Guardian News and Media Limited 2010 http://www.guardian.co.uk/music/2009/oct/15/wayne-krantz-cd-review
Fans of electric guitarist Wayne Krantz have been waiting well over a decade to hear something new or commercially available on CD, and here it is. It seems he's a more mature player, not as raucous or raw as in previous years where volume and screaming, high-pitched sounds were favored. Not to say he's refined his approach, but it seems as if Krantz is more interested in flowing composition, symmetry, and teamwork within funky beats rather than trying to stand above the plethora of rock-oriented jazz guitarists. With bassist Tim Lefebvre and drummer Keith Carlock, Krantz has a solid idea of what he wants to portray, and compact ideas swimming around in his head and fingers. There's only a modicum of noodling, some inane vocalizing here and there, but it does not detract from the overall message he's attempting to get across. He might even be heard as a thoughtful tunesmith on the languid "Rushdie," a slow and introspective "The Earth from Above," or "Moseley." While faster externally, "Left It on the Playground" is a nine-minute jam, at times wonky, but for the most part exploring some interesting industrialized effects. Then again, there are those untamed moments, as on the appropriately titled "War-Torn Johnny" or the hard-edged "Holy Joe" where the razor-edge impulses of Krantz cannot be denied. It is his tribute, "Jeff Beck," where the guitarist adds something unique, as vocal-type, faux-wah-wah sounds from Lefebvre set up some choppy and looser lines, while a much more defined blues in 6/8 time signifies "Rugged Individual." Of the vocal selections, the anthem for sommeliers "Wine Is the Thread" works best in its soulful, song-style repast, but it is not a strong suit. Krantz admitted he became discouraged with the music business, as working diligently on a project did not mean the recording would get proper promotion or distribution. Since the advent of the Internet, he's made live performances available as downloads. This project has a spontaneous, liquid quality to it that may very well establish a new concept for a figure far too talented to take any more time away from the studio to document his pithy, intriguing music. © 2009 Rovi Corporation. All Rights Reserved http://www.allmusic.com/cg/amg.dll?p=amg&sql=10:apftxzlaldhe
Guitarist Wayne Krantz's latest release Krantz Carlock Lefebvre (Abstract Logix) is more than just a great album, it's an exciting event - both for Krantz's career, and for the guitar community at large. This predominantly instrumental disc is Krantz's first studio album to include his long-time trio mates Keith Carlock (Drums), and Tim Lefebvre (Bass). While it's technically a Krantz solo album, Krantz Carlock Lefebvre is very much a band effort (hence the name I'm assuming). Unfortunately for me, the music on this disc is as hard to describe as Krantz himself. Though he's generally been regarded as a jazz player, there's a lot of rock in Krantz's playing as well (in addition to his solo work, he's played with artists as diverse as Steely Dan, Leni Stern, and Chris Potter). These styles, along with his impassioned dedication to improvisation, come through loud and clear on this album. Having said that, I wouldn't call Krantz Carlock Lefebvre a fusion recording - for some reason, despite the heaviness and the harmony, that label doesn't seem right to me. It's at once more rock than fusion, and more jazz than rock. In other words, it's uniquely Krantz. Krantz is one of those rare players who can play one phrase and you immediately know it's him. His signature percussive attack, coupled with a unique approach to improvising make him instantly recognizable. He's been releasing live material in both CD and downloadable formats for years, but the last "Wayne Krantz" studio album was 1993's Long To Be Loose (a great record). If you're looking for the type of writing and lines that Krantz provided on that album, you'll need to look elsewhere. Krantz has morphed into a more adventurous player since those days, both in his improvising and his choice of guitar tones. His lines are more intervallic and almost herky-jerky now; lots of double stops and octave displaced phrasing. His clean tones are still gorgeous, but he's using a wide palette of distorted tones as well, often augmented by an octave divider or wah-wah, which in turn has brought out a stronger Hendrix-like influence in his playing. Krantz has a bolder approach to writing than he has in the past also. Subdued chordal sections are often followed by pedal-stomping "wake up!" sections, as if he's attempting to shake the listener out of their seat. You're aware of all of this already if you've been following Krantz's live material over the past several years. With Krantz Carlock Lefebvre, Krantz has finally taken his current sound and attitude, along with his trio's tight chemistry, and brought it into the studio to be documented and built upon. The opening track "It's No Fun Not To Like Pop" is one of 4 songs on the album that feature Krantz on "vocals." I put vocals in quotes because they aren't utilized in the way you're probably used to. For this tune, the line "It's no fun not to like pop" is literally the beginning and end of the vocal content. This line is dropped in at various points during the jaunty main riff, almost as another instrument or effect. Eventually, the piece gives way to an improvisational mid-section, filled with delay effects and molten guitar tones. Before you know it, the maelstrom comes to an abrupt halt, and the tightly composed opening sections return. It's the first taste of what appears to be Krantz's vision for this album - fearless group improv mixed with provocative writing. After the rocking instrumental "War-Torn Johnny," (which includes some impressive drum work by Carlock through the trippy improv section), the mood shifts for "Rushdie," a gorgeous track that continually gathers steam as it goes along. Krantz provides a pair of polar-opposite guitar solos on this one - a snappy acoustic turn full of lyricism and dynamics, followed abruptly by a distorted wah-wah solo. This song alone is a great example of the musical shift that Krantz has taken during the years since Long To Be Loose. The guitarist that recorded that album was not the unapologetic risk-taker that recorded this one. Following "Rushdie" is one of my favorites, "Wine Is The Thread" - a great song that features a smidge of vocals, and a bluesy sliding-sixths melody. The wild, improvisational mid-section is a further example of the wide range of approaches Krantz takes with tone and contrast on this album. "The Earth From Above" is a beautiful chordal and double-stop oriented piece, that is probably the most thoroughly composed song on the album. It's followed in stark contrast by the almost completely improvised "Left It On The Playground." This highly experimental soundscape features Carlock's most intense workout on the album, as well as Krantz's most liberal use of delay and ring modulator effects. Very "out there" stuff. The next track is titled "Jeff Beck" due to the fact that Krantz submitted a demo of the song to the legendary player, though Beck hasn't used it. Love the cool jazzy chords and the white-hot guitar solo on this one. "I Was Like" is a pure rock tune, with more vocals than any other song on the album. Krantz provides two simultaneous guitar solos on this track, which seriously ratchets up the intensity. The mood shifts yet again with "Mosley," a slower tune with a deliberate groove that features some of Lefebvre's best playing on the disc. Another standout is the highly dynamic "Holy Joe" - the last vocal tune. This uptempo song is arguably the most technical composition here, and everyone is up to the task. The acoustic accents and dry vocal tones add a nice touch. The disc closes with the deep ballad "Rugged Individual." The thing that sticks with you about this tune is how the group respects the mood of the piece when they venture into improvisational territory. Everyone leaves plenty of space for the song to breathe, while still providing input to the music. Great stuff. One of the trademarks of Krantz's live performances is the amount of group improvising that takes place. In a wise move, Krantz decided to bring that strength to the studio for Krantz Carlock Lefebvre, and the results are fantastic. Moreover, the pre-composed portions of the music are very deep, and very guitar-oriented. This disc is loaded with great, often over-the-top guitar tones, and killer playing by Krantz and his bandmates. Krantz Carlock Lefebvre is absolutely one of my favorite albums of the year. Highly recommended. © Rich © 2004 - 2012 Rich Murray. All Rights Reserved. http://www.guitar-channel.com/rich_murray/2009/08/review-wayne-krantz-krantz-carlock-lefebvre.html
A great album of jazz rock/fusion from three masters of their instruments. There is some ferocious guitar playing here from Wayne Krantz. Wayne has a unique playing style and is a real multi-dimensional player. The bass work from Tim Lefebvre, is an education in itself, and of course the drumming from the unbelievably talented Keith Carlock is out of this world. There are some quiet moments on the album, but overall it's very, very impressive. The three guys produce some magical grooves. Listen to Wayne Krantz and Leni Stern's "Separate Cages" album. You can also hear some of Wayne's superb guitar work on Donald Fagen's "Morph The Cat" and Chris Potter's "Underground" album. It is also worthwhile listening to Keith Carlock on Marian McPartland's "Piano Jazz: McPartland/Steely Dan", a great in-studio radio recording. Check out John Petrucci's great "Suspended Animation" album which features Tim Lefebvre. For music in a similar vein, listen to the late Emily Remler's "Transitions" music
[
All tracks @ 320 Kbps: File size = 131 Mb
]
TRACKS
01 - It's No Fun Not to Like Pop
02 - War-Torn Johnny
03 - Rushdie
04 - Wine Is the Thread
05 - The Earth from Above
06 - Left It on the Playground
07 - Jeff Beck
08 - I Was Like
09 - Mosley
10 - Holy Joe
11 - Rugged Individual
All tracks composed by Wayne Krantz
MUSICIANS
Wayne Krantz - Guitar, Vocals
Tim Lefebvre - Bass Guitar
Keith Carlock - Drums
ABOUT
KEITH CARLOCK
(WIKI)
Keith Carlock is an American drummer originally from Clinton, Mississippi. He currently resides in New York City, NY. He has recorded and/or toured with such musical luminaries as Sting, Steely Dan, James Taylor, Donald Fagen, Walter Becker, Diana Ross, Faith Hill, The Blues Brothers Band, Leni Stern, David Johansen and the Harry Smiths, Richard Bona, Chris Botti, Wayne Krantz, Harry Belafonte, Oz Noy, Clay Aiken, Rascal Flatts, Paula Abdul and Grover Washington, Jr, to name a few. Perhaps the greatest testament to Carlock's mastery of the drums lies in him being the exclusive drummer for every track on Steely Dan's latest CD Everything Must Go (Steely Dan has used multiple drummers on each of the last several albums they've released over the past three decades, presumably because Walter Becker and Donald Fagen, with a reputation for relentless perfection in the studio, wanted a "specialist" drummer for each different groove required for a given song). While in the Jazz Studies program at the University of North Texas, Keith studied with many teachers, including Ed Soph. Keith is also the long time boyfriend of Ruff Ryders/Ruff Pop pop/rock singer/songwriter Lynne Timmes. In October 2009 he released an instructional DVD called "The Big Picture: Phrasing, Improvisation, Style, and Technique."
ABOUT
WAYNE KRANTZ
(WIKI)
Wayne Krantz (born July 26, 1956 in Corvallis, Oregon) is an innovative American musician, who is widely recognized as a technically advanced jazz fusion guitarist. He has played with top artists such as Steely Dan, John Zorn, Michael Brecker, Billy Cobham, and others, but currently has a solo act. Krantz released his first album, Signals, in 1991, sporting an array of recognized jazz musicians such as Dennis Chambers, Leni Stern, Anthony Jackson, and others. However, in 1992, he formed a trio with bassist Lincoln Goines and drummer Zach Danziger, and recorded two albums with them; Long To Be Loose, in 1993, and a live album, 2 Drink Minimum, in 1995. In doing so, he began to play periodically at the 55 Bar, a diverse and premier jazz club in New York City. In 1996, Krantz released an acoustic album with Leni Stern, dubbed Separate Cages. Wayne formed a new trio in 1997, consisting of his ferocious guitar skills, complemented by Tim Lefebvre on electric bass and Keith Carlock on drums, new sounds that would change his music's style drastically. On June 28, 2007, Krantz played his final regular Thursday night gig at NYC's 55 Bar. In an announcement by Krantz to his mailing list notifying his fans of the change, he stated a desire to move towards a "louder thing" requiring "bigger rooms, with stages and sound systems to pull it off." Krantz's first three solo albums were released on the jazz label, Enja Records, which was at the time also home to frequent collaborator Leni Stern. However, Krantz's last three albums, 1999's Greenwich Mean, 2003's Your Basic Live, and 2007's "Your Basic Live '06" were both released from Wayne's private website. Like 2 Drink Minimum, these two albums both are excerpts of various sets at the 55 Bar. These two albums also include more use of effects pedals, and are more unscripted and improvised than the previous three, implying Wayne's tendency towards nonconformism on and off the stage. He contributed to Steely Dan co-founder Donald Fagen's newest release, Morph the Cat, and participated in touring with Fagen's band in early 2006. In another rare sideman role, Krantz is featured on tenor saxophonist Chris Potter's 2006 release, "Underground." Additionally, he is to return to the studio in 2006 to record a new solo album, to be followed by touring. It is unknown whether this new album will feature Wayne's existing trio. Even with a lack of a record company, and thus an absence of excessive advertisement and sponsorship, Krantz's music still receives acclaim and a worldwide underground fan base, strongest in the New York metropolitan area and Britain. Wayne Krantz signed with record label Abstract Logix to release his first studio record in over fifteen years.Krantz Carlock Lefebvre (2009) features the core trio of Keith Carlock on drums, Tim Lefebvre on bass, and Wayne on guitar. As a guitarist, Krantz is known for being a relentless individualist, which is evidenced in his improvisational style. In his book "An Improviser's Operating System," Krantz outlines his approach to improvisation, which relies not on licks or memorized fretboard patterns but an awareness of musical "formulas" on the instrument. Krantz's improvisation is known for its spontaneity, and he makes a distinction between this form of improvisation and "composition," the latter of which may include any musical idea that is preconceived on the instrument. While many guitarists rely on other music as a model for their own playing, Krantz is highly committed to realizing his own voice on the instrument and claims not to derive a great deal of inspiration from other music. Though Krantz has studied other players in the past, he does not consider himself a stylist (i.e. someone who models his or her playing on a predefined stylistic template, such as pure bebop, rock, blues or funk.) In addition to its concern for melody and harmony, Krantz's music demonstrates a high rhythmic awareness, often incorporating polyrhythms, odd metric groupings and displaced beats. Krantz is most identified with a Stratocaster-type electric guitar. Recently he has played a model manufactured by Tyler Guitars. Earlier releases such as "Signals" feature a chorus effect commonly associated with fusion guitar. Within several years, however, his sound became more organic, featuring analog effects such as overdrive, wah-wah, and a Moogerfooger ring modulator. For amplification, Krantz has used both Fender Deluxe Reverb and, more recently, Marshall amplifiers for a heavier sound. On May 22, 2004, Krantz married smooth jazz vocalist Gabriela Anders. Together they live in New York City with their daughter Marley.
ABOUT
TIM LEFEVBRE
Tim Lefebvre (bass) is one of the most skilled and sought after bass players in NY. Tim has made appearances in Saturday Night Live's house band over the last few years - his work has also been heard on The Apprentice, The Sopranos, Late Show With David Letterman, The Knights of Prosperity (CBS), 30 Rock (NBC), Oceans 12, Ocean 's 13, The Departed, Harold & Kumar Go To White Castle, and Analyze That!. Tim was the Musical Director/Leader on The Caroline Rhea Show on ABC and has appeared recently with Chris Potter, Patti Austin, Uri Caine, and Dave Binney. This summer Tim is touring with Chuck Loeb, Dennis Chambers, Till Bronner, Eric Marienthal and Jim Beard. Tim brings his incredible support and huge low sounds to the Rudder vibe. © All About Jazz and/or contributing writer/visual artist. All rights reserved