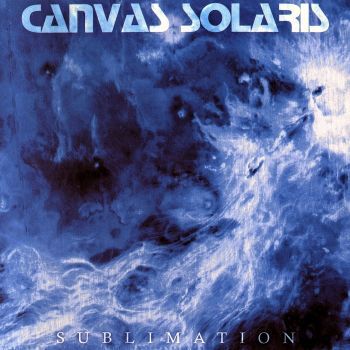 Canvas Solaris
-
Sublimation
-
2004
-
Tribunal
...the dizzying fray of killer compositions like "Cosmopolysyndeton" and "When Solar Winds Collide" won't help alleviate the assumption that Canvas Solaris are snooty, intellectual muso types who are too smart for their own good and the consumer's understanding. Maybe? Maybe not? But every once in a while, metal needs an IQ boost to reaffirm its vitality in the face of cliches and close-mindedness, doesn't it? - TERRORIZER
Canvas Solaris will surely enjoy exponential success with Sublimation, a prime exemplar of technical metal for the ages. - EXCLAIM!
...to the mainstream audiences this album will be far too much to understand as it lacks the tedious nu-metalcore formulaics. But to those who appreciate the art form of intricate and imaginative metal, you need look no further. - THE PRP
...in today's sadly self-gratifying prog metal market where players are looking for individual attention rather than worrying about the product on a whole, Canvas Solaris show that they have some integrity (both musically and personally). What they sacrifice from not showing off they make up for with their virtuous songwriting. - INTO OBSCURITY
Sure it's mind-bendingly original and overtly progressive but can an instrumental album have the kind of bite that generates enough interest to repeatedly listen to it? The answer is a resounding yes. - SMOTHER.NET
This disc is far from crushing, but every note the band plays is captivating and delivered with the seeming ease that only a true pro can feign...The music on this CD is so cool and at the same time so far beyond the realm of "progressive" it's not even funny. - DEADTIDE.COM
Canvas Solaris keep it complicated but stay coherent in their style while being on another plane of musical existence...The album through and through is an amazing trip that will make one want to learn to play an instrument or at least give one a whole new appreciation for music. - RIFT ROCK
This is a top metal album of 2004 for me. I recommend this to fans of The Dillinger Escape Plan, Cancer Conspiracy and metalcore fans that are looking to enjoy something a little different than your average two-chord breakdown. - PIVOTAL RAGE
Its a damn shame a vast majority will simply hear this album one time and miss the chance to broaden their musical horizons. To those looking to get lost in their own bright utopia: Canvas Solaris is the drug of choice. - SIX12
SPATIAL/DESIGN OVERVIEW - Probably the most non-traditional signing to Tribunal Records yet. Statesboro, Georgia's CANVAS SOLARIS could be classified as "thinking man's metal". Their debut, Spatial/Design, is perplexing technical metal bursting with way too many musical acrobatics to even bother with vocals, it is genius-level stuff. We guarantee it will blow your mind. The four spacey and ultra complex tracks have a running time of over 25 minutes and cover the gamut of metal's many facets. This young trio have learned their lessons well. Their masters are Spiral Architect, Watchtower, Cynic and King Crimson. Their peers are few. Canvas Solaris stands alone. © http://tribunalrecords.bigcartel.com/product/canvas-solaris-sublimation-redux
This is a new band from the town of Statesboro, Georgia. They are a 3 member band with: Nathan Sapp on lead and rhythm guitars,6 and 12 string acoustic guitars, Micromoog, Yamaha cs60 synthesizers.Ben Simpkins on rhythm and lead guitars, bass guitar, 12 string acoustic guitar. Hunter Ginn on djembe, table drums, congas, shekere. There are 7 songs and the time lasts about 39 minutes. Musically these guys are an instrumental heavy technical metal band with some jazzy interludes/influences. Being instrumental they rely on dynamics and speed to make the songs interesting, oh and also super playing ability. These guys can play with the utmost speed, agility and wank ability/chops of almost any band out there. These guys are very "tasty". Musically they sound like a lot of bands such as Spiral Architect, King Crimson, the fucking champs, Cynic, and Behold the Arctopus. The songs all have lots of interesting things going on. Most are begun with finger picked intros and also with synth efx to add some differentness. The guys can play fast runs or slow down and play for effect and "feel". The drums and bass are really well recorded and together the band is really tight and well rehearsed. One thing they do is that they "name" their solos within the songs. I think they are the only ones I know of that does this. Arranging is very good, these guys mix acoustic guitars with electrics and very tasty synth burps and bleeps as well. The drummer is excellent as he uses congas and other percussion for a very dramatic effect on some of the songs such as "When solar winds collide". The drummer Hunter, also throws in some tribal drums and bells into the song "Sublimation" for an Indian feel that makes this one my favorite tunes on this cd. The electric guitar playing is done very tastefully. They mix lots of clean tones with some varied types of distortion (Mesa to Marshall) to change the sounds so as to always make for an interesting mix. The crunchy, heavy bits and riffing are all over the place but not a focus of the music and when they are heard make the music more visceral and powerful. This is a very good release of technical modern metal. The only thing that may be missing is more or better melodies within the songs so as to make them memorable for listeners. The changes in speed and the variations in dynamics are very cool but are not enough to make this a great Cd. – from Technical Metal Jazzy madness - 85% © yogibear, December 30th, 2004 © http://www.metal-archives.com/reviews/Canvas_Solaris/Sublimation/48622/
If you've read my fairly brief review of Canvas Solaris' previous release, the Spatial/Design EP [http://www.sputnikmusic.com/review/1330/Canvas-Solaris-Spatial-Design/] (I'd suggest doing so before reading this), you'll know vaguely what I thought of it; potential for brilliance, which managed to end up somewhat less than brilliant. Well this is where that potential is put to much better use. Canvas Solaris started off some five years ago as a four-piece group, with a vocalist and everything. Early demos (apparently) laid the blueprint for what the band was about; complex, technical music with a great focus on actually being good to listen to, with highly developed conceptual elements to the song titles, liner notes and, presumably, lyrics. However, lineup changes soon occurred which reduced them to a trio, and although Nathan filled in on vocals for a while, they soon abandoned that in favour of a fully instrumental approach. And so they have remained since. Before we get to the actual music, it's worth noting how much of an improvementSublimation is over Spatial/Design in other ways. The cover art, for one, is great (call me shallow if you like, but these things matter). The nebula-style cover art of Spatial/Designwas all well and good, but the "blue fire" design (it's actually space, again) here is just awesome. The track names, too, strike me as a great improvement. They're just as pretentious, but they're more memorable, and as before, they're not just randomly pretentious - they have meanings behind them. Whether Canvas Solaris write songs based on concepts or crowbar the concepts they're interested in into already written songs is unknown to me, but whichever it is, the concepts themselves are certainly given adequate thought. I won't even begin discussing them here, since even a brief overview would probably lead to several thousand words of talking about literary theory and astrology; the band's favoured subjects of thought. My favourite title here would be Ekstatik Parataxis (The New Measure), especially having snooped around the apparent background to it. If Canvas Solaris ever get even remotely well-known, I hope they release a big boxed set, full of music and essays and things. Anyway, music, that's what we're here for. The leaps and bounds taken onward from the Canvas Solaris of the Spatial/Design EP, especially considering the short time between the two releases (18 months, at most), are incredible. Each band member seems to have learnt to play about six new instruments (and, from interviews I've been reading, are still learning even more. Especially Hunter), and the whole songwriting process seems to have been pushed into overdrive. The most immediate comparisons to be made are Cynic and, especially, Gordian Knot. Maybe also Spastic Ink, although, excellent as Ink Complete is, there is often the feeling that one member or t'other is just showing off, most often Ron on guitar. Here, there isn't anything like that, the whole seems to be considered by concensus more important than any individual part. The comparison to Cynic/Gordian Knot is also somewhat less than perfect, though; Canvas Solaris are more aggressive. Rather than taking so many cues from fusion, as the aforementioned bands tend to, the primary metal influences are (in their own words) "mid-period Carcass, Voivod, "Need to Control"-era Brutal Truth, "Morbid Reality"-era Hexx and Godflesh". By the same token, though, since then they've changed slightly so that they don't play aggressively (or in ultra-complex mode) non-stop; they like to give the songs some dynamic, some room to breathe. To play in more than one way, basically. This means they may not appeal to people who demand their technical metal be non-stop, or who want metal to be 100% aggressive, 100% of the time. But who really cares what people like that think anyway? The result is an album that is basically just gorgeous and engaging throughout. When Solar Winds Collide is one of the best songs, instrumental or not, I've ever heard. Thinking back to improvements outside of the music, another one now springs to mind - the title. In the context of the music, Sublimation is the best title they could have chosen, because that is what has occurred. In real Nietzschean fashion, they have sublimated their aggressive tendencies into a more dynamic, more fulfilling, and ultimately finer form of art. - 4.5 superb Review by & © Bartender EMERITUS January 16th, 2005 © 2005-2013 Sputnikmusic.com http://www.sputnikmusic.com/review/1331/Canvas-Solaris-Sublimation/
Outstanding instrumental technical, jazz-inspired metal progressive music from the Statesboro, Georgia based Canvas Solaris and
HR by A.O.O.F.C
Listen to Canvas Solaris' "Irradiance" album
[
All tracks @ 320 Kbps: File size = 90.5 Mb
]
TRACKS
1 Cosmopolysyndeton 3:22
2 Spheres in Design 4:28
3 When Solar Winds Collide 7:33
4 Cyclotron Emission 3:51
5 Syzygial Epiphany 6:21
6 Ekstatik Parataxis (The New Measure) 5:01
7 Sublimation 8:14
All tracks composed by Sapp, Simpkins, & Ginn
MUSICIANS
Nathan Sapp - Guitar [Lead And Rhythm], Synthesizer [Guitar, Micromoog, Yamaha Cs 60], Acoustic Guitar [6 And 12 String]
Ben Simpkins - Guitar [Rhythm And Lead], Bass Guitar, Acoustic Guitar [12 String]
Hunter Ginn - Drums, Goblet Drum [Doumbek], Djembe, Percussion [Table Drums], Congas, Shekere
BIO
(WIKI)
Canvas Solaris were an American progressive metal band from Statesboro, Georgia, formed in 1999, and disbanded in 2011.Though they first played with vocals, they moved on to instrumental, drawing influence from bands as diverse as Cynic, Rush, King Crimson, Death, Watchtower, and The Mars Volta. Hunter Ginn (drums), Nathan Sapp (guitar), and Jimmy McCall (bass) formed Canvas Solaris in 1999 in Statesboro, Georgia. Brad Jeffcoat joined the band to serve as a vocalist. At this point, the band was playing mainly technical death metal, influenced by bands like Voivod and Carcass. They recorded two untitled demos of four songs each and toured in South Carolina for several years before Jeffcoat and McCall both left the band. Ben Simpkins joined as a second guitarist, bassist, and keyboardist, the band decided to drop vocals entirely, and they put out the EP Spatial/Design in 2003 on Tribunal Records. A year later, in 2004, they released their first full-length album, Sublimation. In February 2005, the band signed onto Sensory Records, where they remain today, and put out their second full-length album, Penumbra Diffuse in 2006. Their next album, 2007's Cortical Tectonics, would be the last to feature Ben Simpkins on guitar, bass, and keyboards. Chris Rushing, Donnie Smith, and Gael Pirlot on guitar, keys, and bass respectively, and the band put out The Atomized Dream in 2008. Following its release, they toured with Dysrhythmia and Behold... The Arctopus. The band released Irradiance in 2010. Since disbanding in 2011, the band have formed The Universe Divide and The Burden of Existence with vocalist Narissa Wolke (releasing a self-titled album. In 2013, the band announced a reunion with a new album in the works. The album is anticipated to be released in 2014 and funded independently via a public fundraiser website.