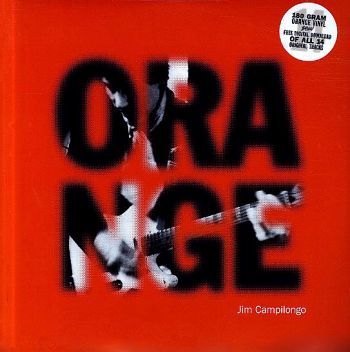 Jim Campilongo
-
Orange
-
2009
-
Blue Hen Records
Jim Campilongo was born and raised in San Francisco and began playing guitar in the mid-'70s, buying his first guitar with Green Stamps. His first teacher exposed him to a wide variety of music, but it was hearing Roy Buchanan that convinced him to make a living as a guitarist. By the early '90s, Campilongo was taking guitar students, in addition to playing with a variety of groups in a variety of styles. In 1990, one of those students gave him a 1959 Telecaster in exchange for some bass lessons and it quickly became Campilongo's signature. "Playing that '59 Tele changed everything for me. It was like it told me to get serious." Around 1993, Campilongo formed the 10 Gallon Cats with steel guitarist Joe Goldmark. They released their debut album of Speedy West/Jimmy Bryant-inspired instrumentals in 1996 and ultimately recorded three albums as a band.Campilongo's first solo album came in 1998; the critically acclaimed Table for One. After a live recording in 2000,Campilongo left San Francisco for New York City in 2002. There he formed his new Electric Trio as well as the Little Willies with Norah Jones. Since 2005, Campilongo's Electric Trio has had a Monday night residency at New York's Living Room, where he as been joined on-stage by the likes of Charlie Hunter, Norah Jones, Martha Wainwright, and Nels Cline. In 2010, Campilongo released Orange, his most wide-ranging effort to date. It was produced by Anton Fier, whose resurrected Golden Palominos have also featured Campilongo. That same year, Campilongo was honored by Fender when their custom shop began producing a Campilongo signature Telecaster. In early 2014, he released Dream Dictionary with his new trio of Chris Morrisey (bass) and Josh Dion (drums). In addition to playing, Campilongo still teaches and is also a contributing editor for Guitar Player Magazine. © Sean Westergaard ©2014 AllMusic, a division of All Media Network, LLC. | All Rights Reserved http://www.allmusic.com/artist/jim-campilongo-mn0000846622/biography
Jim Campilongo has received a good deal more exposure after his move to N.Y.C. and subsequent association with Norah Jones. But to expect his own albums to sound like Norah Jones would be ignoring his 20-plus-year career as a guitar player. His own albums have been a mix of country, blues, jazz, and rock and as a sideman he's done everything from straight blues (Preacher Boy) to indie rock (Cake) to avant funk with Click Dark (good luck finding that one). Orange proves to be almost as far-reaching as his résumé might indicate. Campilongo comes charging out of the gate on "Backburner," with harmonics jumping out of his Telecaster-on-steroids throughout. "I'm Helen Keller and You're a Waffle Iron" adds a bit of menace and "Fingerpuppet" gets just plain nasty with some wickedly delightful detuning. But Campilongo can play it pretty, too: "Awful Pretty, Pretty Awful" sounds like a Les Paul exercise with its delightful single-line runs, double stops, and rich chordal work, and "Chelsea Bridge" is all jazz chords and brushwork on the drums. "Orange" and "Because You Like Trombone" feature some nice acoustic/electric work. "Blues for Roy" could be called just about anything and you'd still know it's a tribute to the great Roy Buchanan with its beautiful thick guitar tone and volume swells. The covers of "No Expectations" and "No Fun" are the type of acoustic-guitar-with-female-vocals some people might have been expecting, but they're actually the least interesting tracks on the album. Jim Campilongo is a guitar player, pure and simple. Check your expectations at the door and enjoy. © Sean Westergaard © 2014 AllMusic, a division of All Media Network, LLC. | All Rights Reserved http://www.allmusic.com/album/orange-mw0001953230 N,B: Review based on 14 track CD issue
Jim Campilongo's ninth album, Orange, is a record that dazzles, as expected, with the guitarist's raw fearlessness and inventiveness. His neat meshing of rock, blues, jazz, and whatever-the-hell-works is invigorating and his ability to pattern his playing with bits and pieces of devastating light and idiosyncratic darkness is astonishing. Orange, out now on Blue Hen Records, is a collection of borderless music. Nomadic and adventurous, Campilongo's playing belongs everywhere and nowhere all at once. Trying to peg him in a genre is a little like trying to catch a wild rabbit with your bare hands – if you do actually pull it off, you kinda feel bad about it and just let the little fucker go. When Campilongo first started releasing records, he was playing with his band the Ten Gallon Cats. Solo records inevitably followed, with 2007's Heaven is Creepy touching on a host of styles from rock to folk to jazz. With Orange, new ground is forged yet again and Campilongo's forward momentum is unstoppable. The record was produced by New York City legend Anton Fier and was recorded in Brooklyn and Manhattan. Campilongo is joined by acoustic bassist Stephan Crump and drummer Tony Mason. The stunning Leah Siegel provides vocals and guitar on two tracks. Orange copes with what can probably best be described as a tight, coarse little bit of roadhouse music. One can imagine Campilongo stringing this groovy piece together on stage behind one of those chain link fences. With beer bottles crashing and drunks fighting it out, "Backburner" lets the guitarist scale the heights of rock with freedom and grit. Other tracks take subtler approaches, like the bluesy homage to Roy Buchanan called, of course, "Blues for Roy."Siegel's vocals breathe their way into "No Expectations" perfectly. She joins Campilongo's guitar to deliver one hell of a haunting, gorgeous, sensual rendition of the Rolling Stones tune. Leah's also along for the ride on the Stooges' "No Fun." A record like Orange just doesn't come around everyday. It is a graceful, sharp set of soft touches and hard swings. It both dominates and caresses the senses, adding striking taps of mood in all the right places thanks to Campilongo's remarkable control and patience as a guitarist. Posted by: & © Jordan Richardson February 25, 2010 © Blogcritics http://blogcritics.org/music-review-jim-campilongo-orange/ N,B: Review based on 14 track CD issue
"New York has no shortage of guitar heroes but few cover as many bases as Jim Campilongo…He reveals a range that extends from seductive country-swing to atmospheric jazz and well beyond." –Time Out New York
'...It is the provenance of a precious few who can so beautifully mine the harmonic depth of a Telecaster with the grace and fluid fantasy of Jim Campilongo. Orange offers another vivid glimpse into the mind of an artist who paints masterpieces with the guitar...' - The Tonequest Report
'Simply stunning - an album instrumental music fans will likely quickly salute as a classic. Orange bursts with succulent playing and juicy compositions, an ear-snagging winner in every regard. - DC, JamBase
'Jim Campilongo's latest record is one of those great guitar discs that serves up new treats every time you listen...' - Vintage Guitar
'His latest masterpiece...his playing style is more than unique, revealing a range that extends from seductive country swing to atmospheric jazz and well beyond...' - Premier Guitar
Orange is yet another collection of remarkable fret work from Campilongo, an astonishingly diverse assortment of instrumentals.' - Direct Current Music
'Our favorite Mad Telecaster SuperGenius, Jim Campilongo, has a brand new album called Orange that sets a broad, new, standard for experimentation in melody and intention.' - Urban Semiotic
A wonderful blend of rock, blues, jazz, Americana, country, and many other influences from the San Franciscan eclectic guitarist Jim Campilongo. This album is
HR by A.O.O.F.C.
It has to be said that the 14 track CD issue is well worth buying. Check out Jim's "Dream Dictionary" album
[
All tracks @ 320 Kbps: File size = 83 Mb
]
TRACKS / COMPOSERS
A1 Backburner 3:25
A2 I've Got Blisters On My Fingers 4:58
B3 Blues For Roy 6:27
B4 I'm Helen Keller And You're A Waffle Iron 5:42
B1 Awful Pretty, Pretty Awful 2:54
B2 Chelsea Bridge 6:39
B3 Orange 2:52
B4 Fingerpuppet 6:41
B5 When You Wish Upon A Star 2:29
N.B:
Most CD versions of this album contain 14 tracks
All tracks composed by Jim Campilongo except "Chelsea Bridge" composed by Billy Strayhorn, and "When You Wish Upon A Star" composed by by Leigh Harline & Ned Washington
MUSICIANS
Jim Campilongo - Electric Guitar, Acoustic Guitar
Steve Cardenas - Acoustic Guitar on "Blues For Roy"
Stephan Crump - Acoustic Bass
Tony Mason - Drums, Percussion
BIO
(WIKI)
Jim Campilongo is a U.S. guitarist/composer from South San Francisco, currently residing in New York City. Most of his original music is instrumental, although he has featured the singers Norah Jones and Martha Wainwright on his last two releases, and he is a member of The Little Willies, which also includes Jones. Campilongo plays a Fender Custom Shop Campilongo Signature Fender Telecaster. Jim Campilongo was born in San Francisco, CAon July 8, 1958. At 9 years of age Campilongo discovered The Beatles and Jimi Hendrix through his two sisters. He became very interested in improvisation saying in one interview, "I knew I liked improvisation and long musical journeys...so I used to buy albums based exclusively on how long the tracks were.... That's how I discovered John Coltrane Live in Japan, John McLaughlin Devotion, a couple of different Cream albums." Campilongo's career began in the mid 1970s when he studied guitar in his native San Francisco with Bunnie Gregoire, who taught the pre-teen to embrace everything from George Van Eps toJohn Denver. Campilongo's first instrument was purchased with Green Stamps. During high school he regularly jammed with drummer pal Ken Owen and at 17 began performing with area bands. One of Campilongo's greatest influences at the time was Roy Buchanan whom he saw at least 20 or 30 times in the Bay area. Campilongo started his recording career in San Francisco in 1996 with Jim Campilongo and the 10 Gallon Cats. After several years of performing with the Cats Campilongo left to pursue a new direction with his music and reached a new creative pinnacle with 1998's Table For One. In 2002, Campilongo left San Francisco and moved to New York, where he formed his Electric Trio, which toured Europe and Scandinavia and recorded the acclaimed album American Hipson Blue Hen Records. In 2003 Campilongo formed the group The Little Willies with Norah Jones, Richard Julian, Lee Alexander, and Dan Rieser. He has performed, live and in the studio, with artists such as Cake, Bright Eyes, JJ Cale, Norah Jones, Teddy Thompson, Al Anderson,Gillian Welch/David Rawlings, Peter Rowan, Jo Williamson, Sunny Ozell, Marilyn Carino and Julia Darling. The wide range of artists that Jim Campilongo has performed with speak to the rich musical style that he has developed. Almost any musical genre or sub-genre can describe his playing style. TimeOut NY's Steve Smith wrote, "His prodigious talent is always evident as the band burns through tunes crammed with rock, jazz and country flourishes." In 2007 he released Heaven Is Creepy which was his best received to date. His latest album is Dream Dictionary (released January 21, 2014). The album features Chris Morrissey (bass) and Josh Dion (drums). Other notable contributions comes from Steve Cardenas who plays on two acoustic numbers and Norah Jones who sings on the album's only vocal number "Here I Am" by Ray Charles. The album is produced by Andy Tommasi. One reviewer wrote, "…Campilongo plays like he's engaging in a long, very personal conversation: It ranges from heated to relaxed, angst-ridden, and even a little flirty—but it's always fluent, spontaneous and full of nuance, texture, and emotional truth." Prior to Dream Dictionary Campilongo released Orange in 2010. Produced by New York based Anton Fier of Golden Palominos and recorded in Brooklyn, Orange features Campilongo with acoustic bassist Stephan Crump and drummer/percussionist Tony Mason. Campilongo maintains a residency at Rockwood Music Hall on the Lower East Side in New York City where he plays nearly every Monday night. Notable guest artists that have joined him on stage at The Living Room include; Charlie Hunter, Steve Cardenas, Norah Jones, Adam Levy, Martha Wainwright, Chris Cheek, Leah Siegel, and Nels Cline. Jim Campilongo's original music can be heard on national commercials including National Grid,Volkswagen, SBC, Michelin and Jack Daniel's. Campilongo is also a published guitar teacher and contributing editor for Guitar Player Magazine. In January 2011, Jim Campilongo was nominated for The 10th Annual Independent Music Awards under the Instrumental Song category for "Awful Pretty, Pretty Awful"