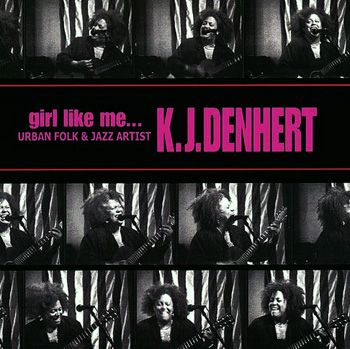 K.J. Denhert
-
Girl Like Me
-
2003
-
K.J. Denhert
When you see KJ Denhert perform you will be drawn in by her artistry as a singer and as a fine guitarist. Each musical set is a tight mix of rhythm, wit, and passion. For KJ, there is only one adventure more fulfilling than songwriting and that adventure unfolds on the stage. Her songs are a calling card, always unique and then familiar. It is the honesty of her performance and the love of what she is doing on stage that will move you. She is an experienced bandleader who plays without a net, and that makes her fun to watch. © cdbaby.com
If you've never heard of K.J. Denhert, then you are missing something really special. This is an outstanding album of pop, folk, jazz , R&B, and soul of the very highest quality. A stunning album beautifully put together by K.J Denhert. It has the cool, urbane Steely Dan sound, and the softness of Roberta Flack. Nine of the songs are written by K.J, and there are three covers, including an amazing version of Sting's "Message in a Bottle." Again, as stated before on this blog, artists like K.J. Denhert, and Kyla Brox should be world famous artists, but the music industry today stinks. This album is
VHR by A.O.O.F.C.
Please buy this album, and also her "Looking Forward Looking Back" album. Music like this must be heard by more people, and promoted. For more underrated but brilliant music in the same mould, check out The Kyla Brox Band's "Beware" album and Rebecka Törnqvist's "A Night Like This" album
[
All tracks @ 192 Kbps: File size = 71.2 Mb
]
.......................
Hi, Gina!
Mail me sometime
TRACKS
1. Silence Was Deafening
2. Oleander
3. Little Mary
4. Violet
5. Girl Like Me
6. She Loves You
7. How Many Ways
8. I Like Your Face
9. Red July Prelude
10. Red July
11. Message in a Bottle
12. Oh Susannah
All tracks composed by K.J. Denhert, except "Message in a Bottle" by Sting, "She Loves You" by Lennon & McCartney, & "Oh Susannah" (Trad.)
MUSICIANS
K.J. Denhert - Electric, Acoustic Guitar, & Nylon String Guitar, Piano, Vocals, Background Vocals
Anthony Robustelli - Electric Guitar, Keyboards, Wurlitzer, Drum Programming, Vocals, Background Vocals
Billy Masters, Sheryl Bailey - Electric Guitar
Phil Gaita, WhyNot Jansveld, Michael Visceglia - Bass
Stephan Crump - Acoustic Bass
David Mann - Piano, Keyboards, Fender Rhodes, Saxophone, Flute
Pete Vitalone - Pete Vitalone - Piano, Organ, Keyboards
Sue Hadjopoulas - Percussion, Conga
Ned Mann - Drum Loop
Michele Rubin - Background Vocals
REVIEWS
New York native, KJ calls her music Urban Folk and Jazz though it is rooted in Funk and R & B. "The Jazz", she explains, "comes from people's perceptions of my guitar voicings and the structure of the tunes themselves... using extended solos and the players working off of each other. Urban reflects my childhood, growing up in NYC, and Folk, I really adored James Taylor, my first guitar influence, and I use acoustic guitar in my songwriting and live shows, as opposed to many years touring as a lead guitarist."KJ and her Band the NY Unit perform in such legendary rooms as The Bitter End, The Bottom Line, The Fez, the Living Room, and plays regularly to "standing room only" crowds at The 55 Bar in NY's West Village. KJ continues to receive very positive responses wherever she appears, resulting in new and exciting opportunities. In the last six months, KJ was invited to open for Roberta Flack, spent three weeks performing in St. Barts in the French West Indes, and headlined at the Blue Note, Las Vegas from April 8-13, 2002. Between appearances, KJ finds time to lend her support to many charitable organizations. She supports efforts to raise money for Aids and Cancer research, and appears annually in the PNW Women's Resource Center telethon. She provides live "on-site" concerts for hospitalized HIV patients through Lifebeat, Inc. (Aids Awareness Organization NYC). KJ also appears on compilation albums such as the "The Ovarian Cancer Research Fund Album" (Mod Music, NYC)(1999) and "Brooklyn Above Ground"(2001), in support of World Hunger Year. KJ resides in Westchester NY and states her goals are simple. As an independent record label owner and founder of Mother Cyclone Records, she says, "I want to grow my label and just keep writing". She dedicates her life mostly to music and explains her passion, "I get to do what I really love and I'm very careful about the quality of what I write, release and perform. I've lived the truth of the slow build as a marketing strategy. I'm a dot.com now and I just keep working hard at putting out the best product I can, whether we're playing live or in the studio". Having spent seven years on the road as a lead guitarist, touring the US, Asia and Europe, KJ shares, "I think we're completely ready to break some new cities in the US now. Then, I'd really love to get back to Europe with my material ... It's finally coming together and I'm having more fun than ever!" © cdbaby.com
In the '70s, no one did more to bridge the gap between soul and the folk-pop/folk-rock/soft rock world than Roberta Flack, who acquired a very interracial following and managed to appeal to Aretha Franklin and Chaka Khan enthusiasts as well as the Joni Mitchell/Joan Baez/Judy Collins crowd. Hits like "Killing Me Softly With His Song" and "The First Time Ever I Saw Your Face" were played on R&B stations, but they also had enough of a singer/songwriter aesthetic to win over what was essentially a '70s equivalent of today's Lilith Fair audience. It isn't hard to understand why, three decades later, singer/songwriter KJ Denhert was invited to open for Flack; Girl Like Me is the perfect marriage of neo-soul and folk-rock/adult alternative sensibilities (with hints of jazz at times). Flack, in fact, is among Denhert's influences, as are Khan, Mitchell, Janis Ian, and James Taylor (Carly Simon's James Taylor, not J.T. Taylor of Kool & the Gang fame). But while Denhert has her musical points of reference, Girl Like Me demonstrates that she is a talented, expressive storyteller in her own right -- and she obviously doesn't believe in confining herself to one genre. Denhert has a lot to offer fans of Alicia Keys, Macy Gray, Jill Scott, and Erykah Badu, but anyone who is seriously into Sarah McLachlan, Shawn Colvin, or the Indigo Girls also needs to pay close attention to her. While Girl Like Me is dominated by Denhert's own songs, she provides a few memorable covers as well (including a slightly bossa nova-ish take on the Police's "Message in a Bottle" and an unlikely remake of the Beatles' "She Loves You"). This very promising effort demonstrates that while Denhert isn't easy to pigeonhole, she is very easy to enjoy. © Alex Henderson, All Music Guide
Put this in the "It's Always New for Someone" file: Although she has her own loyal following, most people never heard of K.J. Denhert. If we lived in a perfect world she'd be a multi-million selling superstar, and she still may be someday, but for now she's one of those artists you somehow stumble upon if you are lucky. For the uninitiated, consider this your lucky day. This isn't even a review of her latest CD. That one, called "Another Year Gone By" is a live album. Our subject today is the compact disc that is titled, "Girl Like Me," a studio collection that was released in 2003. Strolling through an art show I came upon the music stage and the first thing I noticed was that the band looked sensational . . . very cool. If you had to cast a funky, but chic musical combo for the party scene in a film, these folks would be perfect. It was, of course, K.J Denhert and her group. The music? Hard to describe. How about Alicia Keys with Joni Mitchell backed by a group featuring Michael Franks and James Taylor? Their music is too lush and passionate to be called easy going jazz, but hey, although there are elements of funk, it isn't funk, it isn't pop, and it isn't folk. Enough about what it isn't. It is very 2005-sounding easy going jazz. Great stuff is what it is. So there I was groovin' to this lady playing her guitar with her beautiful wild hair blowin' in the breeze when suddenly I recognize the tune they were doing. I knew the song, but couldn't put my finger on it as they had rearranged it and made it their own. Yeah, I was totally into it, but what was it? Bam, hit me and I couldn't believe it. It was The Police, "Message In A Bottle," and what a performance. Now I never liked The Police . . . don't want to go all negative here but, I always felt they were soul-less and tried too hard to sound like they weren't trying at all. Well K.J.'s interpretation of the tune proves Sting really does have soul. He just needs a sensual vocalist and a great rhythm section to bring it out. Turns out the tune is on K.J.'s "Girl Like Me." It has become one of my favorite CD's so far this summer. What a find, and "Message In A Bottle" alone is worth owning the CD for. It's always fun when you hear a cut you never thought much of and it knocks you out, but there's a lot of original stuff, and a few other amazing covers here as well. "Silence Was Deafening" starts off with a little jazz, slap tap and pow . . . light breezy guitar over a lighter breezy vocal and the silence of the early morning is deafening. You getting this? Of course not, you have to hear it, as she uses words that people usually don't use in lyrics, like…downshift…courageous…unbeknownst…and they cook. I mean this isn't a moon in June tune, ok? This tune feels like waking up on Sunday morning and that's only because there's that stream of sunlight coming in through the side of the window shade. I mean, you know you had a good time last night, but there's a bit of booze still soaking small portions of your mind so you're not 100% sure, but the silence is deafening. That's right, that's what this song sounds like to me. You check it out. You'll see what I'm saying. This music is a groove you see . . . Steely Dan without the pretension, lush jazz for a summer morning at the shore and the lyrics are something else again like on the cut "Little Mary" where she writes, "Don't trust the mirror if it don't feel good." It's a stone cold gas 'bout Mary, you and me and everybody when nobody ain't around to see us in that state. There's even a bit here that elevates rap to an art form and allows you to realize it really can be called music when properly arranged and performed. Sally went round the roses over 40 years ago . . . Little Mary has got to be related. Then there's "Violet" . . . romance, hope, despair and sunlight reflecting off the tops of hundreds of waves just before dusk, with a vocal that is so sincere it's heartbreaking. In the title track she sings in a sophisticated and floating vocal, "With a girl like me you know you won't get bored." Agreed. There's no way to get bored with these unique sounds. The band is as good as it gets . . . period. They are all brilliant and know their roles in creating the overall groove. Excellent! You never heard The Beatles' "She Loves You" like this; a brilliant take on the tune. "How Many Ways" is an acoustic tune, haunting and beautiful, about change and endings; pour a shot of whatever and settle in for this one. Killer, plain and simple. There are three or four more cuts, but words can't describe this amazing CD. K.J. calls it Urban Folk. Cool, I can deal with that, but it's more - it has a tender funky rhythm running through it all. This is very honest music. Find it and listen for yourself. © Ray D'Ariano, 7/2005, http://the-m-files.com/reviews_denhert.html
K.J. Denhurt classifies her music as Urban Folk and Jazz. I'd never heard the term urban folk before but I'd say it describes her perfectly. The music is a little bit folky and a little bit "downtown". It's got a nice jazzy tone to it too. Her voice is velvet, smooth and sultry and the songs are well written and draw you in. It's a very smooth recording. "She Loves You" is a Beatles cover though you might not realize it right away. I was paging through the liner notes to see if Denhert wrote these songs herself and on this song I saw "Lennon/McCartney" and did a double take. It is a very different spin on the song. I like it. She also covers Sting's "Message in a Bottle" nicely. But it is her original songs that I enjoy most. "Violet" is beautiful song with a Carole King feel to it. "How Many Ways" has a beautiful guitar intro and moves into a touching song. "I Like Your Face" show how she can really rock out. It's a fun funky song. The musicianship on this recoding is outstanding. I would love to see her perform live. If the photos on her website (of her playing live) are any indication, she's having a blast…and that makes it fun for everyone. But until you are able to see her live, pick up this great album and get your groove on. - A Review © Amy Lotsberg Producer of Collected Sounds, www.collectedsounds.com/spotlight/kjdenhert.html
BIO
Native New Yorker K.J. Denhert has not been an easy artist to pigeonhole. The far-reaching singer/songwriter is relevant to folk-rock and adult alternative, but she is equally relevant to neo-soul -- and at times there are hints of jazz in her work. Denhert likes to describe her solo material as "urban folk-jazz," and while her folk-rock/R&B blend isn't straight-ahead jazz in the way that Abbey Lincoln and Carmen McRae are straight-ahead jazz, she does incorporate jazz elements when it's appropriate. The singer/songwriter, who plays both acoustic and electric guitar, brings a variety of influences to the table -- influences ranging from Chaka Khan and Roberta Flack to Joni Mitchell, Janis Ian, Simon & Garfunkel, and James Taylor. In fact, Denhert has been quoted as saying that her earliest influence was Taylor (who married '70s soft rock/adult contemporary star Carly Simon and shouldn't be confused with the James "J.T." Taylor who became Kool & the Gang's lead singer in the late '70s). The list of artists Denhert inspires comparisons to is long and diverse. The Indigo Girls, Shawn Colvin, Tracy Chapman, and Sarah McLachlan are valid comparisons, but so are neo-soul artists such as Jill Scott, Alicia Keys, Erykah Badu, Lauryn Hill, and Jaguar Wright. Denhert wouldn't be out of place on a Lilith Fair stage, nor she would be out of place in Vibe magazine. While Denhert was born in New York City in the late '50s and grew up in the Bronx, her parents were immigrants who had moved to the Big Apple from the country of Grenada. By the age of ten, Denhert was studying the guitar and listening to a lot of folk-rock and singer/songwriters (especially Joni Mitchell, Simon & Garfunkel, and James Taylor). After reaching adulthood, she enrolled at Cornell University but ended up dropping out during her sophomore year and joined an all-female rock band called Fire. Denhert spent a total of six years with Fire; she joined in 1980 and stayed with the band until its breakup in 1986. After that, she took a non-musical temp job with the Dannon company (as in Dannon yogurt) and eventually became a business analyst for that outfit. But Denhert never gave up music; when she was based in Cleveland, OH, and working for Dannon during the day, Denhert played guitar in a funk band on the side. After several years in Cleveland, Denhert moved back to the Big Apple in 1995 -- and the mid- to late '90s found her performing as a solo artist on the Manhattan club scene (where she performed mostly original material but also included some covers here and there). Since the late '90s, Denhert (who was 44 in 2003 and now lives in suburban Westchester, NY) has put out several releases on her own label, Mother Cyclone Records, including the EP Looking Forward, Looking Back (her first solo effort) in 1999, Live in 2001, and Girl Like Me in early 2003. © Alex Henderson, All Music Guide
MORE ABOUT
K.J DENHERT
KJ Denhert is a unique artist, singer, guitarist and songwriter who calls her music Urban Folk and Jazz. Her voice is powerful, her lyrics full of intelligent insight, and her musicianship is impeccable. Her eclectic yet unified performances reach out to many different types of audiences without compromising her music and beliefs. She is heard at her best on her most recent recording, Lucky 7 and is known to be especially good live. She performs the unusual feat of being both highly individual and quite accessible. KJ remembers, "I picked up a guitar when I was ten and immediately I started writing music. I loved Sergio Mendes' songs, liked John Hartford on the Glenn Campbell Show and really got into James Taylor and Joni Mitchell who I still consider my two main influences. I also loved the singer-songwriters of the time including Carole King and Laura Nyro and later fell in love with Steely Dan's music, and just wore out my copy of Hubert Laws' Rite Of Spring. I was completely self-taught, by llistening to records and playing them over and over, teaching myself tablature from a great James Taylor book and modal tunings from Joni Mitchell's For The Roses song book. I didn't really do anything but play guitar through my teenage years." In the 1980s, KJ Denhert toured for six years as the lead guitarist and occasional vocalist with an all-female band called Fire, playing rock and top-40 music throughout the US, Canada and Europe. After the group ran its course, she worked at a day job while continuing to write and play music. While working in Cleveland as a financial analyst, she started the Mother Cyclone label and made her first recording. Moving home to New York in 1997, she formed the NY Unit, a group that she still performs with. "I look for players who have an ability to groove and have lots of drama in their playing. Lucky 7 (which is set to be released in September 2007) is KJ Denhert's seventh recording to date. "I left my day job three years ago and this is the record that I've been wanting to record ever since. It combines all of the styles that I grew up with and enjoyed, going all the way back to Sergio Mendes. It has a bit of acoustic guitar, some r&b and it grooves in what I hope after seven recordings is a signature of my style. I took the chance to tip my hat to Steely Dan for the first time in a recording and James Taylor's influence comes through me in the solo guitar and voice rendition of Sad Song. Lucky 7, was recorded and mixed by Ben Wisch (Marc Cohn, Jonatha Brooke) bringing more focus to KJ's vocals than previous recordings. She also teamed up with keyboardist and producer Bennett Paster to co-produce five tracks after they worked together in Italy last summer. There are 11 originals and a sensitive version of Over The Rainbow "When people hear me perform that standard, they regularly ask me if I am going to put it on a CD, so I did". Among the many other highlights are the funky opener Little Problems the swinging Lucky Seven, the spirited He's Not Coming Home, the infectious three-part "What's My Name, the powerful I Got Time, the wistful Beautiful and Man As A Man, KJ's unaccompanied performance of Sad Song and the exuberant Rivera which has a passionate electric guitar solo from Sheryl Bailey. Among KJ Denhert's many accomplishments, in addition to running her own band and label, are three highly successful appearances at Umbria Jazz ("the audience response was very gratifying"), an ongoing residency since 1999 at The 55 Bar in NYC, winning many songwriting contests (including being named among the six winners of the Kerrville New Folk Song contest in June 2006 for Private Angel and the Mountain Stage Newsong contest in August 05 for Little Mary), and successful appearances at other festivals and clubs around the world. Her previous recording, Another Year Gone By, Live won the 2006 Independent Music Award for Best Live Performance. " For me, the highpoints come from playing and working with people who I really respect. My bassist, Mamadou Ba who is originally from Senegal, has been with me the longest since 1997 when I started the NY Unit. Other long term members include drummer Ray Levier and keyboardist Peter Vitalone, both of whom have been with KJ since'98 and '99. I am always interested in stretching myself and performing my music in different ways. The Lucky 7 recordings feature some wonderful pairings of great players that I don't always get to tour with but who have appeared in with me at The 55 and are wonderful friends too. KJ manages between 120-140 performances a year. New music, places to play and new festivals are what she's about these days "… so we can keep on performing for new audiences. I can't stop, this is what I do." A crowd pleaser whose music is impossible to classify but very easy to enjoy, KJ Denhert is in her own special category. - All material © 2008 All About Jazz and/or contributing writers/visual artists. All rights reserved.