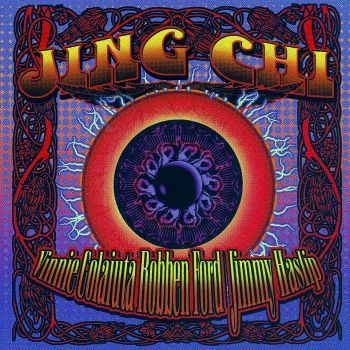 Vinnie Colaiuta,
Robben Ford,
Jimmy Haslip
-
Jing Chi
-
2001
-
Tone Center
No, this isn't a sister project to Wang Chung, it's actually a blistering and very trippy jazz fusion blast by three old vets who've been shedding over the years in Robben Ford's band. The cover of the disc features psychedelic art and the trio's names -- drummer Vinnie Colaiuta, guitarist Ford, and bassist Jimmy Haslip -- in alphabetical order so that listeners don't mistake any one of them for the leader. It's just an intense ensemble disc that draws from feisty blues-rock (dig the blistering free-for-all opener, "The Hong Kong Incident") to cooler atmospheric experiments (the seductive, laid-back "Stan Key.") There are a lot of influences from '60s rock, cult music, Miles Davis' Bitches Brew, down-home funky Delta blues, and a little James Brown kickin' soul as well. The wah-wah-driven, floating atmospheres of "Tengoku" lets listeners know that while these cats can blow heavy, they're happy at times just to kick back and get deep into nostalgia. Ford's balance of intense playing and strong melodicism is effective in keeping people who like good songwriting in the loop at times when it would be just as easy to just jam and forget about any structure. He also adds a decent vocal to "Going Nowhere," which is anchored in Haslip's hypnotic lines. Less effective is Haslip's robotic attempt to be like Sting on the vocal part of the all-atmospheric "In My Dream." That tune is the only real drawback to a very inventive disc of so many moods and such powerful playing. - By & © Jonathan Widran © 2014 AllMusic, a division of All Media Network, LLC. | All Rights Reserved http://www.allmusic.com/album/jing-chi-mw0000657997
Robben Ford comes to fusion by way of the blues, which partially explains why Ford, Vinnie Colaiuta and Jimmy Haslip's Jing Chi (Tone Center) is easier on the ears than a lot of guitar-led fusion efforts. Ford walks a tasteful line between the two spheres: blues-bred phrasing without the blockheaded post-Vaughan blooze cliches and uncrowded, fusion-inspired runs across the fretboard. Then again, with the formidable Haslip on bass and the equally staggering Colaiuta on drums, the space between Ford's notes is in extremely good hands. His playing on tunes like the nudgingly funky "Stan Key," the airy "Tengoku" and the organ-cushioned "Man in the Ring" are a reminder that fewer notes is often better. By & © Tony Green © 1999–2014 JazzTimes, Inc. All rights reserved. http://jazztimes.com/articles/13254-jing-chi-vinnie-colaiuta-robben-ford-jimmy-haslip
Another Tone Center supergroup strikes gold. Ex-Zappa drummer Colaiuta joins Yellowjackets bassist Haslip and blues-jazz guitar god Ford for a pretty damned satisfactory fusion foray. The big ears and fleet fingers required to pull off music like this are present in spades, and Ford's pedigree revives the blues feeling that's been so often absent in jazz-rock outings. This is actually a fairly relaxed set compared to some of the barn-burners Tone Center has released of late. The impression is that of three friends who decided to sit down and jam on a hot August night, aware of their chops but more interested in a tempered musical conversation. For the most part the strategy works well, keeping Jing Chi from falling into the usual trap of "sound and fury signifying nothing" that tends to plague fusion albums. Like many jazz combos, this bunch seems most at home with the blues, evidenced by Ford's rapturous wailing on tracks like "Crazy House." There are some nice diversions here, particularly Ford's crystalline acoustic playing on a tense "Train Song" and his head-smashing metallicity on the opening of Colaiuta's "Aurora." Haslip takes a heavily synthesized vocal on the ethereal "In My Dream," a big change of pace. Colaiuta reminds us that he's a master of all kinds of grooves, his polyrhythms setting up obstacle courses for the strings to playfully navigate. Jazz-rock pioneer Brian Auger adds some hot organ to the cool drive of "Man in the Ring," and his interaction with Haslip at solo time is priceless. Steve Tavaglione's EWI synth and programming are present here and there for atmospheric support, buoyant but unobtrusive. This disc is yet another triumph for Tone Center and the great fusion revival. By & © TODD S. JENKINS, Published: April 12, 2002 © 2014 All About Jazz http://www.allaboutjazz.com/jing-chi-vinnie-colaiuta-tone-center-review-by-todd-s-jenkins.php#.U87-pPldUvA
Jing Chi was a fusion trio composed of three legends of rock, jazz, and fusion: Guitarist Robben Ford, drummer Vinnie Colaiuta (Sting, Frank Zappa, Steely Dan) and bassist Jimmy Haslip (Steely Dan, Yellow Jackets). Between 2001 and 2004, the trio recorded three great fusion albums. The album posted here is the trio's first release and it's a really impressive example of just how good and important the jazz fusion genre is. The musicianship is sensational here with the great Brian Auger , Steve Tavaglione, and Dan Morris lending their skills to a few tracks. This album is
HR by A.O.O.F.C.
Buy the trio's great "3D" album and listen to their "Live" album on this blog @ http://overdoseoffingalcocoa.blogspot.com/2013/08/jing-chi.html
[
All tracks @ 320 Kbps: File size = 153 Mb
]
TRACKS / COMPOSERS
1. The Hong Kong Incident - Ford, Haslip 8:06
2. Stan Key - Colaiuta, Haslip, Ford 5:26
3. Tengoku - Ford, Haslip 9:50
4. Crazy House - Colaiuta, Haslip, Ford 5:00
5. Going Nowhere - Ford 6:18
6. Go Figure - Colaiuta, Haslip, Ford 7:24
7. Man in the Ring - Colaiuta, Haslip, Ford 8:49
8. In My Dream - Haslip, Provost 5:34
9. Train Song - Ford, Haslip 7:54
10. Aurora - Colaiuta 4:28
MUSICIANS
Robben Ford - Guitar: Vocals on "Going Nowhere"
Jimmy Haslip - Bass, Keyboards: Vocals on "In My Dream"
Brian Auger - Organ on "Man In The Ring"
Vinnie Colaiuta - Drums, Programming
Dan Morris - Tablas on "Going Nowhere"
Steve Tavaglione - EWI, Wind Synth., Synth Programming, Additional Keyboards, Computer Programming
BIO
The brainchild of bassist/composer Jimmy Haslip, Jing Chi was conceived as a forum for musical expression and interaction between Haslip and fellow music icons, Robben Ford and Vinnie Colaiuta. They played together in Robben Ford's group and shared a level of confidence and trust in each other as people and as musical voices that made their collaboration in Jing Chi a natural evolution, rather than a pre-fab super group. Their shared interests in different styles of music comes out in Jing Chi's cohesive, yet diverse, musical compositions which are as much about expressing a mood as they are about letting it out and playing without commercial restriction. They each bring to the studio a vast amount of experience and knowledge to draw from, yet they continually push each other and learn from each other, which results in a rare musical exchange. Influences as diverse as Cream and the early Tony Williams Lifetime can be heard in addition to funk and delta blues influences, but the final result is "Jing Chi" When asked about the prospect of doing some live dates, Haslip said "I am extremely excited to make this happen for us. We are all psyched to do a tour and play out live and there are some opportunities for us to put a tour together for 2002. We are organizing some dates and hope to announce a cool tour sometime next year. I believe it will be happening". Vinnie Colaiuta: One of the most respected and revered drummers of all time, Vinnie Colaiuta headed for the Berklee College of music after high school in Pennsylvania. At Berklee he honed his chops and forged a friendship with fellow drum icon Steve Smith that resulted in them rooming and studying together. After Berklee Vinnie did his first professional studio session under veteran producer Al Kooper before heading for L.A. where he learned about an audition Frank Zappa was holding for a new drummer. After putting Vinnie through the paces at a grueling audition, Vinnie was hired and began forging a long and important relationship which resulted in Vinnie's appearance on over 15 of Zappa's albums. His work with Joni Mitchell and many others in the 80's created a demand for Vinnie as a "first-call" drummer on the highly competitive L.A. session scene. Although his work with Zappa and the majority of the contemporary jazz and fusion legends caused a strong demand for his playing in the industry and his work with pop legend "Sting" for much of the 90's exposed him to mainstream audiences around the world and contributed to his current status as one of the world's most legendary drummers. Vinnie has worked with top rock and jazz artists including Celine Dion, Jewel, The Temptations, Steely Dan Duran Duran, Gino Vannelli, Weather Report, George Benson, Allan Holdsworth and many, many others.Weather ReportVinnie has worked with K Zildjian. Robben Ford: A guitarist from the age of 13, Robben Ford began playing with Charlie Musslewhite at age 18. A year or so later, Robben and his brothers, formed the Charles Ford band, named after their father and recorded an album for Northern California based Arhoolie records which is still a favorite among blues aficionados. After moving to Los Angeles, began working with hall of fame blues singer Jimmy Witherspoon and toured U.S. and Europe before being asked by Tom Scott's group the L.A. Express to back-up Joni Mitchell on the road. As opening act for Joni Mitchell, Tom Scott and the L.A. Express quickly gained notoriety and Robben along with them. On a trip to England he was asked to play with George Harrison on his Dark Horse album and subsequent tour in 1974. Robben's album, entitled "The Inside Story" was recorded mostly with the band that became the Yellow Jackets which was the start of a musical bond with Jing Chi bassist Jimmy Haslip. An offer to play with Miles Davis resulted in Robben hitting the road with Miles for half a year. His next big career milestone occurred when Warner Brother's release of Robben's solo album "Talk to Your Daughter" in 1988 resulted in a Grammy nomination. This gave rise to his most well known solo group, Robben Ford and The Blue Line. Robben Ford and the Blue Line recorded three well-received records and the group toured the world for the next few years. Robben's next record, "Tiger Walk" contained the song "In The Beginning" which was also nominated for a Grammy. His last studio album "The Supernatural" was critically acclaimed and further cemented Robben Ford's status as a true guitar hero. Jimmy Haslip: Jimmy Haslip began forging a career as one of the industry's most in demand bassists back in the early '70's. Playing with guitar legends such as Buzzy Feiten and Tommy Bolin gave rise to a demand for his services that has carried him into the new millennium. Artists such as Crosby Stills and Nash, Blackjack with Michael Bolton, Lee Ritenour, Robben Ford and Tom Scott utilized his talents on recordings throughout the latter part of the '70's. The 80's saw the development of Jimmy's group the Yellowjackets in which Jimmy expanded his writing and composing chops, recording nearly a record a year over the past two decades. Also during the '80's his demand as a session player continued to grow as he recorded with Cher , Kenny G, Bobby McFerrin, The Rippingtons. Rod Stewart and Steely Dan. Haslip continues to thrive with the Yellowjackets and holds onto the status of one of the industry's most working bassists. © 1999 db Management © http://www.robbenford.com/jingchi.htm