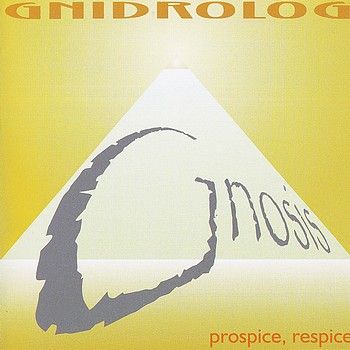 Gnidrolog
-
Gnosis
-
2000
-
Snails Records
Gnidrolog are a forgotten UK seventies band, who released two progressive blues rock albums, reminiscent of early Jethro Tull. Like Tull, they emphasised the use of wind instruments. The band had two members who, between them played flute, oboe and sax. Some music critics compared the band's sound to early VDGG, and Gentle Giant, although their music is not as complex and innovative as GG. Lead singer Colin Goldring's intense vocal style was disliked by many music critics. Nevertheless, although the band released very few studio albums, their 1972 "Lady Lake" album is excellent, and a great example of early 70's British progressive rock. "Gnosis" includes seven instrumentals, with many different musical elements, including reggae, boogie, new age, and power rock. There are many great instrumental passages, and also some duller parts which are average, and forgettable. This is a long album which could have been trimmed down. Nevertheless, "Gnosis" is worth listening to for it's great musicianship. Listen to Gnidrolog's "Live 1972" album, which "cuts to the chase", and is a fine example of great live prog. rock. For music in a similar vein, listen to Gentle Giant's brilliant "Acquiring the Taste" album. Far more technically and musically innovative than Gnidrolog, but there are strong similarities.
TRACKS
01. Reach For Tomorrow (5:14)
02. Reverend Katz (Instrumental) (6:02)
03. Fall To Ground (4:53)
04. Woolunga ("Safe Haven") (Instrumental) (4:22)
05. Wonder Wonder (4:42)
06. Deventer (Instrumental) (4:53)
07. Bells Of Prozac (Instrumental) (6:27)
08. Kings Of Rock (6:50)
09. Gnosis (Instrumental) (6:47)
10. Crazy, Crazy (4:31)
11. Going To France (4:42)
12. The City Sleeps (4:42)
13. Two Helens (Instrumental) (3:20)
14. Repent Harlequin (Instrumental) (6:30)
All tracks composed by Colin Goldring except Track 3 Colin and Stewart Goldring, and Tracks 4, 6, 12, and 14 Stewart Goldring.
N.B:
All lyrics by C.Goldring.
All tracks recorded at Select Sound Studios, Cairns, Australia, except Repent Harlequin, Gnosis and Two Helens which were recorded at Music City Studios, London UK.

MUSICIANS
Colin Goldring, vocals, electric and acoustic guitar, recorders, harmonica, backing vocals
Stewart Goldring, electric and classical guitars, backing vocals
Rick Kemp, bass guitar, backing vocals
Nessa Glen, Hammond organ, bowed glass samples, kalimba, keyboards, harpsichord, keyboard sitar
Nigel Pegrum, drums, percussion, flutes
Chris Lloyds, backing vocals
with
David Hudson, didgeridoos [4]
Ash Dargan, didgeridoos [6]
Chris Copping, Hammond B3 organ [8,11]
REVIEWS
Gnidrolog recorded two LPs for RCA in the early '70s. Gnosis, mostly recorded in 1999 and released the next year, marks their comeback as a working unit. This very generous CD (75 minutes) would have gained from a more selective play list: tracks such as the anthem-like "Kings of Rock," bombastic to the point of a Spinal Tap pastiche, could have been left out, as the hippie-folk ballad "Wonder, Wonder." Gnidrolog is led by the twins Colin and Stewart Goldring, two talented guitarists backed by an old Steeleye Span rhythm section (Rick Kemp on bass, Nigel Pegrum on drums). The band is at its best in progressive rock instrumentals such as the title track, "Deventer," "Repent Harlequin," and "Bells of Prozac," which includes impressive didgeridoo playing. Their pop songs have a subtle taste of folk reminiscent of the Strawbs, but they rarely rise beyond clichés. Gnosis is not an impressive album, but its fairly enjoyable. © François Couture, All Music Guide, © 2010 Answers Corporation http://www.answers.com/topic/gnosis-2000-album-by-gnidrolog-1
This is my first encounter with Gnidrolog, though, as I've heard many times, this band has released two very serious progressive rock albums in the beginning of the 70's. Also, I know some people consider both these early Gnidrolog works very underrated. Hopefully, I'll have a chance to listen to what twin brothers Stewart and Colin Goldring (Nigel Pegrum is also from the original Gnidrolog line-up) were doing when they were just about 20. Now their new album is in my hands, - it was released this year under the title of "Gnosis". It is quite a right title for all those who, like myself, are on an 'agnostic front' with respect to Gnidrolog's creation, but anyhow, sometimes I'd like to call it "30 Years Later". I am really very glad when our 'Old Guards' are back home... As you see (please just pay attention to the album tracklist), this work consists of an absolutely equal numbers of pure instrumentals and vocal based instrumentals (that, fortunately, once were named much more shortly - songs). IMHO, any instrumental track sounds more progressive than any song from this album, and actually all of the "Gnosis" songs I'd call just "Progressive (sometimes, maybe, Proto-Progressive) blockbusters at their best". Listening to "Gnosis", first of all I was deeply impressed by an outstanding professionalism from the direction of each musician of Gnidrolog, so it is quite clear that the years the musicians spent outside the scene weren't wasted, and they're still in good form (I'd even say, they're in excellent form). Also, unlike many contemporary progressive rock artists, heroes of these lines are still playing live. In my conception, real musicians must be exactly like these. In this case I have no choice but to enumerate songs of "Gnosis". To begin with Reach for Tomorrow and Fall to Ground, through Wonder Wonder, Kings of Rock and Crazy Crazy, and to conclude with Going to France and The City Sleeps - all these tracks are nothing else but real blockbusters of our genre. They have all the necessary 'ingredients' to be the most popular/famous progressive rock songs this year, at least. Their bright distinctive melodies, raised to the power of really rockish, 'killing' energetic potential (also, please add here an exceptional stylistical originality) should bring "Gnosis" a Gold status, at least, but I am afraid even currently, in this time of the revival (renaissance, in some way!) of solid interest in the progressive rock genre (in comparison with those 'dark ages' that lasted almost two decades - from the end of the 70's to the middle of the 90's!) the majority of people, the absolute majority of which ARE music lovers in some ways, will choose some pop or rap computer (dead!) music, anyway. The only acoustic instrumental piece on "Gnosis", Two Helens was performed with classical guitar only, and Stewart Goldring's complex and virtuostic playing reminds me of those good traditions - to use that excellent kind of progressive musicianship in the first half of the same good'n'old (old'n'gold - all rights reserved, VM) 70's. All the rest of the instrumental pieces are 'registered' by the seal of unique combination - each of them simultaneously contains a few wonderful melodies, performed with a truly 'bombastic' sound, full of unexpected changes of tempos, virtuostic solos and interplays between all the soloing musicians, including both individuals of the rhythm-sections (did you notice - I didn't say "individualists", though I could do it - why not? But, is it all right to be an individualist in such an undoubtedly 'dualistic' thing as the rhythm-section is?). "Gnosis" contains not very complex progressive music on the whole, but its creators' main trumps are really very impressive. I haven't heard such a masterly performance for quite a long time already - Gnidrolog musicians are very familiar with true proGfessionalism. And, although I haven't listened to their early works, I consider "Gnosis" the album of exceptional originality, so it is actually obvious, its creators have had their own original handwriting (please use this word with respect to Music!) always. There was a long period in my life when I considered complexity the main 'ingredient' of any real progressive work, but for quite some time now most of all I value the latter for not complexity itself, but for the complex of progressive ingredients, the majority of which are present in "Gnosis" without doubts. Yet those of you who assume "Gnosis" was rated by me as a 'very good' album but not as a masterpiece because of the lack of complexity (as I see it, of course: please just read The Rating Room article here), are quite right in your suppositions. © VM. July 30, 2000 ProgressoR - Uzbekistan Progressive Rock Pages All rights reserved: Copyright (UK) © 1998-2009 by Progressor http://www.progressor.net/review/gnidrolog_2000.html
BIO
(WIKI)

Gnidrolog is a British progressive rock band with a unique sound that is often compared to better known bands such as Van Der Graaf Generator, Jethro Tull and Gentle Giant. The band was founded in 1969 by twin brothers Colin and Stewart Goldring, who were joined by drummer Nigel Pegrum who came over from Spice (the band that would later evolve into Uriah Heep), Peter "Mars" Cowling on bass, John Earle on vocals and Charlotte Fendrich on piano. They came up with the strange band name by reversing and slightly rearranging the brothers' surname. In 1972, they released both their first and second albums, In Spite of Harry's Toe-Nail and Lady Lake, before disbanding due to a lack of commercial success. Despite having played gigs with fairly well-known bands like Colosseum, King Crimson, Gentle Giant, Wishbone Ash, Soft Machine and Magma in their brief career, they have always remained relatively obscure. After disbanding, Nigel Pegrum joined Steeleye Span, while the Goldring brothers formed punk rock band The Pork Dukes in 1976 and later went on to do session work, as did other members. After a break of 27 years they got back together in 1999 and released their third studio album entitled Gnosis in 2000. Peter "Mars" Cowling began working with Pat Travers in 1975, and was able to achieve a respectable amount of success during his long relationship with Travers.
MORE ABOUT
GNIDROLOG

Gnidrolog are one of the more overlooked bands that took part in the progressive rock explosion in Britain around 1971 -73. Why the band is nearly forgotten nowadays is a mystery to me. When Mike (the other guy behind this site) first played me Lady Lake, my jaw literally dropped. Expecting some banal proto-progressive stuff, I was pleasantly surprised to hear powerful, full-blown progressive rock with an dark, original feel. The best comparisons I can make would be to groups like Van der Graaf Generator, Jethro Tull and Gentle Giant, and Gnidrolog often meets the same level of brilliance as those bands. Of course, it would be a mistake to say that Gnidrolog were simply heavily influenced by these bands, since the group was coexisting, and rose to prominence, in tandem with them. In fact, judging from their gig history, Gnidrolog were fairly integral to the prog scene at the time, playing shows with everyone from Colloseum, Wishbone Ash and Greenslade to Gentle Giant, Soft Machine, King Crimson and even Magma. So why hasn't anyone ever heard of these guys? Why are they forever condemned to the obscurity, only to be uncovered years later by only the most intrepid of prog archaeologists? Well, maybe the fact that they only released two albums had something to do with it. Besides that, I'll be damned if I can figure it out. Actually, Gnidrolog recently reformed and put out a new studio album, Gnosis, which has gotten some good reviews, though I haven't heard it yet. Still, pick up In Spite of Harry's Toenail or better yet, their opus Lady Lake, and prepare to be bowled over. © Greg Northrup [July 2001] © 2002, The Giant Progweed http://www.progweed.net/reviews/gnidrolog/gnidrolog-band.html