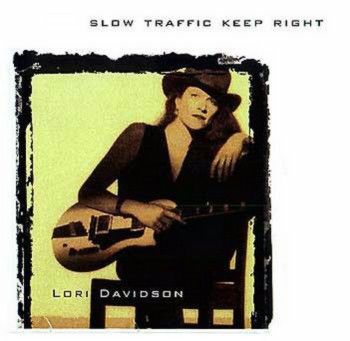 Lori Davidson
-
Slow Traffic Keep Right
-
1996
Blueswoman Lori Davidson struts forth with a sultry, sweaty and often sexy nine-cut effort, Slow Traffic Keep Right (All Blues 1069). Outstanding production by Davidson and musical-partner, bassist Ken Embry, bring out the best in their stellar band, including John Lee Hooker guitarist Rich Kirch, harp-whiz Eugene Huggins and sax-stylist Doug Rowan. This gal-to-be-reckoned-with confidently sings her way through several states of blues and comes out sounding as great as she looks on the tray card. (four stars) © Joseph Jordan, Blues Access Magazine. © 1997 by Blues Access, Boulder, CO, USA http://www.bluesaccess.com/No_29/homebrew.html
Capturing the emotional center and illusive power of the blues, this CD pays homage to the traditional sounds of this artform from the down home Chicago style of John Lee Hooker guitarist, Rich Kirch, to the blues born and raised voice of Craig Horton, and the unmistakable west coast sound of Lori Davidson herself. It also creates a little something for everyone, by stretching the form, and showing how the blues are expressed in other styles of music, from the rock & roll sounds of Slow Traffic Keep Right to the hip hop groove of "Busy On You" to the haunting blues/jazz ballad of "Hollow Mood". However you may get 'yer blues, we think you'll enjoy. © 1996-2010, Amazon.com, Inc. or its affiliates
Lori Davidson's new CD "Slow Traffic Keep Right" is definitely good stuff. Lori's band is solid and this entire recording cooks up some good southwestern blues. You can tell within the first few songs that Lori Davidson has been busy putting her heart and soul into making this a quality CD. Lori's got a great voice and all the Slow Traffic should keep right cause this Lady's on her way. I should also mention John Morris who play's guitar in the band and wrote some good material on this CD like " Baby Talk", "Mystery Train", and "Busy On You". I recommend you check Lori and her band out, definitely a thumbs up on this CD. © The Commander - The Blue Zone © The Review Chick http://66.102.9.132/search?q=cache:sxdZ-Kld_H4J:tinpan.fortunecity.com/eno/946/music/zone6.html+lori+davidson+slow+traffic+keep+right&cd=5&hl=en&ct=clnk&gl=ie
A good south western traditional blues album with plenty of soul, a jazzy touch, and a Chicago blues feel. Lori Davidson sings with a real feeling for the blues, and she is backed by some great musicians including Daniel Castro, Rich Kirch, and Ken Embry. Harvey Mandel's great "Snakes and Stripes" album features Lori's vocals on the "My Soul's on Fire" track.
TRACKS
1. Baby Talk
2. Mystery Train
3. Hollow Mood
4. Busy On You
5. Hoot Owl
6. Slow Traffic Keep Right
7. Fire Engine Red
8. Mojo
9. It's Over Now
MUSICIANS
Lori Davidson - Lead Vocals
Daniel Castro, Rich Kirch - Guitar
Ken Embry - Bass
Ernest 'Boom' Carter - Drums
Eugene Huggins - Harmonica
SHORT BIO
San Francisco-native Lori Davidson started her music training at a young age with classical guitar. Everything was going fine until she heard some really good samples of rock and blues on the radio. She learned some new chord charts, added vocals, and was ready to entertain her friends. Over the years, since those innocent days, Davidson has appeared at festivals, fairs, and clubs across much of the United States and into Canada. She has performed solo and with other artists like Harvey Mandel, John Lee Hooker, Ernest "Boom" Carter, Ken Embrey, and Daniel Castro. She also works with an excellent blues band of her own, as Lori Davidson & the Intruders. In 1996, Davidson completed her first solo album, Slow Traffic Keep Right. The debut is filled with traditional-styled blues tracks like "Mystery Train," "Fire Engine Red," "It's Over Now," "Mojo," and "Baby Talk." © Charlotte Dillon © 2010 Rovi Corporation. All Rights Reserved http://www.allmusic.com/cg/amg.dll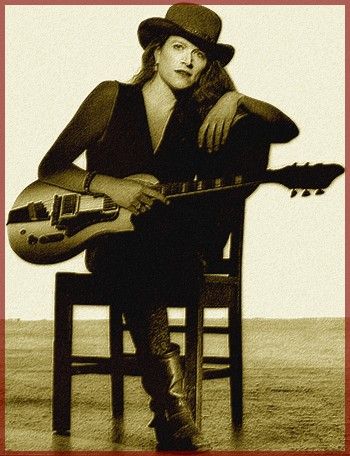 MORE
San Francisco born singer songwriter Lori Davidson and her husband, bassist Ken Embry are both veterans of the Bay Area music scene, having performed and/or shared the stage with a veritable whose-who of the blues . Davidson was the featured vocalist on guitarist Harvey Mandel's 1995 release "Snakes and Stripes" and in 1997, she worked with John Lee Hooker and the Coast to Coast Blues Band, playing the 19th Annual Playboy Jazz Festival at the Hollywood Bowl, along with her husband and bassist, Ken Embrey, who, in his own right, worked with John Lee Hooker for two years. Bluesman Johnny Nitro called her "Harley's little sister….but a much better ride". Embrey also played on, produced, and recorded their CD, "Slow Traffic Keep Right" released in 1996. Joseph Jordan, of Blues Access Magazine had this to say: "Blueswoman Lori Davidson struts forth with a sultry, sweaty and often sexy nine-cut effort, "Slow Traffic Keep Right". Outstanding production by Davidson and musical partner, bassist, Ken Embrey, bring out the best in their stellar band, including John Lee Hooker guitarist Rich Kirch, harp whiz Eugene Huggins and sax stylist Doug Rowan. This gal-to-be-reckoned-with confidently sings her way through several states of blues and comes out sounding as great as she looks on the tray card. (Four stars)". The couple toured the U.S. until 2003, when they moved to Pioneer. They are currently at work on a new CD.