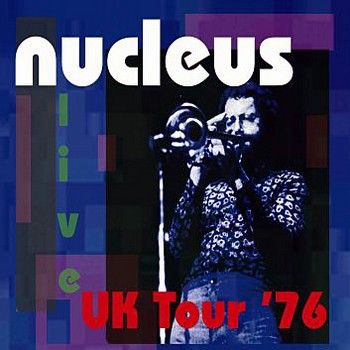 Nucleus
-
UK Tour 1976
-
2006
-
Major League Records

Formed in September 1969, Nucleus were an immediate and explosive success and in 1970 appeared at two of the world's most prestigious jazz festivals at Newport and Montreux. The band were inspired to some extent by the contemporary electrified experiments of Miles Davis, but mostly by Carr's wide-ranging ideas about exotic and non-Western improvisation and rhythmic patterns. These he combined with his own jazz improvisation and the sort of ostinato bass patterns brought into the rock field by Davis acolytes such as Herbie Hancock. It was Davis, however, who was the pre-eminent influence on Carr's work and Carr became one of the world's leading scholars on the subject of Davis and his music. Over the years Nucleus drew in some of the best musicians from the British jazz scene, including John Marshall, Karl Jenkins, Brian Smith, Jeff Clyne, Chris Spedding, Harry Beckett, Tony Coe and Ron Mathewson. Nucleus finally disbanded in the late Eighties. © Steve Voce, © independent.co.uk
This is a spectacularly good album of material from the legendary jazz fusion band, Nucleus. Arguably this may be Nucleus', and Ian Carr's best live audio documentation. The late, great trumpeter Ian Carr was one of the greatest, and most influential musicians in British jazz. He played some ground-breaking performances with the Rendell-Carr Quintet and Nucleus, and he provided the inspiration for many world-class musicians. This double CD contains over 100 minutes of outstanding jazz fusion. The tracks were originally recorded whilst on a 12-date British University winter tour, at Britain's Loughborough University Of Technology, Leicester, England in February 1976, for a radio broadcast. This is the mid-seventies Nucleus at their very best. In 1974 leader/trumpeter Ian Carr gathered a new group of immensely talented musicians to record "Under The Sun" in 1974, and "Snakehips Etcetera" and "Alleycat" in 1975. The UK tour was intended to promote the band's great "Alleycat" album. Every musician on this recording is brilliant, and there is some marvellous interplay, and some tremendous solos. This recording may be nearly 35 years old, but very few fusion bands today can play to this standard. The album has been re-mastered from the original tapes, and audio quality is very good. "UK Tour 1976" is
VHR by A.O.O.F.C
, as it is undoubtedly one of the best jazz fusion recordings of the last 40 years. There is info on Nucleus' "Under The Sun" album @
NUCL/UTS
Nucleus' "Hemispheres" album can be located @
NUCL/HEMISP
The Ian Carr with Nucleus' "Labyrinth" album is available @
NUCL/LBYR
Read the detailed
IAN CARR & NUCLEUS BIO
A double CD compilation 'Kind Of Jazz - Jazz Rock' was released in 2007 by Universal, Japan and includes tracks by British, German and American musicians including Tony Williams, Peter Herbolzheimer, Mike Westbrook and Graham Collier. There are three titles by Ian Carr / Nucleus: 'Remadione' by Brian Smith, 'Elastic Rock' by Karl Jenkins and 'Persephone's Jive' by Ian Carr. If you see it, buy it !
N.B
:
The files posted here weigh in at 226 Mb @ 320 Kbps, so if you're not into jazz fusion.....!!
TRACKS / COMPOSERS
1 Snakehips Etcetera - Ian Carr 15:46
2 Phaideaux Corner - Roger Sutton 11:32
3 Alleycat - Ian Carr 19:40
4 Nosegay - Bob Bertles 7:36
5 You Can't Be Sure - Ian Carr, Ken Shaw, Roger Sutton/Pastoral Graffiti - Ian Carr 13:00
6 Splat - Ian Carr 12:00
7 Alive and Kicking - Roger Sutton 22:14
N.B
:
This album has also been released as a six track CD, with Track 5 excluded. Don't be ripped off ! Also, some releases list eight tracks, listing "You Can't Be Sure", and "Pastoral Graffiti" as two separate tracks.

MUSICIANS
Ian Carr - Trumpet, Flugelhorn, Synthesizers
Ken Shaw - Guitar
Roger Sutton - Bass Guitar
Geoff Castle - Keyboards
Roger Sellers - Drums
Bob Bertles - Flute, Sax (Alto), Sax (Baritone), Sax (Soprano)
SHORT
NUCLEUS
BIO
Nucleus began its long jazz-rock journey in 1969, when it was originally formed by trumpeter Ian Carr. They attracted a following after a successful performance at the Montreux International Festival in 1970, which led to the critical success of albums Elastic Rock and We'll Talk About It Later. The other members consisted of saxophonist Karl Jenkins, drummer John Marshall, and guitarist Chris Spedding. Spedding split after the first two albums, but the rest of the lineup lasted until 1972, when Jenkins and Marshall both left to join Soft Machine. Belladonna was the first album with only Carr, and although he enlisted the help of guitarist Allan Holdsworth, the band eventually became a solo venture for his music. They finally broke up in the mid-'80s after several Carr-only albums. © Bradley Torreano, allmusic.com
DETAILED IAN CARR & NUCLEUS BIO
IAN CARR
BIO
(R.I.P)
Ian Carr has been on the cutting edge of the British jazz scene for nearly four decades. Self-trained as a musician, Carr played an important role in the development of jazz-rock fusion, playing with John McLaughlin in the early '60s, forming one of England's first electronic jazz-rock fusion groups, Nucleus, in 1969 and playing with the international band the United Jazz Rock Ensemble, since 1975. In 1982, Carr received a Calabria award in southern Italy for Outstanding Contribution in the Field of Jazz. Wire Magazine presented him a special award for services to British jazz in 1987. Carr has been equally influential as a music journalist and educator. The co-author of a jazz encyclopedia, The Essential Companion, Carr was also the author of Music Outside, an examination of contemporary British jazz published in 1973; Miles Davis: The Definitive Biography, published in 1982; and Keith Jarrett: The Man and His Music, published in 1991. Since 1992, Carr has written a monthly column for BBC Music Magazine. Carr is an associate professor at the Guildhall School of Music and Dance and lectures weekly on jazz history. Born in Scotland and raised in England, Carr thought little of a career in music until he was nearly 30 years old. Educated at King's College in Newcastle-Upon-Tyne, where he studied English literature, Carr served in the Army in the late '50s. Shortly after his discharge, he formed a band, the EmCee Five, with his brother Mike and John McLaughlin. Carr remained with the band for two years, leaving to form the Rendell-Carr Group with saxophonist Don Rendell in 1962. During the seven years he worked with Rendell, Carr helped the band record five albums. In September 1969, Carr helped form the groundbreaking fusion band Nucleus. The group attracted international acclaim when it took the top prize in a competition at the Montreaux International Festival in 1970. Carr continued to play with Nucleus until 1989 when he left to tour the United Kingdom and Europe as a soloist on electric trumpet with an Anglo-American orchestra led by American composer George Russell. Old Heartland was recorded with the Kreisler String Orchestra in 1988 while Sounds and Sweet Airs was recorded with organist John Taylor in 1992. © Craig Harris, allmusic.com