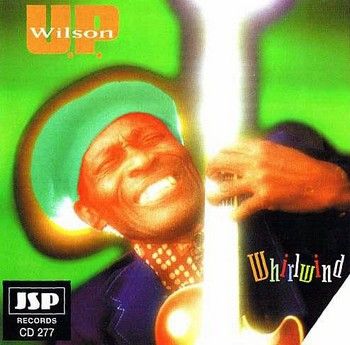 U
.
P
.
Wilson
-
Whirlwind
-
1996
-
JSP

A technically gifted and very underrated guitarist, Dallas bluesman, U.P. Wilson's "Whirlwind" is a good album of original soul blues, with Gospel and country elements. U.P penned the ten album tracks. It might not be a classic album, but it's good solid blues, very well played by U.P. Wilson, and with some great lyrics. He is backed by some great seasoned musicians like Big Joe Turner on bass, and Hammond, and Jordan Patterson on harmonica. Shawn Kellerman plays some great guitar on "Roll Over", and "Bluesola". U.P. Wilson's 1992 "Attack of the Atomic Guitar" album proves just how underrated an artist U.P. Wilson is. Buy it, and support this great bluesman
TRACKS
Roll Over
Walk That Walk
Your Last Chance
Juicin'
Going Round In A Daze
Who Will Your Next Fool Be?
Deep Down Inside
Bluesola
Come On Baby, Go Home With Me
If You Don't Know How To Act (Your Place Is At Home)
All songs composed by U.P. Wilson
MUSICIANS
U.P. Wilson (Vocals),(Guitar)
Shawn Kellerman (Guitar Tracks 1,&8)
Anthony Gonzales (Bass Guitar Tracks 1,3,4,7,8)
Big Joe Turner (Hammond Organ Tracks 3,4,5,7,10),(Bass Guitar Tracks 2,5,9,10)
Eltorro Gamble (Drums Tracks 3,4,7), Steve Meek (Drums Tracks 1,2,5,6,8,9,10)
Jordan Patterson (Harmonica Tracks 2,&6)
BIO
Fort Worth-based guitarist, singer and songwriter U.P. Wilson plays a startlingly refreshing style of deep Southern soul-blues that is gospel inflected and rural, yet urban. His very rhythmic guitar playing is showcased on three albums for JSP Records, and it appears that after years of being known as a regional performer around Texas, Wilson is ready to take his show on the road. Wilson has recorded three albums for the London-based JSP Records -- Boogie Boy: Return of the Texas Tornado in 1994, This Is U.P. Wilson (1995), and Whirlwind, a 1996 release. Wilson also has two early-'90s recordings for the small Texas labels Red Lightnin' and Double Trouble. Raised in West Dallas, Wilson learned his craft in the rough and tumble beer joints around the South and West Sides of the city, taking his cues from the likes of ZuZu Bollin, Cat Man Fleming, Frankie Lee Sims, Mercy Baby and Nappy "Chin" Evans. Wilson moved from Dallas to Fort Worth and formed a band called the Boogie Chillun with drummer and vocalist Robert Ealey. Later, he worked with Cornell Dupree before Dupree left to become a favorite session guitarist. By the late 1970s, Wilson and Ealey were frequenting a Fort Worth club called the New Bluebird, where they were attracting ever-growing legions of true Texas blues fans. Wilson began recording locally in 1987 and touring again around Texas. Since the mid-'90s release of his JSP albums, Wilson and his band have toured regionally around the South, pleasing audiences with his inventiveness, clever songwriting, great arrangements and sheer originality. He returned in 1999 with On My Way. © Richard Skelly, All Music Guide, © 2010 Answers Corporation, http://www.answers.com/topic/u-p-wilson