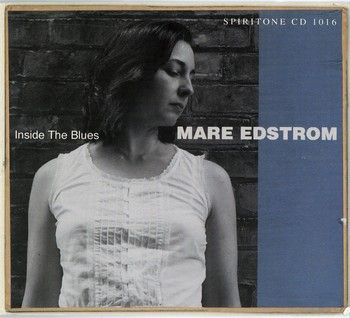 Mare Edstrom
-
Inside the Blues
-
2004
-
Spiritone Records
Mare Edstrom's musical background covers a broad range of experience. She was classically trained in piano, voice, and French horn from her early years through college at UW-Whitewater, where she majored in music, math and physics education. She also played in various rock and blues bands on keyboards, vocals and guitar from age 14 to the present. She graduated summa cum laude in 1990 with a Bachelor of Science in Education degree (DPI certified grades 7-12). With her regular performing partner, guitarist/producer Kenn Fox, she owns and operates the Wisconsin based Spiritone Records, a large and important independent record label
"Inside the Blues" has received global critical acclaim for Wisconsinite, Mare Edstrom's unique personal style. Refined, but with a gutsy and authentic feel. On "Inside the Blues", she demonstrates her dynamic vocal skills with a tribute to the blues legends who have been so important to the development of her blues style. Here, Mare presents an impressive new interpretation of the blues while keeping the vintage flavour of authentic roadhouse blues. Her styles include gospel, jump, and the Piedmont style blues of Blind Willie McTell. Listen to her cover of "Statesboro Blues". She also sings songs by Robert Johnson, T-Bone Walker, Muddy Waters, and Little Esther. A great traditional style blues album that is truly impressive. Listen to Mare's "Shake 'Em On Down" album, and buy her "Keys to the Castle" album. Promote this lady who is following in the footsteps of blues revivalists and traditionalists, Rory Block, and Maria Muldaur.
TRACKS / COMPOSERS
1 Treat Me So Low Down (Aaron "T-Bone" Walker)
2 That's Alright (Jimmy Rogers)
3 Cherry Wine (Henry Glover)
4 Statesboro Blues (Blind Willie McTell)
5 North Memphis Blues (Memphis Minnie)
6 Tried So Hard (Kenn Fox)
7 The Thrill is Gone (Ray Hawkins)
8 Can't Be Satisfied (McKinley Morganfield)
9 I Feel the Same (Chris Smither)
10 Spiderman Blues (Bessie Smith/H. Gray)
11 Tell Me (Kenn Fox)
12 Rollin' and Tumblin'/Got Mud in My Soul (McKinley Morganfield/Kenn Fox)
13 Stop Breakin' Down Blues (Robert Johnson)
14 In My Time of Dyin' (Blind Willie Johnson)
MUSICIANS
Mare Edstrom - Vocals, Piano
Kenn Fox - Guitars, Bass
Randy Mueller - Drums, Background Vocals
Marquis Gilbert - Lead Vocals on "Got Mud in My Soul"
Alex "Stretch" Clincy - Turntable on "Rollin' and Tumblin"/"Got Mud in My Soul"
Muddy Waters Memorial Choir, Mick Heath, Fred and Ethel, Tim Angsten - Background Vocals
REVIEWS
Mare Edstrom's road to the blues has been long and interesting. While she is primarily classically trained, her formative years were spent playing piano and singing in local rock bands. Her first album, Learning How to Believe, was a combination of finely-crafted original songs and carefully selected cover songs by legends of the singer-songwriter school. She brought a truly new perspective to songs by the likes of Townes van Zandt, Eric Taylor, Greg Brown, and Janis Ian. This amazing work was quickly followed by a second release titled Inside the Blues. This release, a blues tribute, showcases works by Blind Willie McTell, T-Bone Walker, Muddy Waters, and Blind Willie Johnson, as well as works by her admitted heroes Memphis Minnie and Little Esther. This highly acclaimed work has found its way onto major radio station playlists throughout Europe and the US. Inside the Blues has had extensive favorable reviews, including key reviews by Blues Review magazine in the US and Crossroads magazine in France. Mare's wide vocal range, energy, and vintage brand of roadhouse authenticity have been duly noted by critics again and again. This exciting new take on the blues is still receiving international attention and has established Mare as a major player in the blues style, often compared to the great ladies of the blues, past and present. © cdbaby.com
It's albums like Mare Edstrom's "Inside the Blues" that makes all the work worth it. Just listening to that great traditional blues guitar opening up the album makes me want to weep. And then in waltzes Mare's great classic voice. You could shelf this album nicely next to your best Muddy Waters and sandwich them right alongside Robert Johnson and T-Bone Walker all of which she reinterprets here. Her version of the Blind Willie Johnson classic "In My Time of Dyin'" is perhaps the best shiner on the album and it appears last to complement your way to hitting "play" again. © J-Sin, © Smother Magazine 1996-2009 All Rights Reserved
BIO
Mare Edstrom's road to the blues has been long and interesting. While she is primarily classically trained, her formative years were spent playing piano and singing in local rock bands. Her first album, Learning How to Believe, was a combination of finely-crafted original songs and carefully selected cover songs by legends of the singer-songwriter school. She brought a truly new perspective to songs by the likes of Townes van Zandt, Eric Taylor, Greg Brown, and Janis Ian. This amazing work was quickly followed by a second release titled Inside the Blues. This release, a blues tribute, showcases works by Blind Willie McTell, T-Bone Walker, Muddy Waters, and Blind Willie Johnson, as well as works by her admitted heroes Memphis Minnie and Little Esther. This highly acclaimed work has found its way onto major radio station playlists throughout Europe and the US. Inside the Blues has had extensive favorable reviews, including key reviews by Blues Revue magazine in the US and Crossroads magazine in France. Mare's wide vocal range, energy, and vintage brand of roadhouse authenticity have been duly noted by critics again and again. This exciting new take on the blues is still receiving international attention and has established Mare as a major player in the blues style, often compared to the great ladies of the blues, past and present. In March 2006, Mare's much anticipated second blues effort, titled Shake 'em on Down, was released. This release features some new band members as well as an interesting and exciting mix of early blues rarities. Songs by the likes of Scrapper Blackwell, Bukka White, and Bumble Bee Slim are dusted off and shined up for a new outing. This exciting new blues recording has once again been reviewed favorably worldwide, in Blues Revue (USA), Italian II Blues Magazine (Italy), Maverick Magazine (UK), and Rootstime (Denmark), as well as many others. This CD continues to receive praise, attention, and much airplay throughout the world blues scene. Much to the surprise of her blues fans, Mare released a 10-song singer-songwriter collection in October 2006 titled Keys to the Castle. This recording featured exciting interpretations of songs by Richard Thompson, Tom Waits, John Hiatt, and others, as well as several original songs that have long been favorites in her live show. The CD showcased a top-notch band, as well as guest appearances by fellow Wisconsinites Willy Porter and Tracy Jane Comer. It was named among the Best Albums of 2006 by B-side Records, State Street, Madison. In 2007, Mare started the year making a guest appearance on her producer/guitarist Kenn Fox's recent solo album, Road to Tivoli, playing both guitar and Irish flute. Then in August, Mare charted new territory with her latest blues release, Sugar Sweet, introducing elements of R&B, rockabilly, and soul to the mix. The album features spacious arrangements in a truly vintage format, borrowing production vibe from the warm 1950s sound. As with previous releases, Edstrom has dug deep and uncovered obscure gems from the past by such forgotten masters as Betty Everett, Ma Rainey, Julia Lee, Little Willie John, and Arthur Alexander. The album also gives the listener a taste of Edstrom's signature stripped-down country blues that she currently features in her live duo with producer/guitarist Kenn Fox. This recording is packed full of steaming hot electric, acoustic, and slide guitar, sweet tenor saxophone, nasty blues harmonica, and thick, tasteful backing vocals. The album closes with a masterful rendition of Bukka White's gospel epic, "Fixin' to Die." As with Mare's first two blues albums, the world continues to take note. Sugar Sweet has already received a number of favorable reviews and consistent airplay both in Europe and in the US (click here for playlist info) and was named among the Best Albums of 2007 by B-side Records, State Street, Madison. Besides her full-time career as a singer, recording artist, and the owner of Spiritone Records, Mare has a thriving teaching studio at Hartland Music/The Waukesha County Conservatory of Music, where she teaches piano, voice, and guitar four days a week. © www.spiritonerecords.com