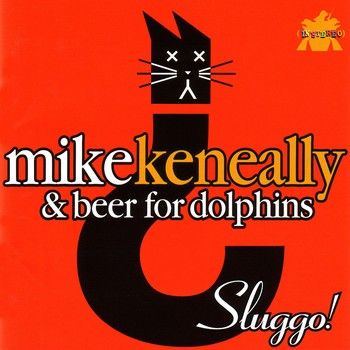 Mike Keneally
&
Beer For Dolphins
-
Sluggo!
-
1997
-
Immune
Ex-Zappa guitarist, Mike Keneally is an extraordinary musician and composer. He plays an eclectic and often eccentric blend of rock, pop, jazz, fusion, and sometimes Zappa-esque style experimental music. He provided vocals, guitar and keyboards in Frank Zappa's last touring band and appeared on numerous Zappa albums. He has also played keyboards with the Joe Satriani Band, and has performed and/or recorded with artists that include Robert Fripp, Kevin Gilbert, Steve Vai, Screamin' Jay Hawkins, The Persuasions and many more. He is noted for his innovative, and often unpredictable live shows. All Music Guide stated that "Keneally is the leading progressive rock genius of the post-Zappa era." Some of this stuff harks back to the '70's Canterbury Rock scene and some of the music is reminiscent of bands like Matching Mole and Soft Machine. Yet it all hangs together, thanks to the powerful and freewheeling sound of Beer For Dolphins, and the personal quality of Mike Keneally's adventurous, yet heartfelt composing. Mike is an amazing guitarist, but this is not a guitar album. In fact he makes more use of keyboards on this album than the ferocious shredding he is capable of. Time Out New York says "this band, with such a peculiar genius leading it, is a thing to savour." Steve Vai has said that "Bryan Beller is the most intuitive and responsive bass player I have ever played with. He has impossible ears and everything he plays sounds like music." Mike Keneally, Bryan Beller and Co. play complex but deeply grooving progressive rock, pop, and jazz fusion tracks, displaying fire and precision. This is an album of remarkable inventiveness and originality and
HR by A.O.O.F.C.
Listen to Mike Keneally & Beer For Dolphins' brilliant "Half Alive in Hollywood" album and Bryan Beller's great "Thanks In Advance" album. Has anybody listened to the Aristocrat's new "Culture Clash" album featuring Bryan Beller, Marco Minnemann, and guitarist extraordinaire Guthrie Govan?
[
All tracks @ 320 Kbps: File size = 167 Mbs
]
TRACKS
1. Potato
2. I, Drum-Running, Am Clapboard Bound
3. Why Am I Your Guy?
4. Looking For Nina
5. Frozen Beef (Come With Me )
6. Tranquillado
7. What Happened Next
8. Chatfield Manor
9. Beautiful
10. "I Guess I'll Peanut"
11. Voyage To Manhood
12. Egg Zooming
13. Own
14. I'm Afraid
15. CardboardDog
16. Sluggo
All tracks composed by Mike Keneally except "Looking For Nina" by Mike Keneally & Frank Briggs
MUSICIANS
Mike Keneally - Electric & Acoustic Guitar, Slide Guitar, 12 String Guitar, Bass, Electronic Mandolin, Mandolin, Piano, Grand Piano, Fender Rhodes, Hammond Organ, Moog Synthesizer, Synthesizer, Wurlitzer, Drums, Synthesizer Percussion, Percussion, Tambourine, Egg Shaker, Train Whistle, Bird Whistle, Whistle (Instrument), Bell Tree, Sound Effects, Vocals, Background Vocals
Bryan Beller - Bass
Frank Briggs - Synthesizer, Drums
Tom Freeman, Mike Mangini, Joe Travers - Drums
Jeff Forrest - Snare Drums
Toss Panos - Drums, Percussion
Mark DeCerbo, Bob Tedde - Vocals, Background Vocals
MIKE KENEALLY
BIO
Mike Keneally obviously doesn't like to be labeled -- he's a bandleader and bandmember, a rock and jazz fusion player, and also an outstanding guitarist, vocalist, keyboardist, and percussionist. Taking up keyboards at age five, Keneally's life changed when he moved from New York to California in 1970 and heard Frank Zappa for the first time at age ten. Woodshedding for the next 15 years as a self-taught guitarist, Keneally formed a band called Drop Control in his hometown of San Diego in 1985 and became one of the city's musical heroes. Keneally auditioned for Zappa's band in 1987 as a "stunt guitar" replacement for Steve Vai, and was hired as a guitarist, keyboardist, and vocalist. The multi-instrumentalist would appear on some classic Zappa albums like Broadway the Hard Way and The Best Band You Never Heard in Your Life, but little did he know that his lineup would be Zappa's final touring band. Between 1988 and 1991, Keneally performed with Drop Control and Zappa's son Dweezil's band Z, toyed with studio-musician status, and moved to Los Angeles. After working on the Grammy-winning tribute album Zappa's Universe, Keneally started a solo career with his 1992 debut album, Hat. Quirky and hard to categorize (with Zappa trademarks like classical undertones, stuttering, jazz-like rhythms, and humorous lyrics), the debut was a big hit with critics. But the next year would claim both Keneally's father and Zappa, leading to the moody yet brilliant 1994 CD Boil That Dust Speck. Ranging from intense rock ("Skunk") to ballads ("Blameless [The Floating Face]") to Keneally's closing percussion tribute saga to Zappa, "The Old Boat Guy," the disc showcased every facet of his array of talents. Leaving Z in 1996 and naming his solo touring band Beer for Dolphins, Keneally released the riotous double CD Half Alive in Hollywood, featuring one disc of live-in-a-studio originals and one of live stage performances (including covers of Jimi Hendrix's "Power to Love" and Led Zeppelin's "Immigrant Song"). He also formed a band called the Mistakes, with Henry Kaiser, Andy West (Dixie Dregs), and Prairie Prince (the Tubes), who released a self-titled album. The same year, Keneally joined fellow Zappa alumnus Steve Vai's band, playing on the G3 Tour over the next year with Joe Satriani, Eric Johnson, Robert Fripp, and Kenny Wayne Shepherd. Playing classical piano-like keyboard lines, percussion, and intricate harmonized guitar lines with rock virtuoso Vai, Keneally helped the band steal the G3 show often (as evidenced by the G3: Live in Concert CD). Between releases by Beer for Dolphins (1997's Sluggo!; 2000's Dancing) and solo albums (1999's Nonkertompf, on which he played all of the instruments), Keneally also found time to record two CDs with Vai, 1999's The Ultra Zone and 2001's Alive in an Ultra World. In 2001, Keneally got a new acoustic guitar, which led to the release of the largely acoustic-based and mellow Wooden Smoke, which showed yet another side of Keneally's musical personality. For another interesting detour, in 2002, Keneally was approached by Co de Kloet, commissioning director for Holland's NPS Radio, and was commissioned to write music for electric guitar and orchestra. The resulting music and live performances with the renowned Metropole Orchestra were such a success that de Kloet started the NPS Output label to release The Universe Will Provide in 2004, just a month after Keneally turned around and delivered his hardest-rocking album to date, Dog, with the newly christened Mike Keneally Band. Just a few months after that came Piano Reductions, Vol. 1, an album of Vai songs played solo on piano that was actually recorded in 1999 at Steve's request. As if he weren't busy enough, around the same time he got involved with Henry Kaiser and Wadada Leo Smith's Yo Miles! project, appearing on both Sky Garden and Upriver. The Mike Keneally Band hit the road in 2005, playing across the U.S., with Guitar Therapy Live appearing as the tour document in 2006. That same year, Keneally acquired the rights to his early catalog on Immune with plans to re-release it in deluxe editions in 2007 on Exowax (each of Keneally's Exowax recordings has been available as a limited-edition package with lots of bonus material). With his wide-ranging talents and ability to be creative in almost any musical situation, Keneally is the leading progressive rock genius of the post-Zappa era. By & © Sean Westergaard & Bill Meredith © 2011 Rovi Corporation. All Rights Reserved http://www.allmusic.com/artist/mike-keneally-p93263/biography