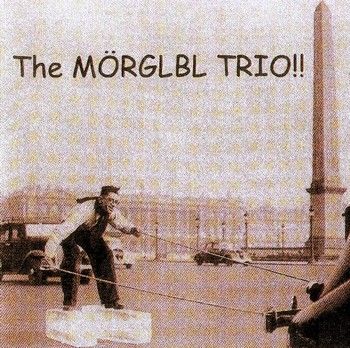 The Mörglbl Trio
-
The Mörglbl Trio
-
1998
-
IHL
Do you think it's possible to have virtuosic technique, be able to write wonderful tunes, and at the same time not to take yourself too seriously? Apparently, this absurd combination of the rarest of qualities is possible, as demonstrated with staggering off-hand brilliance by the two-disk reissue of the first two Morglbl's albums under the title Toons Tunes from the Past. A range of styles from heavy metal to jazz, and intentions from gleeful tongue-in-cheek mockery of contemporary music to outer space experimentation makes this French trio a multi-layered, utterly unique band with its chemistry so complex, but at the same time so fetching that it stands side by side with the best work of Frank Zappa, the Mahavishnu Orchestra, Steve Vai, Weather Report, and all others who over the last four decades have thought of music as a source for joy, adventure, fun, and experimentation. Morglbl's debut record "The Morglbl Trio" first released in 1998, is the first disk of this release, and from the beginning introduces us to the non-linear universe where styles, genres, and traditions unite in a bizarre and captivating Mardi Gras of musical eclectism. Its first track "The Tale of Thibault" layers raucous heavy metal guitar over Alan Parsons-inspired spaced-out ostinato arpeggios before trailing off into prog rock a la Yes and jazz fusion guitar extrapolations. And at this point we get the first glimpse of guitarist Christophe Godin's awe-inspiring pyrotechnics which he delivers as naturally as all living things breathe. He is one of those virtuosos who makes it look easy, but while his technique is at times so effortless it becomes unnoticeable, his range and invention stand out in all their splendour, showing a first-rage composer as well as a dazzling player, proving yet again that you can't have great guitar leads without great songs. And Godin is a master of both. With too many ideas emerging simultaneously to allow the band to stick to one formula, the rest of the album is a head-spinning journey through an astonishing variety of modern genres. There is "It Bello de Notte", an ephemeral acoustic guitar Latin tune, which would have bordered on mysticism if not for its delicate, barely-there irony; there are further experiments in marrying heavy metal to jazz; there are unashamedly retro eerie tunes inspired by Eighties pop; balls-to-the-wall hooky rock riffs that wouldn't have sounded out of place on an AC/DC record; and fierce heavy metal numbers that hit out with bona fide fire, laser-sharp and passionate. Overall, the first disk is a wonderfully catchy, gimmicky record, freed from all constraints - a stunning debut for a band that knows all modern styles back to front, fluent in them all, somehow managing to unite them under one entertaining, witty paradigm. © http://www.sonicbids.com/2/EPK/?epk_id=144904#!press
"The Mörglbl Trio" is the great French 'power-jazz-metal instrumental music' trio Mörglbl's first album and was released privately. Later, the trio became known as just Mörglbl. This band have created some fantastic, mostly instrumental, guitar-orientated rock music which has been described as progressive fusion full of contrasts, often played with humour and dynamic energy, and instrumental music played with a rhythmic complexity, blending hard rock, a certain amount of jazz improvisation and a slight Latin touch. Sonicbids.com asks, "What could you call a power trio that veers seamlessly between shredding peaks, jazzy moods and fat funky grooves? Morglbl, of course! Often compared to Primus meeting Steve Vai, Morglbl hits like a heavyweight jab and makes you laugh while you bleed! Morglbl - the punch you don't see coming!" The hugely talented guitarist, Christophe Godin is not a household name in the jazz rock/fusion world but his playing is wonderful. All Mörglbl's music is
HR by A.O.O.F.C.
Give the band's brilliant "Grotesk" album a listen and check out the band's "Jazz for the Deaf" album on this blog. If you like this album and are finding it difficult to purchase the band's albums, please contact this blog. N:B: In 2008, this album was released on a double CD set along with the trio's "Bienvenue A Mörglbl Land" album
[
All tracks @ 320 Kbps: File size = 130 Mb
]
TRACKS
1. Links 1:33
2. The Tale Of Thibault 4:54
3. Streets And Traps 4:48
4. Inside Power 5:28
5. Il Bello Di Notte 4:31
6. Les Mécanismes Du Temps 5:50
7. Travels 6:42
8. Mexico 00:19
9. Lieutenant Colombin 5:33
10. Strictement Confidentiel 6:32
11. Monishkolio 00:14
12. The Principles Of Life 4:26
13. Friends 7:51
All music composed by Godin, Rougny, & Frelezeau
BAND
Christophe Godin - Guitar
Ivan Rougny - Bass
Jean-Pierre Frelezeau - Drums
ABOUT
MÖRGLBL
aka
MÖRGLBL TRIO
MÖRGLBL, also known as MÖRGLBL TRIO, is one of the bands/projects by guitarist Christophe Godin (other two projects being CHRISTOPHE GODIN'S METAL KARTOON and 2G). MÖRGLBL is a French band (from Annecy), founded in 1997 (or 1996, according to lasercd.com). Godin decided to form an instrumental fusion rock band - he describes band's music as 'power-jazz-metal instrumental music' - along with Jean Pierre Frelezeau (drums) and Ivan Rougny (bass). In 1997, MÖRGLBL's first cd named "Ze Mörglbl Trio!!" was released and received good reactions from the French press. The band toured intensively in France, placing Christophe as one of France's top guitar players. In 1999, the band's second album "Bienvenue à Mörglbl Land" was released. After this release, they disbanded in 2002 - Godin was doing various projects in that period, but the band re-united in 2005, this time with Aurélien Ouzoulias on drums, and they released their third album, "Grotesk" in 2007.The band is playing an unique fusion of jazz and metal; although jazz-metal as a form was not unknown before, their fusion of styles is perfectly balanced and one of the kind, forcing a listener to question him/herself what actually defines each of the musical styles that MÖRGLBL uses as a part of their style. The music is leaving quite a lot of space for improvisations, and it's enjoyable and RECOMMENDED for anyone who's interested in eclecticism varying from jazz-rock shredding guru such is HOLDSWORTH to the 'post-trash' metal of PANTERA style, with a solid amount of furious PRIMUS thrown in. © Moris Mateljan, 2008 (sources compiled from the band's MySpace page, Godin's web site, and lasercd.com) © Prog Archives, All rights reserved http://www.progarchives.com/artist.asp?id=4038
ABOUT
CHRISTOPHE GODIN
(WIKI)
Christophe Godin (born 1968) is a French guitarist and singer, notable for his work with the famous French bands Metal Kartoon, Gnô and Mörglbl. Godin plays a variety of styles, including heavy metal, jazz fusion, blues and more. Christophe Godin was born in Annecy, France. He has toured with some famous musicians, like Ron "Bumblefoot" Thal (Guns N' Roses), Andy Timmons (Danger Danger), Mattias Eklundh (Freak Kitchen), Kiko Loureiro (Angra). Mörglbl shared the stage with Liquid Tension Experiment (3/5 of Dream Theater plus Tony Levin on bass) at US biggest indoor prog festival, NEARfest in 2008 for the festival's 10th anniversary. He also played with Paul Gilbert (Mr. Big), Frank Gambale (Chick Corea), Jennifer Batten (Michael Jackson). Godin is known for his sense of humour, virtuosic guitar skills, energetic performances and overall wacky personality. These traits can be best observed in one of his live performances, where he does both the vocals and guitar parts in the Jimi Hendrix classic "Little Wing". Instead of playing the chords as they would normally be played, Godin played the arpeggiated versions of those chords using the sweep picking technique, all the while singing in time with his playing. Christophe Godin began his musical journey as a local guitar hero in several bands which, unfortunately, never left any trace. In 1995, with Temple, Christophe played on an album that was properly distributed in France and received a wave of positive reviews. In 1996, he took part on Guitare Attitudes, a compilation featuring French guitarists, that allowed him to regularly appear on the French TV show Nulle Part Ailleurs (Canal +) as a guest guitarist. In 1997, he created, along with Ivan Rougny and Jean-Pierre Frelézeau, the Mörglbl Trio !! and released two albums ("The Mörglbl Trio !!" in 1998 and "Bienvenue à Mörglbl Land" in 1999). With this band, the doors to international distribution finally opened. In the meantime, Christophe, who's been a teacher at the E.T.M. of Geneva, Switzerland, since 1994 acquired a solid pedagogue reputation with the release of an instructional video (Heavy metal : les techniques) and the multitude of articles he wrote for dozens of guitar magazines. He became a regular guest at the M.A.I. of Nancy, France, and runs master-classes in the whole country. In 2001, he created Gnô, with Gabriel Vegh (bass/vocals) and Peter Puke (drums/vocals), and released "Trash Deluxe". Gnô was on tour intensively throughout France until 2003. Finally, simultaneously with his duo with Pierrejean Gaucher (the 2G, playing Frank Zappa covers alongside their original material), Christophe, for the first time, formed his solo project under the name Christophe Godin's Metal Kartoon, which includes two violinists/pianists/singers, one bass player/singer, one drummer/pianist/singer and Christophe Godin. The band tours since 2004, and the album is released in the fall of 2005. All the ingredients that made the career of the guitarist what it is are to be found on this record: humour, virtuosity, and a mix of jazz, funk and metal. Godin was voted fifth best international guitarist by Guitar Parts magazine.