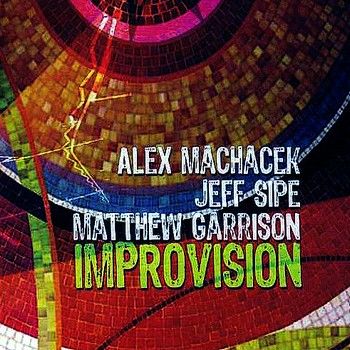 Alex Machacek,
Matthew Garrison,
Jeff Sipe
-
Improvision
-
2007
-
Abstract Logix
This formidable power trio of Austrian guitarist Alex Machacek, 5-string electric bassist Matthew Garrison and drummer Jeff Sipe is impossibly intense, dripping with staggering virtuosity and fertile ideas and seething with the kind of raucous improvisational abandon that we haven't seen since the heyday of Tribal Tech. For fans of acknowledged guitar monsters like Allan Holdsworth, Scott Henderson and the late, great Shawn Lane, the opening track of their new album says it all: "There's A New Sheriff In Town." Machacek's mind-boggling technique- blazing speed, uncannily fluid lines and daring intervallic leaps- is an obvious place to begin in singing the praises of this exciting new triumverate. But beyond the abundance of soloistic fireworks on Improvision provided by both Alex and Matthew, one of the most gifted and creative bassists on the post-Jaco scene, there is also a remarkable depth to the writing here, which comes across on harmonically sophisticated pieces like the atmospheric ballad "Very Sad," the compelling "Shona," the gentle, darkly alluring "To Whom It May Concern" and the gorgeous "Put Me Back To Sleep." Elsewhere, they exercise zen-like restraint on the freewheeling jam "Yoga For Cats, Part 1 and 2," then go for the burn on the aggressively slamming, chops-laden fusion showcase, "Gem1 and Gem2." And the astounding "Matt's Riff," is a brilliant showcase for Garrison's 21st century approach to the electric bass guitar. This stuff takes me back to the early '70s, to a time when creativity, concept and risk-taking were the watchwords in fusion music. © Bill Milkowski (well known jazz critic)
Improvision (Abstract Logix Records) is a collaboration between three of the heaviest musicians on the jazz and fusion scene today; guitarist Alex Machacek, drummer Jeff Sipe, and bassist Matthew Garrison. Simply put, this is one of those rare albums that gets everything right. The playing from all involved is cutting-edge, and the compositions themselves are very deep, yet approachable. A lot of people are going to call this music "fusion". That's not an incorrect label to use for Improvision I guess, since it will get the point across. However, to my ears, this is jazz. Not straight-ahead jazz mind you; it's no-holds-barred, in-your-face, new jazz. Yes, all the hallmarks of fusion are here, at least on most tracks - heavy grooves, distorted lead guitar, advanced harmony, etc. But there's something about the writing on this album that transcends most of the "fusion" I've heard lately. I feel I'll be slighting this music if I use that term to describe it. I don't particularly like labels anyway, especially as they relate to the type of music I'm into. Jazz-rock, fusion, prog-this, heavy-that; in my opinion these terms mean less today than they ever have. Having said that, I'll say this - if Improvision isn't bleeding-edge jazz, I don't know what is. Machacek's last album [SIC] (released in 2006) really put him on the map as a powerful new voice in jazz (ok, ok... jazz-fusion) guitar. While his rapid-fire legato and sweep-picking chops are top notch, it's his deep compositions and heady improvising that set him apart from most guitarists in this genre. Machacek is well know for his projects with drummer Terry Bozzio (BPM, Out Trio, Machacek's [SIC] album). On those projects, and on his first album Featuring Ourselves, Machacek's Frank Zappa influence has been front-and-center on most of the results. On Improvision, that's not really the case. The music here has a looser, less dense feel than his previous recordings, and it's heavily shaped by Garrison and Sipe (after all, this isn't an Alex Machacek-only album; it's a Machacek, Sipe, and Garrison album). Sipe has played in some great bands over the years (Aquarium Rescue Unit, Shawn Lane/Jonas Hellborg, Project Z), and a key ingredient to all of them has been improvisation. He brings that skill to this album with great results. Sipe has a knack for breathing more life into whatever musical situation he is in. And Garrison is a monster. He comes from a rich musical background, and it shows (his father Jimmy Garrison played bass for John Coltrane; his godfather is Jack DeJohnette). In addition to his solo projects, Garrison has worked with John McLaughlin, Herbie Hancock, and many others. His bass parts are the driving force behind many of these songs, and his killer solos should convince anyone that he is one of the premier electric bass players in the world today. Improvision's jarring first track is entitled "There's A New Sheriff In Town". An allusion perhaps to Machacek's current status in the guitar community? It has to be. This piece grabs your attention immediately with some metal rhythms and feedback effects. Before you know it, Machacek unleashes an unrelenting barrage of outside lines (often doubled with guitar-synth) while Sipe and Garrison dig into a heavy groove. If you weren't awake before, you are now. Shifting gears radically, "Along Came A Spider" is a slower piece that features a mesmerizing intervallic melody, and some of the best guitar work on the album. Machacek loads his solo here with highly defined legato runs, and Gambale-esque sweeps. The airy, atmospheric "Shona" has another great melody, and one of Garrison's best solos. "Gem 1" and "Gem 2" has the band in a looser, almost jam-band sort of mode. Sipe's drumming really shines on this tune (it's actually one continuous performance split into two tracks). "Gem 1" has a bit of the guitar/drum doubling that Machacek often did with Bozzio, before segueing into "Gem 2" - the funkiest jam on the album. I love Machacek's rhythmic, bluesy phrasing on this track. You don't hear this kind of playing from him very often. Through all of it, Sipe is the one who seems to be driving the music here. After the beautiful, jazz-meets-classical guitar/bass duet "To Whom It May Concern", things get trippy with "Yoga For Cats" parts 1 & 2. Part 2 reminded me of some of the live improv jams Sipe would get into with Shawn Lane and Jonas Hellborg. It's cool to hear Machacek in a similar situation. There are several slower tunes on Improvision, but the only one I would call a ballad is "Very Sad". This is a heavy, and yes, sad piece of music that really lives up to its title. Garrison plays a beautiful solo on this track. In stark contrast, "Matt's Riff" is the real chops showcase of the album. Everyone is burning on this tune, but this is really Garrison's spot to show what he can do. The final track on the album is "Put Me Back To Sleep". This is practically a straight-ahead tune, and Machacek's solo here really shows his depth as an improviser. Using a more traditional jazz tone, he plays some great lines over the changes, including some nice outside stuff. The thing that strikes me about this album is the sheer depth of the writing and playing. And as deep as the writing is harmonically, it's also very tuneful (I can't get the "Shona" or "Along Came A Spider" melodies out of my head). Though Machacek's guitar is the dominant force on Improvision, the album feels like a true collaboration of these three musicians. It's not just a Machacek album with Sipe and Garrison backing him. This is an extremely impressive recording that is bound to turn more than a few heads. I can't recommend it highly enough. © Rich Murray, Modern Guitar Magazine
Tearing out of the gate with quicksilver melody and locomotive rhythm, this progressive fusion disc proclaims the continued vitality of electric and electronic jazz through 11 tunes that unreel in steadily evolving streams. Alex Machacek shows remarkable dexterity and diversity on electric guitar and guitar-synth, weaving soft textures or powering through densely tangled solos. Bassist Matthew Garrison bends and stretches the ample space of these tunes with quiet energy, while Jeff Sipe's tireless drumming establishes potent grooves that invite enthusiastic improvisation. By & © Forrest Dylan Bryant © 1999–2013 JazzTimes, Inc. All rights reserved. http://jazztimes.com/articles/18343-improvision-alex-machacek-jeff-sipe-matthew-garrison
Fortunately, I'm able to obtain pre-release promo material from many sources and having heard this Cd before it's release date is a special treat for me. In short - there hasn't been anything in fusion like this cd in many, many years. The sheer number of great things about this record would make any review far too long to read. Simply put - you have to own this cd if you are a fan of fusion, jazz, rock, improvised rock, jam bands, prog rock or any other highly creative music. The production quality (having been engineered by Scott Kinsey, formerly with Tribal Tech), and post production by Alex Machacek, is absolutely superb. The quality of the compositions allow these elite players complete freedom to expand the boundaries of improvised music in a very accessable way. This is NOT your average power trio. Jeff Sipe on drums comes from a background that includes several jam bands and the famous Hellborg, Lane, & Sipe collaborations. Mathew Garrison on bass (son of Jimmy Garrison, the bass player with John Coltrane), might be described as one of the world's most gifted bass players and should be included in that very small group of what people usually call 'the best there is'. Anyone that heard the John McLaughlin Heart of Things band will attest to his incredible talent. Alex Machacek on guitar is nothing short of spectacular from start to finish. Unlike his own releases, Alex shows himself to be the complete package here, and his playing will blow you away. With the current state of affairs in fusion these days, be prepared for some serious activity to start brewing as a direct result of this Cd. It sets a new standard and takes us light years beyond what we've grown accustomed to in jazz, jazz rock, and fusion. There is simply nothing like this Cd and it's precedent setting music will certainly affect the playing, composing, and future of the fusion genre. "IN THE LATE 60'S AND EARLY 70'S, IT WAS B**CHES BREW AND BIRDS OF FIRE. BUT THIS IS FUSION ***NOW*** - JUST AS IT SHOULD - BE NEARLY 40 YEARS LATER" Rick Calic, Jazz Rock World – from ***** "Possibly the most significant fusion recording in the last decade" September 5, 2007 By & © We No Speak © 1996-2013, Amazon.com, Inc. or its affiliates http://www.amazon.com/Improvision-Alex-Machacek/dp/B000U716EM
24-karat jazz fusion by three legends of the genre. The reviews say it all. The album is
VHR by A.O.O.F.C.
Read an interview about the making of "Improvision" @ http://www.allaboutjazz.com/php/article.php?id=27027#.UloCq1Bwqqg Check out an improvised session for the album @ http://fandalism.com/alexmachacek/GI3 Listen to Alex Machacek's highly acclaimed "24 Tales" album, Jeff Sipe's "Timeless" album, and Matthew Garrison's "Matt Garrison Live" album.
N.B:
Even though the album is nearly all improvised, the original main themes for "Along Came a Spider" and "Very Sad" were composed by Alex Machacek. The other nine tracks can be fully credited to Machacek, Garrison, & Sipe
[
All tracks @ 320 Kbps: File size = 134 Mb
]
TRACKS
1 There's a New Sheriff in Town 6:26
2 Along Came a Spider 4:27
3 Shona 6:59
4 Gem 1 5:21
5 Gem 2 2:45
6 To Whom It May Concern 2:40
7 Yoga For Cats Part 1 2:21
8 Yoga For Cats Part 2 4:48
9 Very Sad 8:13
10 Matt's Riff 4:56
11 Put Me Back to Sleep 5:59
All music composed by Machacek, Garrison, & Sipe, except Tracks 2 & 9 composed by Alex Machacek
MUSICIANS
Alex Machacek - Guitar
Matt Garrison - Bass
Jeff Sipe - Drums