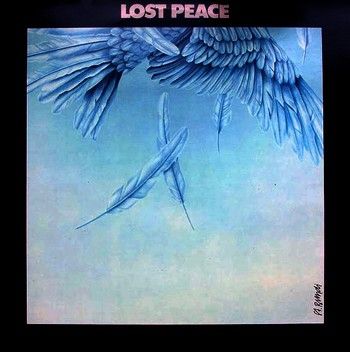 Lost Peace
‎
-
Lost Peace
-
1977
-
Zytglogge
Lost Peace was a very talented Swiss jazz rock band from Bern featuring Marc Hellman, Willy Müller, Peter Lehmann, Martin (Tinu) Heiniger, Markus Küng, and Claudio Bischoff.
Super rare and still underrated monster jazz funk album from Switzerland ! Deep Fender Rhodes solo, raw drumming with many open breaks, loud bass, funky moog & synth, horns. Tracks such as "Fun king" / "City West" / "As Herbschtetlet" / "Papera" would please any serious jazz funk collectors. Super hard to find nowadays, check the long audio and don't miss this Holy Grail ! © http://www.diggersdigest.com/index.php?page=shop&catid=22&numpage=5#
This independently produced set contains some amazing breaks and beats too so please read on! If you are into funky fender rhodes, raw fender bass riffs and seriously tight drumming then this Lp is for you! FUN KING opens with a fat drum break / loop (a must for beatheadz and producers!) before the bugged out basslines, jazzy horns, wah wah, fender rhodes and funky synth take off! Lots of funky breakdowns (great drumming and fender rhodes here) all played with skin-tight precision! CITY WEST is even funkier! More wicked basslines, breakbeat, funk drumming, heavy rhythms and fender rhodes solos etc. The track clocks in at 9 min dead and is a masterpiece! ÄS HERBSCHTETLET is another super-funky toon with more mad basslines, deep keyboard solos, wah wah and jazzy funk rock style horn riffs! Our absolute favourite is the extremely funky fusion groove of PAPERA! Driving bass riffs, drums and heavy horns map out a seriously tight groove that start and end the track but it is the deeply trippy (and long) Eastern scaled middle section of bells, gongs, finger cymbals, shakers, and other, unknown exotic percussion sounds that make this track special! If that is not enough, this movement then changes into a slow building (funky) drum solo before exploding into one of the best percussion breaks we've heard in years! Really wild and delirius jungle sounds a la Eberhard Schoener Bali-Agung! If you like Euro funk / fusion stuff like Second Direction or Placebo but with a twist, YOU WILL LOVE THIS! © 2013 - WorthPoint Corporation http://www.worthpoint.com/worthopedia/lost-peace-swiss-fusion-jazz-funk-132439806
This a really exceptional laid back jazz rock/funk album from the Swiss band, Lost Peace, with tight horn rock instrumentals, and a lot of soul.
HR by A.O.O.F.C.
Check http://www.dailymotion.com/video/x14zzct_lost-peace-fun-king-1977-swiss-jazz-rock-fusion_music and listen to some tracks from this obscure but top-notch Swizz jazz rock band.
Does anybody have any more info about this band?
[
All tracks @ 320 Kbps: File size = 89.7 Mb
]
TRACKS
1 Fun King 5:02
2 City West 9:00
3 Einzeiler 4:48
4 Join In 4:38
5 Äs Herbschtelet 3:47
6 Studweid Ballade 3:02
7 Papera 8:34
All tracks composed by Willy Müller except "Papera" by Marc Hellman
MUSICIANS
Markus Küng - Lead & Rhythm Guitar
Claudio Bischoff - Bass
Willy Müller - Rhodes Electric Piano, Mini-moog Synthesizer, Trombone
Marc Hellman - Drums, Congas, Tuned Gong, Marimba, Claves, Shekere, Maracas, Finger Cymbal, Sleigh Bells
Martin Heiniger - Tenor Saxophone, Clarinet
Peter Lehmann - Trumpet, Flugelhorn, Violin