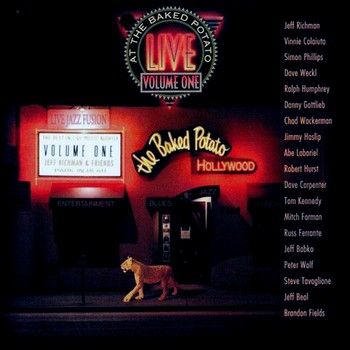 Jeff Richman
&
Friends
-
Live at the Baked Potato,
Vol.1
-
2001
-
Tone Center
Jeff Richman's extensive professional background includes performing on guitar, composing, arranging and recording music in many genres, and teaching in academic and private settings. He has produced 16 solo albums and toured worldwide with notable musicians over a 35-year career. Jeff is a graduate of the Berklee College of Music in Boston. As a student, he studied privately with Pat Metheny, Mick Goodrick and William Levitt and was influenced by talented classmates Mike Stern, Bill Frissel, Al DiMeola and Vinnie Colaiuta to name a few. After graduating, he lived and performed in New York City where he was further influenced by attending live performances of renowned legends Miles Davis, Herbie Hancock, Chick Corea, Charlie Mingus, Ornette Coleman, Elvin Jones, Tony Williams, Charlie Haden, Joe Zawinul, Wayne Shorter, Jaco Pastorius, Bill Evans, Dizzy Gillespie, Keith Jarret, Gil Evans, Chet Baker, McCoy Tyner, Joe Pass, Cannonball Adderley and Jim Hall. These early influences inspired Jeff and helped him to develop his own voice while striving to make his original compositions meaningful, purposeful, and with an honesty that comes from his heart. While in New York City Jeff performed with renowned Puerto Rican Conga player, Ray Barretto and composed four songs and performed guitar solos on Barretto's album "Can You Feel It" in 1978. He later toured in the US with Flora Purim and Airto and played in live venues with several well-known artists such as Tom Harrel, Chico Hamilton, Deodato, Blood Sweat and Tears, Willie Bobo and Gerry Mulligan. In 1979 Jeff moved to Los Angeles and toured with Ronnie Laws and Doc Severnson's band. The LA scene provided further opportunity to play with and record alongside talented artists such as Ernie Watts, Harvey Mason, T Lavitz, John Klemmer, Alfonse Mouzon, Henry Mancini, Mark Isham, Robbie Krieger and M'shell Ndugucello. Jeff wrote and produced hundreds of "library music" cuts in numerous genres which are played regularly on TV shows throughout the world. Jeff has performed on a multitude of television and film projects, the most recent of which was under the direction of award-winning composer Jeff Beal for the film "Appaloosa" with actor Ed Harris. As Producer, Arranger and performing artist under the Tone Center record label, Jeff recorded and released 6 CD projects paying tribute to Santana, Mahavishnu Orchestra, Steely Dan, Miles Davis, Jeff Beck, and John Coltrane. Each CD showcases Jeff and other world class guitarists including Mike Stern, Robben Ford, John Scofield, . . . .Recently in 2009, Jeff performed with Billy Cobham at the "Days of Art" jazz festival in Austria and alongside Yellowjackets members Russell Ferrante, William Kennedy and Jimmy Haslip in Mumbai, India. He also performed and taught in Athens, Greece, and Scandanavia. To date, Jeff has produced and released 16 solo albums. His first was "Himalaya" in 1986. The latest, "Like That" is a collection of new and original compositions and will release in August 2010. "LIKE THAT" features Alex Acuna, Vinnie Colauita, Mitchel Forman, Larry Goldings, Steve Hass, Deron Johnson, William Kennedy, Neils Stubenhaus and Dean Taba. © 2010-2012 JEFF RICHMAN. ALL RIGHTS RESERVED. http://www.jeffrichman.net/bio.php
Guitarist Jeff Richman, drummer Dave Weckl, bassist Jimmy Haslip, and a few more of their friends got together at the Baked Potato in Hollywood, CA, one evening in 1999 and performed an audacious jazz fusion set that resulted in Live At The Baked Potato. This release is totally raw, purely improvised, and is the first of a two-part series that captures the spontaneity of these great musicians, doing what they do best -- jamming! Vinnie Colaiuta on drums, Abraham Laboriel on bass, Steve Tavaglione on soprano saxophone, and Jeff Richman on guitar kick the set into high gear with an 11-minute version of Peter Gabriel's "Mercy Street." Steve Tavaglione wails the melody on soprano sax which segues into an awesome guitar solo from Richman. Laboriel walks all over the track with basslines steeped in rhythms similar to Noel Redding's spectacular playing as a member of Jimi Hendrix's band. Drummer Dave Weckl is on fire on "Splatch" with sparks of electricity flying in all directions from his drum kit but leaves its existing framework in tact. His excellent timing, varied rhythms, and syncopated backbeats add to the excitement of Peter Wolf's keyboards and Richman's guitar and makes this one of the more powerful songs on the CD. Live at the Baked Potato ambitiously captures these exciting musicians creating jazz fusion during the Hollywood club's most exciting era. © Paula Edelstein © 2013 AllMusic, a division of All Media Network, LLC. | All Rights Reserved http://www.allmusic.com/album/release/live-at-the-baked-potato-vol1-mr0000905242
Superb blues, funk and classic fusion from guitarist Jeff Richman who deserves to be much better-known. This is an outstanding album in the fusion genre with some of the most accomplished musicians lending their immeasurable talents. It is easy to see why The Baked Potato has long been a venerable establishment in the Los Angeles jazz/fusion scene. Many great albums have been recorded there. Google it! The album is
VHR by A.O.O.F.C.
There is also a Volume 2 of this series. Try and listen to Jeff Richman with Chatterbox's "Chatterbox" album
[
Tracks @ 320 Kbps: File size = 151 Mb
]
TRACKS / COMPOSERS
1 Mercy Street - Peter Gabriel 11:15
2 Ain't Gonna Wait - Jeff Richman 10:56
3 Monkfish - Jeff Richman & Rich Latham 10:58
4 Seven Stars - Russell Ferrante, Jimmy Haslip, William Kennedy 10:43
5 Splatch - Marcus Miller 11:23
6 Dreamscape - Simon Phillips 9:01
MUSICIANS
Jeff Richman - Guitar on all tracks
Abraham Laboriel - Electric Bass on Tracks 1, 5
Dave Carpenter - Electric Bass on Track 2
Jimmy Haslip - Electric Bass on Track 3
Robert Hurst - Acoustic Bass on Track 4
Tom Kennedy - Electric Bass on Track 6
Mitchel Forman - Keyboards on Track 2
Russell Ferrante - Piano on Track 4
Peter Wolf - Keyboards on Track 5
Jeff Babko - Keyboards on Track 6
Vinnie Colaiuta - Drums on Track 1
Ralph Humphrey - Drums on Track 2
Chad Wackerman - Drums on Track 3
Danny Gottlieb - Drums on Track 4
Dave Weckl - Drums on Track 5
Simon Phillips - Drums on Track 6
Steve Tavaglione - Soprano Sax on Track 1
Brandon Fields - Tenor Sax on Tracks 3, 6