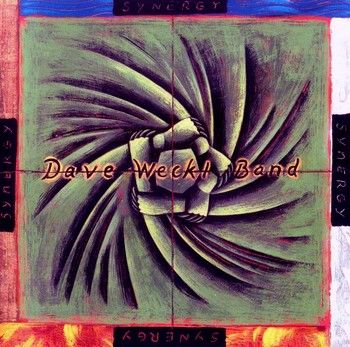 Dave Weckl Band
-
Synergy
-
1999
-
Stretch Records
Introduction: Dave Weckl's fifth CD would have been just another good one in a string of many save one thing: the addition of guitar great Buzz Feiten to his usual outstanding rhythm section of Tommy Kennedy on bass and Jay Oliver on keyboards. Feiten's playing and writing talents lifted this release to a level not quite achieved since, giving the whole set an electric edge you can both hear and feel. This CD was recorded on the heels of an extensive tour, and I can only imagine the on stage excitement and creativity that led to such an outstanding musical set: Audio Quality: Audio quality is outstanding throughout, driven by Weckl's accomplished studio techniques and penchant for perfection. High Life is signature Dave Weckl, with an African-inspired drum groove over a tight rhythm section ending in a ridiculous drum solo. Panda's Dream is one of those Buzz Feiten tunes that makes this CD unique; it features a rock groove and guitar lead that makes this one of my all-time favorite Dave Weckl tunes. Swunk features a kind of half-time driving swing famous among drummers (and made popular by Weather Report) for how fun it is to play; checkout the full-blown straight-time swing under a good sax solo. A Simple Prayer is a Feiten ballad featuring a dreamy acoustic guitar. Cape Fear is an interesting groove with a haunting guitar melody, but nothing prepares you for the killer bass solo that ends the tune. After an opening bass solo, the title cut (Synergy) makes you want to get up and dance, and is also one of my favorites on the CD. Where's My Paradise is a second ballad written by Feiten and Oliver featuring some nice acoustic guitar work. Swamp Thing is another rocker featuring Buzz Feiten with a great horn lead, and quickly became one of my all-time favorite Dave Weckl tunes. If you're keeping count, that's two (2!) tracks off of one CD that made my "all-time favorite" list, and both are either written or co-written by Buzz Feiten featuring solos by the same. The last two cuts are really throw-aways for me: Cultural Concurrence is the obligatory Dave Weckl triggered drum solo, and Tower '99 is a re-work of Tower Of Inspiration off of his first CD (Master Plan). It's a nice groove, but I recommend checking out the original that features a killer horn arrangement: Summary: There are a lot of solid cuts on this CD, comprising almost 70 minutes of music! Excellent liner notes along with some nice band pictures elevate the "features" rating to a 5 for this release. This is one of my two or three favorite Dave Weckl CD's, and I always find myself hoping for the return of Buzz Feiten to his recording band. By & © Stanton, December 07, 2006 © 1998–2013 Audioholics, LLC. All Rights Reserved http://www.audioholics.com/music-reviews/dave-weckl-band-synergy-1999
Drummer Dave Weckl gained such a cultlike following playing with Chick Corea's Elektric and Akoustic bands in the 1980s that he could probably release an album of solo wood-block tapping and have it sell enough copies to make the effort worthwhile. So it's a pleasant surprise that Synergy is a decidedly group effort that thrusts the varied compositional talents and versatility of Weckl and his bandmates to the forefront instead of merely showcasing the leader's drum chops. Not that Weckl has been letting those chops sag; his solo percussion odyssey "Cultural Concurrence" and his ferocious soloing over the Latin groove of the title track are enough to give air drummers everywhere a workout. But what makes Synergy more listenable than some of Weckl's other efforts is the inspired group interplay that finds him and his longtime touring ensemble--saxophonist Brandon Fields, keyboardist Jay Oliver, guitarist Buzz Feiten, and bassist Tommy Kennedy--locking in on grooves that push beyond his normal jazz-fusion terrain. From the West African feel of "High Life" to the Cajun-tinged "Swamp Thing" to the swanky James Brown funk of "Wet Skin," Synergy is an inspired and varied outing. © Ezra Gale [Editorial Reviews, Amazon.com] http://www.amazon.com/Synergy-Dave-Band-Weckl/dp/B00000IXSS
After being dismissed by some as a mere "chops meister," former Chick Corea Elektric Band drummer Dave Weckl purposely sought to reinvent himself as a groove player on his previous solo outing, Rhythm of the Soul, which also marked the debut of his own band. While the group toured, soundcheck jams evolved into tunes, and the resulting music on Synergy provides the most balanced document yet of weckl's drumming and his strongest musical statement. Tracks such as "Panda's Dream," which features some of the fattest backbeats Weckl has ever played, and the New Orleans-inspired "Swamp Thing" are strong on pure groove. But tunes such as the African-influenced "High Life," the salsa/funk-informed "Synergy," and the solo drum/percussion tour de force "Cultural Concurrence" bear all the syncopated complexity of Weckl's original fame. He also displays a subdued, sensitive side with brushes and coloristic cymbals on the ballads "A Simple Prayer" and "Where's My Paradise?" A particularly definitive track is "Tower '99," a rewrite of "Tower of Inspiration" from Weckl's first solo album, Master Plan. It has all the technical mastery of the original but a deeper groove and a lot of soul. On Weckl's four previous solo albums, he and Jay Oliver keyboardist composed just about everything. But on Synergy, the songwriting credits are shared among Weckl, Oliver, guitarist Buzz Feiten (a major asset to this band), saxophonist Brandon Fields, and bassist Tom Kennedy. The result is Weckl's broadest level of self-expression. © Rick Mattingly, JAZZIZ Magazine Copyright © 2000, Milor Entertainment, Inc.
The great St.Louis born drummer, Dave Weckl certainly pulls out all the stops on "Synergy". The album's twelve instrumental tracks were all composed by band members individually or collectively, with Dave Weckl composing or co-composing eight of the tracks. There are many jazz styles on this album. Dave grew up listening to soul, jazz and R&B, and of course played fusion with the legendary Chick Corea for six years. He puts all his musical influences and experience to exceptional use here creating an album that is a joy to listen to. The band interplay is fantastic. The compositions are exceptional. There is a lot of killer sax from Brandon Fields and terrific guitar from the underrated but hugely talented and experienced guitarist, Buzz Feiten. Listen to Jay Oliver's great Hammond and Tom Kennedy's big funky bass. These guys with Dave Weckl create an outstanding album of very creative and tight soul, jazz, fusion and R&B grooves. An album to be savoured and
VHR by A.O.O.F.C.
Listen to the Dave Weckl Band's outstanding "Transition" album. Support real musical creativity. There's too much great talent out there deliberately being ignored by the music media. Dave Weckl is an established artist, but there are other equally talented musicians out there who never even make "the subs bench" because of the commercially driven "X Factor mentality". Please support the lesser known artists.
[
All tracks @ 320 Kbps: File size = 168 Mb
]
TRACKS / COMPOSERS
1. High Life - Weckl, Oliver, Feiten, Kennedy 7:48
2. Panda's Dream – Feiten 5:22
3. Swunk - Weckl, Oliver 4:51
4. A Simple Prayer - Feiten 4:55
5. Cape Fear - Weckl, Oliver, Feiten, Fields 6:56
6. Wet Skin - Weckl, Oliver, Feiten, Fields, Kennedy 6:12
7. Synergy - Weckl, Oliver 7:15
8. Where's My Paradise - Oliver, Feiten 4:54
9. Lucky Seven - Fields 5:57
10. Swamp Thing - Weckl, Oliver, Feiten, Kennedy 5:24
11. Cultural Concurrence – Weckl 3:25
12. Tower '99 - Weckl, Oliver 6:01
MUSICIANS
Buzz Feiten - Electric, Nylon String & Steel String Guitars
Tom Kennedy - Bass
Jay Oliver - Organ, Keyboards, Synthesizer
Brandon Fields - Keyboards, Synthesizer, Soprano, Tenor & Baritone Saxophones
Dave Weckl - Drums, Percussion, Tambourine
BIO
Dave Weckl is one of fusion's most acclaimed drummers, making his name during a six-year-stint with Chick Corea. Weckl was born in St. Louis and grew up listening to soul and jazz; he received his first drum set at age eight and developed his playing by listening to drummers like Buddy Rich, as well as R&B grooves. He majored in jazz at the University of Bridgeport, but left after two years to become involved in the New York jazz scene, also touring Europe with various bands. Weckl joined a fusion group called Nitesprite, where he attracted the attention of drummer Peter Erskine; Erskine helped him get a gig with French Toast, a band also featuring pianist Michel Camilo and bassist Anthony Jackson. From French Toast, Weckl branched out into session work, playing on numerous early-'80s sessions with the likes of Bill Connors (Return to Forever), the Brecker Brothers, Tânia Maria, Paquito D'Rivera, Eliane Elias, and George Benson, as well as pop and soul albums for Diana Ross, Madonna, and Robert Plant. In 1986, Chick Corea saw Weckl performing in New York with guitarist Connors and invited the drummer to join his new Elektric Band. Weckl spent a total of seven years with Corea, performing on numerous albums and also appearing with Corea's Akoustic Band; his skills received considerable esteem, and he augmented his work with Corea by continuing his session work and appearing often with the GRP All-Star Big Band. Weckl also released a series of instructional videos, and in 1990 he led his first solo date, with Master Plan for GRP. Heads Up followed in 1992, as well as Hard-Wired in 1994. Upon leaving Corea, Weckl's primary focus was recording and touring with guitarist Mike Stern; he also continued his work as a sideman. In 1998, Weckl led the R&B-oriented date Rhythm of the Soul, a return to his other boyhood musical love, and the like-minded Synergy followed in 1999. The Dave Weckl Band had really gelled by the time of Transition's 2000 release, but Weckl didn't leave teaching behind, either, and released another instructional recording, The Zone, in 2001. After working extensively with a quartet for the last few years, he debuted their efforts with 2002's improv-heavy Perpetual Motion. Multiplicity followed three years later. © Steve Huey © 2013 AllMusic, a division of All Media Network, LLC. | All Rights Reserved http://www.allmusic.com/artist/dave-weckl-mn0000939549/biography