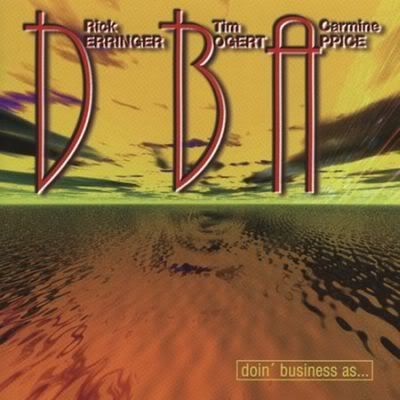 Derringer / Bogert / Appice - Doin' Business As - 2001 - Steamhammer/SPV
This must have rock album from three legends will blow you away!
Rick Derringer, Tim Bogert, and Carmine Appice have each had an incredibly enduring influence on musicians of all ages across the globe. For the first time ever, their 2001 release Doing Business As will be made available domestically! Having worked with some of the most legendary acts of all time (Appice with Vanilla Fudge & Rod Stewart; Derringer with Johnny Winter & production for Kiss, Meat Loaf & Cyndi Lauper; and Bogert with Vanilla Fudge & Cactus) the album absolutely overflows with class and virtuosity. With all three players contributing vocals, Doing Business As stands apart as a modern sounding, broad-ranged affair that recalls the classics but looks to the future. © 1996-2007, Amazon.com
TRACKS
1: Blood from a Stone
2: Sky Is Falling
3: Grey Day
4: Everybody's Comin'
5: Bye Bye Baby
6: Telling Me Lies
7: Dawn of Love
8: Turn on the Light
9: Boys Night Out
10: Alone Now
11: Rapsody in Red
PERSONNEL
Rick Derringer (vocals, guitar).
Tim Bogert (vocals, bass guitar).
Carmine Appice (vocals, drums).
Kerry Keeling (keyboards, background vocals).