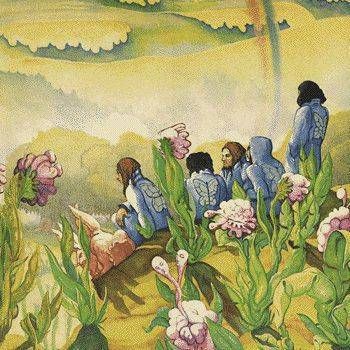 Harmonium - Si on avait besoin d'une cinquième saison - 1975 - PolyGram
An obscure classic of Canadian 1970's Prog Rock.The album is a beautiful blend of folk and symphonic progressive sounds.
TRACKS
Side 1
1."Vert" (5:35) - Le Printemps Et L'arrivée Des Couleurs
2."Dixie (Une Toune Qui Me Revient)" (3:26) - L'été Et L'arrivée De La Chaleur
3."Depuis L'automne" (10:28) - L'automne Et Le Départ De Bien Des Choses
Side 2
4."En Pleine Face" (4:50) - L'hiver Et Le Départ De Bien Des Gens
5."Histoires Sans Paroles" (17:12) - La Cinquième Saison
a."L'isolement" (2:47)
b."L'appel" (2:53)
c."La Rencontre" (1:40)
d."L'union" (3:07)
e."Le Grand Bal" (6:45)
MUSICIANS (On This Album)
- Pierre Daigneault / flute, piccolo, Soprano saxophone, clarinet
- Serge Fiori / guitar, flute, zither harp, bass drum, vocals
- Serge Locat / piano, mellotron, synthesizer
- Michel Normandeau / guitar, accordion, vocals
- Louis Valois / bass guitar, electric piano, vocals
- Judy Richard / vocalisations (5)
GROUP MEMBERS
Serge Fiori
Louis Valois
Serge Locat
Robert Stanley
Denis Farmer
Libert Subirana
Monique Fauteux
EX - MEMBERS
Michel Normandeau
Pierre Daigneault
Jeff Fisher
BIO (Wikipedia)
Harmonium was one of the most influential rock bands from Quebec. Lead vocalist and guitarist Serge Fiori met Michel Normandeau (vocals and guitar) in a theatre music meeting. Later on in 1973 they met bassist Louis Valois and became Harmonium. In November of 1973 the group performed their first air play on CHOM-FM. They played 3 tracks: "Pour un instant", "Un musicien parmi tant d'autres", and "Un refrain parmi tant d'autres". The first 2 songs were demos at the time and were later recorded professionally to be put on their first album, Harmonium. The last song was a sequel to "Un musicien parmi tant d'autres", but never made the album cut, staying as a b-side. Apart from the album, one single was recorded at the time: "Pour un instant", featuring 2 tracks (one on each side), the title song and "100,000 Raisons", only released on the CD version of the album almost 20 years later.After many little shows and a small tour played all over Quebec, they were up for the second album. The album, sometimes known as Les Cinq Saisons, was actually named Si on avait besoin d'une cinquième saison. There were five songs on the album, one representing each season and the last song being the "new" season. For this album the band had three new members: Pierre Daigneault, playing the flutes, sax, and clarinets, Serge Locat, handling the piano and synths, and Judy Richards, who sings the melody of the fifth season in "Histoires sans Paroles".The third disk, L'Heptade, is about the seven states of consciousness of a person (during a day, or during a life). The first and the last song are named "Comme un fou" and "Comme un sage", indicating a progression towards wisdom.
REVIEWS
The Fifth Season
While Montreal was sleeping Spring slid into her bed slowly, thinking that large events always take place at night.Only upon awaking did the sleeping city realise that someone was dancing at her feet. To show that she could still stand on her own, Montreal started imitating these fascinating dance steps. Spring led the dance towards a mirror where Montreal saw her own reflection and was dismayed. Sleep had scarred her face. She also realised that she had slept in borrowed, tattered clothing . Hers had probably been burned. She decided to frolic in the nude for the rest of the morning. The few people who still cared for her watched in slient consternation.
While Montreal danced, she brought with her a great fare. She was reminded that it was her forefathers' birthday. She invited everyone into her ancestral home. She was particularly charming on this evening, full of warmth and caring. Everyone fought to be near her warmth. Montreal was inebriated and men fought over her.She was so pleased at the attention that she danced for them while Summer watched and cried in silence.
While Montreal celebrated, Autumn crept in through the back door and turned out all the lights.Strangely diguised people, donning bizarre masks took advantage of the situation to rape Montreal while her friends were unaware, lost in their own drunken stupors. Her dress was torn from her body as she was violated. After the ordeal, she was dressed up in old rags and her face was scarred using a broken bottle. Unable to contain herself, she screamed in silence.
She struggled to lift herself up but her battered body betrayed her will.Not fully understanding what had happened to her, she started hallucinating and drifted into a coma.
While Montreal lay in a catatonic state, Winter took hold of her. Lost in her coma she reached a state resembling madness and freely and unabashedly recreated her world.Lost in delerium, she spoke of a Fifth Season.It was wonderful.In between sighs of satisfaction, she wished everyone this same fate, realising that a person who has reached madness can never be harmed again.
While Montreal was sleeping, Spring slid into her bed....
- Serge Fiori, February 1975-(translated from French by the reviewer)
Si On Avait Besoin D'une Cinquieme Saison , 'If a fifth season were necessary', may be the single greatest progressive rock record ever to come from Quebec. By 1975 Harmonium had already established themselves in Quebec as THE premiere musical act. Their self-titled debut disc had already produced political and cultural anthems which are still held near and dear to the Quebecois heart 30 years later. It would have been easy for Serge Fiori and Co. to remain in this vein and assure themselves continued success. But these were the 1970's and rock was about exploration, change, and improvement.
Broken down into 5 tracks, representing the 4 seasons and the imagined, utopian, fifth season, this record marks a departure for this band from the purely folk influenced music of their debut , and into the realms of progressive rock. Bands like Genesis, Gentle Giant, and Pink Floyd had all been making headway with the Quebecois youth and Harmonium decided to broaden their sound and incorporate many of the instruments they heard from these British bands. Mellotrons, mandolins, flutes,zither harps,accordeons, dulcimers, and electric pianos were added to the mix ; creating a lush pastoral sound which became the benchmark by which all future Quebecois progressive outfits would be measured.
VERT: Spring and the arrival of colours.
Vocal harmonizing and ethereal flutes dominate this track which overflows with life and hope, brought on the by the arrival of spring. Like spring, the track ends a little sooner than expected and gives way to summer.
DIXIE: The arrival of the summer heat. Short and sweet , with a southern touch. Whimsical number which has a hoedown feel to it. Like summer it seems to end almost as quickly as it begins.
DEPUIS L'AUTOMNE: The arrival of autumn and the departure of many things.
Long , melancholic track which dwells on the permanence of change. As the days shorten and leaves dry up and fly away, we're often left to ponder about opportunities missed. As we bundle up and huddle for warmth in our homes, we seem to disconnect from each other and enter moments of quiet introspection.
EN PLEINE FACE: Winter and the departure of many people.
A haunting melody which has a cold detached feel to it. Fiori's voice sounds like a solitary cry in the face of a raging, freezing wind. The cold bleakness of winter has many people seeking a brief refuge of warmer climate leaving those left behind to feel even more isolated .
HISTOIRES SANS PAROLES: The fifth season
Spanning nearly the entire length of all the other tracks combined, this song tells the tale of the idealistic fifth season. Words are not necessary as all beings communicate through a general well-being. This track may be the one which caught the attention of progressive rock enthusiasts around the world and made the Harmonium name part of the prog vernacular. Filled with pastoral melodies, luxuriant arrangements, and ethereal musical passages; this track single-handedly defines the Quebecois progressive movement of the 1970's, and closes a superlative musical journey.
Harmonium were not done yet. This disc was merely a precursor to their magnum opus, the double disc L'Heptade which pushed the boundaries even further. The argument as to which of these records is the better has been debated on many progressive rock forums. In this reviewer's opinion, both are essential for anyone exploring the 1970's Quebecois music scene. © Yves Dube © Sea of Tranquility www.seaoftranquility.org/sections.php?op=viewarticle&artid=97
As it turns out, the Quebecois progressive rock scene of the 70s managed to turn out a pretty impressive array of great albums, albeit ones that are known only to the more intrepid collectors. Unfortunately, many of these great works have either yet to see CD reissue, or have gone long out of print, making Canada one of the more underappreciated corners of world as far as good prog is concerned. Thankfully, Harmonium, along with a few others such as Et Cetera and Opus 5, have had their CD reissues remain relatively accessible to those not willing to catch a bus to Montreal in order to schlep through the vinyl bins there. As one of the scene's most important bands, the group is really an ideal place to start exploring the country's surprisingly significant contributions. And as arguably their finest album, Si on Avait Besoin D'une Cinquieme Saison makes for a great entry point.
The album presents itself as stunningly beautiful amalgamation of folk and symphonic progressive. Not knowing a whole lot about French folk music, I would be hard pressed to draw a direct comparison, but suffice it to say that this is what I would imagine it to sound like. The emphasis is on exquisite, lyrical melodies, layered acoustic guitars, delicate flute and pleasant, unassuming vocals. The symphonic progressive element is not to be underestimated, and indeed the sweeping "orchestral" feel, due primarily to omnipresent mellotron and shimmering piano, is a dominant element. The overtly French lyricism makes comparisons to the France's symphonic scene tempting, but those bands were always much darker and more dramatic. Rather, Harmonium seems to adopt that sort of "pastoral" sense common to many English and Italian bands. Celeste's self titled album jumps to mind in particular. Oh, and one thing. No drums. Ever. Initially this threw me off a bit, and I found that the almost complete lack of anything that "rocked", the rather effeminate album cover, and the flowery, fluffy melodicism indicated an album that lacked any kind of edge.
So yeah, this one took some time to grow on me. On early listens, I saw it as infuriatingly stereotypical and dainty. I was wrong of course. Part of this has to do with the fact that the magnificent centerpiece "Histoires Sans Paroles" is saved for last. Talk about a gorgeous piece of music. Primarily instrumental, sublime acoustic guitar parts lead the way, as flute and piano overlay the structure will beautiful, interwoven textures and melodies. Towering spires of mellotron coat the entire affair, which will unfailingly drive symphonic progressive devotees to fits of ecstasy. Exquisite. The first half of the album is comparatively less exhilarating, but for the most part still excellent. Only the rather banal, cheesy jaunt of "Dixie" sticks out as a low point really. Once you get into the band's style the entire album works very well, and given its relative availability, I'd say this makes a nice starter to begin exploring the rich Quebecois tradition. © Greg Northrup [January 2002]
© 2002, The Giant Progweed www.progweed.net/reviews/h/h.html
Released a year after Harmonium's debut album, Si On Avait Besoin d'une Cinquième Saison (If We Needed a Fifth Season) marked an impressive departure from the guitar trio folk-pop the band first played in cabarets. The first difference is the addition of two new members, reedist/flutist Pierre Daigneault and keyboardist Serge Locat (still no drummer). Second, the album is structured on a concept revolving around seasons, the first four pieces representing each one of them. Third, the fifth piece (or season) is a 17-minute epic suite. This is not folk-rock anymore, but a very personal form of progressive rock rooted in folk (the closest comparison would be early Strawbs). Special care has been put into the arrangements; the song "Dixie," a spirited summer tune, features dozens of instruments coming in and out, topped by Locat's grand piano solo (and the only apparition of percussion on the whole album, a hi-hat hit and a bass drum kick). Songs have gained in length and complexity, the use of Ondes-Martenot waves (courtesy of prog rock band Etcetera's Marie Bernard), mellotron, piano, and flute add another dimension to band's sound and point toward what L'Heptade would be. At the same time, acoustic guitars still provide the backbone of the songs but they are not easy-to-learn campfire tunes anymore. Vocalist Judy Richard guests on the beautiful "Histoires Sans Paroles" ("Stories Without Words"), one of Québec's finest progressive rock moments, once again without a single percussion sound. Between the folk simplicity of Harmonium and the symphonic grandeur of L'Heptade, Si On Avait Besoin d'une Cinquième Saison gave the band its unique voice. This remains one of the best transitional albums ever recorded and an essential item in Québec's music history. © 1996-2007, Amazon.com, Inc. or its affiliates
This Quebec-based Progressive rock band, who sang in French, has a very apt name in HARMONIUM. The core was a folk trio formed by guitarists Serge FIORI and Michel NORMANDEAU, and bassist Louis VALOIS. Their career was short (five years) and they released three studio albums in the mid-Seventies and a posthumous live album. They started off as a jazzy and typically French folk trio but began to delve into more progressive material on their brilliant second album, "Si on avait besoin d'une cinquième saison" ("If We Needed a Fifth Season"). They are regarded as one of the finest exponents (along with POLLEN and MANEIGE) of the "Golden Era of Quebec Progressive Music" Scene. © www.progarchives.com/artist.asp?id=619