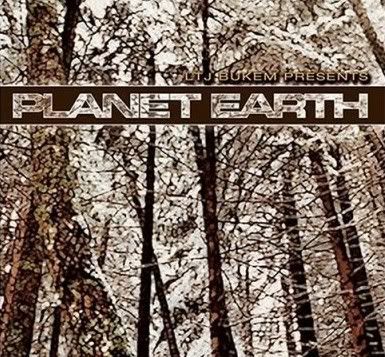 LTJ Bukem - Planet Earth - 2005 - Digital Sounds (also released with a bonus DVD)
Planet Earth takes some of the best mixes by a variety of DJs and MCs and spins them together in one fantastic-sounding CD. LTJ Bukem is well known throughout the world for his unique ability to create a fusion of many types of music with classic drum 'n' bass. Often called the godfather of modern drum 'n' bass, LTJ Bukem has made a career in combining hip hop, soul, acid jazz and tired dance music into dance beats that call attention to themselves not only for their energy, but also for their unique sounds. Over the years, LTJ Bukem has produced a variety of albums that have compiled some of the best beats and ethereal backgrounds; these albums are known as the Earth series. This issue of Planet Earth presents a compilation of all new remixes taken from the Earth series, remixed not only for the stereo CD version, but also for an excruciatingly well-realized 6.1-channel DTS surround mix. These are not simply old tracks that have been remixed to new sound specifications; most of the remixes are the work of other drum 'n' bass stalwarts such as Phluff, Dr. Jazz's Universal Remedy and Makoto, among others.
Makoto's "You're Divine" presents some of the funkier side of jazz, while "Unconditional Love" presents more of a stylized ambience, less dance music and more shake your body until your brain starts pouring out your ears music. You could really either just lie back in the sun and soak it all in or you could strip down and rub sweat with the other dancing fools all around you. Your choice, but either one is appropriate. In "The Set-Up," K-Scope really throws down the heavy bass and presents its track as more of a brooding dance mix than any sort of jazzy fusion, though there are elements of organs and electric pianos that flutter around in the background.
"Love Is" features a classic-sounding jazz song, sung remarkably by Dr. Jazz's Universal Remedy, and simply made uptempo with a deeper bass line and a tinkling cymbal that never stops. This perhaps exemplifies the most complete cross between a dance beat and a classical jazz tune with accompanying vocals. The scatting that occurs in the track sounds absolutely marvelous on the DVD. Trumpets and saxophones help make the experience that of Tito Puente on acid. PHD and the Funky Technicians get truly funky with their offering of "Above and Beyond," a relentlessly driving track that keeps the percussion at the forefront and makes your forearms tired just listening.
While this is a good compilation in terms of the actual music, it is a magnificent one in terms of sheer artistic and technical artistry. It only takes one listen to hear the fullness of each track and the incredibly complex-made-simple arrangements. There is so much going on in each track that it makes one appreciate the mixes that much more. Nothing drowns anything else out or tramples it unnecessarily. Not only do all of these mixers know how to create a distinctive and addictive sound, they also understand the intricate technical details involved in the ability of modern technology to create a recording that can simulate a live performance. It also calls worthy attention to LTJ Bukem's ability to mix and to choose others who are masters in their own right. If you don't have any of the previous Earth albums, try out this two-disc CD/DVD-A version of Planet Earth and keep it spinning.
Tracklisting:
01 - Makoto - Extensions Of Life
02 - K-Scope - Black Widow
03 - Makoto - You're Divine
04 - LTJ Bukem - Unconditional Love (Quintet Plays Reconditioned Love Remix)
05 - K-Scope - The Setup
06 - Phluff - Trailin'
07 - Words 2 B Heard Collective - Stranded
08 - Doctor Jazz's Universal Remedy - Love Is
09 - PhD & Funky Technicians - Above & Beyond
10 - K-Scope - Outer Mind
11 - LTJ Bukem - Suspended Space
BIO
Arguably the prime innovator in the development of jungle from its early status as an offshoot of hardcore techno into the respected, stylistic genre it became by the end of the 1990s, L.T.J Bukem gained fame as an auteur in all fields of the drum'n'bass movement: as a top-flight breakbeat DJ, owner and label-head of the Good Looking/Looking Good stable of labels and, of course, for his recordings -- inspired by the lush strings and natural ambience of '70s jazz-fusion masters like Lonnie Liston Smith and Chick Corea as well as elegiac Chicago house and moody Detroit techno. Allied with the early-'90s rave and hardcore scene, Bukem began working on production near the end of the 1980s; though his light, airy sound made little sense to his contemporaries, Bukem's style was emulated much more as the jungle scene gained momentum during the mid-'90s. While such producers as Roni Size and Goldie gained the limelight for their solo work, Bukem purposely downplayed his own artistic career in favor of mix albums and label-spanning retrospectives which highlighted dozens of artists from his labels.
Born in London in 1967, Danny Williamson was adopted and raised in Watford by strict Baptist parents, earning his nickname from the TV series Hawaii Five-O ("book 'em, Danno"). He took trumpet lessons as a child, played piano and drums as well in various school bands and began listening to a wide range of music, including jazz, fusion and soul and fusion plus hip-hop and electro. After being expelled from school at the age of 16, Bukem made the natural move to DJ status later in the '80s; inspired by rare-groove DJs like Tim Westwood and Gilles Peterson, Bukem and several friends set up the Sunshine sound system and played out the latest hip-hop and electro tracks at DJ battles around his Luton base.
When the acid-house explosion hit Britain near the turn of the decade, Bukem gradually stopped going to sound-system battles and began attending the ever-growing raves dotting England's countryside. He began mixing at them as well, and produced his first track "Logical Progression" in 1990. Bukem soon grew frustrated with a lack of control for his own recordings, however, and in 1991 decided to form his own label, Good Looking Records. Bukem's production style was a continuing anachronism on the rave/breakbeat scene; early Good Looking tracks like "Demons Theme," "Atlantis" and "Music" provided a soulful, melodic alternative to the prevailing hardcore tracks then in vogue.
By 1994, L.T.J Bukem had formed his second label (Looking Good Records) and begun the formation of an artist collective -- Peshay, Aquarius (aka Photek), PFM, ILS & Solo, Blame, Nookie, Seba & Lo-Tec, Tayla, Funky Technicians -- similarly inclined towards melodicism and epic expanses of sound. In October of that same year, he began the club-night Speed at the Mars Bar in order to spread the Good Looking/Looking Good approach to sound. With Bukem and jungle pioneer Fabio spinning breakbeat records while MC Conrad added verbal gymnastics over the top, it soon became one of the most popular clubs in London. Appropriately, Bukem's first full-length was a mix album, Mixmag Live!, Vol. 3, which confirmed his status as one of the top breakbeat DJs in the drum'n'bass scene.
The jungle phenomenon had begun to crest as a commercial force in 1994, and the appearance of Goldie's Timeless one year later signaled the dawn of widespread critical respect for drum'n'bass. Though Bukem signed a major deal as well (through London), he debuted in true label-head fashion, releasing the Good Looking/Looking Good compilation Logical Progression instead of a proper solo LP. Bukem did contribute several productions (and mixed tracks for the second disc of the set), but the album definitely portrayed an artist committed to the jungle community more than his own career.
After a subsequent DJ tour of America (his first), Bukem showcased a new direction in late 1996 with Earth, Vol. 1. Another compilation (this time spanning his catch-all subsidiary Earth Records), it concentrated on midtempo tracks inspired by hip-hop, soul jazz and funk -- again featuring very few tracks actually by Bukem. The sequel to Logical Progression continued the same share-the-wealth strategy -- it was helmed and mixed by Good Looking right-hand man Blame. Besides inaugurating yet another mix-album series (Progression Sessions) in 1998, Bukem released several additional volumes in both the Logical Progression and Earth series. Journey Inwards, his first full-fledged solo album, followed in the spring of 2000. Producer 01 was issued a year later. Good Looking's release schedule didn't wane through 2005; Bukem remained as active as ever. © John Bush, All Music Guide