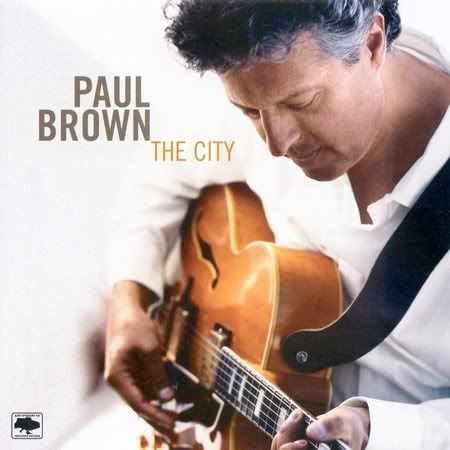 Paul Brown - The City - 2005 - GRP Records
Many people find smooth jazz bland and boring.However this recording is an exception.Give it a listen.An above average contemporary jazz recording from the great jazz guitarist, Paul Brown.Also check out Michael Franks,& The Yellowjackets.
TRACKS
1. Cosmic Monkey
2. Hello Again
3. Side Steppin'
4. The City
5. Las Vegas
6. Old Friends
7. Winelight
8. Jumpin' Uptown
9. Food For The Moon
10. Real Mutha For Ya
11. The City
PERSONNEL
Paul Brown Guitar Jeffrey Osborne (1) Vocal Darrell Smith (1) Arranger, Drums, Keyboards D. C. (1-5, 9, 11) Programming Tommy Kay (2) Guitar Herman Jackson (2, 4, 10, 11) Keyboards Roberto Vally (2-5, 7, 9-11) Bass Allon Sams (3) Keyboards, Drums Wendy Moten (3) Background Vocals Gene Cannon (3) Flute Mic Smith (3) Flugelhorn Boney James (4, 6, 11) Tenor Saxophone Dave Hooper (4, 10, 11) Drums Ronny Gutierrez (4, 10, 11) Percussion Chuck Loeb (5) Keyboards, Drums Michael Paulo (5) Saxophone Gerald McCauley (6) Keyboards, Drums Joe Wolfe (6) Keyboards, Programming Jeff Carruthers (7, 8) Guitar, Keyboards, Drum Programming Jerry Hey (10) Trumpet, Horn Arranger Gary Grant (10) Trumpet Steve Holtman (10) Trombone Dan Higgins (10) Alto Saxophone, Flute
REVIEWS
Before GRP Records released guitarist-composer Paul Brown's debut album Up Front, his highly successful career as a producer-engineer had earned him the industry honorarium "Babyface of Smooth Jazz." After universal critical acclaim and months on Billboard and R&R's Contemporary Jazz charts, Up Front made Brown a star.On July 12, 2005 Brown is guaranteed to capitalize on Up Front's smooth jazz breakthrough with his sophomore recording, The City. Co-produced with multi-instrumentalist/digital editor D.C. and featuring some of the best musicians—Boney James, Chuck Loeb, Jerry Hey, Michael Paulo, Jeff Carruthers, Roberto Vally, Herman Jackson, Dave Hooper, Dan Higgins—on today's scene, The City also showcases seven original tunes co-written by the guitarist.The City opens up in with the funky and sensuous "Cosmic Monkey" featuring Jeffrey Osbourne's slinky overdubbed harmonies. "Hello Again" is Wes Montgomery-breezy soul samba. Next up is "Side Steppin'"s high-spirited blast of '80s-era disco jazz. "The City"'s dreamy blend of Boney James' soulful tenor saxophone, shivery keyboards, boogaloo congas, bluesy guitar and cognac-smooth jazz vocal follows."Las Vegas" is an exuberant congress of dancing guitar licks, Michael Paulo's throaty sax and a bouncing hip-hop swing beat. "Old Friends" is a quiet fire ballad caressed by Brown and James' tender interplay. "Winelight"'s blend of Brown's Grover Washington, Jr.-channeling solos and tasty club beats is complemented by the silky-smooth party starter "Jumpin' Uptown." "Food For the Moon"'s cool 'n funky hip-hop jazz groove flows into a faithful/playful voice box-juiced version of Johnny "Guitar" Watson's "Reel Mutha For Ya." Fittingly, the album closes with the sublime Brown/James chillout duet "The City (Instrumental)."The City proves beyond a doubt that Paul Brown is one of the most exciting and important guitarists in contemporary jazz. © www.vervemusicgroup.com/product.aspx?pid=11298&ob=bf&src=lb
On The City, his second solo project, Paul Brown has taken a different path. Instead of the high gloss atmospherics that have been his trademark as a producer or the mellower grooves of his debut CD, he has opted for a live sound and upbeat approach. High-tech embellishments are noticeably absent. The result is a looser, warmer sound and an abundance of catchy melodies. What we have here is either a Paul Brown CD that doesn't have the Paul Brown sound or a glimpse at the artist and producer expanding the boundaries and stepping out of the box. After Upfront was released, he started doing live gigs and noticed that the fun, upbeat songs were the real crowd pleasers. That's the direction he took with this one.
There is a lot of great music on this CD but the title track is the project's defining moment, the song that makes it a must-buy. "The City," originally recorded by Mark Almond in 1970, was an 11-minute song from an album that blended progressive rock with jazzy grooves. Produced by Tommy LiPuma, it was arguably the precursor of the jazz-pop hybrid sound that became popular in the mid- to late-70s, nurtured mostly by LiPuma during Warner Brothers' progressive era. This new version stays remarkably true to the vibe of the original. It's shorter, tighter and a little bit faster, but Brown's vocal has the same tone and attitude. Boney James' bluesy sax and the loose, fluid guitar lines from Brown recall the atmosphere of late-night freeform radio back in the day. This song was a benchmark for a lot of future contemporary jazz fans and Brown has made it an essential for another era.
"Cosmic Monkey," the current radio hit, is one of those songs that is so different and alluring you sit in the car and wait for it to be back-announced. It's a trance-y, slow-burner featuring a Golub-ish guitar lead over a haunting and instantly hummable vocal chant. "Hello Again" is a gentle Bossa Nova reminiscent of mid-70s Benson and Montgomery. The CD really kicks in with the third track, a breezy, spirited romp with some Benson/(Norman) Brown style scatting. "Las Vegas" was a collaboration with Chuck Loeb, originally written for a series of live gigs including a New Year's Eve party. "Smooth Jazz fans like to dance," Brown said, and he gave them a song with some bounce and strut. © Shannon West www.smoothviews.com
We had barely come to a full appreciation of Up Front, Paul Brown's debut release, when the top producer turned front man endowed upon us his follow up project. This fabulous sophomore effort picked up where the preceding album left off and raised the bar even higher. We show cased both albums; Up Front in February and then The City in October, and consequently this pair of projects contributed to Paul Brown being our #5 most played artist for the entire year. Meanwhile, while commercial radio was playing the first single from The City, we panned the album and discovered pure gold!! Tracks such as Side Steppin', Hello Again, and the title track resulted in The City being our #11 album for the year!! © http://jazzlynx.net/