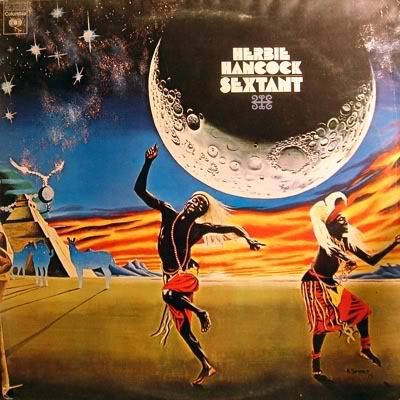 Herbie Hancock - Sextant - 1972 - Columbia
This album is one of the best progressive jazz rock recordings you will ever hear.Way ahead of it's time, it is a fabulous mix of jazz, funk and rock.Hancock pushed the synthesizer to the limit on this recording, and the three brilliantly original tracks demonstrate just how good a musician Hancock is.Hancock stated there was nowhere else for the line up to go after this album, and listening to Sextant, he was probably right. Hard to better an album as good as this.
TRACKS:
1. Rain Dance — 9:16
2. Hidden Shadows — 10:11
3. Hornets — 19:35
CREDITS
Herbie Hancock, piano, Fender Rhodes, Hohner D-6 clavinet, mellotron
Bennie Maupin, soprano sax, bass clarinet, piccolo, afuche, hum-a-zoo
Dr. Eddie Henderson, trumpet, flugelhorn
Julian Priester, bass trombone, tenor trombone, alto trombone, cowbell
Buster Williams, electric bass, acoustic bass
Billy Hart, drums
Dr. Patrick Gleeson, ARP 2600 and soloist
Buck Clarke, percussion
REVIEWS
This final offering from Herbie Hancock's Mwandishi band finds them pushing like Samson, ready to bring down the columns of jazz and rock to usher in a new era. Hancock obviously had learned much from his work over the years with Miles Davis, and much like Davis' work during his electric period, the music presented here are great abstract paintings, taking full advantage of the keyboard technology offered at the time.
Right from the start, "Rain Dances" can't help but grab your attention, with sequencer bubbles percolating away against ascending, metallic synth lines within a vast echo. Listening to this, you feel as if you've stumbled upon a mad professor's chemistry lab somewhere on an abandoned space station. As the piece progresses, Hancock provides chilly Fender Rhodes that bounces playfully against the more earthy strains of Williams' acoustic bass, until the legions of synths and sequencers rise up once and for all to drive the piece home. "Hidden Shadows" is probably the album's highlight for progressive fans, and for me, simply one of the greatest fusion tracks of all time. It is characterized by a loppy, infectious, funky 19/8 beat; brass lines tugging against the groove in a sighing, off-key manner; and a scampering, gleefully psychotic piano solo. Also, if you can imagine what a jaundiced mellotron calling out sickly on its deathbed sounds like, well it has that, too. Seriously, I've never heard the mellotron sound quite like it does here, and Hancock successfully coaxes a new flavor out of the instrument. Though each averaging ten minutes in length, both "Rain Dances" and "Hidden Shadows" seem to fly by each time I play them.
Out of the three, the side-long closer "Hornets" is the most obvious adherent to Davis' work. The rhythm is governed by a sparse line from bassist Williams, hi-hat-emphasized rock beat from Hart, and sharp Fender Rhodes punctuations. The foreground is driven at the start of the piece mainly by Henderson's trumpet flourishes and in its latter half by all sorts of keyboard overload from Hancock, including processed Rhodes and clavinet. That this pretty much fell by the wayside upon its initial release should surprise no one. Thankfully, time seems to have caught up with Sextant and nowadays it sees its artistic (and hopefully commercial) due. Back in 1973, however, Hancockwas feelin' the financial hurt and knew he would have to find something new. His answer was to bring this particular chapter to a close, retain Bennie Maupin, and form a new band that would integrate Sly Stone's brand of funk with jazz. The resulting product, Headhunters, would become a jazz landmark. As it stands, though, I dare say that this one is even more the jewel of the crown for progressive fans. review © Joe McGlinchey — 5-18-04 © ground and sky 1999-2007
In 1972, Herbie Hancock moved to his third recording label, switching from Warner to Columbia. He brought his band along with him, as Sextant was recorded by most of the same individuals who appeared on Mwandishi and Crossings. Sextant finds Hancock somewhere between the wild experimentation of Crossings and the jazz-funk of Headhunters. It is a tour-de-force of electric keyboard sounds and in this respect I think it stands head and shoulders above all its contemporaries that I've heard. Weather Report — the only other fusion band that emphasized electric keyboards to this extent — was nowhere near this level of sophistication on any of their first three albums, despite Joe Zawinul's reputation for being a pioneer of the devices.
Hancock worked with Miles Davis on his controversial 1972 ode to funk On the Corner, and Sextant — especially the 20-minute "Hornets" — comes off as being inspired by that project. As usual, whereas Davis could be harsh and abrasive, Hancock uses his timbres and rhythms to dazzle. Like large portions of On the Corner, "Hornets" is a sonic fiesta undercut by funky bass lines and insistent hi-hat patterns. Hancock knocks off some riffs on the electric piano over the rhythm section, but the track's real depth is provided by the cornucopia of sounds generated by the layers of other electric keyboards; this had to be one of the most futuristic-sounding albums ever made when it came out. Throughout much of the first half of the track either Eddie Henderson or Bennie Maupin can be heard soloing, although it is a lost, desperate kind of soloing that is artfully placed in the far corners of the mix, giving the familiar tones of the trumpet and sax the character of being in imminent danger of getting left behind wherever this ship is going. And indeed they do get left behind; they are absent on the remainder of the track and the keyboards completely take over.
The album's most original cut has to be the opener, "Rain Dance," in which synthesizers that sound like raindrops echoing through a dank chamber form a loose beat that is taken over by a repetitive, mechanical riff introduced later in the song. The synthesizer droplets and an array of other artificial gurgles and squonks play all over the vamp for the conclusion of the piece. Stylistically, this sounds to me like a precursor to ambient dub and some varieties of the drum & bass/IDM that I've heard. Awesome. "Hidden Shadows" launches a slow-motion funk riff and runs it for ten minutes while stoned horn charts and all manners of keyboard sounds contribute. It's funk on acid.
With Sextant, Hancock finished his Mwandishi period as strongly as he started it. In my opinion, Mwandishi, Crossings and Sextant amount to a very strong trio of electric jazz albums and represent the pinnacle of Hancock's electric phase. review © Matt P. — 6-21-05 © ground and sky 1999-2007