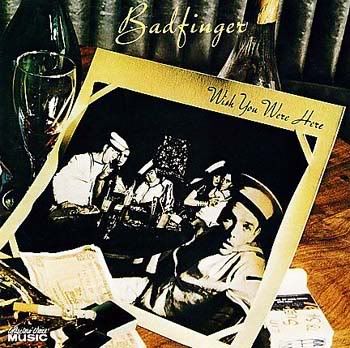 Badfinger
-
Wish You Were Here
-
1974
-
Warner Brothers Records
Pete Ham & Tom Evans were not just famous for writing Harry Nillson's huge hit, "Without You." "Wish You Were Here" is one of the best, and totally overlooked albums of the seventies. Sadly, due to legal and monetary problems, this album was removed from the music stores, soon after it's release. Only for this , the album would most likely have been a huge commercial success. Regardless of their links with the Beatles, Badfinger were a hugely talented band, - great songwriters, and musicians. Their tragic history, (Ham took his life in 1975, Evans took his in 1983), prevented them from becoming one of the all time great pop/rock bands. Try and listen to their third album, "Straight Up," which was produced by George Harrison and Todd Rundgren. Has anybody any info on a higher bitrate version of Wish You Were Here ?
TRACKS
1) Just A Chance;
2) Your So Fine;
3) Got To Get Out Of Here;
4) Know One Knows;
5) Dennis;
6) In The Meantime/Some Other Time;
7) Love Time;
8) Kind Of The Load (T);
9) Meanwhile Back At The Ranch/Should I Smoke.
BAND
Pete Ham, & Joey Molland - guitar
Tom Evans - bass guitar
Mike Gibbins - drums
REVIEWS
The final album released by the original lineup ends on a career high point with their most consistently listenable album. Produced by Chris Thomas, who beefs up and modernizes the sound for the mid-'70s, sonically Badfinger have never sounded better, rocking harder than ever before (and actually convincingly in spots), if occasionally overdoing the layered vocal harmonics a bit. Musically the Welsh lads sound so sparkling and confident that it's an unsettling incongruity that Pete Ham hung himself shortly after this release; however, on closer examination, the magnificent opener, "Just a Chance," with its massed rush of hard-rocking Byrdsy jangle and crushing harmonies, is nothing more than a nakedly desperate plea for a shot at mainstream radio airplay (disguised as a plea to a girl for a date, naturally). Too bad nothing from this excellent album, which may be the band's masterpiece (very hard to choose between this and Straight Up), came anywhere near the charts or AOR. Then there's Joey Molland's despondent cry for escape, "Got To Get Out Of Here," which would be the most emotionally affecting spot on the album if not for Ham's twin odes to his young son, "Know One Knows," and the epic centerpiece, "Dennis." More good news is that Mike Gibbins and Joey Molland have both finally grown into their own as songwriters, which means that unlike all the other Badfinger albums, this disc actually possesses no filler (which was always the biggest problem I've had with Badfinger). Tom Evans only makes one contribution, the mellow "King of the Load," which is a little disappointing, but at least it's a good one. The Gibbins/Molland song-splicing "In the Meantime / Some Other Time" sounds a bit too generically mid-'70s AOR rockin' to my ears, but the album ends on another two separate band member songs spliced together into one lengthy epic, Ham/Molland's "Meanwhile Back At the Ranch / Should I Smoke," that ends everything with a pleasant bang. (Wish You Were Here (1974) ***1/2) , © http://starling.rinet.ru/music/temp/badfinger.html
The majestic brilliance of this late-career Badfinger album will forever be clouded by the tragic circumstances surrounding its release. Contractually obligated to Warner Brothers to release six albums in three years, the band was in danger of exhausting their creative resources, but between the spirited admonishments of producer Chris Thomas (whose touch is especially felt on the horn- and string-embroidered tracks), Pete Ham's masterly songwriting, and the band's easy musical rapport and lush vocal harmonies, they banged out a classic. The album barely got a chance to see the light of day before it was recalled in 1975 due to a label/management lawsuit. The band was dropped from Warner Brothers, lost a good chunk of money, and were chastened by the experience. In Ham's case, he was utterly demoralized, and ended up committing suicide shortly after. His creative spark lives on in gems like "Meanwhile Back At The Ranch" and the crackling power-pop classic "Just a Chance." © 1996 - 2008 CD Universe; Portions copyright 1948 - 2008 Muze Inc. For personal non-commercial use only. All rights reserved.
'Wish You Were Here?' Nay, not that one. Of course, Pink Floyd's album of the same name that came out about a year later completely wiped out any reminiscences of Badfinger's last 'classic' record that may yet have lingered in the minds of both American and European audiences, and it's a complete and absolute shame, as Badfinger's record, while certainly lacking the atmosphere and sonic depth of Pink Floyd's album, easily beats it melody-wise: never in his life could Roger Waters have penned that much glossy, shiny, immaculate harmonic structures as these sailor-dressed boys were able to.
And they managed it, indeed - after the failure of Badfinger, the band took the time and the pain to redefine and polish their sound, while producer Chris Thomas had finally learned how to arrange and record their songs without neutralizing them to a state of one undivisible, sludgey MOR mess. While I still have trouble with dissecting Badfinger into separate pieces of music, all the identities and the trademark signatures of individual members are easily seen on Wish, and the guitars and vocals are active, tasty and memorable. Yup, they sometimes overdo the harmonizing trick, over-Byrdseying the songs, but apart from that, the only problem I have with the record is that, well, this is a Badfinger record, and this means it ain't no breathtaking masterpiece: however clever and crafty these lads were, the songs never amount to the emotional heights that the Beatles could easily scale in their 'classic' period. It's every bit as good as Please Please Me, though, if somewhat less energetic and intoxicating. It's understandable, though: the band were really gripping the edge of the crevasse, and it's no wonder that most of the songs are filled with feelings of angst, fear and disillusionment which they couldn't, and didn't want to, hide. Perhaps the best example of this approach is the tune I consider to be the most hard-hitting: Molland's 'Got To Get Out Of Here', a moody, spooky acoustic-driven ballad punctuated by frightened, desperate vocals and a stately, deeply disturbing organ background - when he hits those ominous chords on the keyboard, it really sends shivers down one's spine, especially considering the circumstances under which the song was written and what would follow soon after. 'I gotta find a place/Somewhere without a race...' Yeah. As Wish You Were Here slid down the charts and the band found itself completely robbed of all its royalties, Pete Ham finally found a place - and hanged himself...
But let's turn to more cheerful matters instead; after all, there's always a sunnier side to the story. The first four songs on the album are all mini-gems - besides 'Got To Get Out Of Here', Ham also contributes the upbeat pop rockers 'Just A Chance' and 'Know One Knows', the first one of which rocks harder than anything they'd ever recorded before (presumably - it's indeed very hard for Badfinger) and was probably designed to reshape the band's image as that of a friendly, pleasantly bombastic stadium-rock outfit for the upcoming generation. Well, commercial or not, the song actually works and could have even be mistaken for a Revolver outtake, although the Beatles would sure produce it slightly differently. And 'Know One Knows' just has a brilliant, catchy refrain, backed by a shiny, sharp guitar line a la Roger McGuinn, you know, the kind of poppy, cheerful, heavenly guitar line that makes you feel happy against your will. The song can also be called 'experimental', as it has some vocals in Japanese (presumably the translation of the chorus) inserted in the middle of the song.
Meanwhile, Mike Gibbins' 'Your So Fine' is just standard fare lightweight pop in the vein of 'Shine On' - catchy, bouncy, slightly childish, and featuring a terrific slide guitar solo; what else is needed for perfection?
As things progress, though, Badfinger are found messing around with song structures and length, creating several extended epics and slightly overblown anthems: indeed, the second side finds the band moving away from the stereotype of 'lightweight pop' act; and even if the tunes are still way too simple and, well, generic (in a good sense here) to be considered true art-rock, they are surely advanced enough. It's almost as if Badfinger were decidedly moving in the steps of their more notorious forefathers - the Beatles and the Beach Boys, complicating the music and making it more serious and less immediately accessible. I can't exactly say that they succeed: one can't get rid of the thought that all of the 'epics' - Ham's 'Dennis', Gibbins/Molland's 'In The Meantime/Some Other Time' and Ham/Molland's 'Meanwhile Back At The Ranch/Should I Smoke' (yeah, they decide to splice some of the songs into medleys) - are overlong and overall their melodies aren't as strong as the shorter tunes' ones. But they aren't bad, either: 'Dennis' gets saved by the emotional heat and the beautiful falsetto coda, 'In The Meantime' is just as catchy as anything else, and 'Meanwhile Back At The Ranch' is so obviously ripped-off from the second side of Abbey Road that it almost makes me laugh... if it didn't wanna make me cry. Add up the two lovely short tunes - Molland's pretty ballad 'Love Time' and Evans' Harrison rip-off 'King Of The Load (T)' (no, don't shrug your shoulders, it really sounds a lot like late period solo Harrison, and that's a compliment) - and you'll get yourself a more or less clear understanding of why the record is often considered Badfinger's masterpiece.
The effort is indeed admirable - repeating myself, I'll remind the gentle reader that Badfinger's members weren't exactly amazing songwriters, but they sure knew their stuff, and despite all the financial and artistic troubles, they managed to bring it all together and produce a record that is not just listenable but almost managed to reinstate faith in the potentials of Beatlesque pop at a time when the world had already begun losing faith in the potentials of progressive and glam rock, the two leading currents of the day. With a little more common sense, a somewhat more effective management and a somewhat more optimistic view on life, the band would possibly be able to make an even bigger breakthrough than they ever managed - but supposedly nature is cruel and its laws are unbreakable: Beatlesque pop was doomed in the mid-Seventies, and instead of soaring up, the band crashed down. What a nasty irony of fate. Well, just don't forget to commemorate Mr Ham with a minute of silence, now that you've read this review. And try to discover the record somewhere in among the old piles of used up vinyl in your local store; apparently, it's only available on CD as a Japanese import. Warner Brothers are dirty freaks (when will they properly issue their Beach Boys catalog, by the way?) © Only Solitaire, George Sarostin's Music Reviews, http://starling.rinet.ru/music/badfing.htm#Here
Yes, "Straight Up" is a great pop album, maybe Badfingers "Revolver". "Wish You Were Here" is their "Abbey Road". And its sad that this masterpiece was cruelly yanked by Warners over a dispute with Badfingers 'manager', who shall not be named. Under the gun to get another album done in a short amount of time, and with very little written, the group and producer Chris Thomas worked and played their Welsh and Liverpudllian asses off. The result, an album that any true rock fan should own. From the first power chords of "Just A Chance" you know this is gonna be good. What a fun song to drive down the highway with! If this had only been a single. Joeys "Youre So Fine" re-explores country stomp territory hinted at before, and it sparkles. Features a guitar riff ripped off for years afterward. I feel the band had been listening to Pink Floyd at this time, how else to explain "Got To Get Out of Here"? Very weary sounding, and telling of Joeys attitude then. "Know One Knows": not just a clever title, but a joyful tune too. And I never thought a song about a troublesome kid would be so good, but "Dennis" is very nice. And the hits just keep on coming... Two medleys on one side? Yep, "In The Meantime/Some Other Time" and "Meanwhile Back At The Ranch/Should I Smoke" are just that, though each song could have stood on its own. I actually dont care much for Joeys "Love Time", though it is lovely, and Toms "King of the Load", while a bad title, is a cool track. But what an ending, with "Meanwhile..." Its majestic, simply. And damned frustrating. What this album could have been...
CONCLUSION/RATING: 5 stars. A masterpiece. Sadly impossible to find in stores, but if I'm honest (and a journalist must be), it CAN be found on certain internet sites...A must have, you will not be dissapointed with this LP. Seek it out. Although I hear only a few thousand vinyl LPs ever existed.(c) David W. Reynolds Version 1.3, (c) 2003 http://66.102.9.104/search?q=cache:zg5AtBRRbyIJ:www.geocities.com/joelcrowservo/badfinger.html+badfinger+discography&hl=en&ct=clnk&cd=3&gl=ie
Wish You Were Here is an album by rock band Badfinger. It was recorded in the spring of 1974 at Colorado's Caribou Ranch and released in November of that year on Warner Bros. Records. It was the second and last album the band released on the WB label. Although the album received positive reviews in music magazine Rolling Stone upon its release and is widely considered the band's best work, it was pulled out of record stores in 1975 because of a lawsuit between the record label and Badfinger's management. Considered to be one of the strongest entries by the group, by both fans and critics alike, the album's abbreviated manufacturing run and short tenure on the market has made the original LP relatively rare. Despite being recalled, the album had time enough to chart, peaking at #148, in the US. In the 1990s it was re-released in CD format in Japan and Germany only, making Wish You Were Here difficult to find in this format as well. Most of the tracks, however, have been released on other Badfinger compilations. Wish You Were Here was Badfinger's fifth and final album from core band members Pete Ham, Joey Molland, Tom Evans and Mike Gibbins. Molland resigned from the band shortly after the LP was released, and Ham died approximately six months later. (from Wikipedia)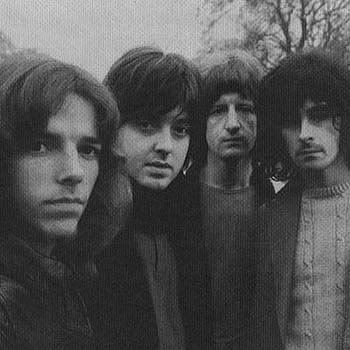 Mike, Joey, Pete, & Tom

BIO (Wikipedia)
Badfinger was a rock/pop band formed in Swansea, Wales in the early 1960s and is one of the earliest representatives of the power pop genre. During the early 1970s the band was touted as the heir apparent to The Beatles, partly because of their close working relationship with the 'Fab Four' but also because of their similar sound. However, it was the meteoric rise and harrowing demise of Badfinger that cemented their name in rock history journals. Although poised to make a significant impact on the music scene of the 1970s, starting it out with four hit singles and a number-one Billboard composition, Badfinger became victim to the worst elements of the music industry; resulting in bankruptcy and two suicides.
The Panthers & The Iveys
Badfinger originated with guitarist/keyboardist Pete Ham and a group called The Panthers formed in 1959, then The Black Velvets and The Wild Ones. Ham, Ron Griffiths (bass guitar) and David 'Dai' Jenkins (guitar) went on to form The Iveys, named after a street in Swansea, Wales. By 1964, Mike Gibbins had joined as the drummer, and the band began playing locally with such groups as the Spencer Davis Group, The Who, The Moody Blues and The Yardbirds. The Iveys moved their base to London in 1966, performing both for David Garrick (a local singer) and as a solo act. They also opened for Pink Floyd. The following year, Jenkins was asked to leave the group and was replaced by Liverpudlian guitarist Tom Evans. Although a respectable stage act on the London circuit, performing a wide range of covers from Motown artists to The Beatles, the abilities of the members to write original material was not evident with the public. In reality, the band's demos were almost entirely original songs. The group garnered some interest from record labels, but their personal manager, Bill Collins, later said the offers were not acceptable. It was not until Mal Evans, an employee of The Beatles' Apple label, took up their cause that enabled them to be signed with The Beatles' record company. They were accepted by Apple in 1968, after several demo tapes were brought in by Mal Evans, finally getting approval from Paul McCartney, George Harrison and John Lennon. The Iveys recorded and released the single "Maybe Tomorrow" in 1968, which reached the lower levels of Billboard Hot 100. An album of the same name was issued in Italy, West Germany and Japan in 1969 (See Maybe Tomorrow). Plans to release the LP in the UK and U.S. were halted without official explanation from Apple. McCartney gave the group a boost in 1969 when he offered them their breakthrough song "Come and Get It," which he had written for the film soundtrack of The Magic Christian. McCartney produced the song for the band, as well as the group's original compositions of "Rock of All Ages" and "Carry On 'Till Tomorrow." These three tracks would appear in the film and on the soundtrack album. Shortly after the McCartney sessions, Griffiths was asked to leave the group. Reportedly, the primary reason Griffiths was dispatched was because he was the only married occupant of the communal band home and he was also raising a child there, creating a friction with Evans. The Iveys remained a trio for the next couple months, which included at least two Apple photo sessions.
Badfinger: the Apple years
By November 1969, with a new single pending, and seeking a harder sound, The Iveys decided it had to change its dated name which had often led to confusion with The Ivy League. The group changed their name to Badfinger, which was suggested by Apple's Neil Aspinall. They decided on the name after discounting The Glass Onion and (Lennon's idea) The Prix. The name Badfinger was a reference to 'Bad Finger Boogie', an early working title of "With a Little Help from My Friends" (from Sgt. Pepper's Lonely Hearts Club Band) after Lennon composed the melody on a piano using his middle finger after having hurt his forefinger.[1] Previous recordings made by The Iveys would be released as "Badfinger" for projects released within the next few years. After unsuccessfully auditioning bassists, Badfinger found Liverpudlian guitarist Joey Molland. The addition of Molland required Evans to shift to the bass guitar, which Evans was willing to do for the expediency of getting the ball rolling again. "Come and Get It" was released in December 1969 in the UK and January 1970 in the US. McCartney wrote the song about his dissatisfaction with Apple's finances. It was a hit throughout Europe and the United States, where it reached the Billboard Top 10. The track was included in the soundtrack to the film Magic Christian, which starred Peter Sellers and Ringo Starr. Badfinger's album Magic Christian Music was released several months after the film's premiere and peaked at #55 on Billboard. New Badfinger recordings commenced in early 1970. The album No Dice, which peaked at #28 on Billboard, was released later that year. It was accompanied by the single "No Matter What," which reached #8 on the Billboard Hot 100. More notably, another track from No Dice, "Without You", became a bigger hit when recorded by Harry Nilsson in 1971 (where it reached the Billboard #1 slot) and Mariah Carey in 1993, and was eventually covered by hundreds of artists. In preparation for their first American tour in 1970, Badfinger hired a New York manager named Stan Polley. Although Polley's reputation was impressive at the time, his alleged connections to organized crime and dubious financial arrangements would only later become known to the group. Under Polley's direction, Badfinger toured in America and were generally well received, although the group complained they were living in the shadow of The Beatles because of the their close connection to the band. Media comparisons between Badfinger and The Beatles frustrated the group for years to come. The band's popularity began increasing exponentially. They recorded many sessions for fellow Apple Records labelmates, notably playing acoustic guitar on tracks from George Harrison's "All Things Must Pass" and providing backing vocals on Ringo Starr's single "It Don't Come Easy." Evans and Molland performed on John Lennon's album Imagine, and all four members of the band appeared as backup musicians throughout George Harrison's Concert for Bangladesh in August 1971. George Harrison co-produced Badfinger's third album, Straight Up. It was released in 1971, and spawned two successful singles: "Day After Day," which reached #4, and "Baby Blue" (#14). George Harrison and Todd Rundgren took production credits on the LP (Badfinger's most commercially successful record) with Harrison and Ham trading slide guitar solos on "Day After Day". ' A generation later, Straight Up ranked as the most-requested CD release among out-of-print albums in a readers poll for Goldmine magazine; it has since been re-released. Unfortunately for the group, Apple Records' finances in the post-Beatles era were in chaos. Also, Polley did not negotiate well with Apple President Allen Klein, causing the former to seek out a new record label. Even more egregious for the band's fortunes, Polley had been misrepresenting and exploiting artists he had contracts with, according to several of his clients (including Lou Christie and Al Kooper). The sessions for what would be Badfinger's fourth and last album for Apple, Ass, began in September 1972 at Apple's basement studios at 3, Savile Row and would continue at five recording studios over the next nine months. During the recording of Ass, Polley negotiated a multi-million dollar deal with Warner Bros. Records that included an album from the group every six months. The Ass release date would be held up by legal proceedings which followed Badfinger's departure from Apple. Ass featured a metaphoric record cover of a donkey (Badfinger) following a carrot (a coming lucrative record contract with Warner Bros.). Both Ass and its accompanying single, "Apple Of My Eye," failed to reach the Billboard Top 100.
Warner Bros. Records
Six weeks after the Ass sessions were completed, Badfinger entered the studio to begin recording material for their first Warner Bros. release, Badfinger (the intended Warner title, For Love Or Money, was accidentally excluded). Neither Ass nor Badfinger were well-received by music critics. Badfinger and its two accompanying singles, "Love Is Easy" (UK) and "I Miss You" (US), also did not reach chart positions. Badfinger did manage to maintain U.S. fan support as a result of several American tours. One concert at the Cleveland Agora in March 1974 was recorded on 16-track tape for a possible live-album release, although the performance was deemed unsatisfactory at the time. Following the group's last American tour, Badfinger recorded Wish You Were Here at the Caribou Ranch recording studio in Colorado. Unlike their previous two albums, Badfinger's Wish You Were Here was very well received by Rolling Stone Magazine and other periodicals upon its release in 1974. Internal friction centering on band management, money, and group leadership had been growing within Badfinger for a couple years. By 1974, Molland's wife began taking a more assertive role in the band's politics, which did not endear her to Molland's bandmates, particularly Ham. Just before the band began rehearsals for an October 1974 UK tour, Ham suddenly quit the band during a management meeting, stating his decision was because of Mrs. Molland. He was temporarily replaced by guitarist/keyboardist Bob Jackson. However, just before the 1974 tour began, Ham rejoined the group. Jackson remained as full-time keyboardist, making the band a short-lived quintet. After the tour, it was Molland's turn to quit the band, claiming his decision was based on a lack of consensus on their management situation. With Polley's insistence, Ham, Evans, Jackson and Gibbins reconvened to record a quick follow-up to Wish You Were Here. The album, Head First, was recorded in two weeks at Apple Studios in December 1974. Warner Bros.' publishing division refused to acknowledge the Head First recordings because it was preparing to launch a lawsuit against Badfinger Enterprises, Inc. (the group's management company) and Stan Polley. The Head First album became lost in the litigation and was never issued by Warner Bros.. Bob Jackson retained a rough mix by engineer Phil McDonald on 15 December 1974. This tape is the basis of the 2000 Snapper release of Head First. In reference, biographer Dan Matovina wrote in detail about the events surrounding Head First. The lawsuit launched by Warner Bros.' publishing division against Badfinger Enterprises, Inc. in December 1974 would work its way through California courts until 1979. At issue was the disappearance of US $100,000 in a publishing escrow account which Polley had access to. When Warner Bros. inquired as to the money's whereabouts, during a several month period, Polley reportedly never responded. As a result of this legal fray, Wish You Were Here and all other Badfinger releases by Warner Bros. were stopped and shelved in early 1975. Coupled with the termination of Badfinger's Apple contracts, there soon was no Badfinger product available on record store shelves anywhere. From the beginning of Badfinger Enterprises, Inc., the contract Polley had with the band stated that most recording and publishing royalties would go to a holding company that was controlled by Polley. This led to a salary arrangement for the group, of which they complained was sorely inadequate compared to their gross earnings. Shortly after the WB lawsuit was filed, Polley reportedly discontinued sending the band members their salaries.
Death and decline
Badfinger spent the early months of 1975 trying to find a way to earn a living. Jackson said that touring agents and record labels were routinely turning them away because of their restrictive contract with Polley. Ham tried many times to contact Polley by telephone during these months but was never able to reach him. Without being able to secure new work and without salary checks coming in from Polley, the money situation became bleak for the band. On 24 April 1975, Ham hanged himself in his garage studio in Surrey. His suicide note, addressed to his girlfriend and her son, blamed Stan Polley for his misfortunes: "Anne, I love you. Blair, I love you. I will not be allowed to love and trust everybody. This is better. Pete. P.S. Stan Polley is a soulless bastard. I will take him with me." More than a decade later, Polley would plead nolo contendere to unconnected embezzlement and money laundering charges. Ham's daughter was born one month after her father's death. Badfinger disbanded after Ham's death, and for years afterward, lawsuits and bankruptcies haunted the members on both sides of the Atlantic. Evans and Molland were both unsuccessful in separate new band projects, and by 1977 they were both out of the music business; Molland was laying carpet while Evans worked with a company that insulated pipes. That year guitarist Joe Tansin recruited Molland for a new band he was putting together, and when they needed a bass player Molland suggested Evans. Pressure from record companies led to the decision to call themselves Badfinger, and together they recorded their "comeback" album Airwaves which was released in 1979. Tansin left the band immediately after the album was recorded. To promote the album, Molland and Evans recruited Peter Clarke (Stealers Wheel) on drums, Tony Kaye (Yes) on keyboards and Bob Schell (aka Spider Cobb of The Hollywood Squares) on guitar and vocals. The single "Love is Gonna Come At Last" reached #69 in the US. They recorded and released a second album, Say No More in 1981, with that year's touring line-up. This LP was distributed on a much smaller independent record label. Its single, "Hold On," reached #56 in the US. Ultimately, Evans and Molland split acrimoniously in 1981. During 1982 and 1983, Molland and Evans briefly operated rival bands, both using the name Badfinger. Evans teamed again with Bob Jackson (and occasionally Mike Gibbins) and they toured mainly in the eastern United States. During this time, Evans and Jackson signed a spurious management contract with a Milwaukee businessman. Both were later sued (Evans for US$5 million) when they abandoned the contract due to their claim of management obligations being unmet. On 19 November 1983, Evans and Molland argued on the telephone, reportedly about the Apple money in escrow. Following the argument, Evans hanged himself in the garden at his home in an eerie replay of Pete Ham's 1975 death scene. In August 1984, Molland, Gibbins and Jackson played a small number of U.S. dates as part of a 20th Anniversary of the British Invasion in America package tour. In 1986, Molland and Gibbins reformed Badfinger, until Gibbins left for good in 1990.
Final years
Molland was instrumental in releasing the 1974 Agora recording on Rykodisc in 1990, called Day After Day: Live, which received mixed critical reactions due to his later overdubbing and a rearranged track order. The CD also sparked a lawsuit when the band's accounting firm became alerted to the release, readjusting Molland's royalty income. After the Rykodisc royalties were properly distrbuted, Molland sued the other members and their families for expenses and producer's royalties. Molland has also been widely criticized for his 1995 re-recording of Badfinger's hit songs for a CD release. The recordings have since been distributed with deceptive packaging, with photos displaying the original 1970s version of the group. Molland continues to tour as Joey Molland's Badfinger and has released three solo albums, After The Pearl, The Pilgrim, and This Way Up. In 1997 and 1999, posthumous collections of Ham home recordings were released on separate CDs, 7 Park Avenue and Golders Green. One posthumous Tom Evans CD was released in 1995, Over You: The Final Tracks, and Gibbins self-released four solo CDs beginning in 2000. A detailed biography on Badfinger came out in 1997 entitled Without You: The Tragic Story Of Badfinger. Mike Gibbins died in his sleep at his home in Oviedo, Florida on October 4, 2005. He was 56. He is survived by his wife, as well as three sons, two of whom perform together in the Orlando-based rock band the Seven Sisters, and his middle son plays bass for the Orlando-based rock/metal band Carnevil. The City of Swansea planned a museum exhibit commemorating the Welsh members of Badfinger. A Badfinger convention in Swansea in May 2006 brought together Jackson, Griffiths, and several surviving family members of Ham, Evans and Gibbins.
Post-Badfinger bands
Evans and Jackson formed The Dodgers after Ham's death in 1975. Molland formed Natural Gas with former Humble Pie drummer Jerry Shirley in 1976, and Mike Gibbins went into session work, appearing on Bonnie Tyler's 1978 hit single "It's A Heartache." In 1995, Jackson joined The Fortunes, a 1960s English group still playing on the nostalgia circuit and is completing a solo album due in 2008. Molland currently lives in suburban Minneapolis (Minnetonka) Minnesota and performs occasionally in the United States as "Badfinger" or "Joey Molland's Badfinger."