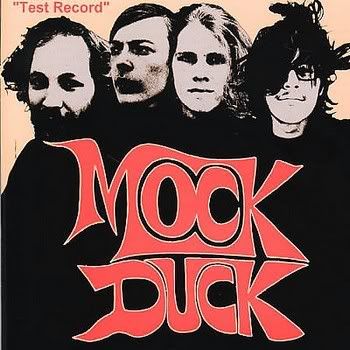 Mock Duck - Test Record - 1968 - No label (5 track acetate) [Re-released in 2000 by Gear Fab records]
Mock Duck was a legendary underground psychedelic band from Vancouver, B.C. that recorded three singles, "Groundhog, " "Do Re Mi" and "Easterdog" for the local Baroka label in 1968. The band also made a live album that was recorded at the Village Bistro in Vancouver in 1968. The original album was only distributed to a few fans and there were reportedly only 14 copies ever pressed and it was only available in acetate form. Test Record, released through Gear Fab Records, gathers together the bands' three singles for Baroka, the complete live album tracks together with additional tracks recorded, but never released, by the band for R& D studios in Vancouver in 1968 & 1969, as well as two tracks consisting of live jams recorded in 1968. This is the complete recorded output of the Mock Duck and debut CD release of the band's material. The music of this band is mainly of an experimental nature of such bands as Soft Machine, Matching Mole or some of the other so called experimental bands of the British Canterbury scene. The music of Mock Duck consists of swirling organ , blues guitar, wailing jazz saxophone and off tempo time shifting drumming. Sophisticated music that was many years ahead of their contemporaries and very uncharacteristic of a Canadian band performing in the late 60's. The sound quality of these recordings is excellent despite the fact that many of the songs were privately recorded by the band themselves. This CD also features an essay on the band written by band member Joe Mock as well as archival photos of the band members and detailed information on the band line ups and recording sessions. © Keith Pettipas. CanEHdian.com, 2000
Has anybody got any info on this band? Comments appreciated.
TRACKS
1. Home Made Jam/Introduction
2. Ground Hog
3. Hurt on Me
4. Sitting on Top of the World
5. My Time
6. Fat Man [Bonus Track]
7. Crosscut Saw [Bonus Track]
8. Easter Dog [Bonus Track]
9. Funky Song [Bonus Track]
10. Do-Re-Mi [Bonus Track]
11. Playing Games [Bonus Track]
12. Jazz Mock [Bonus Track]
Major Members: Rick Enns, Ross Barrett, Tom Hazelitt, Spense Sutton, Steve Barrett, Lee Stevens
ABOUT THIS ALBUM
A stellar archival collection uncovered by reissue label extraordinaire Gear Fab, Test Record brings together a group of terribly rare recordings from Canadian band Mock Duck, a deservedly popular draw on the Vancouver ballroom scene due to its arresting musical fusion. The original Test Record was actually just an acetate pressing made of the first five tracks off the Gear Fab CD, only 14 copies of which are know to exist. Those five tracks, along with two of the bonus tracks, were recorded live at the Village Bistro in Vancouver in late 1968. Four of the other bonus songs were off 1968 singles, and the final "Jazz Mock" is a nearly 20-minute jam from the same period. Better than most, Mock Duck discovered a true nexus between early rock & roll, blues, and exploratory jazz, and they tied those strains into a really exciting amalgam that fit well into Vancouver's developing psychedelic scene . The music certainly has its drawbacks. Joe Mock is only an adequate vocalist, his nasally release (which probably better fit the Dylan slant of the original unit) doesn't create much of a spark at all and is almost devoid of the virtuosic intensity that the music requires. That is no more evident than on the band's cover of "Sitting on Top of the World," one of the few moments on the album when even the band sounds uninspired. The band turns tunes like the 13-minute "Home Mad Jam," the traditional "My Time," and the cool "Jazz Mock" into smoking free-rock with plenty of psychedelic ambience to satisfy the trippy mood of the era. Rarely, however, is Mock Duck predictable, and their sound is all their own. A creative and individual band, they sound great even outside the context and milieu in which they existed. Although maybe not as inventive as likeminded peers such as Captain Beefheart, Spirit, and Traffic, they are nevertheless a dynamic footnote to the era. © Stanton Swihart , http://shopformusic.microsoft.com/
BIO
During the mid- to late '60s, Mock Duck emerged as one of the most popular rock bands on the burgeoning music scene of Vancouver, BC. They were one of a plethora of Canadian bands (alongside peers such as Spring, Papa Bear's Medicine Show, the Seeds of Time, and Hydroelectric Streetcar) who packed local psychedelic ballrooms such as the Village Bistro, Retinal Circus, and Big Mothers in emulation of the San Francisco and Seattle scenes to the south. Although they never made much of an impression outside their local region, they were good enough to support visiting names of the day like Fleetwood Mac, B.B. King, Country Joe & the Fish, and the Steve Miller Band.
Like a whole generation of youngsters, Joe Mock picked up the guitar in the early '60s, spurred on by rock & roll. By 1966 he was good enough to play live, and subsequently formed the first incarnation of Mock Duck with Steve Barrett (drums), Spense Sutton (vibes), Tom Hazelitt (bass), and David Sinclair (guitar). At the time they were calling themselves Joe Mock & No Commercial Potential and were chiefly enamored of folk-rock, particularly Bob Dylan. The band played at the Afterthought, a venue where Jefferson Airplane and Country Joe would sometimes perform. They eventually changed their name to Mock Duck when Sutton's girlfriend, unhappy with yet another band practice, appended a frustrated, four-letter epithet to bandleader Mock's surname.
By the beginning of 1967, the first lineup dissolved and a second version of the band was formed when drummer Glen Hendrickson witnessed Mock performing a solo set and approached him with the possibility of starting a new band. With the addition of bassist Lee Stevens, Mock Duck became a trio and began making the rounds of the local psychedelic scene, which was significant enough by this time to lure artists such as the Doors and Mad River from the States. The trio worked into the next year before Stevens was replaced by Rick Enns and Ross Barrett was brought in on saxophone, flute, and keyboards. They began recording at the nascent R&D Studios, releasing two singles in 1968. The second, "Do Re Mi," received substantial airplay at regional radio stations, although not enough to make any inroads in America. By the end of 1969, this version Mock Duck also dissipated, and Mock formed one more band under the moniker, moving into a psychedelic R&B realm before calling it quits in 1970. © Stanton Swihart, All Music Guide