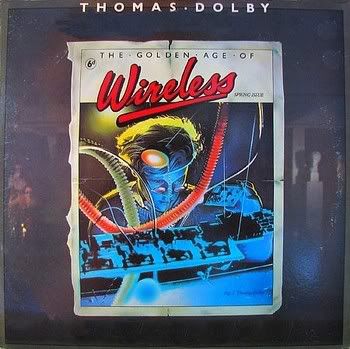 Thomas Dolby - The Golden Age Of Wireless - 1983 - EMI America
Thomas Dolby was streets ahead of most of the numerous synth-pop composers during the 1980's. He created a unique blend of pop ingenuity, with an eccentric touch. It is hard to explain this, but listen to the album, and you will "get the drift.." This album is a new wave classic. Try and catch the brilliant Prefab Sprout "Steve McQueen" album remastered in 2007 by Thomas Dolby, who originally produced the album in 1985. You should also listen to Dolby's great "Aliens Ate My Buick" album.
N.B - There have been numsrous versions of this album. The original vinyl album was first released in the U.K on Venice In Peril Records in 1982. It did not include "She Blinded Me With Science," or "One Of Our Submarines," but did include a track called "The Wreck Of The Fairchild."
TRACKS
A1.She Blinded Me With Science (5:09)
A2.Radio Silence (4:32)
A3.Airwaves (3:35)
A4.Flying North (3:50)
A5.Weightless (3:45)
B1.Europa And The Pirate Twins (3:18)
B2.Windpower (3:58)
B3.Commercial Breakup (4:15)
B4.One Of Our Submarines (5:11)
B5.Cloudburst At Shingle Street (5:45)
All tracks composed by - Thomas Dolby
CREDITS
Piano , Synthesizer & Synthesizer [Wave Computer], Drum Programming - Thonas Dolby
Synthesizer - Daniel Miller
Brass [Leadline], Flute - Simon Lloyd
Bass - Mark Heyward-Chaplin
Drums - Justin Hildreth
Guitar - Kevin Armstrong , Dave Birch
Percussion [Electronic] - Thomas Dolby
Percussion [Backwards] - Justin Hildreth
Harmonica - Andy Partridge
Backing Vocals - Lesley Fairbairn, James Allen , Judy Evans , Lene Lovich , Les Chappell, Akiko Yano
Vocals [Monks] - Bruce Woolley , Dave Birch , Thomas Dolby
Vocals [Shipping Forecast] - John Marsh
Vocals [Operatics] - Lene Lovich , Les Chappell
REVIEWS
One of the most satisfying examples of the genre of early-80s British synthpop. Thomas Dolby's debut is surprisingly warm, human, and at times nostalgic, qualities not usually associated with synthesized music. Ballads like "Airwaves," "Weightless," and the enveloping, operatic "Cloudburst At Shingle Street," are thoughtful and direct, and the more upbeat songs, like "Radio Silence" and the manic "Europa and the Pirate Twins" (featuring harmonica by XTC's Andy Partridge), are as fun and catchy as anything released in 1982. Purists may feel that the original version of the album, featuring two early tracks dropped off this second US edition, is superior, but in either incarnation THE GOLDEN AGE OF WIRELESS is a synthpop classic. ©1996 - 2008 CD Universe; Portions copyright 1948 - 2008 Muze Inc. For personal non-commercial use only. All rights reserved
Thomas Dolby's The Golden Age of Wireless is one of the most impressive debuts so far this year. Dolby, who played on Foreigner IV and wrote "New Toy" for Lene Lovich, takes after the Bowie side of Gary Numan. Even his most enigmatic songs ("Leipzig," "Radio Silence") have Bowie's substance and narrative completion. Yet he manipulates studio hardware with Numan's eerie familiarity. Several tracks have a submerged, barely audible layer of almost random sound that serves as a constant (and disturbing) subtext, occasionally erupting into the song – like the descending quintet of notes that interrupts the melody of "Weightless" whenever "the empty feeling" is mentioned. This sonic underworld is all part of Dolby's mechanical wizardry; one can imagine him as a boy genius alone in the basement with his tapes and wires and synths and rhythm machines, making this dense, dazzling record and sticking in weird, subliminal noises to amuse himself.
The results are hardly hermetic. The jaunty pulse of "Europa and the Pirate Twins," in which a lad tries to contact a childhood friend who's now a celebrity, hooks you into the album immediately. "Windpower," "Radio Silence," and "Flying North" are as irresistibly melodic as Paul McCartney's work. And unlike many synthesizer bands from England, Dolby eschews morbid, droogy drones. "Cloudburst at Shingle Street," the possibly apocalyptic number that closes the album, faces annihilation with a vision that is positively ecstatic. © (RS 380), DON SHEWEY, Oct 14, 1982, ©Copyright 2008 Rolling Stone
Is it just my memory playing tricks on me or did 'She Blinded Me With Science' really go top ten in America and not chart at all in the UK? I remember the video being played on TV a lot, but didn't realise it never breached the top 40. Indeed, checking out the reliable everyhit.com, only one song from this collection breached the top 40 and that was 'Windpower' which nestled in at number 31. I think part of the reason then is I remember the video but I also remember the album ( which also failed to breach the top 40 ) because my elder brother who turns 40 this year has played it a lot throughout the years. I know so many of these songs. It's a good album mind you, definitely a superior synth-pop effort. Well, it should be. There's been at least two different versions of the album, 'She Blinded Me With Science' and 'One Of Our Submarines' were replacement tracks on the album after the former became a US hit single. This is the version currently on CD, although the other tracks can easily be picked up on compilations. Right. Down to business! Thomas Dolby came from an academic family but chose synths and stuff instead of engineering or whatever. He would appear on stage surrounded by the things, much like we remember Howard Jones, although Thom Dolby got there first. In more recent days, he's famous for composing polyphonic ringtones for the likes of Nokia and for running a thriving technology/mobile phone ringtone business of sorts. Back in the eighties, it was once rumoured he'd replace Andy Partridge as singer in XTC when Andy didn't want to tour. He was a much in-demand session musician and oh, also found time to make a few albums of his own and produce several albums for Prefab Sprout.
'She Blinded Me With Science' is annoying but catchy, it features samples of Magnus Pyke and Thomas Dolby himself apparently hates the track. It's also not in fact one of the best songs on the LP. I like the old wireless theme of the LP by the way, the retro futurism. I like 'Radiosilence' which if I had my way would have been a top 40 hit back in the day. 'Airwaves' is another super-strong track. Dreamy ballad synth mode with Thomas reaching for the notes surprisingly effectively given he doesn't seem to be a naturally powerful vocalist. Well, the whole thing is supremely well produced and he doesn't in fact need a lot of power, he softly reaches upwards. Speaking of airwaves, how about 'Windpower'? It was a hit, hoorah! It's speedy and quirky, much like 'Europa And The Pirate Twins' which spins along most enjoyably. Thomas Dolby doesn't actually try to blind you with science or virtuosity on the LP. Pop melodies are always much to the fore and the synth sound has a pleasingly natural lightness of touch. It sounds human. 'One Of Our Submarines' is also lovely by the way and only a couple of tracks misfire, namely the clunky 'Flying North'. Still, an excellent LP this that will please every synth-pop lover with good taste. 2001-2007 Adrian Denning, Adrian's Album Reviews, www.adriandenning.co.uk/albums.html
BIO
Though he never had many hits, Thomas Dolby became one of the most recognizable figures of the synth-pop movement of early-'80s new wave. Largely, this was due to his skillful marketing. Dolby promoted himself as a kind of mad scientist, an egghead that had successfully harnassed the power of synthesizers and samplers, using them to make catchy pop and light electro-funk. Before he launched a solo career, Dolby had worked as a studio musician, technician, and songwriter; his most notable work as a songwriter was "New Toy," which he wrote for Lene Lovich, and Whodini's "Magic's Wand." In 1981, he launched a solo career, which resulted in a number of minor hits and two big hits -- "She Blinded Me with Science" (1982) and "Hyperactive" (1984). Following "Hyperactive," his career faded away, as he began producing more frequently, as well as exploring new synthesizer and computer technology. Dolby continued to record into the '90s, but by that time, he was strictly a cult act.
Dolby's interest in music arose through his interest in computers, electronics and synthesizers. The son of a British archeologist, Thomas Dolby (b. Thomas Morgan Robertson, October 14, 1958) originally attended college to study meteorology, but he was soon side-tracked by electronics, specifically musical equipment. He began building his own synthesizers when he was 18 years old. Around the same time, he began to learn how to play guitar and piano, as well as how to program computers. Eventually, his schoolmates gave him the nickname of "Dolby," which was the name for a noise-reduction technology for audiotapes; he would eventually take the nickname as a stage name.
In his late teens, Dolby was hired as a touring sound engineer for a variety of post-punk bands, including the Fall, the Passions and the Members; on these dates, he would use a PA system he had built himself. In 1979, he formed the arty post-punk band Camera Club with Bruce Woolley, Trevor Horn, Geoff Downes and Matthew Seligman. Within a year, he had left the group and joined Lene Lovich's backing band. Dolby gave Lovich his song "New Toy," which became a British hit in 1981. That same year, he released his first solo single, "Urges," on the English independent label Armageddon. By the fall, he had signed with Parlophone and released "Europa and the Pirate Twins," which nearly cracked the UK Top 40.
Dolby started playing synthesizer on sessions for other artists in 1982. That year, he appeared on Foreigner's 4, Def Leppard's Pyromania and Joan Armatrading's Walk Under Ladders. Also in 1982, he wrote and produced "Magic's Wand" for Whodini; the single became one of the first million-selling rap singles. Even with all of these achievements, 1982 was most noteworthy for the release of Dolby's first solo album, The Golden Age of Wireless, in the summer of 1982; the record reached number 13 in England, while it was virtually forgotten in America. "Windpower," the first single from the record, became his first Top 40 UK hit in the late summer.
In January of 1983, Dolby released an EP, Blinded by Science, which included a catchy number called "She Blinded Me with Science" that featured a cameo vocal appearance by the notorious British eccentric Magnus Pike, who also appeared in the song's promotional video. Blinded by Science was a minor hit in England, but the EP and the single became major American hit in 1983, thanks to MTV's heavy airplay of the "She Blinded Me with Science" video. Eventually, the song reached number five on the US charts and it was included on a resequenced and reissued version of The Golden Age of Wireless, which peaked at number 13 in America.
The Flat Earth, Dolby's second album, appeared in early 1984 and was supported by the single "Hyperactive." The single became his biggest UK hit, peaking at number 17. Though The Flat Earth reached number 35 on the US charts, Dolby's momentum was already beginning to slow -- none of the singles released from the album cracked the American Top 40. Nevertheless, Dolby was in demand as a collaborator and he worked with Herbie Hancock, Howard Jones, Stevie Wonder, George Clinton, and Dusty Springfield. During 1985, he produced Clinton's Some of My Best Jokes Are Friends, Prefab Sprout's Steve McQueen (Two Wheels Good in the US), and Joni Mitchell's Dog Eat Dog, as well as supporting David Bowie at Live Aid. Also in 1985, he began composing film scores, starting with Fever Pitch. In 1986, he composed the scores for Gothic and Howard the Duck, to which he credited himself as Dolby's Cube. That credit led to a lawsuit from the Dolby Labs, who eventually prohibited the musician from using the name "Dolby" in conjunction with any other name than "Thomas."
Aliens Ate My Buick, Dolby's long-delayed third album, appeared in 1988 to poor reviews and weak sales, even though the single "Airhead" became a minor British hit. That same year, Dolby married actress Kathleen Beller. For the rest of the late '80s and early '90s, Dolby continued to score films, producing and he began building his own computer equipment. His fourth album, Astronauts & Heretics, was released in 1992on his new label, Giant. Despite the presence of guest stars like Eddie Van Halen, Jerry Garcia, Bob Weir and Ofra Haza, the album was a flop. The following year, Dolby founded the computer software company Headspace, which released The Virtual String Quartet as its first program. For the rest of the '90s, Headspace occupied most of Dolby's time and energy. In 1994, he released The Gate to the Mind's Eye, a soundtrack to the videotape Mind's Eye. Also that year, Capitol released the greatest-hits collection, Retrospectacle. © Stephen Thomas Erlewine, All Music Guide