Renee Olstead - Renee Olstead - 2004 - Warner Bros. Records
Renee Olstead has a long way to go before she will be regarded as one of the great jazz blues singers, but she is surely halfway there with this album. She has shades of Ella Fitzgerald, Billie Holiday, and Maria Muldaur in her beautiful bluesy jazz voice.This is a very mature jazz album recorded, incredibly when Renee was only fourteen. Her ability to sing some of these great American standards cannot be faulted, and her voice can only get better. A very good album from a very promising young singer. Buy her 2006 album, "Skylark."
TRACKS
"Summertime" (Gershwin, Gershwin, Heyward)
"Taking a Chance on Love" (Duke, Fetter, Latouche)
"Is You Is or Is You Ain't My Baby" (Austin, Jordan)
"Someone to Watch Over Me" (Gershwin, Gershwin) - [(featuring Chris Botti)
"Breaking Up Is Hard to Do" (Greenfield, Sedaka) - (featuring Peter Cincotti)
"A Love That Will Last" (Foster, Thompson)
"Meet Me, Midnight" (Manilow, Sussman)
"Sunday Kind of Love" (Belle, Nye, Prima, Rhodes) - (featuring Chris Botti)
"On a Slow Boat to China" (Loesser) - (featuring Carol Welsman)
"What a Diff'rence a Day Makes" (Adams, Grever)
"Midnight at the Oasis" (Nichtern)
"Sentimental Journey" (Brown, Green, Homer)
MUSICIANS
Renee Olstead - vocals
Carol Welsman - vocals
Peter Cincotti - piano, vocals
Alan Broadbent - piano
Billy Childs Trio - piano
Chris Dawson - piano
Chris Botti - trumpet
Warren Luening - trumpet
Rick Baptist - trumpet
Dean Parks - acoustic guitar, guitar
Dennis Budimir - guitar
David Tull - drums
Jeff Hamilton - drums
Vinnie Colaiuta - drums
Joe LaBarbera - drums
Brian Bromberg - bass instrument
John Clayton - bass
Don Shelton - alto saxophone, tenor saxophone
REVIEWS
Back in 2002, producer David Foster oversaw the debut disc of a young jazz/pop singer named Michael Bublé. With his handsome looks and Sinatra-like voice, Bublé quickly saw his star begin to rise and the success of his disc kicked off a mini-revival of old standards and big band singers. Striking while the iron was hot, Foster fed the flame by introducing an even younger female counterpart to Bublé. Reneé Olstead was a 14-year-old actress mostly known for her co-starring role in the CBS television series Still Standing, but while acting has been her day job since childhood, Olstead has also dabbled in music. Unlike Bublé, who was studying classic songs at a young age with his grandfather, Olstead first latched onto traditional country music and at the age of ten and released Stone Country, which found her singing mediocre tunes in a hiccuped, down-home accent. Four years and a 180-degree turn later, Olstead discovers her inner ingénue with the assistance of Svengali Foster and released her major label debut of pop and jazz standards. The results have the same lovely, glossy sheen that Foster tweaked to perfection on Natalie Cole's Unforgettable album, and Olstead's newfound voice is a vast improvement from her faux twang days. With a voice that is reminiscent of Nicole Kidman's singing debut in Moulin Rouge, Olstead sounds more like a young, bubbly starlet than a newly discovered diva. There is no question that she has a pretty voice and is more than capable of performing undemanding standards like "Taking a Chance on Love," however, her voice lacks the depth and experience truly needed to tackle more difficult song like "Summertime" or "Sunday Kind of Love." In taking on Barry Manilow's "Meet Me, Midnight" she dives in with gusto but ends up barely treading water mid-song with a scat section that sounds uncomfortable and forced. Age is certainly a factor in making these songs sound convincing and, for the most part, Foster smartly chose songs that do not reach too far beyond her young years. This helps to make a song like "Someone to Watch Over Me" sound like a sweet, teenage fairy tale. On the other hand, the sensuality of Maria Muldaur's "Midnight at the Oasis" is far too mature for her to grasp at this time. She does much better on the Norah Jones-styled original "A Love That Lasts" as the song's quiet demeanor compliments Olstead's vocals, making her sound comfortable and natural. It is going to take more time and experience for her to sound as convincing on songs like "Is You Is or Is You Ain't My Baby," but Foster has given her a great crash course and that helps to make her debut disc a pleasant listen. Reneé Olstead has a solid foundation from which to work and if she can continue building up from there, she just might have to set aside her acting career for a while. © Aaron Latham, http://www.allmusic.com
After a hesitant start,emerging Jazz singer Renee Olstead finally lets rip on knockabout standard Summertime.From then on it's cruise control on a sentimental journey of a superbly arranged covers album.As much as she may not like it,she's probably going to join the ranks of Katie Melua in terms of branding.That's were comparisons end,as her range is much wider and more profound.Vocally she's a lightweight,but don't dismiss her,as she can cut it with the likes of Clare Teal,and show Amy Winehouse the door.Pristine and clear as the driven snow:like a rollercoaster Olstead can rise and fall in an instant.Her male counterpart Michael Buble's similar efforts on This Time sounds the poor relation in every way.Here the chemistry between artist and song is very explosive-in the nicest possible way of course.She can let rip and tone it down like a past master-check her mesmerising duet with singer-songwriter Peter Cincotti on Neil Sedaka's Breaking Up Is Hard To Do.Elsewhere she flirts with the lyrics and the listener e.g A Love That Will Last as she do-wops her heart away.Maria Muldaur's hit Midnight At The Oasis is done as straight cover-spot the difference?Given the right exposure(BBC Radio 2) this sexy young lady could be a huge star. The singing is as passionate as her red hair-so look out Olstead's gonna grab you quite soon. © Elly Roberts, www.allgigs.co.uk
In a bold move that even more experienced singers might think twice about, Renee Olstead opens her self-titled major-label debut with a stark, a cappella verse of Gershwin's melancholy classic "Summertime." Olstead sings with confidence and swings with authority on this set of standards, an astonishing accomplishment for a young lady, who, at the time of this recording, was only 14 years old. Very little indicates that this album is the work of a teenager, and certain vocal touches even bring to mind the bold vocal style of K.D. Lang. The record features big-band arrangements with lush strings, punchy horns, and even a quasi-Swingle Singers backdrop on "On a Slow Boat to China." Chris Botti provides sexy trumpet obbligato on two numbers, and Peter Cincotti joins Olstead on a stellar duet of Neil Sedaka's "Breaking Up Is Hard to Do," rounding out a remarkable first outing by a notable talent. Copyright 1997-2008 Buy.com Inc., All rights reserved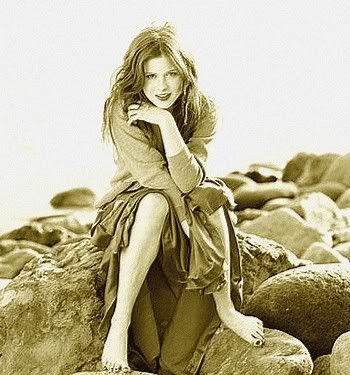 BIO (Wikipedia)
Rebecca Renee Olstead (born June 18, 1989) is an American actress and singer. Olstead was born in Houston, Texas, to Christopher Eric Olstead and Rebecca Lynn Jeffries. As a child actress, she made films and commercials from age eight onwards. From 2002 to 2006, she appeared in the TV sitcom Still Standing as middle sister Lauren Miller. She also had a small part in the 2004 film 13 Going on 30. In 2004, Olstead released an eponymous album of jazz songs and pop standards for Warner Bros. Records to good reviews; since her previous releases had limited distribution, this album was considered her true debut. She subsequently performed in Berlin during the Live 8 concert on July 2, 2005. Additionally, she recorded with trumpeter Chris Botti on his 2005 album To Love Again: The Duets and appears on the 2006 DVD Chris Botti Live with Orchestra and Special Guests. Her singing style and talent has already been compared with such great jazz vocalists as Ella Fitzgerald and Sarah Vaughan. Reportedly her musical talent was discovered by composer David Foster, who produced her 2004 album. She later also performed with Foster on the Oprah Winfrey Show. she has also released a Christmas song called "Christmas In Love". A followup album entitled Skylark, also produced by Foster, was originally announced for release in 2005, but it has subsequently been pushed back several times, with release dates in the summer of 2006 and early 2007 being mentioned on online retailers such as Amazon.com. It is currently slated for a spring 2008 release.