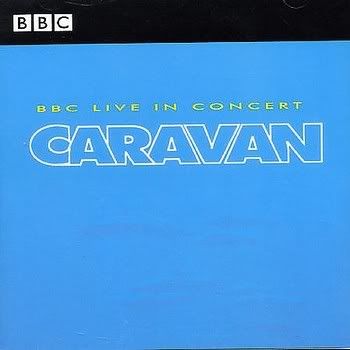 Caravan - BBC Radio 1 Live In Concert 1975 - 1992 - Strange Fruit (UK)
A wonderful live album from Caravan, one of the most original and talented "Canterbury" rock bands of the seventies. Caravan's improvised jazz rock with it's complex symphonic and classical structure was very impressive, and they were a brilliant live band. Sound quality on this recording is very good. The weakest track is arguably "Hoedown," but this is only a minor criticism. All the performances by the line-up on this recording are top notch. This is an album that should be heard by more people. Check out their classic " In the Land of Grey and Pink " album. If you are unfamiliar with "Canterbury" rock, then It is worthwhile listeming to " The Rotters' Club " album by Hatfield & The North, and the "Live at the Paradiso 1969" album by Soft Machine. Both of these groups were pioneers of "Canterbury" rock in the U.K, and produced some of the best progressive rock of the late sixties, and seventies.
TRACKS
1. Intro
2. Love In Your Eye
3. For Richard
4. Dab Song Concerto, The
5. Hoedown
MUSICIANS
David Sinclair (keyboards)
Geoffrey Richardson (viola, guitar)
Mike Wedgewood (bass, vocals)
Pye Hastings (guitar, vocals)
Richard Coughlan (drums)
BIO (Wikipedia)
Caravan are an English band from the Canterbury area, founded by former Wilde Flowers members David Sinclair, Richard Sinclair, Pye Hastings and Richard Coughlan. Caravan rose to success over a period of several years from 1968 onwards into the 1970s as part of the Canterbury scene, blending psychedelic rock and jazz to create a distinctive sound like their contemporaries Soft Machine. Caravan still remains active as a live band in the 21st century. Following the dissolution of their former band, Wilde Flowers, David Sinclair, Richard Sinclair, Pye Hastings and Richard Coughlan formed Caravan in 1968. The band became the first British act to sign for American record label, Verve, who subsequently released the band's debut LP, Caravan, later the same year. After this Verve closed their rock and pop division, causing Caravan to move to Decca Records for the release of If I Could Do It All Over Again, I'd Do It All Over You in 1970, from which the title track gained the band an appearance on Top Of The Pops, and then Deram (Decca's progressive subsidiary) for 1971's In the Land of Grey and Pink. After the third album's release Sinclair chose to leave the group, to be replaced by Steve Miller. The change in keyboardist caused a change in musical direction, and the band's next album, Waterloo Lily, was distinctly more jazz influenced than earlier work. This caused some unrest for followers of the group, and the band disintegrated soon after Waterloo Lily's release, leaving just Hastings and Coughlan. The duo recruited viola player Geoffrey Richardson, bassist Stu Evans and keyboardist Derek Austin and toured extensively. This line-up did not make any recordings before Evans was replaced by John Perry and Dave Sinclair rejoined the group in 1973. The resulting album For Girls Who Grow Plump in the Night was cited as a return to form and is now heralded as one of the group's finest moments. A regular cult favourite, the band's chart performance in the UK and US was minimal, charting one album, Cunning Stunts at US#124. In the UK, Cunning Stunts (#50) and Blind Dog at St. Dunstan's (#53) were their only hits. A loyal following has ensured steady back catalogue sales and a lengthy live career for the band, who continue to this day featuring founder members Pye Hastings (guitar, vocals, songwriting) and Richard Coughlan (drums). Caravan's best-known recording is the 1971 set In the Land of Grey and Pink, their second album for Decca. 30 years after it's release this album finally received a platinum disc for sales of over 100,000. It has been said of that album that it "showed off a keen melodic sense, a subtly droll wit, and a seductively smooth mix of hard rock, folk, classical, and jazz, intermingled with elements of Tolkien-esque fantasy".A fair summary of Caravan's late sixties to late seventies work. Prolific and inventive, the band appeared to have too many ideas to produce direct, radio-friendly singles. 21st century reissues of their albums featured lengthy tracks, previously unissued, demonstrating the huge amount of releasable material that had failed to make their 1970s albums. The band were largely dormant in the eighties until a 1990 reunion, planned as a one-off for television, restarted their career. Latterly they have also achieved steady sales and a fan following with the support of the more eclectic corners of radio, like BBC Six Music's "Freak Zone" and the growing re-emergence of progressive rock. They released Unauthorised Breakfast Item album in 2003.