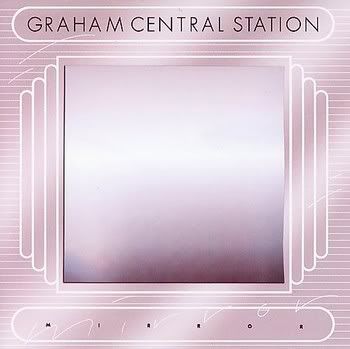 Graham Central Station - Mirror - 1976 - Warner Bros
Terrific seventies funk soul grooves reminiscent of Stevie Wonder. Throw in a slight jazz touch and some gospel, and you have a great album. Check out their great 1974 album, "Release Yourself." For music in a similar groove, check out the "Soul Vaccination: Live" album from the great soul funk band, Tower Of Power, some of whose members also played with Graham Central Station
TRACKS
A1.Entrow (7:09)
A2.Love (Covers A Multitude Of Sin) (3:49)
A3.Mirror (3:50)
A4.Do Yah (3:55)
B1.Save Me (5:17)
B2.I Got A Reason (3:48)
B3.Priscilla (3:15)
B4.Forever (6:54)
CREDITS
Arranged By - Larry Graham , Tom Salisbury
Arranged By [Horns] - Greg Adams , Larry Graham
Bass, Synthesizer, Vocals - Larry Graham
Clavinet, Vocals - Hershall "Happiness" Kennedy*
Drums, Vocals - Gaylord "Flash" Birch*
Engineer - Tom Flye
Guitar, Vocals - David "Dynamite" Vega*
Organ, Piano, Vocals - Robert "Butch" Sam*
Percussion, Drum Programming, Vocals - Patryce "Chocolate" Banks*
Written-By, Recorded By - Larry Graham
Musicians who have been in Graham Central Station, include
Willie Sparks: vocals, drums,
P. CaboOse: tenor saxophone,
Milt Holland: percussion,
Lenny Williams: vocals,
Freddie Stone: guitar,
and Noel Closson: Drums
REVIEW
Larry Graham and crew are definitely going for a fuller sound on this set -- starting off the record with a funky marching band, in Tusk-like fashion -- then rolling into some bass-heavy funk that tops even their previous records for tightness! The groove is a key element in the growth of west coast funk in the 70s -- bass in the lead, but keyboards percolating in all over the place, in a style that's almost got touches of jazz -- and which sets the stage for many of the Zapp-sounding projects of the future. Titles include "Love", "Mirror", "Entrow", "Do Yah", "Save Me", and "I Got A Reason". © 1996-2008, Dusty Groove America, Inc.
BIO (Wikipedia)
Graham Central Station was a funk band named after founder Larry Graham (formerly of Sly & the Family Stone) and is a pun on New York City's Grand Central Station. The band's origins date from when Santana guitarist Neal Schon formed the band Azteca along with Larry Graham (bass guitar) and Gregg Errico (drums), both from Sly & the Family Stone, and Peter Sears (keyboards), from Hot Tuna and Jefferson Starship. Santana bass guitar player Tom Rutley would move into to the bass spot with Azteca. That band, like Santana with heavy Latin influences, would eventually morph into Graham Central Station, while Schon would find Journey. Graham Central Station's biggest hit was "Your Love", which charted at number 9 in 1975. The group also integrated gospel music sounds into their music, and played with the dichotomy between the funk/rock star image and the "sanctified" gospel group image. Some of their recordings feature the Tower of Power horn section.