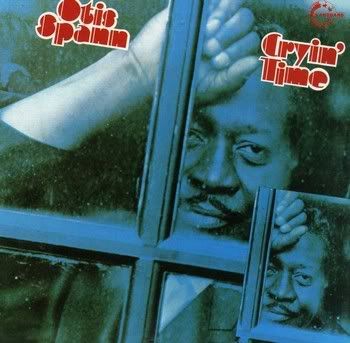 Otis Spann - Cryin' Time - 1969 - Vanguard
From 1952 o 1963/4 the sometimes forgotten bllues legend Otis Spann not only participated in numerous Muddy Waters recording sessions but was also in great demand by Chess as house pianist, accompanying artists like Bo Diddley (including Diddley¹s first session of 1955, which produced the classic 'I'm A Man'), Sonny Boy Williamson, Howlin' Wolf, Jimmy Rogers and Little Walter. The great bluesman pianist recorded this classic album in 1969. It is highly recommended by A.O.O.F.C to all lovers of the blues, and especially Chicago blues. His wife Lucille is brilliant on "Some Day." and "Blind Man" is a superb track. See if you can find the 1969 album, "Fleetwood Mac in Chicago/Blues Jam in Chicago, Vols. 1-2, " in which he features.
TRACKS / COMPOSERS
HOME TO MISSISSIPPI - Otis Spann
BLUES IS A BOTHERATION - Otis Spann
YOU SAID YOU'D BE ON TIME - Otis Spann / George Spink
CRYIN' TIME - Otis Spann
BLIND MAN - Trad.Arr. (Otis Spann ) Copyright Control
SOME DAY - Otis Spann
TWISTED SNAKE - Otis Spann
GREEN FLOWERS - McKinley Morganfield, aka Muddy Waters
THE NEW BOOGALOO - Otis Spann
MULE KICKING IN MY STALL - Otis Spann or Muddy Waters
Can anybody clarify the composer of "Mule Kicking In My Stall?" There is definitely a song, "Another Mule Kicking In My Stall.," written by Muddy Waters
CREDITS
Barry Melton (Bass),
Barry Melton (Guitar),
Luther "Guitar Junior" Johnson (Guitar),
Joseph Davidson (Bass),
Otis Spann (Organ, Piano, Vocals)
Lucille Spann (Vocals, & Background Vocals)
Lonnie Taylor (Drums),
Jos Davidson (Bass)
Samuel Charters & Michael Chechik (Producers),
Michael Chechik (Associate Producer),
BIO (Wikipedia)
Born in Jackson, Mississippi, Spann became known for his distinct piano style. Spann began playing piano by age of eight, influenced by his local ivories stalwart, Friday Ford. At 14, he was playing in bands around Jackson, finding more inspiration in the 78s of Big Maceo Merriweather, who took the young pianist under his wing once Spann migrated to Chicago in 1946. Spann gigged on his own, and with guitarist Morris Pejoe, before hooking up with Muddy Waters in 1952. Although he recorded periodically as a solo artist beginning in the mid 1950s, Spann was a full-time member of Waters' band from 1952 to 1968 before leaving to form his own band. In that period he also did session work with other Chess artists like Howlin' Wolf and Bo Diddley. Spann's own Chess Records output was limited to a 1954 single, "It Must Have Been the Devil," that featured B. B. King on guitar. He recorded an album with the guitarist Robert Lockwood, Jr. in 1960, and a largely solo outing for Storyville Records in 1963, that was recorded in Copenhagen. A set for the UK branch of Decca Records the following year found him in the company of Waters and Eric Clapton, and a 1964 album for Prestige followed, where Spann shared vocal duties with bandmate James Cotton.The Blues is Where It's At, Spann's 1966 album for ABC-Bluesway, sounded like a live recording. It was a recording studio date, enlivened by enthusiastic onlookers that applauded every song (Waters, guitarist Sammy Lawhorn, and George "Harmonica" Smith were among the support crew). A Bluesway encore, The Bottom of the Blues followed in 1967 and featured Spann's wife, Lucille, helping out on vocals. In the late 1960s, he appeared on albums with Buddy Guy, Big Mama Thornton, Peter Green and Fleetwood Mac. Several films of his playing are available on DVD, including the Newport Folk Festival (1960), while his singing is also featured on the American Folk Blues Festival (1963) and The Blues Masters (1966). Following his death from liver cancer in Chicago in 1970, at the age of 40, he was interred in the Burr Oak Cemetery, Alsip, Illinois. He was posthumously elected to the Blues Hall of Fame in 1980.
BIO (© Bill Dahl, All Music, www.allmusic.com/cg/amg.dll?p=amg&sql=11:ln4uakjkgm3k~T1)
An integral member of the non-pareil Muddy Waters band of the 1950s and 1960s, pianist Otis Spann took his sweet time in launching a full-fledged solo career. But his own discography is a satisfying one nonetheless, offering ample proof as to why so many aficionados considered him then and now as Chicago's leading postwar blues pianist. Spann played on most of Waters' classic Chess waxings between 1953 and 1969, his rippling 88s providing the drive on Waters's seminal 1960 live version of "Got My Mojo Working" (cut at the prestigious Newport Jazz Festival, where Spann dazzled the assembled throng with some sensational storming boogies). The Mississippi native began playing piano by age eight, influenced by local ivories stalwart Friday Ford. At 14, he was playing in bands around Jackson, finding more inspiration in the 78s of Big Maceo, who took the young pianist under his wing once Spann migrated to Chicago in 1946 or 1947. Spann gigged on his own and with guitarist Morris Pejoe before hooking up with Waters in 1952. His first Chess date behind the Chicago icon the next year produced "Blow Wind Blow." Subsequent Waters classics sporting Spann's ivories include "Hoochie Coochie Man," "I'm Ready," and "Just Make Love to Me." Strangely, Chess somehow failed to recognize Spann's vocal abilities. His own Chess output was limited to a 1954 single, "It Must Have Been the Devil," that featured B.B. King on guitar, and sessions in 1956 and 1963 that remained in the can for decades. So Spann looked elsewhere, waxing a stunning album for Candid with guitarist Robert Jr. Lockwood in 1960, a largely solo outing for Storyville in 1963 that was cut in Copenhagen, a set for British Decca the following year that found him in the company of Waters and Eric Clapton, and a 1964 LP for Prestige where Spann shared vocal duties with bandmate James Cotton. Testament and Vanguard both recorded Spann as a leader in 1965. The Blues Is Where It's At, Spann's enduring 1966 album for ABC-Bluesway, sounded like a live recording but was actually a studio date enlivened by a gaggle of enthusiastic onlookers that applauded every song (Waters, guitarist Sammy Lawhorn, and George "Harmonica" Smith were among the support crew on the date). A Bluesway encore, The Bottom of the Blues followed in 1967 and featured Otis's wife, Lucille Spann, helping out on vocals. Spann's last few years with Muddy Waters were memorable for their collaboration on the Chess set Fathers and Sons, but the pianist was clearly ready to launch a solo career, recording a set for Blue Horizon with British blues-rockers Fleetwood Mac that produced Spann's laidback "Hungry Country Girl." He finally turned the piano chair in the Waters band over to Pinetop Perkins in 1969, but fate didn't grant Spann long to achieve solo stardom. He was stricken with cancer and died in April of 1970. © Bill Dahl