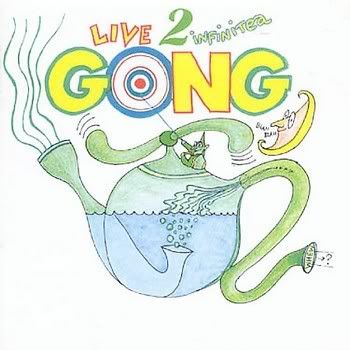 Gong
-
Live 2 Infinitea -
2000 -
Snapper
Music

Great live album from Gong. There are some amazing sounds here. The psychedelic funk jazz rock sound of Gong may not appeal to everybody, but the album is well worth a listen for it's musical originality and ingenuity. It is worthwhile checking the great "Gong Est Mort" album @
Gong Est Mort
and also their 1978 "Expresso 2" album @
Expresso 2
For similar music in this vein, check out the great "Tago Mago" album by Can.
TRACKS / COMPOSERS
1.Foolfare (0:48) - Allen, Daevid/Travis, Theo
2.Zeroid (6:08) - Allen, Daevid/Howlett, Mike/Travis, Theo
3.Magdalene - Intro (2:15) - Malherbe, Didier
4.Magdalene (5:05) - Allen, Daevid/Malherbe, Didier/Howlett, Mike/Travis, Theo
5.Infinitea (3:58) - Allen, Daevid/Smyth/Howlett, Mike/Taylor/Travis, Theo
6.The Mad Monk (3:29) - Allen, Daevid/Howlett, Mike/Taylor/Travis, Theo
7.Zero The Hero And The Witch's Spell (9:26) - Allen, Daevid/Tritsch
8.Bodilingus - Intro (0:53) - Malherbe, Didier
9.Bodilingus (5:19) - Allen, Daevid/Howlett, Mike/Taylor/Travis, Theo
10.Inner Temple (2:36) - Allen, Daevid/Malherbe, Didier
11.Yoni On Mars (6:57) - Smyth/Travis, Theo
12.Tropical Fish (3:42) - Allen, Daevid
13.Invisible Temple (9:07) - Allen, Daevid/Malherbe, Didier/Smyth/Howlett, Mike/Taylor/Travis, Theo
14.Selene (6:50) - Allen, Daevid/Smyth
CREDITS
Alto & Soprano Saxophones, Doudouk, Flute - Didier Malherbe
Bass - Mike Howlett
Drums, Backing Vocals - Chris Taylor
Keyboards, Electronics, Backing Vocals - Gwyo Ze Pix
Producer - Theo Travis
Space Whisper - Gilli Smyth
Tenor & Soprano Saxophones, Flute - Theo Travis
Vocals, Guitar, Glissando Guitar - Daevid Allen
Notes: Recorded live at Subteranea, London, England 6 April 2000 (Tracks 1, 3 - 11), The Phoenix, Exeter, England 27 April 2000 (Tracks 12, 13) and The Garage, Bergen, Norway 29 April 2000 (Tracks 2, 14)
REVIEWS
Live 2 Infinitea was recorded live during Gong's European tour in Spring 2000, following the release of the studio album Zero to Infinity. Although it does serve as an addendum to the 1995 live set The Birthday Party, it delivers more than that. Special care has been taken not to duplicate tracks already included on the latter (except for "Inner Temple," but this one is really only a frame for jamming) and once-discarded old obscurities like "Zero the Hero and the Witch's Spell," "Tropical Fish," and "Selene" get an inspired (and much welcomed) treatment. The remainder of the set is taken (and derived) from Zero to Infinity, including the energy-packed "Zeroid" and "The Mad Monk." The band is a lot tighter than in 1995 and original members Daevid Allen (vocals, guitar), Gilli Smyth (vocals), Mike Howlett (bass), and Didier Malherbe (saxes, flute) are joined by Soul II Soul drummer Chris Taylor, saxophonist Theo Travis, and the enigmatic keyboardist Gwyo ze Pix. Travis blows some mean solos and contributes the jazzy number "Yoni on Mars." Except for the disappointing song "Bodilingus" (well performed but simply weakly written), this disc is fabulous Gong candy for the fan. While The Birthday Party was drowning in its own nostalgia, Live 2 Infinitea presents a band still very active, engaging, and relevant. Sound quality is excellent, although some crowd noises are intrusive on "Zeroid." © Franois Couture, All Music Guide
In the age of digital precision, it's a reassurance to know that the spontaneity of live recording is not extinct. And when the band in question has a sum total of over 100 years of professional experience it's a tonic to hear the power of the record. The disc provides ample evidence that Gong both should and shouldn't be included under the jazz rubric! The selection of 14 tracks includes 10 pieces from February's funk-jazz inspired ZERO 2 INFINITY(SNA 824), featuring all 7 musicians on that CD in league with the same man behind the mixing console since 1973, Switch Doctor David Id. The band's style still veers like that of its co-founder Daevid Allen between sheer outer-spacedness of his multiple echoed 'glissando guitar' (Infinitea and Invisible Temple), to an earthy freeform interplay with the 2 reed layers, veteran Gongist Didier Malherbe on flute, soprano and alto saxes, and doudouk, and newcomer Theo Travis on saxes and flute (on Foolefare and Magdalene). As an introduction to the music of Gong this album represents the same potpouri of styles that has been typical of their production for over 30 years. However the main focus, as the title suggests, is singularly the music of this millenium's tour lineup. The 10 new pieces are the combined works of all band members – from north african Dervish wind work by Malherbe, to the disco-funk of drummer Chris Taylor and more standard freeform saxophony of Travis. Blended in are 3 standards from Gong's 'classic LP's of the early '70's, Zero the Hero and the Witch's Spell, Inner Temple and the wistful, poetic Selene, first penned in 1969 by Allen with co-founder Gilly Smyth. She adds her characteristic vocal witchery (originally described as 'space whisper') here and elsewhere, while bassist Mike Howlett slips in odd allusions to other of the band's golden oldies from those halcyon years. Instead of swaying new listeners to the far-fling Gong diaspora (the band currently being on a 3 continent tour), this album shows their abiding strength is in live performance. They demonstrate energy far beyond that appropriate for a band with an average age well into the 50's, skills honed during those intermittent decades on the road, and proof that audience contact was the spice that was missing from their last 2 studio CD's. I can vouch that seeing is believing (a 2½ hour plus non-stop performance witnessed during the summer), but in lieu the of direct experience LIVE GONG will resound around your cranium to your continuing delight. © Anthony Shaw, All material copyright © 2008 All About Jazz and/or contributing writers/visual artists. All rights reserved.
BIO
Gong slowly came together in the late '60s when Australian guitarist Daevid Allen (ex-Soft Machine) began making music with his wife, singer Gilli Smyth, along with a shifting lineup of supporting musicians. Albums from this period include Magick Brother, Mystic Sister (1969) and the impromptu jam session Bananamoon (1971) featuring Robert Wyatt from the Soft Machine, Gary Wright from Spooky Tooth, and Maggie Bell. A steady lineup featuring Frenchman Didier Malherbe (sax and reeds), Christian Tritsch (bass), and Pip Pyle (drums) along with Allen (glissando guitar, vocals) and Gilli Smyth (space whisper vocals) was officially named Gong and released Camembert Electrique in late 1971, as well as providing the soundtrack to the film Continental Circus and music for the album Obsolete by French poet Dashiel Hedayat. Camembert Electrique contained the first signs of the band's mythology of the peaceful Planet Gong populated by Radio Gnomes, Pothead Pixies, and Octave Doctors. These characters along with Zero the Hero are the focus of Gong's next three albums, the Radio Gnome Trilogy, consisting of Flying Teapot (1973), Angel's Egg (1974), and You (1975). On these albums, protagonist Zero the Hero is a space traveler from Earth who gets lost and finds the Planet Gong, is taught the ways of that world by the gnomes, pixies, and Octave Doctors and is sent back to Earth to spread the word about this mystical planet. The band themselves adopted nicknames -- Allen was Bert Camembert or the Dingo Virgin, Smyth was Shakti Yoni, Malherbe was Bloomdido Bad de Grasse, Tritsch was the Submarine Captain and Pyle the Heap. Over the course of the trilogy, Tritsch and Pyle left and were replaced by Mike Howlett (bass) and Pierre Moerlen (drums). New members Steve Hillage (guitar) and Tim Blake (synthesizers) joined. After You, Allen, Hillage, and Smyth left the group due to creative differences as well as fatigue. Guitarist Allen Holdsworth joined and the band drifted into virtuosic if unimaginative jazz fusion. Hillage and Allen each released several solo albums and Smyth formed Mothergong. Nevertheless the trilogy lineup has reunited for a few one-off concerts including a 1977 French concert documented on the excellent Gong Est Mort, Vive Gong album. Allen also reunited with Malherbe and Pyle as well as other musicians he had collaborated with over the years for 1992's Shapeshifter album. Hillage also worked as the ambient-techno alias System 7. A number of Gong-related bands have existed over the years, including Mothergong, Gongzilla, Pierre Moerlin's Gong, NY Gong, Planet Gong, and Gongmaison. During the new millennium Gong material continued to be released, including Live 2 Infinitea issued in fall 2000, as well as numerous reissues. I Am Your Egg appeared in 2006 from United States of Distribution. © Jim Powers, All Music Guide , © 2007 All Media Guide, LLC