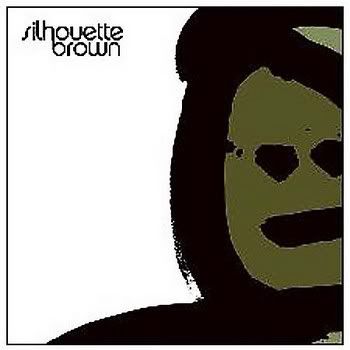 Silhouette Brown -
Silhouette Brown -
2005 -
Ether (USA)
An incredible record -- one that's steeped in the best London sounds of the past few years, and which stands as a summation of the groove-based genius that's emerged from that city's scene! Silhouette Brown is the team of Dego and Kaidi Tatham -- working in a sparkling jazzy groove that draws on all their histories as 4Hero, Neon Phusion, Agent K, and New Sector Movements -- but which somehow manages to push the sound even more, and come up with a style that's incredibly warm and soulful overall. Part of the real strength of the set is vocalist Deborah Jordan -- the third member of the group, and a key component in the cohesive, song-based grooves of the set. Deborah's vocals are incredible -- somehow managing to be both cosmically grooving, yet also soulfully down to earth at the same time -- and working with Dego and Kaidi, she's emerging here as one of the strongest new soul voices we've heard so far this century! One you'll be playing for years -- and a perfect set of tunes that includes "Whose In Charge", "Looking Back", "Time Waits For No One", "Spread That", "Monday's Coming", "Just A Little More", and "Check It". © 1996-2008, Dusty Groove America, Inc.
A brilliant contemporary heartfelt mix of R&B, soul, and London Broken Beat music. Again, you don't have to be a clubber to enjoy this music. If you like neo-soul, nu-jazz, and/or R&B, you will enjoy this album.
TRACKS
A1 Whose In Charge (Backing Vocals - Bembé Segué)
A2 Looking Back
B1 Pain (It's Gonna Come Heavier)
B2 Time Waits For Nothing
B3 Spread That
C1 Check It (Calling You)
C2 They Can't Tell Us
C3 Looking Back (Reprise)
D1 Monday's Coming
D2. Just A Little More
Monday's Coming (Instrumental) - Bonus Track On Some CD Issues
CREDITS
Co-producers - Dego & Kaidi Tatham,
Vocals - Deborah Jordan.
REVIEWS
Fresh for 2005 is Silhouette Brown, the next guise for the acclaimed pairing of Dego and Kaidi Tatham. Both producers turn another corner to serve up a new batch of beats, for the mind, body and most definitely, soul. On diva duty is the impressive Deborah Jordan with Bembe Segue in well-honed support. And it's the cruise-controlled vocal and songwriting detail as well as the soulful tangent which set this new group formation apart from earlier collaborative efforts. Silhouette Brown's music is determined to find its place in your playlist: more accessible and yet in keeping with what both producers have released under their previous aliases. Dego's signature breaks blend in harmony with Kaidi's synthed-out melodies to create some lingering, soulful delights that hark back to the funkateers of yesteryear. The tempered influences of Herbie Hancock's jazzy jaunts and Rick James' freaky funk are discerned. This retrospective theme carries on throughout; gratifying heads in the mood for cool unrushed vibes from West London's finest. An outstanding cut comes in the form of Pain, which is the closest one can cheekily assume a broken beat ballad would sound like - D and K face off and pull the rabbit out the hat with this one. Just A Little More needs to be called out too. It strums like an obscure soul gem from a UK pirate radio playlist of the early '80s. Who's In Charge and Monday's Coming also get the draft treatment. In a nutshell, there are no two for the price of one shelf-fillers. This is an LP's worth of quality stock. With the dance floor massacre of DKD's Future Rage still ringing fresh in our blown out minds, Silhouette Brown proves itself to be a tasty contrast that will be making its own kind of impact with no less authority. Don't keep it to yourself, Spread That! © Ike Ikwuemesi, www.knowtheledge.net/index.htm
Put together by Kaidi Tatham (Bugz In the Attic, Misa Negra and lots more) and Dego (4-Hero and even more aliases than Kaidi) the self-titled album on Ether got great support from jocks Gilles Peterson, Trevor Nelson, Patrick Forge and Benji B. Wide-ranging appeal then if they cover that quartet. Another reason the project was a great success was that whilst Bembé Segué was helping out on writing lyrics and providing lyrics, the lead vocals were taken by friend of FLY, Deborah Jordan (also Robert Mitchell's Panacea and shortly Abstract Blue Recordings). Perhaps, it is the female influence that gave the production more of a soulful feel than you would have thought. As new tour dates have just been announced, it's a good opportunity to look again at the album. The opener 'Whose In Charge' is a bit of an anthem together with the single that was released, 'Spread That'. Not only that, 'Spread That' got in the top ten of Gilles Peterson's Worldwide Awards for 2005. 'Pain' is a stuttering jazz lounge with minimal keys from Kaidi whilst 'Time Waits For No One' takes the same mood down into funky basement beats with some distorted guitar (provided by guest, Somatik who has worked with Mark de Clive-Lowe in the past). Along with the brokenness, there are also minimal beats, Amp Fiddler flavas, mellow Break Reformisms and all sorts of goodness; particularly 'They Can't Tell Us'. There's even a touch of 80s soul girl on 'Just A Little More'. CC Some Rights Reserved FLY 2006
Silhouette Brown features two of the leading lights of the hugely exciting London broken beat scene and with this album the standard has been raised to a whole new level. More melodic, more sexy, more poised. Each play will offer you a deeper interpretation of a seemingly unostentatious approach to music. In truth, this record is riddled with diverse layers of sound and complexity. Subtle perhaps, intoxicating for sure. Shapeshifters Dego MacFarlane and Kaidi Taitham pushed the outer limits of musical form to create, co-write and co-produce the concept of Silhouette Brown. Amazingly enough, after over 15 years producing some of the most influential electronic music, this is the first full vocal album that Dego has ever produced. Kaidi Tatham (keyboards) was a founding member of the Bugz in the Attic collective who are widely regarded as the premier broken beat collective and are currently storming the charts with their release on V2. Dego MacFarlane (beats and samples) set up Reinforced Records, the label widely credited with pioneering drum n bass in the UK, and the 2000black label as well as being one half of the hugely successful and critically acclaimed, Mercury nominated and Mobo-winner Talkin' Loud group, 4 Hero. Deborah Jordan (lead vocals) is one of the hidden gems of the London jazz scene. A spectacular voice, Deborah was plucked from relative obscurity by Dego whilst doing backing vocals for Bembe Segue. Bembe Segue (backing vocals) returns the favour on this album with her unique tones and irresistible harmonies. Silhouette Brown is a mightily assured album and as one would expect from its participants, full of energy, soul, and funky beats. Broken beats - never predictable, always on time. © www.multiadaptor.com/clients/ether/releases.php?rid=60
BIO
Deborah Jordan is the kind of lady who finds inspiration "Just waking up every day!? Four years ago she was involved in a very serious accident. The paramedics thought she was dead on the scene. She wasn't able to walk properly for months. Forunately she recovered with a new found passion and drive. Deborah has been signing all her life. Raised in a musical family with a father who was a lead vocalist and bass player, Deborah says music was "always around the house growing up and I was always taken in by what was playing so seemed natural to join in.? She began developing her musical interests at school first on recorder, then violin, then flute and piano. She started joining groups right out of school and by the time she got to university in London (age 18) she started exploring jazz, mostly standards at that time. She says she developed her style by "listening to anything and everything and trying things out. I hear someone do something I realize I haven't tried and try to figure it out, see if it works when I do it. Just as an instrumentalist practices so should a vocalist - so I thought I should try to keep learning.? After university she started to seek proper musical work. For the last four years that has involved work with Robert Mitchell's acclaimed jazz band Panacea – a London avant-garde jazz band that has been breaking new ground (and recorded for UK jazz imprint Dune). She says, "Panacea has been a great challenge as I hadn't really explored contemporary jazz as a vocalist until then. It's been a great learning curve and I've gotten to try stuff wouldn't have otherwise. Robert's writing really stretches even a good vocalist so it's great!? Deborah is also featured on the bands forthcoming second album. Alongside this she also became backing vocalist and musical director for singer Eska (who was also in both Robert Mitchell's Panacea, rapper TY's band and IG Culture's broken beat band New Sector Movements) and backing singer for vocalist Bembe Segue, whose best known for her covers of jazz songs like Norman Connors "Mother Of The Future? and her work with Dego [of London soul/electronic band 4 Hero on records for his 2000 Black label. Deborah has performed at both the North Sea jazz festival and Impact festival with Bembe. She has also been featured on a couple of releases in Japan through Dome Records and last year a 12" she made with Konrad Gordon for Smokin Beats was named a top tune in IDJ magazine. Silhouette Brown however is her first proper solo record as the lead singer. Deborah's influences are diverse. She says "I'm definitely a soul girl at heart" citing Minnie Riperton, Deniece Williams, Patrice Rushen and Patti Austin all as key influences. She also loves the big band arrangements of Rotary Connection and Quincy Jones. Her greatest find of the last few years is Kim Burrell – "She is just unbelievable - a great consummate artist - phrasing, tone, sensitivity, the whole package.? Male vocalists also get a look in with Marvin Gaye, Eric Benet, Brian Mcknight and Stevie Wonder all getting a mention. But she's keen to point out "I generally just get inspired by good music - no matter what genre as long it's good. Hence my admiration for Frank Zappa!!? In fact she's really a massive fan of Zappa- laughing she says "I didn't get him before but have had the revelation of what a musical genius he was and am working my way through his catalogue of material which is huge! The world would be a better place if everyone listened to Zappa! I know this also makes me sound mad! ha ha!? Deborah was introduced to producers Dego [4 Hero] and Kaidi Thatham [Bugz In the Attic / Agent K / Mark De Clive Lowe Band] through fellow singer Bembe – "I'd been doing backing vocals for a short time when she mentioned they were working on a new project together but needed a new vocalist who wasn't already part of the scene to front it. Bembe brought Dego to a gig I was doing with Panacea - not a good start! It was a football night with some important game on TV and if you know Dego you know not to mess with the football schedule!! He was pretty quiet and aloof so I thought he hated me and that was the end of it - til next thing I know, I'm at a preliminary meeting with them all scheduling studio time. They didn't throw me out of the studio so I kept going back!! and before you know it the album was finished!.? She says working with the duo was challenging with the producers making her reach for different techniques and voices for the album. The songs on the album were written with "no hard and fast rule.? Adding, "Some were real collaborations happening there and then; some more one or two people; some words and music done together; some words and music separately - just whatever felt right and whoever had the best ideas! There's lots of day-to-day stuff in the songs. That's the main thing - stuff that everyone can relate too. Who's in charge, Pain, Spread that all about stuff we all go through...? Next Deborah plans to take Silhouette Brown live. "The real test is performing in front of the public - getting a genuine instantaneous response.? and the US is the top of her list of places outside the UK she'd like to perform - "I'd love to get the stateside reaction to our British vibe! I hope they like and support us.? Now that is where you come in. © www.giantstep.net
MORE ABOUT THE ARTIST
Silhouette Brown is one of the guises of Dego (4 Hero) and Kaidi Tatham (Bugz in the Attic). With the co-writing talents of Bembe Segue and the glorious voice of Deborah Jordan (Robert Mitchell's Panacea) they produced the self-titled album of 2005 championed by the likes of Gilles Peterson, Trevor Nelson, Patrick Forge, Junior and L'il Dave and many more. The live band have performed at the North Sea Jazz Festival, Roma Jazz Festival, Paradiso (Amsterdam) and Cargo (for both Gilles Peterson's Independent Mix and Ross Allen's Destination Out) amongst many others and are continuing to take the album on tour this year. Both album and single were nominated for the Gilles Peterson Worldwide Awards. © www.brahma.com/trocabrahma/artists/silhouette_brown.html