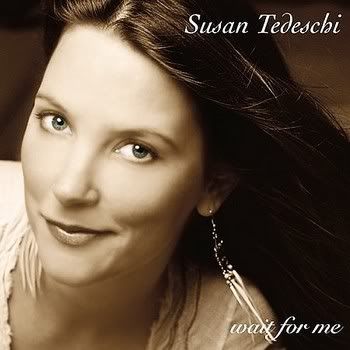 Susan Tedeschi -
Wait For Me -
2002 -
Tone Cool Records/
Artemis Records

Wait For Me was nominated for the 2004 Grammy Award for Best Contemporary Blues Album, and is the follow-up to her hugely successful 1998 release, Just Won't Burn. It mixes a few originals with potent takes on songs by Bob Dylan ("Don't Think Twice"), Paul Pena ("Gonna Move"), and others. Her vocals blend earthiness with soaring earnestness. Similarly, the arrangements are rooted by a solid rhythm section over which stylish soloists take flight (among them are her husband, guitarist Derek Trucks, and legendary pianist Johnnie Johnson). The utter conviction of the performances seamlessly melds the assorted genres which inform Tedeschi's music--rock, soul, blues, country, and folk. Some of the tracks on Wait For Me were produced by the late Tom Dowd, making them some of the last recordings by the legendary producer of everyone from Aretha Franklin to John Coltrane.
TRACKS
"Alone" (Tommy Sims) – 4:21
"Gonna Move" (Paul Pena) – 4:23
"Wrapped in the Arms of Another" (Tedeschi) – 3:03
"'Til I Found You" (Tom Hambridge, Tedeschi) – 3:32
"Wait for Me" (Felix Reyes) – 4:47
"The Feeling Music Brings" (Kofi Burbridge, Tedeschi, Derek Trucks) – 7:15
"In the Garden" (Tommy Shannon, Tedeschi) – 3:45
"Hampmotized" (Jason Crosby, Ron Perry, Jeff Sipe, Tedeschi) – 3:10
"Don't Think Twice, It's All Right" (Bob Dylan) – 4:43
"I Fell in Love" (Hambridge, Tedeschi) – 3:29
"Blues on a Holiday" (Paul Rishell) – 3:02
PERSONNEL
Susan Tedeschi - guitar, electric guitar, rhythm guitar, vocals, soloist
Paul Ahlstrand - tenor saxophone
Scott Aruda - trumpet
Tino Barker - tenor saxophone
Kevin Barry - acoustic guitar, soloist
Gordon Beadle - baritone saxophone
Joe Bonadio - drums
Kofi Burbridge - organ, piano
Dean Cassell - bass
Jason Crosby - organ, piano, violin, keyboards
Drew Glackin - bass
Col. Bruce Hampton
Johnnie Johnson - piano
Dave Mattacks - drums
David McNair - bass, rhythm guitar
Ron Perry - bass
Annie Raines - harmonica
Milt Reder - electric guitar
Paul Rishell - guitar
Yonrico Scott - percussion, drums
Noah Simon - mellotron
Jeff Sipe - drums
Todd Smallie - bass
Derek Trucks - guitar
Tom West - organ
REVIEW
Since it comes a whopping four years after her wildly successful major-label debut and Best New Artist Grammy nomination, the appropriately titled Wait for Me is a highly anticipated follow-up for an artist who nearly slipped into the "where is she now" bin. While the album doesn't totally justify the extended wait, Tedeschi returns with a tough, uncompromising release that's the equal of its predecessor. After touring the world, then marrying and having a baby (with husband/guitarist Derek Trucks), Tedeschi has shifted styles from guitar-slinging blues mama into a subtler but still passionate R&B approach. Trucks contributes a few of the album's bluesiest moments, laying into a slide solo on Paul Pena's exuberant "Gonna Move" that injects soul into its hooky chorus and bouncy groove. The title track's low-key horns, jazzy flourishes, and gospel underpinnings recall '60s Etta James, and a version of Dylan's "Don't Think Twice It's Alright" transforms the folk chestnut into a touching, torchy swamp ballad. It's here and on Tedeschi's own lovely "In the Garden" where her expressive vocals are a ringer for Bonnie Raitt's similar style. Those fired up by Just Won't Burn will easily warm to Wait for Me. With classy yet scorching performances and songs infused with roots rock, blues, funk, and even pop, it's a crossover album that oozes with integrity, terrific playing, and a loose yet distinctive direction. © Hal Horowitz, All Music Guide
BIO (Wikipedia)
Susan Tedeschi (November 9, 1970 in Boston, Massachusetts) is an American blues and soul artist. Susan Tedeschi grew up in Norwell, Massachusetts and attended the Berklee College of Music where she received her bachelor of music in composition and performance. Tedeschi had always been musically inclined, performing in musicals, singing for family members, and listening to her father's record collection. She formed a band in high school called the Smoking Section at age 15, sang in a Gospel choir at Berklee and performing show tunes on the Spirit of Boston and began sitting in with local blues jams at venues in Boston. She formed the Susan Tedeschi Band in 1994, featuring Tom Hambridge and Adrienne Hayes. In 1995 she began playing guitar and honed her skills and in December the band released Better Days to regional audiences. Record contracts were difficult to keep together; however, recording sessions from 1997 were acquired by Richard Rosenblatt, and the band was signed to Tone-Cool Records and Just Won't Burn was released in February 1998 to rave reviews from blues publications. For 1998 and 1999 Susan Tedeschi toured extensively throughout the United States and her spectacular stage presence and powerful voice drew larger crowds. Eventually Tedeschi was opening for John Mellencamp, B.B. King, Buddy Guy, The Allman Brothers Band, Taj Mahal and Bob Dylan. In 2000, Just Won't Burn reached Gold record status for sales of 500,000 in the United States, rare for a blues production. She recorded two tracks with Double Trouble band members Chris Layton and Tommy Shannon for their album. Susan Tedeschi's voice has been described as a blend of Bonnie Raitt and Janis Joplin, though she explains this is due to sharing the same influences as the two. Her guitar playing is influenced by Buddy Guy, Johnny "Guitar" Watson, Stevie Ray Vaughan, Freddie King and Doyle Bramhall II. In 2001, she married former child prodigy and Allman Brothers Band guitarist Derek Trucks, who also leads his own Derek Trucks Band, and is nephew of founding Allmans drummer Butch Trucks. Tedeschi and Trucks met when she was the opening act on the Allman Brothers Band's 1999 Summer Tour. They have two children, Charlie and Sophia, and reside in Jacksonville, FL. In 2007, Tedeschi and Trucks went on tour together under the name Soul Stew Revival. She is the granddaughter of Nick Tedeschi and great-granddaughter of Angelo Tedeschi, both supermarket magnates who were well known in Massachusetts.