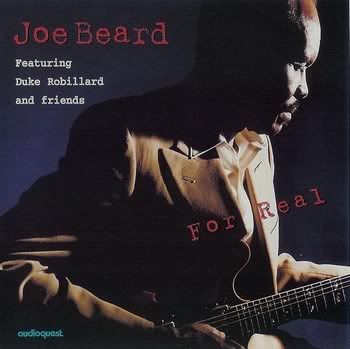 Joe Beard
Featuring Duke Robillard & Friends -
For Real -
1998 -
Audioquest
For Real finds Joe Beard fronting a blues dream team consisting of the great guitar stylist Robillard along with Bruce Katz, Per Hanson and Rod Carey - better known as Ronnie Earl's crack band "The Broadcasters" until a few months ago. Jerry Portnoy, known for his awesome harp work with Muddy Waters and Eric Clapton, joins in on four of the tracks. For Real is a potent combination of Beard originals and homages to Joe's main men, Lightning Hopkins and John Lee Hooker. Listen ... Joe Beard is For Real!
TRACKS
Drinking Old Taylor (Beard) - 2:59
Don't Start Me Talking (Williamson) - 3:26
It's up to You (Beard) - 4:44
See See Rider (Hopkins) - 3:33
Dirty Groundhog (Hooker) - 2:14
Reap What You Sow (Beard) - 3:30
Elem (Beard) - 8:13
Who's Using Who (Beard) - 3:05
The Things I Used to Do (Guitar Slim [Eddie Jones]) - 4:35
If That's What Pleases Her (Beard) - 3:17
She's Wonderful (Beard) - 7:59
37 Years Old (Beard) - 2:52
Airplane Blues (Hopkins) - 3:01
MUSICIANS
Joe Beard - Guitar, Vocals
Duke Robillard - Guitar
Bruce Katz - Piano, Hammond B-3
Jerry Portnoy - Harmonica
Rod Carey - Bass
Per Hanson - Drums
REVIEWS
Sixty-year-old, Mississippi-born Joe Beard is a gifted lyricist and composer, interesting blues interpreter, and rhythmic guitarist. His juke-joint sounds explode from this new disc. Beard's shifting orientations toward dance rhythms are amply illustrated in his own tunes ("Reap What You Sow" and "Drinking Old Taylor") as well as on his masterful revisitings of songs associated with Lightin' Hopkins ("See See Rider") and Guitar Slim ("The Things I Used to Do"). Duke Robillard's steady guitar and Bruce Katz's gospel piano add strong dimensions to Beard's vocals. Jerry Portnoy's harp accompaniment is distinctive, too. But the focus throughout For Real is Joe Beard. His talkin' blues style ("Airplane Blues" and "Dirty Groundhog") is convincing, and clearly John Lee Hooker-influenced. But it is the total authenticity of the entire 13-song set that screams for future Beard releases. © B. Lee Cooper, History, University of Great Falls,Great Falls MT 59405, lcooper@ugf.edu, © 2001 Popular Press, © 2003 Gale Group
The liner notes to For Real (AudioQuest Music) calls Joe Beard an almost-hidden blues treasure, and that's a good description of this very good singer and guitarist from Rochester, N.Y. Backed here by a band led by blues stars Duke Robillard and Ronnie Earl, Beard shows us a voice and style somewhat reminiscent of Smokey Wilson, although not quite as raw. Most of the tunes on For Real are originals, with my favorites being the nice, slow blues "It's Up To You" and the talking blues of "Elem," the latter featuring good piano work from Bruce Katz. © Bill Mitchell, © 1998, Blue Night Productions. All rights reserved.
BIO
Affable and elegant, Joe Beard snakes through the crowd toward the bandstand, pausing to shake hands and smile. It's a big smile that lights up the room.
The band is already cruising mid-stroll as Beard straps on his big red guitar. He hits the strings, and the guitar responds in bright bursts while his thumb casually works the bottom end. The music swells, the room heats up, people in the audience shed jackets, and the windows start to fog as Beard begins to sing with a bone-chilling urgency and want.
Beard is a world-class blues musician who has hung his hat in Rochester since 1954. He could rattle off a list of musicians he's worked with over the years --- BB King, Muddy Waters, Matt "Guitar" Murphy, Floyd Murphy, Buddy Guy, Junior Wells, Sonny Boy Williamson, Lafayette Leake, Odie Payne, Willie Dixon, Son House. He considers them friends and heroes, but they are also his peers.
He has played for presidents. He has played with Kings. He has gigged all over the world playing the blues with the same fervor he does every night here at home, where many local fans may not be aware of his significance.
Beard was born in Ashland, Mississippi, in 1938. His parents were sharecroppers, and Beard was the youngest of their 12 children. The household sometimes included musician friends sharing the living space. So Beard was surrounded by guitars and music, though he wouldn't pick up the guitar until he was about 18 years old.
"As long as I can remember, there's always been a guitar," he says. "My cousin, a gentleman by the name of Wes Fells, from Louisiana --- I can remember I was about 6 or 7 years old, and I used to sing when he played the guitar. At that time, I never thought about playing the guitar myself. But I always knew I could play. It was always in me that I could play guitar."
His early influences were unrecorded rural musicians whose expression wasn't clouded by performance or fame. Among them was blind guitarist Nathan Beauregard, who lived with the Beards. Joe Beard learned the blues while serving as Beauregard's eyes.
"Down South in those days, they'd have house parties," Beard says. "I'd lead him, and he'd go and play the guitar. And I got to really listen to him."
But some of these influences wouldn't even leave the house.
"Ernest Scruggs," Beard says. "This man was amazing. He never played out. But the man could listen to a song on the jukebox and play it. The guy was amazing, I'm tellin' ya. But he would not play out. You could not get him to play a tune anywhere except the living room."
"The first thing I learned to play was something I heard Ernest Scruggs play when he used to live with us," says Beard. "It was things I'd never heard before. It was wonderful. I still do those things to this day."
When Beard was 8, his mother died and the family moved to Memphis. And by the 1950's, the blues were changing and growing and getting electrified. So was Beard's curiosity. He started going out and sneaking into places where kids don't necessarily belong.
"I was very young," he says. "The people at the club didn't mind. If you got in, fine. If you didn't get in, it was still fine. It made no difference to them."
"Where I lived, BB King used to play a club called Roosevelt Lake, outside the Tennessee line in Mississippi," he says. "This was around 1952, and he had just made his first record at that time. The club was a grocery store in front, a bar and dance hall in the middle, and a gambling hall in the back. They had slot machines."
But King's take on blues didn't really speak to Beard at the time.
"That single pickin,'" he says, "I didn't really like that. I was really into John Lee Hooker and Lightning Hopkins." Both were players who picked multiple notes, often within rhythmic chords, all the while working a bass run on the bottom strings.
Looking for work, Beard lived briefly in Dallas, then in Canton, Ohio, and landed in Rochester in 1954, getting work as an electrician.
And finally, in the late 50's, he picked up the guitar, and by 1962 was playing professionally in The Lincoln Continentals, a local trio led by John Ellison. (Ellison went on to front The Soul Brother Six and cut the hit "Some Kind Of Wonderful.")
The Continentals played soul, working gigs between Rochester and Chicago. But the blues were calling Beard louder than soul.
"I like listening to that type of music," says Beard, "but it's not in me to do it." Besides, the clubs The Lincoln Continentals found themselves in --- like the 30-30 Club on Chicago's West Side --- were more blues-type joints.
"What we were doing wasn't going over so well," he says.
So they switched it up; Ellison went to bass, and Beard started playing the guitar and singing. And now the blues came out.
"It went over real well," he says.
During this period, the band played with blues greats like Muddy Waters and Buddy Guy.
One night, while sharing the bill with Sonny Boy Williamson, Beard played his version of John Lee Hooker's "Sally Mae."
"A man comes up to me and says, 'Where you learn that from?'" Beard recalls. "And I said, 'John Lee Hooker.' And he says, 'You did a helluva job. Damn, if you didn't do a better job on that song than I did. I'm John Lee Hooker.'"
"He was very nice about it," says Beard. "We kept pretty good friends."
It was the conversation with Hooker that really lit the spark in Beard.
"He said, 'You're in the wrong field,'" says Beard. "'You should put that bass down and start playing the blues on the guitar.' I really started to sing and play after that."
Another blues legend befriended Beard when the two became neighbors in Rochester in the early 60's. The old man living next door at 65 Grieg Street started hanging out with Beard, playing guitar and telling him all kinds of tales.
"We'd sit on the steps there," Beard says. "I had a guitar, you know, and he'd play and I'd listen. He used to tell me all these stories about his life. He was a guitar player with Robert Johnson and all these things. Then he'd talk about Muddy Waters, Charlie Patton, all these people. I was paying attention, but not really believing what I was hearing."
But, says Beard, "come to find out, everything he was tellin' me was true."
The neighbor was the legendary Delta bluesman Son House, sharing stories and music with Beard two years before his rediscovery and re-emergence in 1964.
In the early 70's, Beard joined up with The Friends of the Blues, which included John Mooney and Rockin' Red, but he eventually split to form and front The Blues Union. Joe Beard and the Blues Union played clubs around town like The K&T Tavern on Jefferson Avenue, The Red Creek Inn in Henrietta, and BK Lounge on West Main Street between jaunts to cities like London, Ontario; New York, and Boston. The Band also backed up Buddy Guy and Junior Wells on a three-week US tour.
Though he still gigged locally and traveled some, family life kept Beard occupied during the 60's and 70's. He has two daughters and two sons, including the "Prince of the Blues," Chris Beard.
"When the kids were growing up, I stayed home," he says.
Beard first toured Europe in 1983 on the Heroes of the Blues Tour with Buster Benton, John Littlejohn, Lafayette Leake, Bob Stroger, and Odie Payne, hitting cities in Belgium, France, Norway, and Portugal. And there was one particularly memorable night in Spain.
"We did one of those huge arenas," he says. "Huge.I mean, people as far as you could see. Nothin' but people. They had a huge fence between us and the audience. At the end of the show, they started climbing the fence and it fell. Oh Jesus, I'm tellin' you I was never so scared before in my life."
Later jaunts overseas would include shows with Willie Dixon and Luther Allison.
And he has picked up a wide variety of admirers. Republican leader Lee Atwater was such a big fan that he got Beard to play George HW Bush's inaugural ball in DC. ("I'm not even a Republican," he says, laughing.)
He has played numerous blues festivals, including those in Chicago and Lucerne, Switzerland, as well as a headline tour of India in 2001. He has recorded four albums --- "No More Cherry Rose," "Blues Union," "For Real," and "Dealin'" --- with next-wave blues giants like Lucky Peterson, Ronnie Earl and the Broadcasters, and Duke Robillard backing him up. Beard still leads his own group and frequently gigs with guitarist Steve Grills, who backed up Beard last year for several sold-out shows at Biscuits & Blues in San Francisco.
The spotlight has never shone as brightly on Beard as it has on many of his contemporaries. But, he says, he has no regrets. "No," he says. "Not one bit." His are blues that'll knock out blue-collar, beer-drinking-on-a-Saturday-night blues fans or the leaders of nations.
"Knowing that I'm doing something that they're pleased to hear, that means a lot to me," he says. The first President Bush dug Beard's performance big time, so much so that he made a point to meet Beard backstage.
"He really loved the song 'High Heel Sneakers,'" Beard says. [Published by Frank De Blase on Apr 03, 2007], Content © City Newspaper, 2007, www.rochestercitynewspaper.com/archives/2007/4/PROFILE:+Gentleman+Joe+Beard+and+the+blues